The bond between a mother and child can be different in every phase of life. As we grow up, we get so busy with our lives that we hardly get time to have a little chat with our parents. Or, if you are a teenager, you might even hate your mom. And for mothers, it could be a rollercoaster ride to deal with your teenage daughter. Especially if you are a working mom, managing both kids and work can be a tough job. However, the only good thing I feel about this pandemic situation is that we got plenty of time to spend with our family. According to a study,  93% of mothers indicated that they rely more on their daughters' health advice. Don't act like a lazy teenage daughter; there are so many mother and daughter activities that can be done together. Even better? Throw a surprise on your mom's birthday. To know more interesting mother-daughter date ideas, hop into your most comfy pair of pajamas, pop some buttery popcorn, and enjoy some of your favorite chicks flicks together.
What's say!
As of now, working from home and being in your own house with family is the best thing that one can wish for.
So, there are many fun activities we can do with our mom to make her feel cherished and create memories, as we have enough time, and we are with her.
In this article, we will discuss the following:
Ideas for daughters – Fun things to do with your mom, what to do for mom on her birthday
Inspiration for mothers – Fun things to do with your teenage daughter, mother-daughter activities for bonding
Let's dig in!
What Are The Things To Do With Your Mom?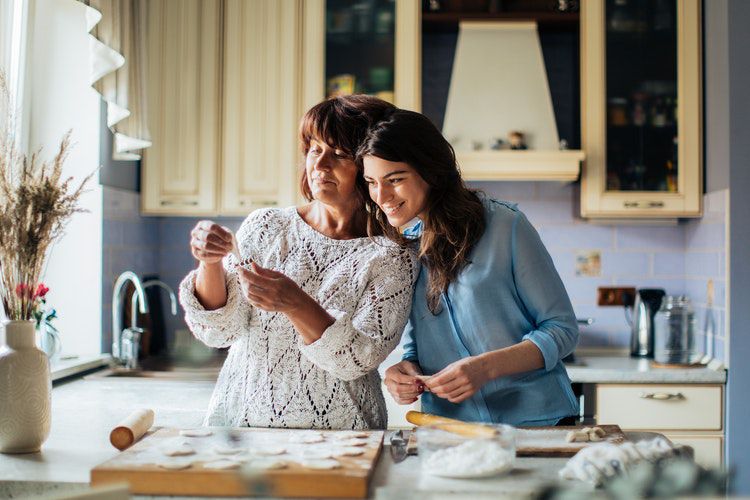 1. Create A Home Garden With The Help Of Your Mother
If the home is the heart, then a beautiful garden can be the heartbeat.
Create a soothing touch with flowers and plants in one of the gallery or porch area. You can also garden your balcony if you live in an apartment rather than a house.
Buying some lovely plants with your mom and then designing a cozy and comfy home garden where you and your mom can sit and chat over a cup of coffee and can read books, sounds cozy already.
Why wait? Go ahead and plan your home garden with your mommy!
The end result will be so blooming and refreshing to sit with your mother and discuss the day in your own designed garden after a tiring day.
2. Do A Mommy-Daughter Photoshoot At Home
You don't have to wait for any occasion to have a mother-daughter photoshoot session.
After all, daughters are never too old to have such special moments with their mothers.
Therefore, if you are wondering how to have a fun time with your mother, having a photoshoot would be just perfect.
Take baby steps, and learn the basics of photography. For instance, make sure there is ample light where you shoot. It is good to have one subject on the photo rather than combining many elements.
There are so many photoshoot ideas out there that teach you how to do a photo shoot like a pro.
Even you can make a collage from the photographs and gift your mom on her birthday. Scroll down to read more ideas about what to do for your mother on her birthday.
3. Help Your Mom Get A Makeover
Ladies love makeup. So what better than this, giving each other an amazing makeover? Let your mom be creative on your face. Let her show the fun side. And yes, have fun.
No lady is too old to play dress-up and have a makeover!
Most of the daughters love spending time trying mom's clothes and shoes. Put on some makeup with your mom and enjoy a fun fashion show with your own home runway.
Isn't fun?
Make your mom all suited up and ready, and click some pictures of her and take selfies and ask her to upload on various platforms.
On that note.
4. Create Her Presence On Social Media Platforms
Teach her how to keep herself updated and create a presence in WhatsApp, Facebook, or Instagram.
Encourage her to learn more about these platforms and how to create boomerang, reels, upload photos, and to join the communities and groups where she can meet new people and gain new experiences.
5. Prepare A Meal With Your Mother
Try helping your mom in the kitchen. If not a proper meal, at least we can help her in chopping fruits, salads, and vegetables. Make the table before dinner or lunch.
Help her after the meal by cleaning the table or putting the stuff back in their places.
There are so many online resources out there that teach how to cook quickly with very minimum efforts or for beginners with very basic ingredients.
Even you can surprise her by learning from the Internet and preparing a very basic dish.
She will be on cloud nine as that dish will be made with so much love and affection by her child.
6. Play Indoor Games
After finishing the meal, there are so many fun indoor games that you can play with our mother or family.
The most trending one currently is ludo.
Easy to play and so much fun to do, as after a while, we get so involved in-game that only winning matters.
If one does not have a board game in the house, so many games applications are available that we don't have to worry about going to market and purchasing a new one.
Cards games, any card game, either Uno or rummy, they became the most thrilling one as soon as the game begins, everyone participates with full enthusiasm.
Carrom board, which usually other houses have, as it was the best indoor board game we use to play in our childhood, and no matter how grown-up we are, our mothers must have kept that board safely, ask her where it is, bring it out, clean it and start stroking.
So many other indoor game options are there. Meanwhile, see the availability and start playing with your mom.
7. Try Zumba/Aerobics With Your Mother
Enroll for a session of any physical activity that you and your mother can do together. It will be fun, plus it will help you both to maintain a good healthy body.
In this time of Covid-19, many instructors have started giving classes on the web, putting 1 hour or two would be so engaging for your body and for gelling up with mother. It's a kind of win-win situation like health plus fun time with mother.
If Zumba or aerobics is not possible, go for a walk  In any nearby garden to your locality or any traffic-free road where one can walk freely (Don't forget to carry masks).
While walking, you can have small conversations with your mother, can discuss usual random stuff.
8. Plan An At-Home Spa Night For The Mother-Daughter Duo
Whenever you have the opportunity to spend time with your mom, just try to seize it. One of the best ideas to have an amazing time with your mom is to plan an at-home spa night. And get some much-needed rest, relaxation, and quality time together. With the stress of work, family, and other stuff, this could be the chance for both of you to mellow out and bond.
Here is what you can do,
Do experiments with a DIY home spa.
Set up the mood (obviously with her favorite aroma)
Have your own signature spa.
Take time to pamper each other.
Spend some time talking.
9. Watch Movie Together
On a lazy weekend, grab some popcorn and snacks and cold drinks and watch a movie or documentary which you both like or any new movie which you both want to see.
If not movies, some songs on the home theatre, and a small dance on your mom's favorite song, she will cherish these moments forever.
10. Create DIY Decoratives
Bring out the artist in you.
Watch some videos or take the help of the Internet. Ask your mom to help you and create some decorative items for your home or garden. Painting, crafting, pottery, sewing in any form you can, include your mother and ask her to prepare some DIY decorative.
Collect all the waste materials to prepare some best from waste.
Therefore, she will be more than happy that she was able to help in any form and got to be a part of this.
11. Do Yoga
Mothers are known for their giving nature. Their daily routine keeps them busy. They are always busy taking care of everyone else but not themselves.
Planning a yoga session with your mom would the healthiest gift you can give to her. They need to take regular time out for themselves to nurture, heal, and restore. And having quality time with each other would be the cherry on the top.
Spend time with each other. Help each other to stay fit. This will only make your bond stronger.
12. Meditate Together
Being a mother is a blessing. The gift of being a mom is infinite. Mothers are known for their sacrifices for their children. When a woman becomes a mother, it is the moment when her own needs and wants to take a back seat.
So, having a meditation session together would be a great idea to make your mom remember how important it is to take care of herself. And, it will not only help her to have a healthy mind; but, also it would help both of you to have an aligned thought process.
And yes, this will definitely help to make your bond strong with your mom.
13. Talk Heart-to-Heart About Your Feelings
Listen to your mom with an open heart, without judgment, and without assumption. Give them a chance to pour their heart out. Sometimes they find words, but sometimes it is difficult to express. Try to make them feel understood.
And believe me, you will cherish this moment all your life.
Share your story with her.
After all, just a simple conversation makes everything better. Having a peaceful conversation with mom is such a bliss.
14. Take Your Mom For A Brunch
There are many fun activities we can do with our mom to make her feel cherished and create memories, as we have enough time, and we are with her.
There are many simple yet effective ideas to fall back on.
Planning a brunch with your mom is one of them. Making your mom feel relax and free is something which is much needed.
Therefore, plan to have a luxurious breakfast or organize your mom's favorite brunch.
So, here are the brunch recipes you can have with your mom:
Ham and cheese waffles
Acai smoothie bowl
Bacon, egg, and grilled cheese
Your mom's favorite cocktail
Cakes (obviously your mom's favorite flavor)
Muffins
I am sure you and your mom will definitely love this idea of having a good time together.
What Are The Other Things You Can Do With Your Mom?
Clean your room and maintain your stuff properly, clean your cupboard, and she will get a big relief from cleaning your room, and in that spare time, she can sit with you or discuss things with you.
In this pandemic situation, people are afraid of going to parlors or salons. Both mother and daughter duo can have fun while doing activities like cutting hairs, waxing, threading, and other things that are required to do.
Both can watch tutorials from the Internet, and after learning, you can implement it quickly. And it will be kind of a new experience for both of you.
And you can do so many things which she likes, or you both want to do in the free time, even if it is about preparing a new cuisine, reading magazines, any other hobby which is fun to do and keeps mind refreshing and relaxing.
Simple Mother Daughter Activities That Will Create An Unbreakable Bond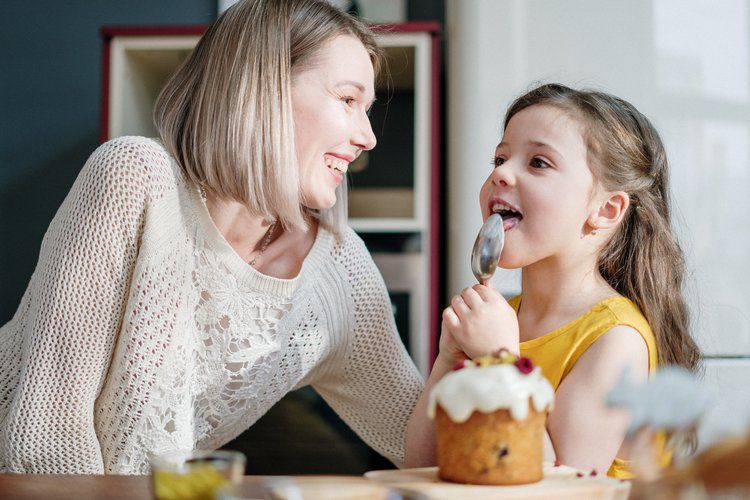 So, what are the fun mother-daughter activities to do with your mom to connect and bond with her!
Here's how you can impress your little lollipop!
Take an Interest in What She Loves
Plan a Treasure Hunt At Home
Have a Silly Question Asking Session
Read a Book Together
Start a Mom and Me Journal
Ask How You Can Help
What Are The Things To do With Your Mom On Her Birthday?
Mother's love is a symbol of unconditional love. Therefore, it is apt that her birthday is celebrated with the best things in the best way. Make your mom's birthday special.
So, let's dive in; what you can do with your mom on her birthday.
1. Take Her To Visit Her Favorite Place Which Excites Her
On your mother's birthday, nothing can be great than taking your mom to her favorite place.
2. Plan A Small Celebration
Plan a small sweet celebration for your mom's birthday. Meanwhile, going for a bouquet of flowers, cake, and a small note will be a good idea for a complete celebration.
3. Give Her A Royal Treatment
On your mom's birthday, giving her a day to relax will be the best idea. You can book a whole makeover session for your mom's birthday.
Things To Do With Your Mom On Mother's Day
Finding the perfect gift for Mother's Day is a tough job to do.  But moms agree on one thing — spending a special time with their children, no matter how young or old, is priceless.
1. Play Her Favorite Sport
Have you ever thought about what childhood sport your mom enjoys most? Find out and make it happen.
2. Plan Her a Stress-free Day with a Book
At home or away, nothing is allowed but comfy lounging with a captivating book.
3. Spend the Day Enjoying Art Galleries 
In the midst of calmness  — just enjoying each other's company and the refreshing beauty of art.
Fun Things To Do With Your Teenage Daughter
Being a mother is truly an amazing thing, and I feel that it is very important to cherish every moment with our children. So I made a quick list of fun things that you can do with your teenage daughter. This will bring you closer to your mini-me.
So, here are some fun things to do with your teenage daughter.
Make crafts
Plan a picnic
Plan a slumber party
Do a photoshoot
Explore a book store
There are many more fun things to do with your teenage daughter. But the best thing is to simply spend time together.
Concluding Thoughts On Things To Do With Your Mom
A very wise saying which we always listen to and I believe that is so close to true is "God could not be everywhere, so that's why he created mothers."
Nothing in this world can be compared with the true love and care of mom. She sacrifices many things to create a better future for her children and make them happy. As she does many things for us, let's do some things for her to make her feel special.
Therefore, give your time and love to her in spite of your busy lifestyle.
Words may not completely express the unconditional love that a mother-daughter shares.
No matter how old we get, any news, either good or bad, a mother is the first person who comes in our mind with whom we wanted to share the news.
Even if the whole world is throwing rocks at you, just remember you will always have your mom's back. She is the biggest supporter one can ask for. And only by having mom on your side can win wars.
So, let us know in our comment section what mother-daughter activities are you gonna plan today.
Key Takeaways On Mother-Daughter Activities
Making room to connect with your mother is a joy and a privilege but should never feel overwhelming.
Try doing one thing on the list and seeing what your mom enjoys most. Therefore, do that consistently.
Making crafts, planing a picnic, or a photoshoot are some of the fun things you can do with your teenage daughter.
It is apt that your mom's birthday we celebrate with the best things.
Planning a fantastic surprise for your mom on her birthday will be a cherry on top.
You can think of some cool mother-daughter date ideas to create a great bond.
Words are not enough to express the unconditional love that exists between a mother and her daughter.
Let's give your time and love to her in your busy lifestyle.
What Are The Fun Activities A Mother-Daughter Due Can Do At Home?
Board Games, card games, creating a collage or scrapbook, making a meal together, lip sync battle, rap battle, or dance-off are some of the fun activities mother-daughter due can do at home.
What Are The Mother-Daughter Date Ideas Or Other Things To Do With Your Mom?
Having a tea party, having binge-watching together, baking together are some of the fun mother-daughter date ideas you can go for.
What To Expect When Getting A Mother And Daughter Date Ideas?
Mother and daughter date ideas are sure to please moms and their gals at most any age. So, the whole idea of having a date or fun activities to do with your mom is to bring you closer.
What Are The Fun Things I Can Do With My Teenage Daughter?
A mother-daughter bond is a fantastic bond. There are many fun things you can do with your teenage daughter to make this bond stronger.
Therefore, as mentioned above, you can do painting, join dance classes together, binge-watch Netflix, or spend time over a cup of coffee.