Winter is here, and it's that time of the year when long holidays arrive! Why not celebrate this winter with your loved ones experiencing something that you hadn't done before? Wondering what places to visit in winter for fun and interesting experiences? Read on to know more about fun things to do with friends. We have handpicked the best places to visit in winter.
So, brace yourselves!
Winter unfolds the extreme beauty of nature; when the snow falls, when the northern lights lighten the darkness, and when the freezing winds put your caliber under test. Those are the times when nature is at the strongest yet mind-blowing.
13 Fun Things To Do This Winter With Your Friends
Hence, this winter we are here; bringing you the 13 fun things to do this winter with your friends or family.
Unveil the madness in you. Get, set go!
1. Go on a Reindeer-Drawn Safari, Lapland – Finland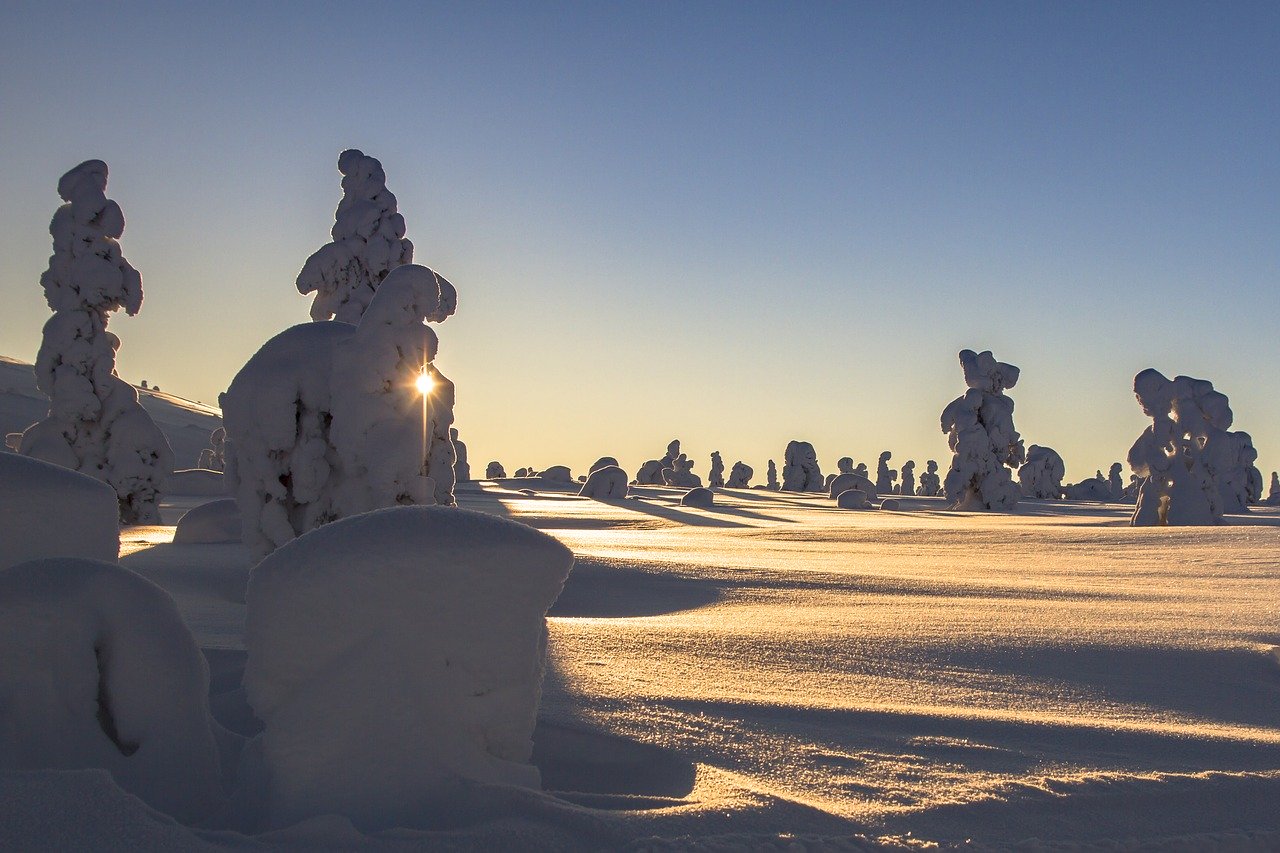 The Nordic Lapland region comprises the northernmost areas of Sweden, Norway, and Finland. For centuries, Sami people. In years experiencing the coldest winter, snow lasts up to 200 days, making snowmobiles a dominant mode of transportation, along with skies and snow sled.
Additionally, the thrill of snow sledding in a reindeer-drawn sleigh will undoubtedly remain one of your memorable experiences in life. Hence, get to the Nordic Lapland to taste this incredible journey.
Fun Things to do in Lapland – Winter
Enjoy the below fun activities in the Lapland spread across Finland, Sweden, and Norway.
Visit the Santa (Finland)
Take a Reindeer caravan
See the Northern Lights
Go snowmobiling

Go Dogsledding

Stay at the Ice Hotel
Walk on a Frozen lake (needs professional guidance)
Take a train ride to Article circle
Soak in the sauna
2. Feel heaven on Earth at Bergen – Norway
Wanting to escape from the wildest winters? Remember to carry your warm boots if you're heading to this winter wonderland.
The incredible, magnificent fjörds here will leave you spellbound and want to live more to taste such natural beauty. Moreover, the persona here is indeed breathtaking. Thus, we think this is one of the best places on Earth, to visit during winter, especially with your best friends.
Bergen for all good reasons is considered the Gateway of Norway.
It is said, many Norwegians fled to America as immigrants. Additionally, these people left behind, fought and embraced the beauty of this dynamically vibrant place on this planet.
Activities to do in Bergen
Take a ride on the Fjord Cruise
Visit the Hanseatic Museum
Vannkantan Aquapark
Head to the Fish Market
Mount Fløyen and Mount Ulriken
Enjoy World-class Sea Food at Restaurants
Visit the Biggest Collection of Gingerbread Houses
Stroll around the Christmas Market in Bergen
Skiing
Visit the UNESCO World Heritage Site, Bryggen
Take a train to Flåm, to enjoy more of the stunning Norwegian fjords.
Why wait, book your flight's right way. Click here to learn some great hacks to book cheap flights.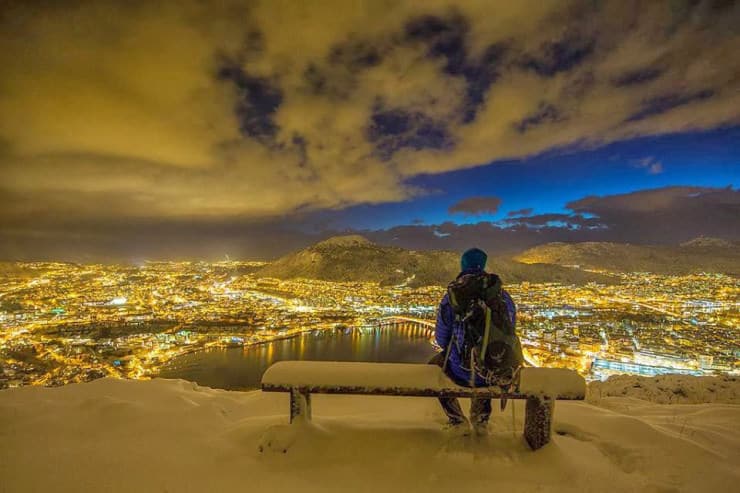 3. Find Fun and Harmony At The Same Time in Tokyo – Japan
Tokyo, a city known for its variety, integrity, and serene. It must surely be your next destination towards your journey. It is surely one of the best places to visit in winter.
This city also has so much to offer; from humongous fun activities to temples – all the things you need to enjoy a winter holiday with family and friends.
Activities to do in Tokyo in winter
Sapporo Snow Festival (from 31 January to 11 February)
The must-visit Christmas Markets
Surprise your date at the Illuminations
Visit the popular Hokkaido and Tokyo Ski resorts
Visit the shrine
Have a long, hot onsen bath
Have a meal/coffee under a blanket (Yes, that's called a kotatsu)
Enjoy Japanese blossoms
Check out some of the most beautiful destinations in Asia that you must visit.
4. Embrace Winter at Montréal en Lumière – Montreal
This year celebrate winter at the Montréal en Lumière, one of the city's most significant winter music, arts, and food festival.
It also includes live music and dance performances; dazzling light shows; ice sliding and ice-skating. You would also get lucky to enjoy some famous foods by renowned chefs from Canada and Switzerland possessing incredible culinary.
Moreover, all those foodies out there, get ready to throw a feast to your taste buds.
The final night's Nuit Blanche à Montréal is more than what you can expect. It is a dusk-to-dawn party. Moreover, it has more than 200 activities including both indoor and outdoor. Now, this is what you call a PARTY!!
Things To Do In Winter in Montreal With Your Friends
Visit Montreal's famous ramen restaurants
Take a beer tour
Luminotherapie (conducted annually from 28, 2019 to January 26, 2020)
Igloofest – the world-famous music event
Relax at Montreal's Best Spa
5. Take a Winter Wonderland Train Ride Into the Canadian Rockies, Vancouver to Calgary
To stay and play (on snowshoes, skis, or skates, and by dogsled and sleigh) in the mountains, join Fresh Track Canada's Rockies Rails Winter Wonderland tour.
This small-group trip includes a two-day, one-night train ride; hotel stays in Jasper, Lake Louise, and Banff; a Maligne Canyon ice walk and Icefields Parkway scenic drive; and a hell-tour of Banff National Park.
I could not wait for more to experience such a beautiful journey.
Check this out to also access the best travel guide and travel tips to plan your next trip.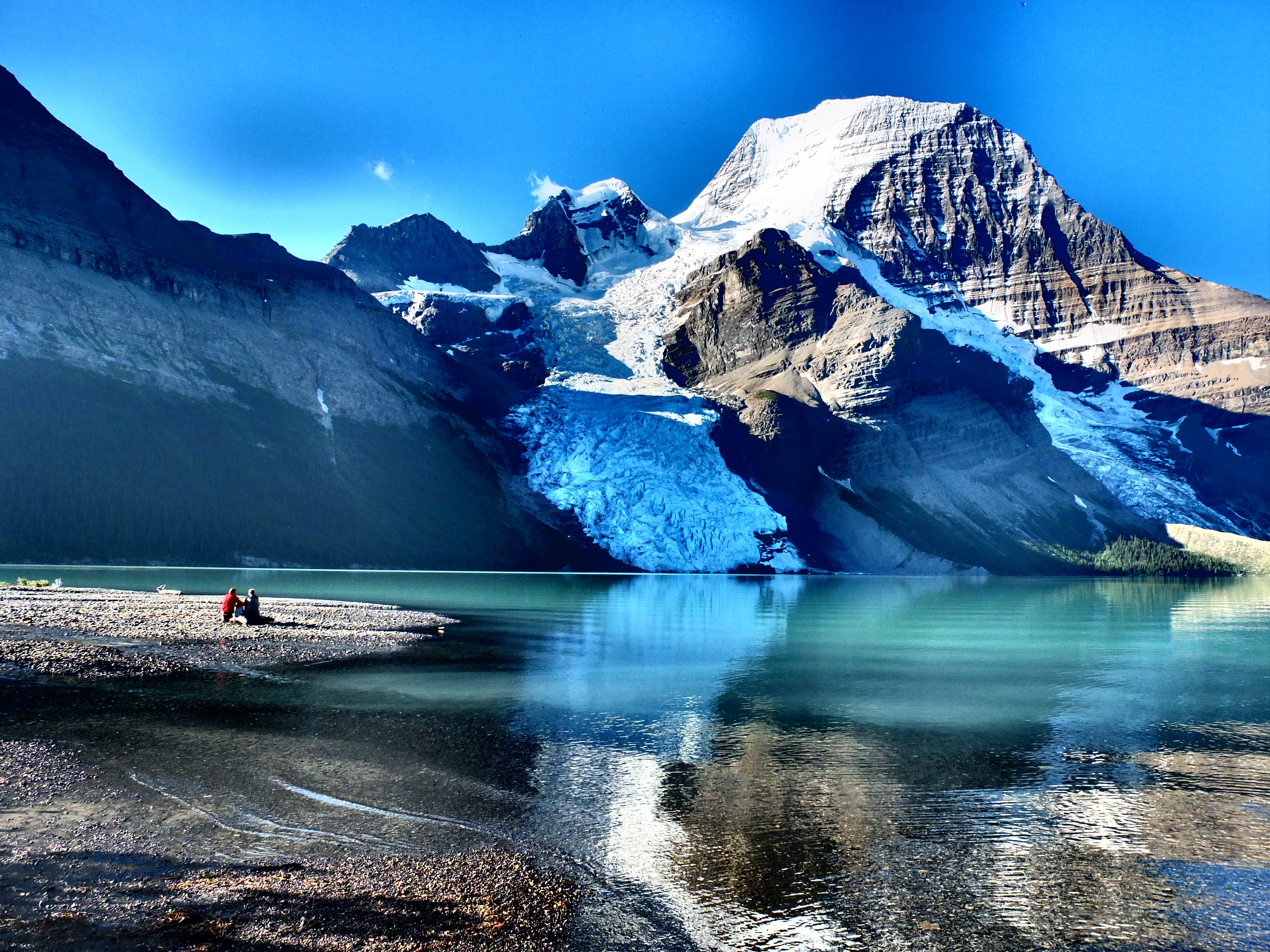 6. Shop at the Christmas Markets in Vienna – Austria
Vienna enfolded in the Alpine region is a hot spot for tourists. In winter it provides numerous entertaining activities. The skating rinks like the one in the Town Hall are surrounded by fantastic architecture making the experience even more fun.
Furthermore, Vienna's Christmas markets are considered to be one of the best in markets in Europe. They have sweets, local crafts, and delicacies from all over the world. Thus, this is surely one of the fun things to do in winter with your friends.
Things to do in winter in Vienna
While in Vienna, sip a cup of world-famous coffee
See a show at the Opera
Shopping at the Christmas Markets
Go Skating
Relax at a spa
Take a Ring Tram Tour
Apart from Vienna, there are several beautiful cities in Europe. Here's our list of city breaks in Europe that you must visit.
7. Enjoy the "Once in a lifetime moment" at the Ice Hotel in Sweden
There are several interesting things about Sweden. One among them is the wonderful, magical, Ice HOtel. Every year artists build this Ice hotel in the northern Swedish village of Jukkasjärvi, about 17 kilometers from Kiruna. It is the world's first ice hotel that started in the year 1990.
After this year, the hotel has been rebuilt each winter from December to April. Moreover, the entire hotel, including the beds and chairs, and the ice bar and ice chapel are constructed from the ice blocks of a nearby river named – 'Torne.'
Additionally, this Ice hotel is known for its artistic bedrooms proposed and created by artists from all over the world. The structure remains below freezing, around −5 °C. It also indeed sounds like a must-visit place in winter.
Which are your favorite places to visit in winter? Share your fun things to do in winter with us in the comment section.
Things to do in Sweden
Visit the Ice Hotel
Skiing in Dalarna
Sauna is famous in Sweden
Kiruna, the city where you can watch the Northern lights
Gothenborg, to enjoy the southern coasts and seafood
Speed Boat Rides
Stockholm's Old town, Royal Museum and Djurgarden
8. Witness the Monarch Butterfly Migration – Mexico
It's a moving experience to be surrounded by millions of monarch butterflies and see 10,000 of them at a time bursting off an Oyamel fir tree-like fireworks around you.
Fun Things to do in winter in Mexico
Wildlife Viewing
Monarch butterflies
Whale watching
Bird watching
Other Fun activities
Enjoy culture at the Ambulante Festival
Attend the Famous Music Festival – Corona Capital
Take part in Día de Reyes
Visit Lake Chapala
Enjoy the Cultural Heritage Festives, Fiesta Grande
9. Take a Wild Off-Road Tour Through Arikok National Park – Aruba
Aruba is the best cure for your winter blues. Soak in the remote Natural Pool; visit caves (some with resident bats or Arawak Indian drawings); stand atop limestone cliffs overlooking the Caribbean Sea.
Additionally, look for the resident wildlife, including burrowing owls and whip-tail lizards. Exploring through the road is the best way to make it a breath-taking experience.
Things to do in winter in Aruba
Experience Carnival in Aruba
Take a dip in the sunny beaches (Andicuri Beach, Boca Catalina, Arashi, and Baby beach)
Enjoy this Caribbean island by car
California lighthouse
Visit Caves, Zoos, and Sanctuaries in Aruba
10. Sedona, Arizona – USA
For all those hiking magnets, winter is the best time to visit Arizona. With less crowded hiking trails and junctions offering spa treatments, this town holds a unique, surreal beauty during winter. Moreover, this is just as the mild snowflakes partially cover the famous red sandstone formations of this city.
To add flavor to your visit, you can also ride a hot-air balloon making the most of the gigantic views. Indeed, a perfect holiday package from the hustle and bustle of the city life.
Here we've also got some of the nice holiday destinations for summer vacations in America. Check them out!
11. Feel the Christmas Eve at NYC – USA
NYC is one of the best places to visit in winter. NYC – commonly known as the city that never sleeps, gets covered in a thick layer of snow during winters. Just like Tokyo, NYC also has all that a town needs right from activities to serene beauty to harmony.
When you are in New York, Central Park is a must-visit, with numerous romantic hiking trails and horse carriage rides.
12. Embrace the Northern Lights at Iceland
Guaranteed darkness is the first essential factor. The months with complete darkness is the ideal time to spot Northern lights or Aurora.  Typically from October to mid-March, gives you can gain a high chance of visibility.
It is for sure a must to see once in a lifetime. Then there is, of course, the city's famous nightlife and bar scene that you must not miss on weekends.
Moreover, the city goes from a quiet fishing town to an all-out rager on Friday and Saturday nights. Also, there are dozens of bars in the downtown area to suit every taste and fancy.
Iceland for sure has more than just northern lights, especially in the winter. You can also get to catch some of the spectacular ice caves in the world in Iceland.
Catch all the best things to do in Iceland in this article.
Hiking to Glymur waterfall
Black sand beach at Vik
Watch northern lights if you get lucky
Whale watching
Blue lagoon
Ice caves
Iceland is home to plenty of waterfalls
13. Go Boating in Kashmir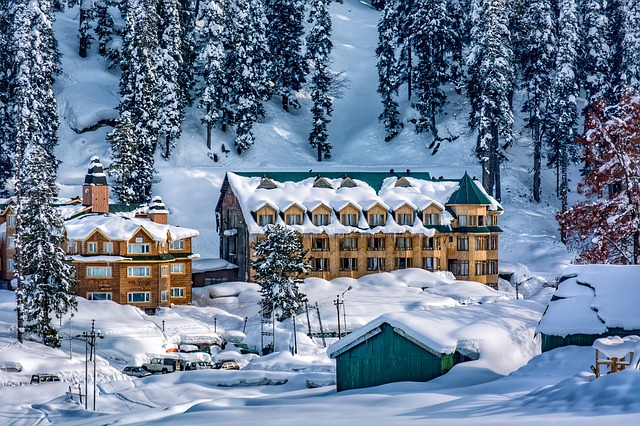 This northern beauty stated as "Heaven on Earth," is not likely an exaggeration. Unlike other states of India, Kashmir is known for its vivid separation of climate all across the year. Additionally, this intensifies the picturesque nature of Kashmir, making you feel overwhelmed.
This state is being shared by India and Pakistan mainly covering the Himalayan mountains.
The Jammu-Srinagar highway and the region of Ladakh are worth visit in winter for the spectacular views you get to see.
Additionally, the locals of Kashmir are so friendly and kind. Enjoy boating along with Kashmir's traditional green tea, called Kawa; with spices and almond, admiring the nature on its way.
If you've not visited India yet, here are the reasons why you must visit India at least once in your lifetime.
Final Thoughts On Things To Do In The Winter
We hope you have got many options on how to enjoy winter this year. Thus, make the most of this month and welcome the new year with incredible enthusiasm.
While it's winter across most parts of the world, countries like Australia enjoy summer. So if you feel like getting some sun during the winter, head to Australia. We have prepared a list of the best places to visit in Australia. Enjoy checking them out.
Key Takeaways on Fun Things To Do In Winter With Friends,
Visit the Laplands of Finland, Norway, or Sweden to get a step closer to mother nature and feel the wilderness of this planet. Experiencing nature this close can be a life-changing and most wonderful things you can do.
Bergen, Norway must be on your list of places to visit in winter. The incredible, magnificent fjörds here will leave you spellbound.
From our list above, you can decide on the winter destination based on the activities you'd like to enjoy with your friends or family.
Remember to pack the appropriate winter clothes based on the climate and be prepared for surprises.
Always carry some basic medicine and backup clothing, especially for your winter travels.
We hope you've enjoyed these ideas on places to visit in winter. If you have any more inspirations on the fun things to do in winter with friends, then let us know in the comments below.
For more updates, subscribe to us and stay tuned. You can also follow us on our social media channels.