Korean skincare and K-beauty products have gained massive popularity worldwide for their fantastic formula. With people of all ages, genders, and from all walks of life, it has become popular in the beauty industry. To maintain the right skin care regimen, it is vital to have the perfect K-skincare routine for both day and night time. Oh yeah, these skincare tips suit well for normal, oily, and combination skin types.
The ten step-by-step Korean skincare routine is an absolute favorite for every beauty lover.
What Is K-Beauty?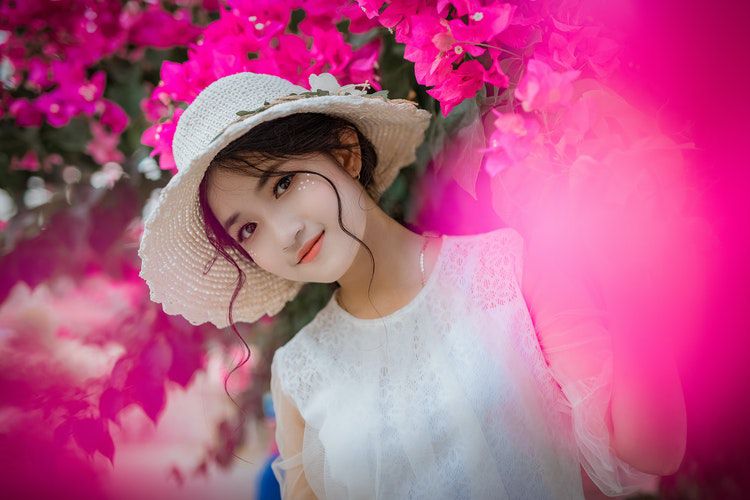 K-beauty is the term used to refer to Korean skincare. The Korean beauty routine focuses on achieving hydrated, pigment-free, and glowy skin without relying on makeup as much.
According to a recent study, 42.6% of respondents have affirmed that K-beauty products are incredibly famous in their country and recommend them.
It has become a trend in recent times, with people worldwide wanting to achieve that luminous and glassy skin look that provides your skin with a healthy glow.
10 Step Korean Skin Care Day And Night Routine
Ten steps are followed in the daytime and ten at night that are considered the best Korean skin care routine for glowing and radiant skin.
Best Korean Skincare Routine – Day
It is essential to observe a daily routine when using Korean skincare. The ten steps you can follow throughout the day are listed below.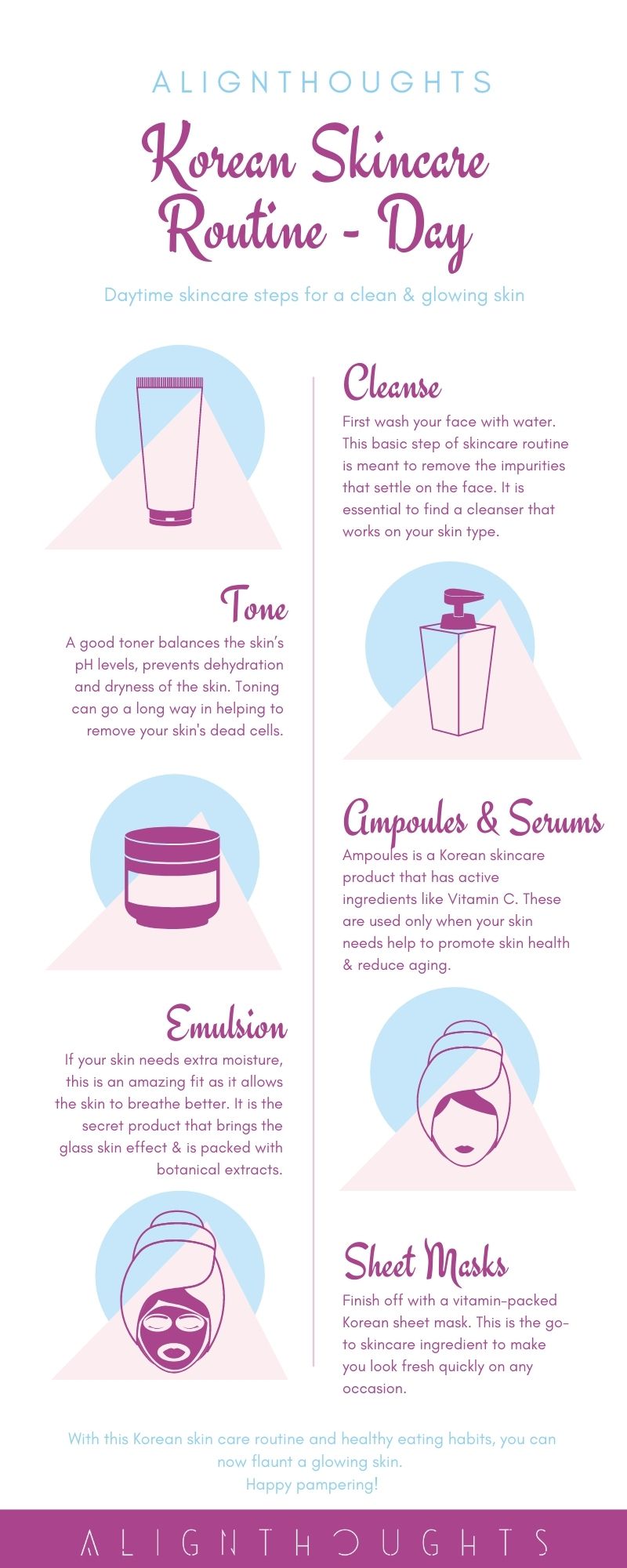 1. Double Cleansing
This step entails washing your face twice. It is called the double cleansing method, including washing your face twice once with an oil-based cleanser followed by a water-based cleanser. Cleaning with an oil cleanser is essential because it breaks down makeup residual and protects your skin against oil-based impurities.
After cleaning your face oil-based cleanser, you can go ahead with a water-based one to remove the remaining oil residue. The water-based cleanser is generally in the form of foam or a gel, and it deeply penetrates to the skin's layers and pulls out all the dirt and impurities,
2. Exfoliate
This step is a skincare technique where you extract dead cells from the top layer of your skin as it immensely helps in brightening up your complexion. It also lets your skincare product penetrate deeper into your skin hence enabling them to work better. In addition to that, exfoliation also paves the path for your skincare products to do their job optimally. Follow this step once or twice a week at most.
3. Toner
After exfoliation, your skin feels dry and dehydrated. Hence, you should apply toner to prevent dehydration and the dryness of your skin. Using toner should be part of your Korean skin care routine both day and night because it balances the skin's pH levels. Also, it removes any impurities that didn't get removed with a cleanser.
3. Essence
The essence is the eye of the Korean skincare routine. Its structure is more like a toner than a serum. In short, K-beauties use this product because of its formulation as it seeps deep into the skin for intense hydration.
You can incorporate this product into your daytime and nighttime Korean skin care routine as it also acts as an anti-aging agent. This is a hydrating product that gives the skin a youthful appearance.
4. Ampoule Or Serum
Now that you're halfway through your skincare routine, don't skip this step yet.  Serums work great on dry skin as they are best known for combating dryness in the Korean skincare routine. To achieve great results, you should apply serums in Korean skin care routine during day and night time because it has anti-aging properties
However, this step is optional for oily skin people, so you can skip it if you want. If you have some problematic areas on your face, apply the Ampoule on those specific parts only since this repairs the skin. The ampoule is a Korean skincare product that has a higher concentration of active ingredients like Vitamin C.
5. Eye Cream
Applying eye cream during the day and night keeps the area around the eyes hydrated and protected throughout the day. This is a preventive product for those under the age of 40. It moisturizes ultra-thin skin around the eyes. Also, it reduces the fine lines that appear around the eyes.
6. Moisturizer
Korean skincare routine starts from the thinnest to the thickest textured product. To keep your skin hydrated all night, apply a nighttime moisturizer. To achieve the desired results, use a moisturizer as it helps you achieve long-lasting hydration all day.
7. Sun Screen
Applying sunscreen prevents your skin from UV rays and prevents the development of dark spots, fine lines, and wrinkles.
Sun-screen is a must in your Korean skin care routine as it acts as an anti-aging product, too. We have the misconception that sunscreen is for the beach, but it is also meant for the normal workday.
8. Emulsion
This is the perfect product because it contains formulas that hydrate and moisturize your skin. If your skin needs more moisture, this is an amazing fit since it allows the skin to breathe simultaneously. This will enable you to have the glass skin effect and is packed with botanical extracts.
9. Sheet Masks
Everyone's been raving about sheet masks in recent years. After all, these are the most popular products in the Korean skincare industry. They are readily available and can be applied as often as you like since they are like another layer to your skin and packed with the right ingredients.
10. Sleeping Mask
Applying sleeping masks as part of Korean skincare is the last step of the nighttime routine. This allows your skin to get the most out of the products you have used. These may seem like regular creams, but they are a nighttime cream that contains nourishing and hydrating ingredients that help retain water.
Korean Skin Care Routine – Night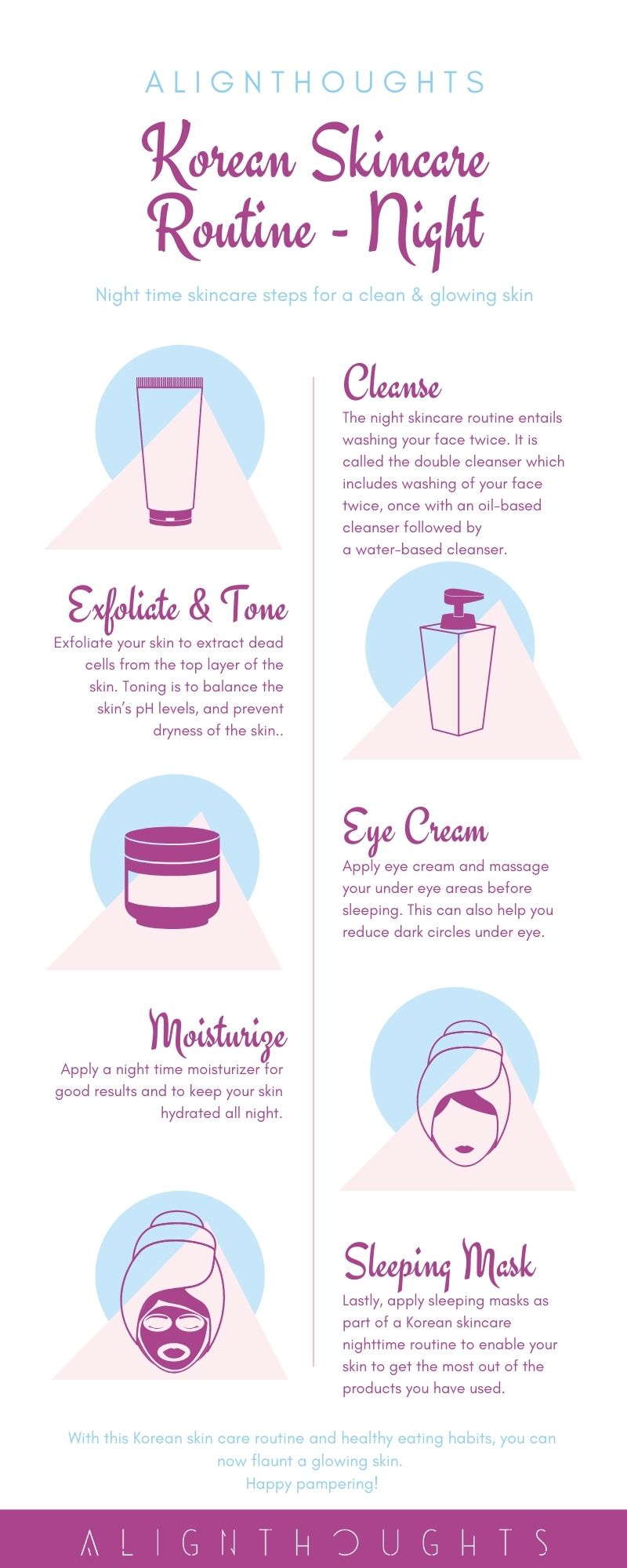 Best Korean Skincare for Acne
Treating acne requires patience and the right skincare products. Products with active ingredients that soothe acne-prone skin are among the essential tips to follow in Korean skincare.
Applying too many products with potent ingredients may irritate your skin, so you will have to be smart about the products you use.
There is no single best Korean skincare for acne method as you have to use a combination of products that contain mild exfoliates and gentle cleansers that do not clog your pores.
The following Korean skincare routine can help reduce inflammation and redness due to acne. However, keep in mind that it requires time and balance to evaluate whether or not the products are working or not.
1. Acne Patches On Whiteheads Overnight
You can use these patches at night and leave them on for great results. Also, applying these after cleansing and tonic will give you excellent skin results.
These come in a box with 24 patches. You can either soak it with a solution for healing breakouts as it kills the bacteria and reduces inflammation or absorbing pus, which dries the pimple.
2. Reduce Inflammation and Redness with Centella
The product is called Centella Asiatica, and it is a herb used to treat wounds and infections because of its anti-bacterial and anti-inflammatory properties. It prevents irritation and dryness due to its soothing and hydrating ingredients.
3. Clay Mask to Clear Your Pores
This can be used once a week. It draws excess impurities out of your pores. Applying it will balance your oil levels and clear your pores, which will reduce acne.
4. Exfoliate With a Chemical Peeling Solution
Frequent exfoliation is an essential step to keeping your pores unclogged. However, you should avoid exfoliating with scrubs because it causes the skin to tear, which leads to an increase in acne. Use a chemical peeling solution instead of scrubs that feel harsh on your skin.
5. Clear Blackheads With a BHA Cream
These penetrate the pores by breaking down clogs from the inside out. They work best for blackheads, and you will have to apply them after cleansing but before moisturizing. It stabilizes the skin and reduces pimples.
Korean Skin Care Tips
For any Korean skincare to work, a specific routine should be followed. While that is true, particular tips should be considered in Korean skin care both day and night time routine.
1. Know Your Skin Type
Korean skincare routines depend on your skin type. There are normal, dry, combination, and oily skin. People with normal skin have elastic, glowing, and firm skin. Those with dry skin usually suffer from itching and cracking.
Whereas people with combination skin may have clear skin for a while, and then suddenly, their skin suffers from breakouts. Oily skin results from the production of too much sebum. It is crucial to maintain healthy skin, and those with oily skin should moisturize regularly.
2. Hydration
Water is a necessary part of your livelihood. Your body needs water to survive because it nourishes the skin from the inside out. Incorporating drinking water into your daily routine prevents dehydration and brings a healthy radiance to your skin.
To know whether your body is hydrated or not, you can check the color of your urine. If it is colorless or light yellow, your body is hydrated, and if the color of your urine is dark, you are dehydrated.
3. Beauty Sleep
Sleep deprivation causes a decrease in blood circulation and makes your skin dull, dry and lines appear on your face, and it is exceptionally vital for beautiful and healthy skin.
A proper 6-8 hours of sleep per day is a must for skin health when you're sleeping. Your skin is working to remove dead cells and rejuvenate them. People who sleep early at night are less prone to wrinkles.
4. Facial Stretching Exercise
Your face, just like all other parts of your body, needs exercise. Exercising your face reduces excess fat and makes your jawline more visible. It also boosts blood circulation, enabling your skin to be glowy and rosy.
Indulge in some regular face exercise for your cheek and lip muscles. This is one of the best practices to include in your Korean skin care routine for anti-aging effects.
5. More Skincare And Less Makeup
Taking care of your skin should be a habit from an early age. The earlier you start implementing this tip, the better your skin will get in the long run.
And on top of that, try to use minimal makeup as it can have a severe effect on your skin. Instead, follow a good skin care routine, and it is a boon for your skin health in the long run.
6. Eat and Drink Healthy
Eating nutritional food is an effective way to get healthier skin. Your daily intake of food should consist of fruits and vegetables and limit your intake of high sugar beverages, fried foods, and red meat.
Conclusion        

                 
All in all, there's no one-size-fits-all Korean skincare routine. There are many methods, and if followed in the right way, you will achieve the desired results.
As already seen above, the Korean skincare routine is a ten-step method. To achieve the glowy and radiant skin you are looking for, incorporate these Korean skincare recommendations and routine steps.
By doing so, you can achieve healthy, radiant skin with the right amount of products, time, and patience.
FAQs On Korean Skincare Routine For Day And Night
Do I have to follow all the steps?
While we suggest following all the Korean skincare steps religiously for youthful skin, but it's not mandatory as everyone's skin is different. You may need to focus on following some steps and may even skip a few steps. You will have to find whatever suits your skin's needs.
How should I begin with Korean skin care day and night time routine?
Stick to the basic. Start with following the CTM method that is cleansing, toning, and moisturizing. Gradually, you can start including steps as per your needs and preferences.
Is it okay to skip the Korean skin care routine some days?
It's absolutely fine to skip some steps as long as you stick to the basic CTM routine. You have to understand that the minimum habit of cleansing, toning, and moisturizing is a must for skin health.
Can people with sensitive skin follow the Korean skincare routine?
As long as you're aware of what products work for you, you'll be fine. If needed, do a small patch test before you try any product on your face.
More useful articles for you: