Climbing the Mount Everest is the dream she set for her, lying on the hospital bed with one leg amputated. Yes, that's the determination and passion this girl holds on. That's what Arunima's Sinha's inspiring story all about. Women can achieve greater heights, no matter what stops them. All you need is the zeal to achieve what you want out of life.
Arunima Sinha Family
Born in a small town called Ambedkarnagar near Lucknow, Arunima Sinha lost her father at the tender age of three. His father was an engineer in the army and mother was a health department supervisor. Arunima Sinha was a national level volleyball player and decided to keep a hold on her sports to pursue a job and applied at CSIF.
She received the call letter from Delhi, and that was the day that changed her life, but not in a good way. This change made her an amputee. She was just saved from death. But surprisingly how did a tragedy become a life-changing experience in her life?
Approximately after two years after the incident took place, Arunima was 'On Top of The World at the Mount Everest.' At the age of 26, she is the first Indian amputee to climb Mount Everest. This act is the ultimate example of passion and hunger to prove others wrong. People visiting her showed pity in a weird sense such as, "Who will marry her being a one-legged girl?" She just proved everyone wrong and portrayed the real power of a woman.
Disabled are not the ones who are 'physically' disabled. In fact, disabled are the ones whose thoughts are wounded. Those who give up in life are the ones who are disabled.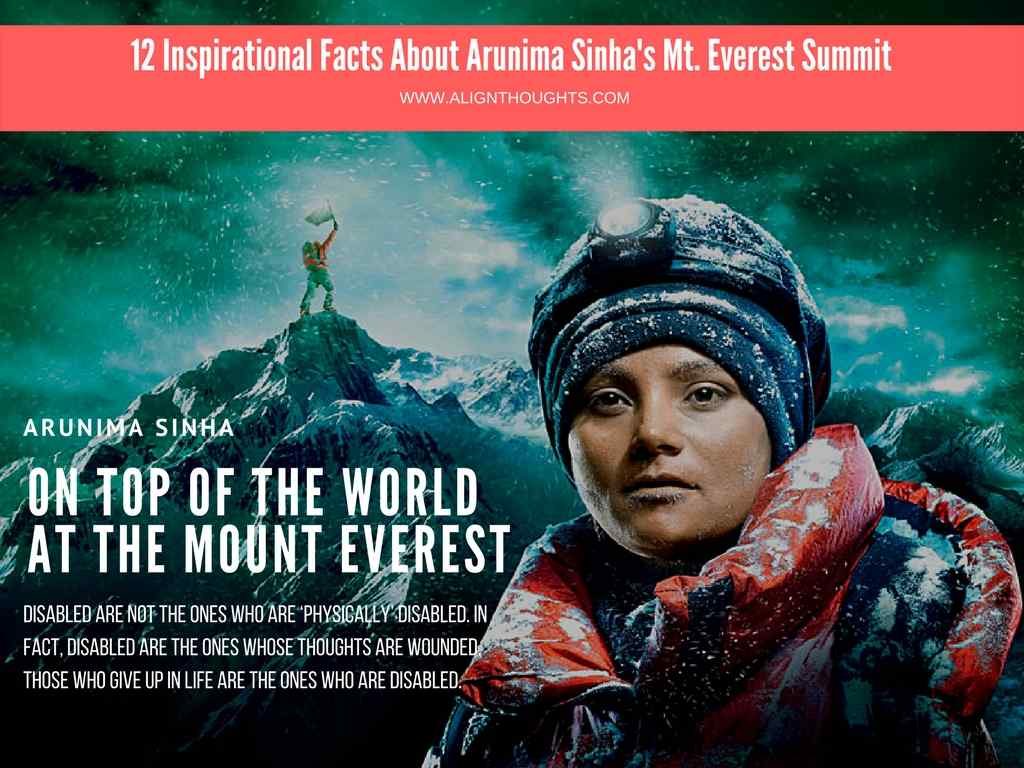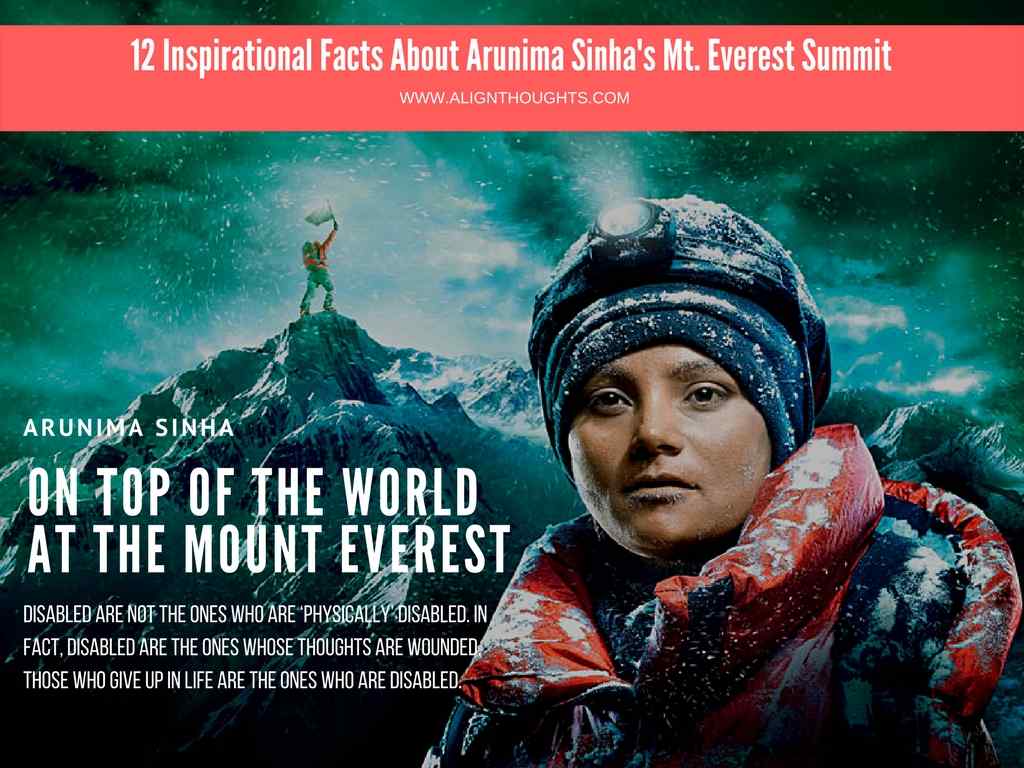 Read below the inspirational facts of Arunima Sinha's story, the struggles she undertook to reach Everest summit and Arunima Sinha's quotes that will make you feel proud of her. Arunima Sinha's inspiring story will indeed enlighten you with the passion for achieving your goal and crave for something better in life.
12 Inspirational Facts About Arunima Sinha's Mt. Everest Summit
1) How did Arunima's Life Change in Minutes?
On refusing to give away her gold necklace, thugs threw Arunima away from a moving train. She flew into an oncoming train, and the force threw her onto another train track. Within a few minutes, fate played a lousy game with her. Sadly, even before she could move her left leg off the track, the other train went over it. As a result of this accident, Arunima Sinha lost one of her legs.
But her thoughts became undoubtedly more powerful to reach even the highest peak in the world, Mt. Everest. This marked the first step for Arunima Sinha's inspiring story.
2) Arunima's Determination
Arunima Sinha decided to reclaim her voice when the media and people around made stories that she committed suicide by jumping off the train. She began to mull over the impossible dreams she could set for herself, and that's what she did. She decided to climb on top of Mount Everest. Well done Arunima, actions speak louder than words!
3) Give Back to Society
Giving back is not about donating, it's all about making a difference.
On 21st May 2013 Arunima reached the Everest summit and became the first women amputee to achieve the highest peak of the world.
https://alignthoughts.com/11-smashing-facts-about-sania-mirza/
4) Your Thoughts Control Your Mind
Usually, amputee patients take months, or even years, to get accustomed to their prosthetic limbs. She started to walk in just two days. The thoughts of mind hold tremendous sway over the physical body. Align your thoughts, and you can make wonders.
Arunima Sinha's commendable control over the mind is what keeps her going to make and break world records.
5) Padma Shri Award
Arunima Sinha, the woman amputee who created a world record by climbing Mount Everest received the honorable Padma Shri award in January 2015, which is the fourth highest civilian award in India.
Other notable celebrities that hold Padma Shri Award are Sachin Tendulkar, Priyanka Chopra, and Mary Kom.
6) Indian Flag At The Mt.Everest Summit
At the Mt.Everest summit, she erected the Indian flag on the peak, deposited some pictures of her idol Swami Vivekananda next to it. Assuming that she would die, she used the last vestiges of her oxygen to take photos and videos of herself on the peak. Probably she knew she was going to die.
Why You Must Hang Out With People Who Force You To Level Up?
7) Luck Favors The Brave
Luck favors the brave, and it's apt for Arunima. She was brave enough to die and maybe the so-called "luck" supported her. On her way back downhill, her oxygen completed. But a British climber was turning his way back without reaching the top and threw away the extra oxygen. And his surplus oxygen somehow saved her day.
8) Never Stop Dreaming
Arunima Sinha's dream is to climb the highest peaks from each continent around the world. So far she has accomplished four- Everest in Asia, Kilimanjaro in Africa, Elbrus in Europe and Kosciuszko in Australia. She is heading to South America in June this year.
Arunima Sinha's latest achievement also includes the highest peak in Antarctica. She is the first woman amputee to have climbed Mount Vinson, in the continent of Antartica, in Jan 2019. 
9) Born On A Mountain
Prime Minister Narendra Modi recently launched Arunima Sinha's book titled 'Born on a mountain.'
3 Simple Steps That Tell You Why Life Is Not About Finding Yourself, It's About Creating Yourself!
10) If Life Gives You Lemons, Make Lemonades Out Of Them
Undoubtedly, Arunima has etched her name in history for her extraordinary and brave achievement, despite all odds. It's the same as life. When life shows the worst things to you, just cross all odds and stand on top and leave behind an inspiring story to the world.
11) Life Is An Elegant Teacher, You Better Be A Good Student
You could learn life lessons from any sport or activity. It doesn't matter what you achieve in life. What matters is how those achievements make you a better person. How you treat others is at the core of what makes you a good human being.
12) Arunima's Success Mantra
These inspiring lines are what Arunima concluded with:
Abhi toh iss baanj ki asli udaan baaki hai, Abhi toh iss parinde ka imtahaan baaki hai!

Abhi abhi maine langah hai samandaron ko, Abhi toh pura aasman baaki hai!
Which loosely translates to,
The real flight of this hawk is impending, right now this bird is yet to be tested. Though I have leaped the seas, the entire sky is yet to reach!
Concluding Thoughts on Arunima's Life
SET YOUR GOALS HIGH IN LIFE. AND DON'T STOP UNTIL YOU REACH THERE!!
Failure is not when we fall short of achieving our goals. It is when we don't have goals worthy enough. Encourage the girl child to dream and thrive. Align your thoughts and reach the goal. If you've enjoyed this article, share it with a friend. Also, subscribe to us for more such articles and stay tuned. You can also follow us on our social media channels mentioned below.