The novel coronavirus has brought several changes in the world we live in. One of them is an abundant increase in work from home culture. Being productive while working remotely doesn't mean you need to work more, but on the contrary. Working from home, you run at the risk of working twice than before, which can exhaust you easily. In the long term, this aspect can affect your physical and mental health. More than before now is the time that you maintain a good work-life balance to do your job efficiently and correctly. To achieve all this while staying sane, here are some tips to increase your productivity while working from home. Read on to learn how to work from home effectively.
Bye-bye stressful days!
How To Set Up Your Home Office?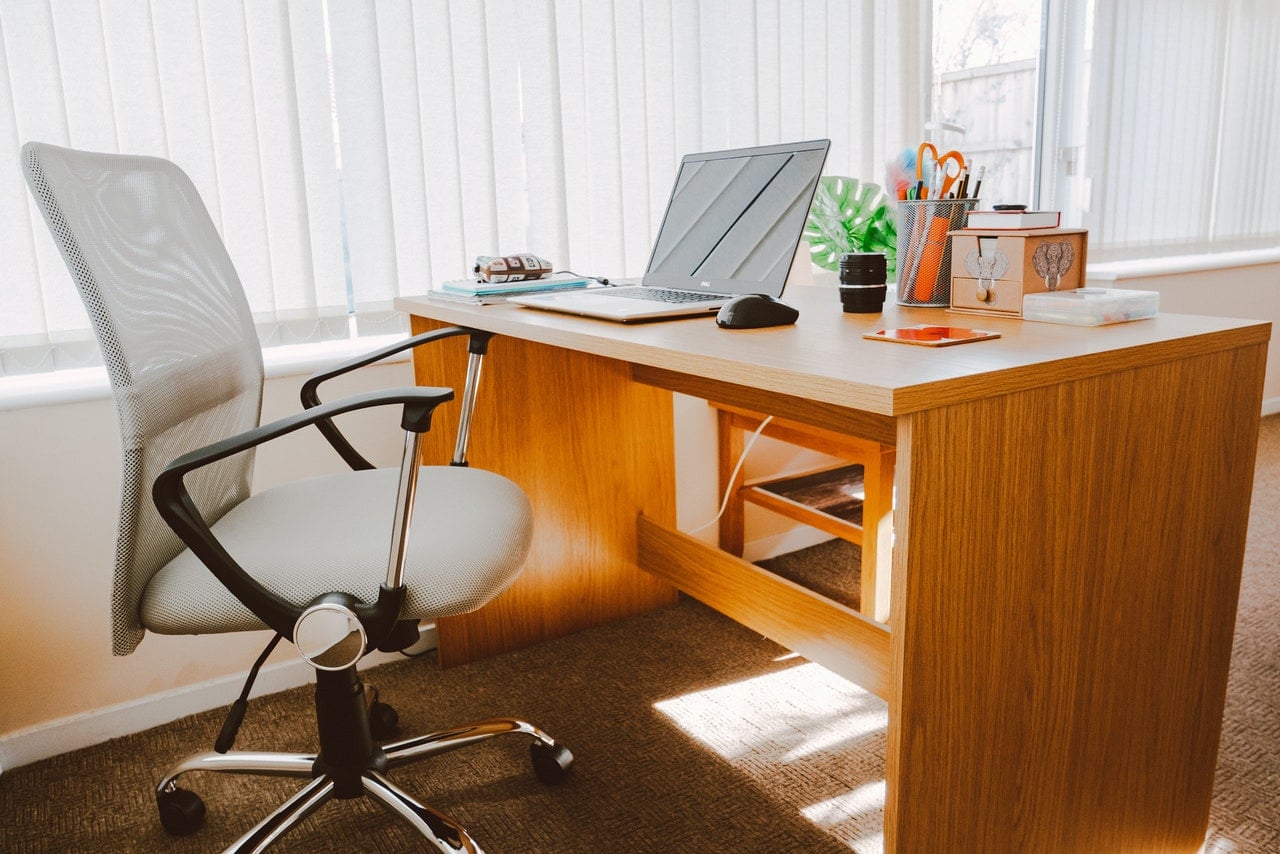 Setting up a good home office space is one of the vital features to increase productivity while working from home.
Probably for many people who begun to work from home, the first challenge was to establish where they would move their office. Here are some suggestions that can help you make your space as comfortable as possible:
The first step is to make sure you have everything you need: a laptop, additional monitors, essential documents, printer, and good speed internet connection.
It is also ideal for the office to be allocated a whole room. It is recommended to choose the living room, the balcony where there is more light. Try not to work from the bedroom, which, as a rule, we associate with rest, sleep, and relaxation.
Make sure you have sufficient natural light.
Place the office or sit near a window so that light comes from the front or from the side
Choose an ergonomic office chair, which can be adjusted according to the work position, the height of the office, and your height.
To feel comfortable, the monitor of the laptop or computer must be located at eye level. This allows you to keep your back straight without keeping your head down and your neck bent.
Declutter and maintain order in your home office. Organizing can help you be more productive.
Last but not least, personalize your home office with messages, panels, photos that give you a good vibe and help you stay connected with your job, co-workers, team, clients.
Tips To Increase Productivity While Working From Home?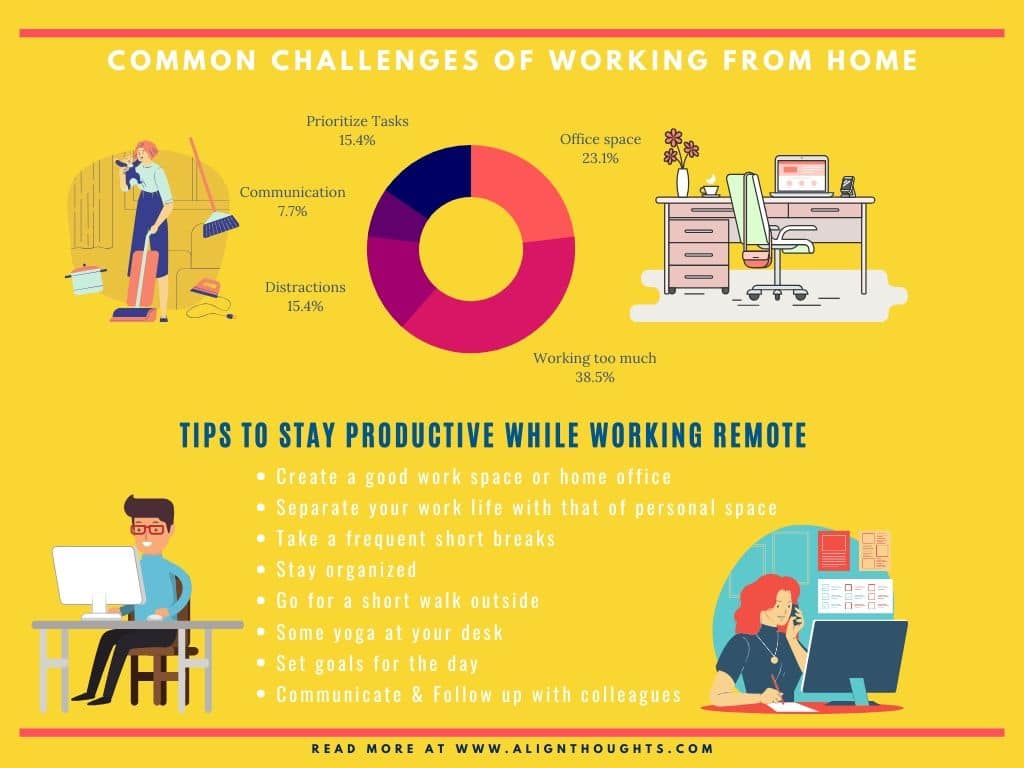 Don't start working as soon as you wake up.
Getting into the work environment as soon as you wake up can be a recipe for disaster. Instead, create a healthy morning routine, that can eventually guide you to the home office.
The best things you can do as part of your morning routine could be the same things that you do while going to work. Is it preparing your coffee? Or getting dressed? What is that you used to do to prepare yourself and go to the office?
Start cultivating a similar morning routine, so that your brain is not overwhelmed by staying home continuously.
It is also essential you get a good night's sleep to stay at your best the next day.
2. Set A Time
Productivity means staying focused and working hard for a limited period. Numerous studies mention that people who work 60 hours a week are becoming less efficient compared to those who work an average of 40 hours per week.
So, the first thing you can do is that, at the beginning of the day, write down the goals that you have to achieve that day, and then set a time for each one. If the tasks are large and their performance would take more than 8 hours, divide them into smaller goals of 2-3 hours.
Once the working hours are done, update your status, and sign off. Leaving a status on Skype, Slack, or Teams can help your colleagues see that you are done for the day.
It is a good way to avoid unnecessary expectations from your team that can hamper productivity for the coming day.
3. Plan Ahead With Your Partner
Make a weekly plan, or at least a few days in advance. This is especially important if you have kids and live together. Stay at home moms and dads must make it clear with their partners about who and when are they responsible to take care of the child.
Choose any calendar format that suits you and write down everything. Keep in mind what calls, Zooms, Skype's you know you'll have, and save time for them.
If your partner is at home and you have children, take time at the end of the week and synchronize your calendars. Look at what obligations you each have in the calendar and then start working from there.
The best way to stay productive while working from home is to stop procrastinating doing the small things.
Should you talk to your manager? Go ahead and book a meeting.
Are there changes you need to discuss with your peer? Communicate with them effectively.
Piling up smaller things can sooner turn into chaos, and leave you stressed. For that reason, you must cultivate the habit of doing things immediately, as and when they pop up.
If you are already following this tip to increase productivity while working from home, then you have cracked one of the ways to work from home effectively!
Increased productivity, reduced stress, and more energy is just a few of the several benefits of being organized at work.
Keeping your work environment clean and decluttering your surroundings are the basic things in order to start organizing your workday.
Try the below tips to stay more organized that can help you a long way to increase productivity.
Maintain to-do lists
Set reminders for meetings
Set reminders for personal breaks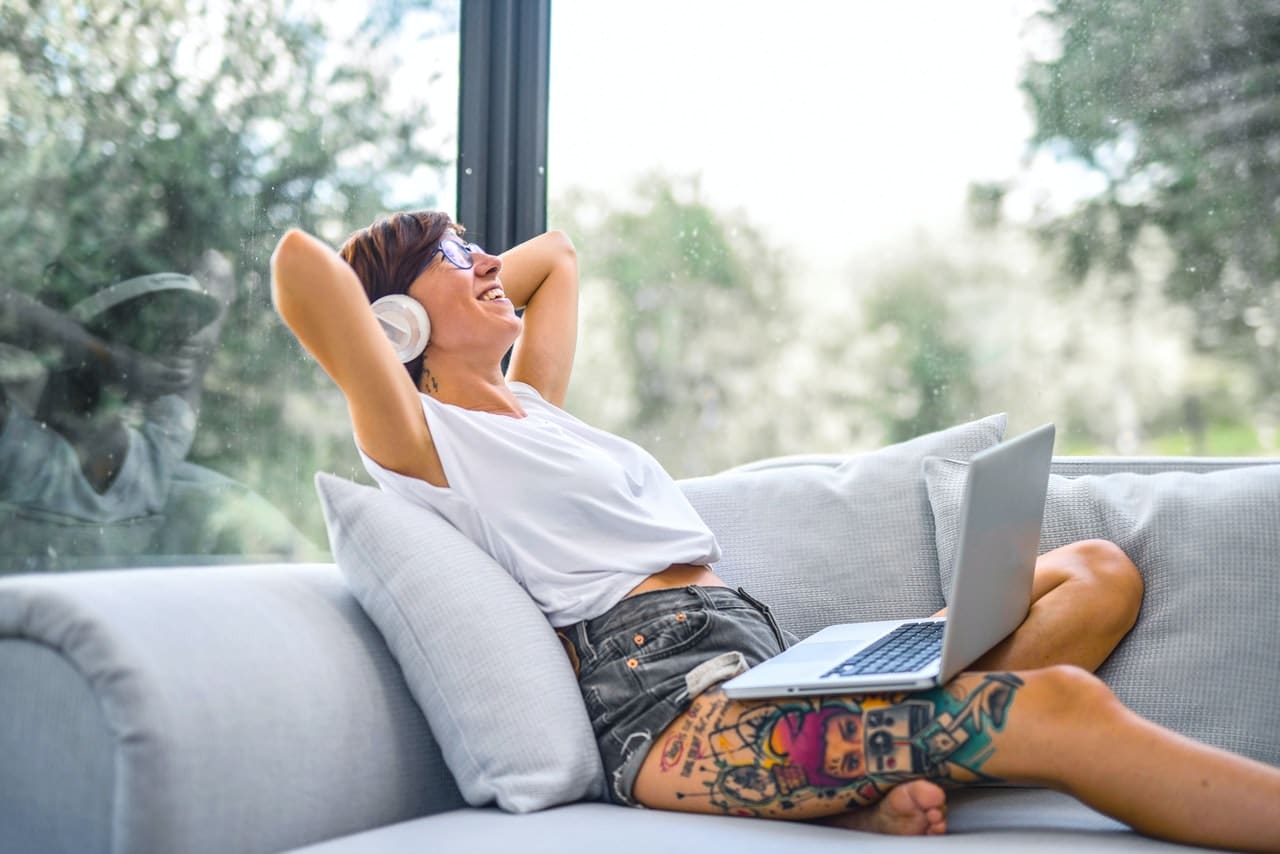 With working from home comes the disadvantages like less moving around, social isolation, and similar challenges.
Stretching your muscles can be an effective way to loosen your body. You can start doing yoga poses even at your desk to relax and ease your muscles, leaving you with an improved productivity rate.
You can also do some exercises for the neck and back. Movement enhances blood circulation and helps the brain to oxygenate better.
Keeping your body in good condition is essential to work from home effectively, which brings us to the next point – eating well!
6. Eat Immune Boosting Foods
There are a lot of superfoods that boost productivity, like berries, green tea, and salmon. Staying in good health is primary to produce good quality work.
For these reasons, start improving your diet by including immune-boosting foods that can nourish your mind as well as body. Check out the foods that increase immunity naturally to stay productive while working from home.
Try giving a break to your mind and body with green tea fill with antioxidants.
That brings us to the next point, short breaks!
7. Short and Frequent Breaks Are Essential
An overworked brain loses its efficiency and productivity level. Moreover sitting at the same place for several hours, can also make you fall asleep during work.
So a break of 5-10 minutes every 45-60 minutes can help keep your focus. This habit is also healthy for your body, in general, to keep you physically active.
Set a reminder or alarm on the phone so that it reminds you to get up from your chair and make a little movement around the house.
8. Focus 100%
Time is not the only parameter by which you can measure the degree of productivity. The intensity or, instead, the power of concentration, the focus on solving the task set, is the second important parameter.
The better you can focus, the faster you can finish the goal. To be able to focus one hundred percent, you need to make sure there are no digital distractions.
9. Avoid Distractions
Establish some rules for how to work from home effectively without distractions. For example, disconnect from social networks and try not to check Instagram or Facebook, except during the lunch break. Make sure that when you need to be 100% focus, you are not disturbed.
For example, panic, stress, anxiety, can be a significant disruptive factor, lowering the level of focus on work. But there are ways you can manage them, especially during the time left after the work schedule.
10. Have Personal Plans For The Day
You can choose to do some physical exercises, watch a comedy, use the services of a therapist who offer online support during these challenging times, or just read a good book.
Staying happy and balanced in your personal life can significantly increase your professional performance.
If you have any children, you can work in periods of 30 intense minutes, followed by 10 minutes of pause in which you talk to the littles ones, give them ideas for playing, or having fun together. Even though it may be difficult at first, in a few days, you will get used to this way of working, and you will get into a natural rhythm. Also, observe what other small activities steal your time or focus on you and find ways to reduce their effect.
11. Schedule Specific Time To Check Your Emails
Email is another factor that can disrupt you and consume your productivity level when working remotely. Reading perhaps some emails may force you to respond at that moment and so distracts you from your task at hand.
In order to work from home effectively, it's recommended to choose a specific time of day to answer emails.
You can do this, for example, after lunch, when the energy level decreases and, consequently, productivity is diminished.
A good time can also be in the afternoon after your lunch break, or before starting any new task. Avoid checking emails as the first thing in the morning to not impact your productivity while working from home.
12. Hydrate Yourself
Yes, you read that right.
The brain needs hydration to function properly. Water consumption balances the chemical processes that take place in the brain and thus helps us quickly make neural connections. Make sure you drink 7-8 glasses of water daily.
Drinking enough water is of utmost importance not only to work from home effectively, but also to stay healthy in general.
13. Stay Motivated
Staying motivated is one of the key aspects to increase productivity while working from home. It is certain that you cannot be motivated all the time. But while at work, or if you're working remotely is it essential you stay motivated and limit yourself from negativity.
Advantages Of Working From Home – How To Leverage Them?
Working from home does have its perks! You are now away from your boss, and the corporate work culture.
Also, if you also benefit from a quiet space, where you are not disturbed by others, you have an extra advantage. You can:
concentrate better
more productive
manage your time better
and observe more closely how you do your activity.
During this time, you can find out if you prefer to work from home or have face-to-face interaction with the team, colleagues, clients.
You can figure out what resources you need to be able to work efficiently, productively, quickly, but also what are the factors that disrupt you. At the same time, you have the chance to experience the challenges faced by a freelancer working full time from home.
If a few years ago the work from home seemed like a distant dream, nowadays more and more companies offer this possibility to the employees.
Whether you manage to accomplish more tasks in the comfort of your home or meet other goals that you set for yourself that day, working from home can be beneficial to you.
Of course, this depends a lot on how you prepare your workspace and the rules you set to ensure that it's a productive way of doing your job.
Work From Home – The Disadvantages To Take Into Account
Therefore, the first disadvantage is the risk of working much longer. For this reason, it is healthy to impose an 8-hour program, which you will adopt daily. When the program is over, take care of your personal life.
watch a movie,
have fun with the little ones,
cook new recipes,
do some cardio exercises,
read a book.
Whatever it is, it is vital to keep the balance between personal and professional life.
Another disadvantage is the lack of effective communication and social isolation. It may be more challenging to discuss online than face-to-face, but there are many apps, tools, and platforms that allow you to stay connected with the team and talk openly even when you are away. And this can hamper your productivity to work from home effectively.
This new era of working remotely can be a challenge for many of us. It is just a matter of time to get used to them and learn how to manage them or find practical solutions.
We are all in this critical situation together. Hence, don't wait for this to over, instead, learn to thrive even during this crisis, and come out stronger than before!
If you know any other tips on how to work from home effectively to increase productivity or you want to share your experience working remotely, don't hesitate to share them with us in the comments below!