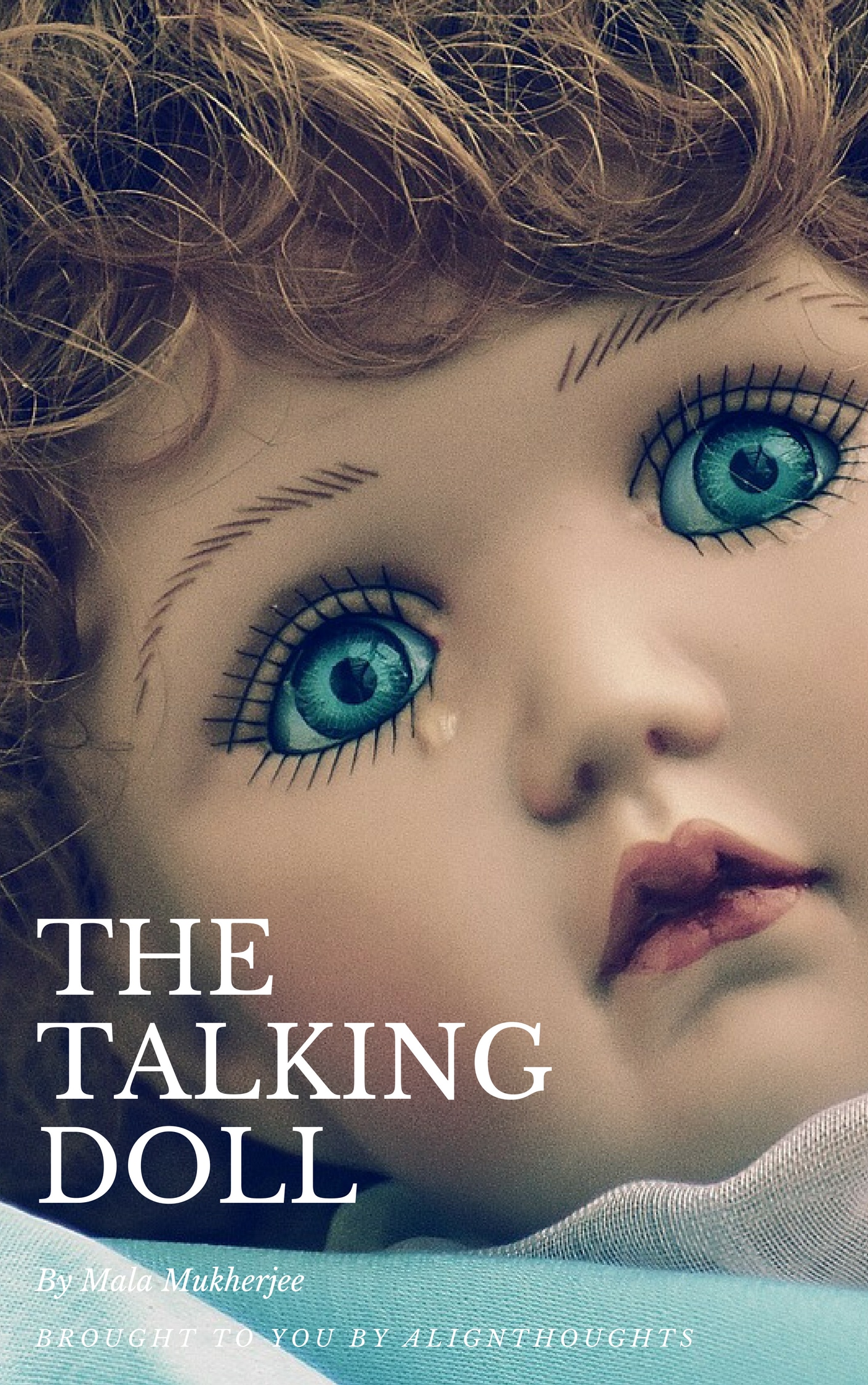 Part-I
It was a hot and sultry day, Ira was feeling exhausted, but still, she had to cook for the evening's party. Her daughter, Sohini's fifth birth anniversary was today. She and her husband Kunal had arranged for a small gathering with near and dear ones. She looked at the clock; it was half past four. Kunal was expected to come back at five thirty, and she hoped that the guests would not arrive before seven or eight. So, she still had some time in hand.
Suddenly Sohini stormed into the kitchen and started talking ceaselessly. Ira initially did not pay much attention, but suddenly she heard Sohini was talking about a doll that could speak. She wanted a talking doll for herself.
"Dolls cannot talk, Soha," Ira smiled, "Who told you about such absurd thing?"
"Sailesh uncle," she replied.
Ira flinched to hear the name, but put a thin smile on her face, "The doll must have a hidden voice recorder or something like that. Only humans can talk, Soha."
"No, it is not," Sohini argued, "It is a magical doll. It speaks like a normal girl or boy of my age."
Ira did not argue and focused on her cooking. She had prepared an enormous number of dishes for the evening's party. The cake was homemade too. Now she had to decorate the cake with icing and cherries. Sohini looked at the vanilla cake and asked, "Why did not you make a Black forest?"
"Decorations look good on white cakes." She replied. Actually, Kunal detested Black forest and chocolate cakes.
Sohini left the kitchen and started playing games outside. Ira again thought about Sailesh and felt a bit nervous. Suddenly, her cell phone vibrated; it was a call from Kunal. He informed her that he could not arrive before seven. Oh, it meant, she had to prepare everything on her own.
It was half-past six when someone rang the doorbell. She expected Kunal but surprised to see Sailesh in front of her. He might be an invitee too; after all, her husband was a bit fan of his guitarist cousin. Ira smiled mechanically and welcomed him. Sohini ran towards Sailesh, and he greeted her Happy Birthday with a doll wrapped in a decorated packet.
"Your gift, the talking doll, as I promised," Sailesh said. Sohini thanked him.
"Well, Ira, I hope everything is going smoothly. I cannot stay in your party, because I have to go somewhere." He took leave and went away leaving Ira in ambiguity.
Part-II
Finally, when everyone left, and the party was officially ended, Kunal asked Sohini about the arrangement and the gifts. Sohini admitted that the party was awesome, her friends too enjoyed it a lot, especially the cake, which mom baked in the home. Ira smiled with satisfaction.
"Which one of the gift you like most?" Kunal asked her. He expected that Sohini would say the play station, which he gifted her today. Actually, Kunal had no meeting in the office. He went to Luz's Toy shop for giving her a nice surprise.
Sohini replied, "The Talking Doll, dad."
"Talking doll?" Kunal sounded confused.
"Sailesh uncle gave it." Sohini showed him the doll. She had already unpacked it. It was a boy doll, looking like a European boy of two or three years old, with vivid blue eyes and golden wavy hairs. It was no doubt adorable but had no price tag or company name attached to it. Even the gift wrapper too contained no labeling. The doll could blink like a real child and also can move its lips. It probably had some voice recorder or something like that, which made sounds. Ira thought that it might have a timer too, that was why it could wish good night or good morning according to the local time.
"So Sailesh came, but why did not he join us?" Kunal asked.
"Yes, he came. You invited him…."
"Of course, I invited my cousin; I expected him to sing at the party, but…
"He had somewhere to go."
"Good, I hope he is trying to earn something as well. very good," Sailesh assumed many things and did not notice uneasiness on her face.
"Well, we should try to sleep. Tomorrow Sohini has school." Ira said.
Without further discussion on Sailesh's sudden arrival and departure, Ira started preparing the bed for her daughter. She placed a brown teddy on Sohini's bed and asked her to sleep. Sohini put the Talking Doll next to the teddy. The doll moved its lips, "Good night, Sohini."
Ira flinched, the doll called her by name. Its voice sounded familiar to her, a mature male voice. Yes, it seemed like Sailesh's voice. She felt sweats all over her face.
Part-III
Kunal felt uncomfortable. Initially, he blamed too much stress and junk food for his sleeping disorder. He was feeling full, so, took medicine and tried to sleep. He looked at his wife Ira; she was sleeping soundlessly.
He came out from his bedchamber and walked towards the kitchen. He half emptied the water-jug and finally decided to stand in the balcony for some time.
As he walked past Sohini's bedchamber, he heard someone's movement inside the room. He moved closer to the door and slightly opened it. The blue night lamp showed him the interior of the child's room. His daughter was sleeping peacefully with her teddies and dolls. Her body was partially covered with a thin blanket, saving her from the direct cold air of the air conditioner.
Kunal looked for the Talking Doll, but could not find it on her bed. He could remember that Sohini asked her mother to keep it on her bed only. Where it was, then?
Suddenly Kunal glanced at the floor. The doll was lying on the carpet, far away from her bed. Usually, he never entered Sohini's room in the night, but today he could not resist. He entered and picked up the doll. He brought it outside the room and, felt movement on its chest. It was breathing. Its body was warm as well. A shiver went down his spine.
'NO' with a loud shriek, he threw the doll away from him.
His shouting and the thudding noise already spoiled Sohini's sleep. She woke up, "Dad."
Kunal nervously asked, "What the doll was doing on the carpet?" Sohini stared at him disbelievingly and replied, "It was on my bed, Dad."
Ira stormed into the room. She too could not figure out what had actually happened. Kunal dragged her outside the room and explained everything, "The doll is inauspicious, and we should not keep it with the child."
"Before that, we need to buy a new one. Did not you see how deeply Sohini loves it?" Ira suggested.
Kunal nodded, he could not say that the doll reminds him the presence of another man in the house.
"I'll talk to Sailesh," He said. He firmly believed that his cousin was unaware of its unusual characteristics.
"Let's sleep," Ira said, "Tomorrow I'll buy a similar kind of doll from the shop and replace it."
Part-IV
Ira's mission initially appeared to be an easy one, but when she finally started looking for a similar kind of doll, she could not find it easily. She searched almost all the toy shops of her locality, but could not manage to find one. Finally, when she looked at her wristwatch, it was already a quarter to three in the afternoon. She had to receive Sohini from her school. She hurriedly came out of the shop and walked towards the school.
To her surprise, she found a small gathering in front of the school gate. Initially, she got afraid, but when she saw Sohini was happily chatting with her friends in the middle of the crowd, she felt relieved. But….but…what was it in her hand? The doll, the very same doll gifted by Sailesh, was in her hand.
Briskly she walked closer towards the gathering. She heard a male voice within the gathering, "Babe, what is your name?" The same tone, same voice, she heard many a time in her college days.
Dolly, Sohini's classmate and best friend giggled, and answered, "Dolly, yours?"
The same male voice answered, "Sam, you may call me Sam."
Again she stumbled over the name. The picture of a young man of twenty years old, with men's bun and beard, dressed in colorful t-shirt or casuals, jeans, and shoes, electronic guitar in hands, was performing loudly, receiving applause and greetings from the audience became visible in her memory. She closed her eyes. The name was so familiar to her. Saibal liked to be called as Sam and thought that the name would make him a famous rapper one day.
"Sohini," she called softly. Her daughter had no intention to move, but still, she forced her to move. Sohini's friends requested, again and again, to bring the doll tomorrow.
"No, school is not for playing," Ira scolded her mildly, "If you smuggle it again in your bag, I'll tell your class-teacher." She threatened. Sohini looked sad but did not contradict.
Ira hired a cab and asked her daughter to get into it quickly. Inside the car, she opened her daughter's bag and started checking her copies. Suddenly, she noticed that Sohini's attention was still on the doll. She got angry and wanted to give her a tight slap.
Suddenly, the doll said, "Angry Ira looks more beautiful." Her daughter broke into giggling.
Ira whitened to hear Sailesh's voice. She fearfully looked at the doll, it was no longer speaking, but it had stopped her voice too.
She was damn sure that Sailesh had put a voice recorder inside it, where he had already recorded his own voice. 'He wants me,' Ira thought, 'He wants to break my family.'
She closed her eyes and tried to recall the past. Sailesh and Ira were college friends. Sailesh had feelings for Ira, which she never acknowledged. Sailesh too did not disclose it publicly. Years later, when her father arranged her marriage with Kunal, a successful guy in the corporate sector, she thought that she would never meet her secret lover again.
However, she was wrong. On the eve of her wedding, she met Sailesh again, as her husband's cousin. Therefore, it was not possible for her to avoid Sailesh anymore. She at least expected that he would not disclose the secret before her husband, but now……
"Madam, you have arrived." The driver stopped the car and broke her contemplation. Ira paid the driver and helped her daughter to get out from the cab. As she was walking towards the elevator, the caretaker greeted, "Namaste madam."
"Namaste, Kishanji," she replied back.
"There is a letter for you."
"Oh, but it should be in the letterbox."
"No, ma'am, it came from a stranger, not from our postman."
Ira took the letter in hand and noticed that her name was written on it. She hurriedly walked across the lawn and stopped before the elevator. The elevator dropped her on the fifth floor; she hurriedly unlocked the apartment's door and entered. She even forgot to ask Sohini to change her dress and to wash her hands properly, before eating snacks. Sohini seemed noticed her mother's odd behavior. She ran into her room and started playing with the doll forgetting all about food and school uniform.
With trembled hands, she opened the envelop and recognized the handwriting. It was from Sailesh. Yes, her guess was right. Sailesh wrote her a letter. In the beginning, he begged apology for disturbing her. He knew that his weakness towards Ira was one-sided, and that was why he never expressed it openly. Ira always dreamed of having a rich man as her hubby and Kunal was no doubt her worthy husband. But, he still wrote this letter. He felt awkward at the day of her wedding when he saw that his own cousin was her husband. He tried to keep a distance, but Kunal was a big fan of his guitarist cousin, so, it was not possible. It was like a mental trauma to him. So, he always tried to release his sorrows and frustration through songs, but finally, he decided to tell her the truth. The doll was the final gift to Sohini from his side, because he would no longer be able to meet them.
Ira read it again and again, but could not understand what Sailesh actually meant. She assumed that he might be leaving the city or the country. Ira could not resist meeting him.
Ira entered Sohini's room and pleaded, "Soha, do you like to visit your Sailesh uncle?"
Sohini's face brightened, she nodded, "Yes, mom, the doll is no more speaking." Ira picked up the doll and asked her to get ready. Suddenly, she felt that the doll was breathing.
Part-V
Though Ira had never visited Sailesh after her marriage, she knew his address. Guitarist Sailesh lived in an old apartment within a one-roomed flat. It was not his house, but a rented accommodation. Kunal once told him that though his cousin had talent in music, he was not very much successful in his career. He hardly preferred to perform for money. He was a bit whimsical, so, he hardly got any good contact.
Ira noticed that the dolls vibration increased, as it was gasping for air.
"Mom, the doll breaths," Sohini remarked.
"Yes, it breaths," Ira accepted.
Suddenly, a car stopped just in front of the old apartment and to her surprise, she found Kunal got down from the car. There was no parking facility in front of the building, so, he gave money to a shopkeeper for taking care of his vehicle.
"Dad," Sohini shouted.
Kunal noticed them. He hurriedly walked towards them and asked in whispering tone, "What are you doing here, Ira?" Without waiting for her answer, he again said, "I received an email from Sailesh, that he would no longer be able to meet us. So, I came to meet him personally."
Ira did not say anything about the letter but showed the doll, "It's breathing," Ira replied. Kunal touched the doll and realized that his last night's nightmare was no dream or imagination, but a reality. He concealed fear and anxiety from his wife and quickly said, "I have a few words with him."
He walked confidently towards the long narrow staircase, which was partially dark due to lack of bulb or tube light in the entrance. Kunal climbed up the steps quickly; stopped at the second-floor balcony, and walked towards the rows of wooden doors. He stopped before the third one and knocked it. No, Sailesh did not come out, but an old lady in a printed cotton sari came out from the next door.
"Yes," she asked.
"I want to meet Sailesh Roy, the artist. Do you know aunty where he is now? Actually, I am his cousin?"
"Sailesh?" The woman looked at him oddly, "Don't you know about the tragedy?"
"Tragedy?" Ira asked.
"Yes, tragedy or misfortune whatever you call. Sailesh died in a train accident on the day before yesterday…"
"No…." Kunal protested, "You are wrong. He visited my house yesterday evening. It was my daughter's birthday party…"
"Sorry, I am right, you may ask others. Yes, he had an invitation, that was why he borrowed money from me and said that he wanted to gift his niece, a Talking Doll. Probably, the girl asked for one. I smiled and said, Talking Dolls are expensive ones, you cannot manage. He said that 'if there is a will, there is a way.' He went away hurriedly and seemed to visit the supermarket across the rail line. You know that the rail-gate has no Level Crossing. He was in a hurry and the train…."
"NO," Ira shouted, she felt that the doll was breathing like a real human.
"I love you, Ira," somewhere in distant she heard Sailesh's voice. Kunal grabbed the doll from her hand and threw it away from the open balcony.
"Dad," Sohini shrieked, 'Mom, please…"
Desperate Ira tried to catch it, leaned against the balcony wall and suddenly felt downward movement. The old balcony wall could not bear her weight and collapse. Ira saw frightened faces of her daughter and husband along with many other unknown faces, but could not hear what they were talking about.
Before touching the ground, she again heard Kunal's voice,
"I am waiting for you, Ira, my love. I am waiting for you…..waiting for you….."
The doll hit the ground before her; shattered and broke into pieces…
Did you like this story? Don't forget to give us a thumbs up below! Hit subscribe to stay tuned for more stories like this.