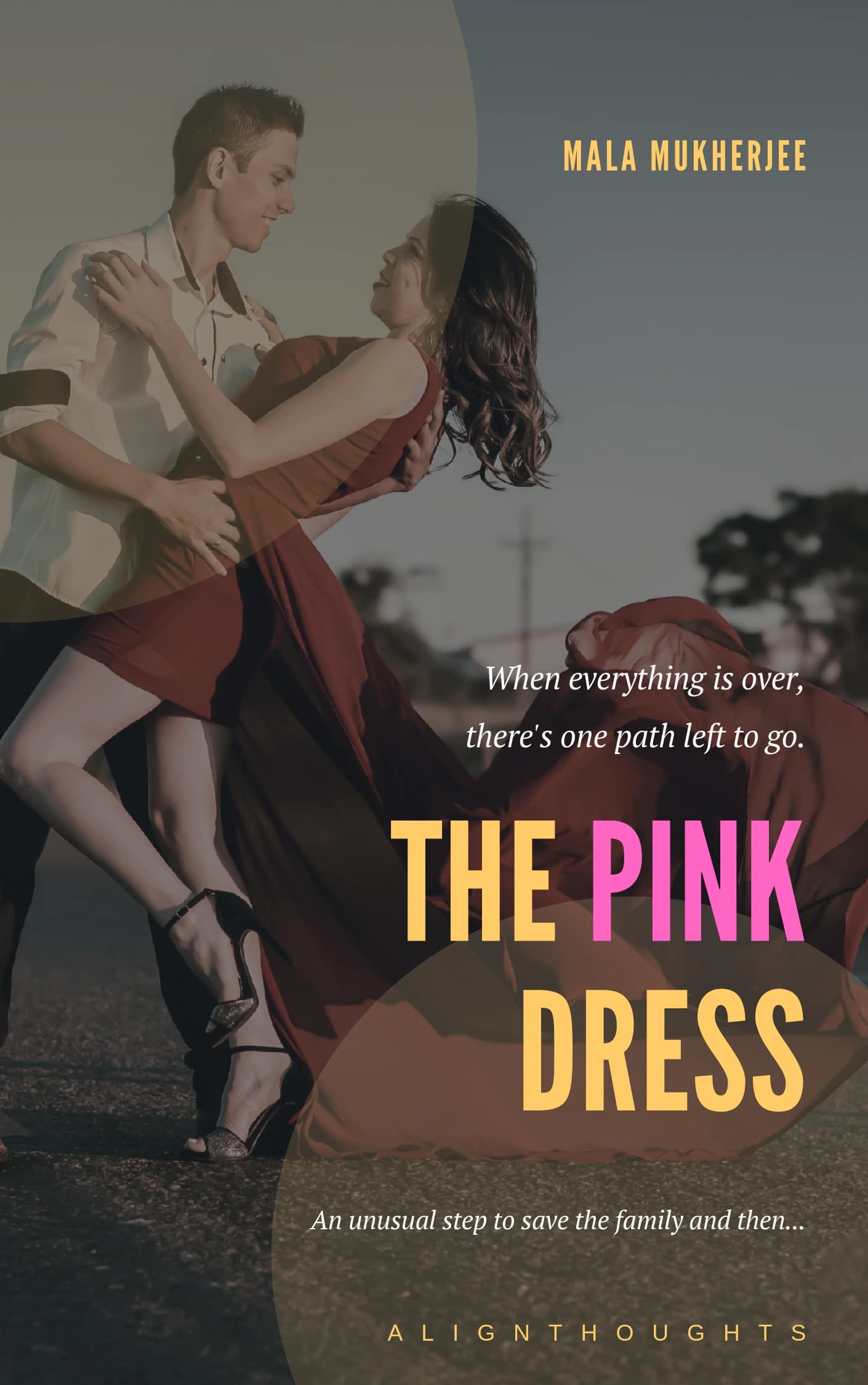 Abstract: Nikita's world shattered when she discovered the pink dress in her husband's wardrobe and unearthed a secret affair. She took an unusual step to save the family and then….
Nikita swallowed the tablet and threw the empty packet on her bedside table. She opened the water bottle and gulped some water. Her lips were twitching as she released a heavy sigh and leaned over her pillow. Resting her elbows on a pillow and cupping her hands over her face, she started weeping. "Everything is over," she sobbed. She hugged her pillow tighter and tried to imagine Aryan and Maya together. Tears automatically came into her eyes.
In her ten years of smooth married life, Nikita never felt neglected or insecure, except for the last few months, when Maya first came into her peaceful life. However, on the previous Sunday, she felt devastated when she discovered a pink dress in Aryan's wardrobe. The dress was in a transparent plastic packet, which she opened with enormous curiosity. When she first saw the pink dress, she realized it was not for her. As the size of the dress would not suit her, only XL size fits her.
'So, what the hell is this pretty pink dress doing in her husband's wardrobe?' She asked herself and tried to imagine if any upcoming birthday or marriage ceremony was coming, but no, there was nothing in hand.
She tried to guess whether Aryan had bought this wonderful pink dress for his niece Dolly or his little sister Jiya, but again it appeared to be impossible. First of all, Dolly is a bit tomboy; she hardly prefers to wear dresses, and his little sister Jiya was thinner than the size.
Observing carefully, Nikita found the pink dress was prepared with special care. It was made of fine silk, imported laces, and the lower part of the dress had a mermaid's tail-like appearance, which strictly required someone with a thin waist and proportionate buttock.
Nikita looked at the mirror and saw a pulpy middle-aged woman in an ordinary cotton sari standing before the mirror. Her long uncombed hairs were carelessly tied in a bun, and the face was looking exhausted with sweats and frustration.
For the last few months, she had a suspicion, which came true at last. Yes, Aryan had a secret lover, who was no other than his former batchmate Maya.
Maya's sudden appearance in Aryan's life was quite unexpected. Her engineer husband, Aryan, accidentally met Maya at his engineering college reunion.
Though every year, Aryan attended reunions, Maya was not in India for a long time. She joined an MNC right after completing her B. Tech degree and moved to London. Having no idea the woman was married or not, Aryan started introducing his wife to his former classmate, who was once his heartthrob too. Since that day, Nikita felt a bit envious.
Slim, trim Maya was looking great in a purple georgette sari, which partially covered her upper torso, leaving the right shoulder bare over a backless purple blouse. Her copper tanned flawless skin had no sign of wrinkles. Her long and straight hair had the unnatural shine, which imparted a salon-fresh appearance. Maya remained the central attraction of the party.
While returning home, Aryan started telling more about her. Maya was a good dancer, and again she had embraced dancing as her career and so left the job. In her college life, she was the crush of many boys.
Engineering colleges usually had few women students in those days. So, on the first day itself, she became the center of attraction.
Aryan laughed, "Do you know, Maya won the title of Miss Freshers?"
A couple of weeks later, Aryan invited Maya to his house. Nikita was not at all ready for the odd guest but could not say anything. Initially, she felt irritated because the next day, Rahul had a maths exam.  Her son was always a bit weak in maths.
She was struggling with mathematical problems when Aryan entered the flat with Maya and declared that her flight was delayed due to fog.
Nikita mechanically smiled. She tried to understand the situation. It was not only a foggy winter but also a chilly night, which might be unsafe for a lonely woman traveler. She welcomed her. Maya became too friendly.
She dismissed Nikita from the study table and solved the math quickly. Rahul was overwhelmed to see her performance. Rahul's father started praising her; Maya was not only a good dancer but also their class topper. She ranked tenth in the board examination…etc…etc…
With a heavy sigh, Nikita realized that she was no match for Maya. Being an ordinary woman with an average Graduate degree in History, she had no caliber to do anything remarkable. She tightened her jaws and entered the kitchen, which was her only comfort zone in the whole three-bedroom apartments.
Pouring oil in the frying pan, she started cooking something delicious for her unexpected guest. She heard Aryan's laughter and loud conversation occasionally broken by her son's childish talks coming out from the living room.
After two hours of struggle, Nikita served a number of hot and delicious dishes to her odd guest, and Maya sincerely praised her cooking skill.
Aryan remarked with a smile, "Nikita's only qualification is cooking, nothing else." His remark pierced Nikita. Tears came into her eyes, but she managed to hide her emotion. Maya remained silent for a while and started eating Kheer, Nikita, made especially for her.
Though Maya left in the early morning, Nikita felt a bit beaten. She might have forgotten the episode but could not because the woman again visited them on her son's birthday and gifted an expensive toy.
Nikita wanted to smash it but could not. Rahul overwhelmingly thanked Maya aunty and suddenly suggested a bizarre proposal. He asked her to guide him in maths and science subjects because his mom could not handle them well.
Maya initially discarded. She hardly got any time to do tuition after her dance performances. But Rahul remained adamant about his claim. Finally, Aryan requested her, and she agreed that whenever she would stay in the city, she could guide him.
Nikita scolded Rahul. If he had trouble with science subjects, she could appoint a tutor rather than seeking free help from an unknown person.
"She is not a stranger, but daddy's friend." Rahul adamantly said.
Aryan intervened, "Rahul is too young to have tutors. Maya is good in study, and she can teach him well."
Dancer Maya became a tutor. Nikita smiled sarcastically. She started coming every weekend and never missed a chance of visiting their house on any occasion. Maya's dance programs were rescheduled, and she began devoting more time to Rahul's study.
One day Nikita finally asked her the question she wanted to know from the beginning. Maya smiled sadly and informed that she was not lucky like her in personal life.
"Though my father allowed higher education, he was a bit conservative in case of his daughter's marriage. That was why I could not marry any of my acquaintances and always tried to avoid love proposals.
When I passed out of engineering college, I wanted to complete the Master's degree and had a dream of taking admission to MIT.
However, my dream shattered when my father fixed my marriage with Soham. He was an NRI man, handsome, well-settled in the USA. Dad told me that I could pursue my career, even after the marriage, but marriage should be the first priority in a woman's life."
Maya sighed, "I found my prince charming within that man, but the myth shattered only within a few days of my marriage. He tried exploiting me for entertaining his boss.
When I refused, he beat me with his belt and called me a 'whore,' because I had many admirers in my college life. It was challenging for me to stay with the man, but I did not get support from my family. Mother advised me to adjust, and my father strictly said that everyone gets the fruit of his or her Karma (Deeds).
He indirectly justified what Soham said about my character. I am characterless because I had admirers!"
Maya wiped tears and continued, "Finally, when the Almighty thought that I had faced enough of my Karma, he sent me a Saviour in the form of a sister-in-law, who came to the USA to study and started living with us for a couple of months.
She discovered my suffering and taught me to protest. She stood against her brother and helped me in finding a job in New York.
Finally, I filed a divorce petition and got a divorce without monetary compensation. I shifted to London, increased physical distance between us, and got a new meaning of life."
"So, you live alone?" Nikita was not ready to believe a woman in mid-thirties could live alone.
"Yes, I have taken a flat on rent." She replied.
Nikita imagined her character. A woman is living alone in a lonely flat; she might have a secret life in which her husband was a partner too. She started observing her husband's intimacy with Maya. Aryan often gifted her things and explained that since Maya was teaching their son without any monetary compensation, so, it was their duty to do something for her.
Finally, the last Sunday, she discovered the pink dress in her husband's wardrobe. 'When a man can gift a woman such an expensive bridal gown?' she asked herself, 'of course, when he loves her.'
Whenever she tried to imagine the scene, she was feeling a severe headache. She looked at the medicine strip. She had taken only one sleeping pill. It was enough for a good sleep, but two or more could be fatal.
If she swallowed another, what would be the difference?
She might not be alive, but Aryan would get his lady love, but what about her son Rahul? She smiled sadly; her own son seemed to be an admirer of Maya aunty. So, he too would not have any problem.
Nikita poured another tablet in her hand, and suddenly Rahul stormed into the room, hugged her from the back and the sudden jerk displaced the pill from her grip. He started showing her a new game, which he downloaded only a couple of minutes ago.
"Is not it funny mom? See, how I have made your fat body into a slim trim one? You are looking like a Hollywood actress. Now, I am changing your hair color…"
Though Nikita had no interest in video games, her son had told an important thing, which might change her fate. She smiled sadly and kissed the boy on his forehead. Yes, she would join a gym and would follow a strict diet for reducing weight.
On the very next day, Nikita started her new routine. She went for a morning walk and in the evening spent an hour in a gym.
Initially, it appeared to be a bit hectic. Body ache and exhaustion made her body painful, but surprisingly Aryan helped her. He appointed a cook for reducing her workload and first time encouraged her in something.
"My only request is that don't follow a strict diet or odd medicines," he softly said.
The new regime worked well. She reduced a couple of pounds within a month, and her outfits seemed loose on her body. However, she was far away from the size of the pink dress.
"Hi, Mrs. Sharma, you are looking thinner," her neighbors started asking. "What do you do, Mrs. Sharma?"
Nikita smiled. She noticed that she became a bit popular among neighbors and relatives. Even those who never talked to her often asked about her secret.
Some elders and know-it-all women tried to warn her about the side effects of excessive workouts and strict diets. Even Nikita's mother, one day, scolded her, "You should not waste Aryan's hard-earned money on gym and beauty parlor Nikita. You have a son. You have a future."
Nikita ignored the noises and stayed motivated to workout. Mom had no idea that only for Rahul, she was doing all these things. She knew growing up without a mother was trauma to a child. So, she could not afford to lose her husband.
However, she initially thought she was winning the battle, but when one day, Mrs. Chowdhury told her that neighbors are getting curious about Aryan's relation with the dancer woman. She realized that all of her efforts went in vain.
Though she had reduced her weights and started grooming herself, Maya was still far more attractive than her. Nikita did not know tricks like her; she could not wear bold dresses and skin-tight outfits like Maya.
"Her name is Maya." She replied bitterly.
Mrs. Chowdhury asked with motherly affection, "Do you know her, Nikita?"
She told her all about Maya, and Mrs. Chowdhury nodded her head sadly, "This type of women break a family. They don't know what they want."
"But how can I stop her? I am not as attractive as her…." Nikita finally emptied her frustration. "I am trying my best to groom myself; I don't want to lose my family, my son…"
"You cannot beat her in this way," Mrs. Chowdhury said with a winning smile on her face. Finally, she had unearthed Nikita's secret. "Leave it in my hand; I know how to solve this type of issue."
"I know a spiritual healer. He gives magical remedies…." She continued.
"I don't believe," Nikita strongly interjected.
"We don't believe easily, unless and until we face the problem. My niece, too, faced it. Her husband always talked about his colleague and preferred to spend more time outside. She visited Baba (Sage or spiritual healers), and he gave her a magical potion. Now, her husband hardly talked to that woman."
Though initially Nikita discarded, but later accepted her words. She, too, agreed to visit the Baba (Sage or spiritual healers). Mrs. Chowdhury gladly brought her to an old sage, who used to give potions and amulets for every kind of problem a householder could face. There was a big queue. After waiting for a couple of hours, she got the call.
The old sage blessed her, listened to her problem, and gave a small bottle full of a black potion. His assistant told her to feed the potion secretly to her husband with tea, and he would forget about the woman. Nikita cheerfully thanked them before leaving the Ashram.
"Now, your problem will be solved forever," Mrs. Chowdhury said with a pleasant smile.
Nikita suddenly remembered today was her marriage anniversary. She decided to bake a lovely cake for this auspicious occasion. She started her endeavor, and finally, when she finished her work Aryan called her, "Today, my friend Maya wants to meet us. Please prepare her favorite cupcakes too."
Nikita wanted to cry but remained calm. Maya came on time. With a mechanical smile, Nikita served those cupcakes and tea. She did not forget mixing the magic potion in her husband's tea. Let's see how he could remember her after drinking this magical potion!
Suddenly Maya declared she was leaving the city forever because she had got an excellent assignment somewhere abroad. So, it might be her last visit to them. She would never forget Aryan and Nikita's hospitability. She gave Rahul a toy gun and wanted to leave for the airport.
"May I drop you at the airport," Aryan said.
"Thanks for the offer, but I can go alone." Maya smiled, "I have only one last wish. I want to see your beautiful wife in that pink bridal gown."
"Bridal gown ?" Nikita got confused. "The pink dress with lace and layers?"
"Oh, you have already seen it." Aryan sounded disappointed, "My wife is a good detective. See Maya; you cannot hide anything from her."
"Yes, I designed that gown for you…." Maya informed with a smile, "Hope you'll enjoy it."
"But it was too small to wear…." Nikita could not believe her.
"It was, but not now." Maya smiled, "I told Aryan that the size you are telling would be too small for Bhabi (Sister-in-law/brother's wife), but he discarded." She again said, "But, now you can try it. You have reduced a lot."
"Actually, your size and age never increase in my mind. So, I thought…." Before Aryan could finish his words, she ran toward the bed-chamber. Opened the wardrobe and tried the gown. She cried in joy. Her husband did not cheat her. He bought it only for her and kept it as a surprise and never thought her as fat or ugly. His better half always imagined her as beautiful as a bride. She wanted to cry with happiness.
Maya said, "Let's have some photos." She brought out her mobile phone and started clicking photos with different backgrounds and pose.
Finally, she asked permission to leave.
"But have the dinner, please," Nikita was feeling sorry for her. She always misunderstood Maya.
"No, I have to pack, and my flight is at midnight…" She said.
"She has good news too." Aryan said, "She is going to marry Animesh, her former lover. Do you know he was my classmate too?"
Really, Nikita was a bit foolish. She hugged her and wished good luck for her bright future. Finally, Maya left their apartment, and Nikita started collecting dishes and cups from the dining table. Suddenly Aryan said, "You are looking too good in the pink gown. But, I need another cup of tea, because Maya finished two cups. She was feeling cold."
So…. so… Aryan did not take the magic potion. It was Maya, who took it all!
"Make the tea quickly. I have planned a family dinner outside and booked a table in the Little Mermaid hotel. Please ask your son to get ready soon."
Nikita could not believe in her luck that she had got back everything without any magical remedies. She hurried toward Rahul's room and asked him to get ready. As they stepped outside the apartment, they saw Mrs. Chowdhury was coming to their flat.
She greeted them 'happy anniversary' and whispered in Nikita's ears, "Don't give the medicine to anyone, please. That man is a cheater; he was selling morphine in the name of medicines. Police arrested him in the evening. The man was a drug smuggler in disguise…"
"What's happened, aunt?" Aryan asked.
"It's about our forthcoming Kitty party," Nikita somehow managed the situation. But she was feeling nervous. Her husband did not consume that medicine, but Maya drank it all.
"Let's go quickly…" Aryan said.
"Call Maya," She said, "I… I…want to talk to her now…." She was about to confess, but could not. Aryan tried calling her and said, "Not receiving, probably driving."
He somehow pressurized her to go to the hotel. No doubt it was a wonderful dinner, Rahul enjoyed the meal, but Nikita could not.
The next morning brought a new beginning in her life. She was feeling secure and contented again. After finishing the jogging, Nikita headed toward the kitchen to prepare breakfasts.  Aryan stormed into the kitchen and shouted, "Maya is no more. She has committed suicide."
"What?" Nikita cried.
"Yes, police suspect an overdose of opium and also got a suicide note saying 'no one is responsible for my death'; I just can't believe," Aryan said.
Nikita, too could not believe that her false suspicion might kill a person. Maya had left a message, a suicide note for avoiding her harassment. It meant she suspected the tea.
"She had taken home-brewed poppy seed tea…." Aryan continued.
Nikita wanted to say many things, but Aryan's conclusion made her dumbfounded, "She already had affairs with many men. Perhaps one of them took revenge, and she wanted to hide him. After all, her character was not good."
Speechless, Nikita broke into tears.
What are your thoughts about the Pink dress? Did you enjoy reading this romantic short story? Leave your comments below and subscribe to us for new stories!
Read more short stories below!