I wrote in a past article, how businesses are owning drones and making money with drones. Also, they are not seen as a toy anymore; but as a useful tool in various industries. Every day, more people become drone owners and use them in their daily work or to have fun.
The predictions for the drone industry are encouraging. Here are a few statistics for the short and medium-term:
• $13 billion worth of drones will be purchased by businesses and civil governments by 2020, according to a Goldman Sachs report;
• $82.1 billion is the projected annual revenue of the drone industry by 2022, according to AUVSI research;
• The total model fleet in the US will double between 2017 and 2022, reaching 2.40 million units, as per the estimations of the FAA.
These numbers are significant and show that drones play an increasingly important role in our lives. This is not meant to be a reason for you to become a drone owner this year (more to come). But it creates a sense of perspective – drones will probably become an everyday item we use for work and entertainment, just like the mobile phone.
The Impact of Drones in Our Lives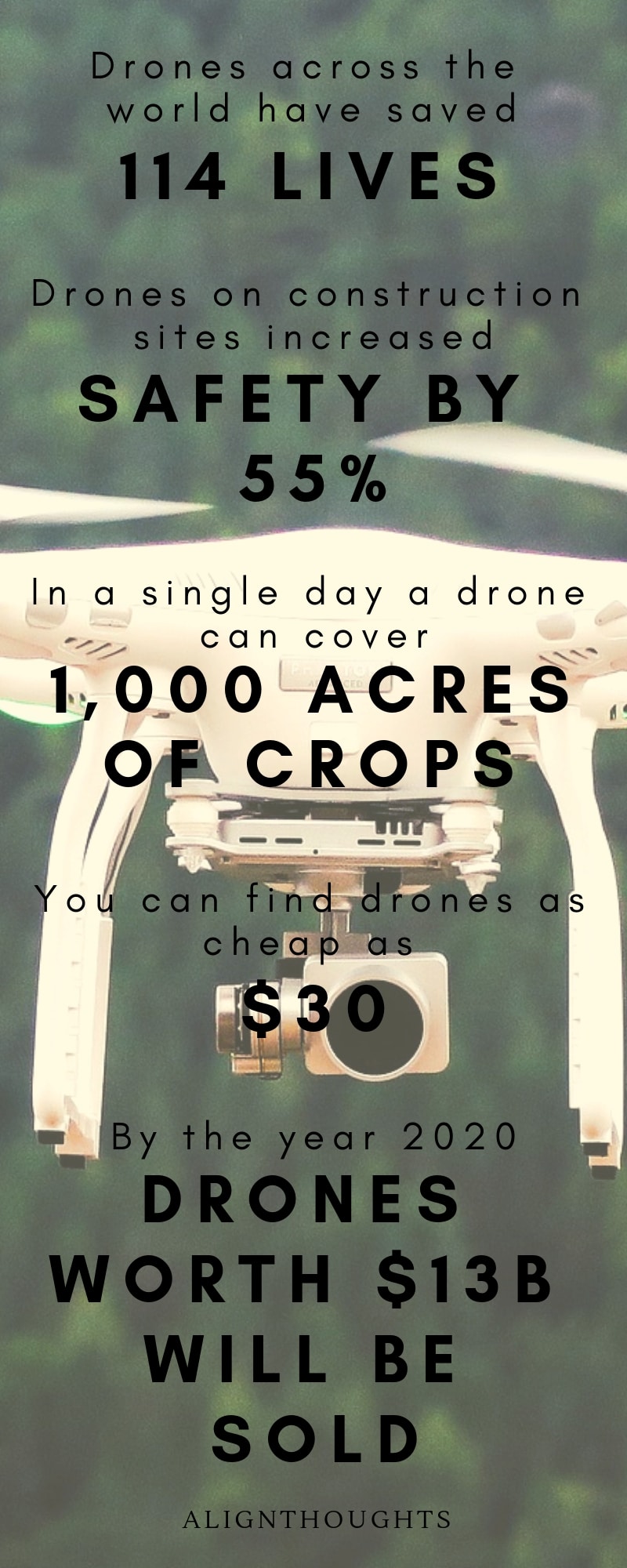 In fact, drones are already creating a positive change in our lives. For instance:
• A Drone Deploy Report indicated that using drones on construction sites can increase safety by 55%;
• A case study shows how one single farm could prevent losses of up to $60,000 by detecting crop infestation through drone surveillance;
• So far, 133 lives were saved by drones across the world, according to a DJI news article.
Without a doubt, more use cases will be discovered, as the adoption rate for drones grows. Remember that in its early days, the mobile phone was used solely for phone calls and text messages.
Now we use it to take photos and videos, browse the internet, or even use it as a replacement for our bank cards.
These Being Said, Why Should You Buy a Drone This Year?
Why Should You Buy a Drone This Year?
1. Prices Are Going Down
As drones become more in demand, more companies start making them. As a result, drones are no longer a novelty product, available in small quantities. Competition between producers as well as the broader range of models (from very simple to very complex) resulted in a general decrease in drone prices.
At present, you can find drones as cheap as $30.
Of course, you usually get what you pay for – that is, the basic drone model with the limited number of equipment installed on it.
A drone is a useful tool for someone considering a side business as a supplementary source of income apart from the salary. With a drone, you can start a business in:
• Photography – you can sell aerial photos on your own website or to stock photo companies. You can even specialize in wedding photos, real estate property photos, etc.;
• Environmental patrol – your drones can survey protected areas and natural reservations and prepare visual reports for environmental agencies and NGOs;
• Agricultural surveillance – according to the Goldman Sachs report cited above, one single drone can cover 1,000 acres of crops in a day;
• Land survey – construction companies and architects need clear layout images of the land they will build on. According to the Drone Deploy Report, at present, 10% of all aerial survey maps are made by drones.
See also: How To Make Money With Drones?
3. You Can Join a New Community
Are you looking for a new hobby or new friends?
Drone owners are now a thriving community. They meet for contests and new drone trials, they share information and helpful tips in social media groups, and they welcome new members.
You will be able to find mentors who will teach you all the tricks about flying your drone and receive help with any drone-related questions you have.
4. Drones Are Now Easier to Fly
The first drone models were tricky to handle. One wrong move and you could crash it in the first obstacle. In the meantime, drone producers have understood that many potential customers aren't experienced in remote control guidance. Thus, they improved their products to make it easier to fly.
Read this: Ways to Transform Your House Into a Smart Home
5. A Drone Will Get You Out of the House
Honestly, how many times did you put off that outdoor trip to get some exercise and spend time in nature? Being sedentary is a growing issue for people of all ages across the US.
With a drone, you and your family have an excellent reason to get off the couch and start having fun under the sun.
So, What Should You Look For In A Drone?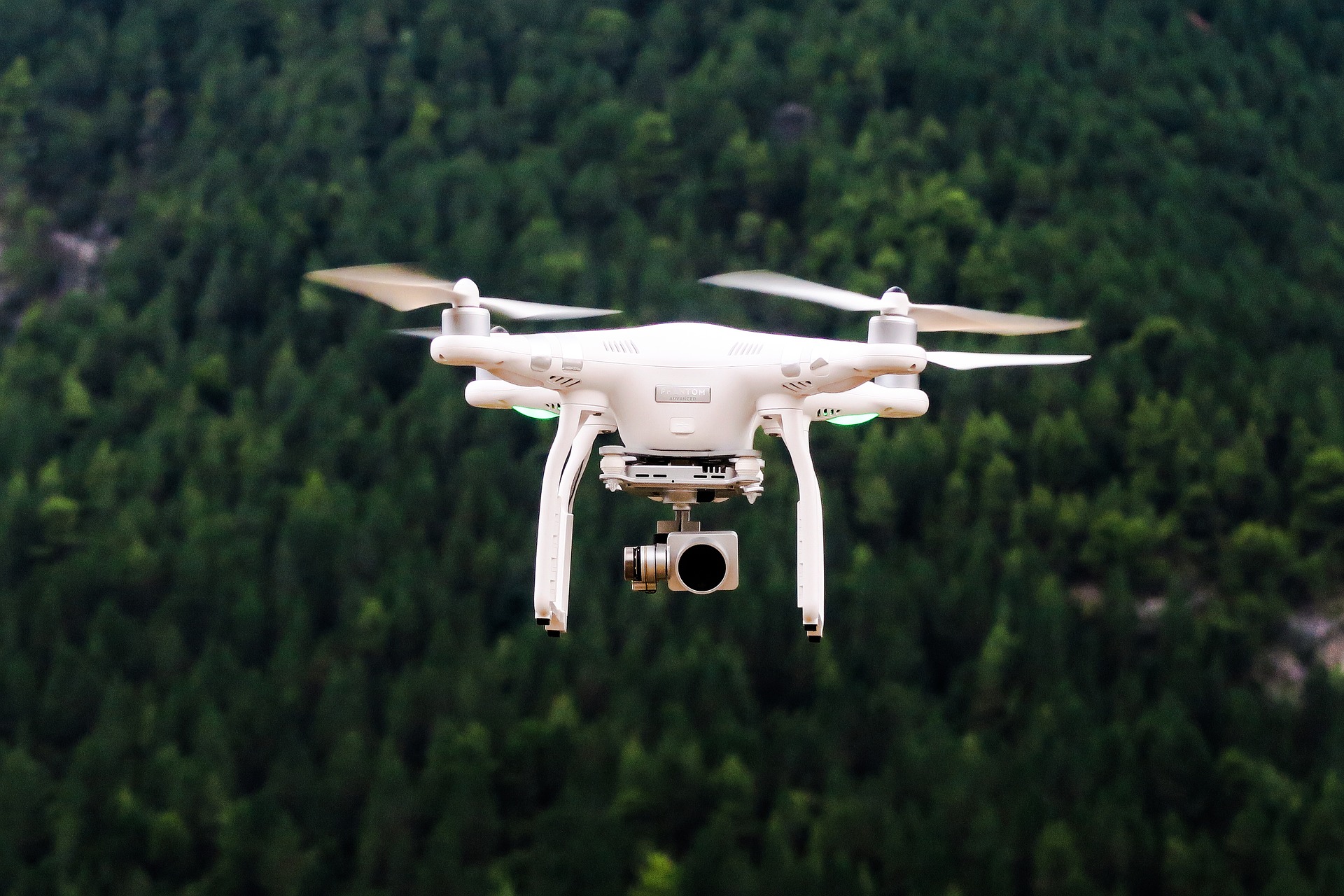 The best drone as a general definition does not exist. It depends on how you want to use the respective drone. For instance, for photography, you will need a drone equipped with a professional camera. For surveillance, you need a drone equipped with GPS and terrain-following sensors.
Drone Comparison Features
Instead of telling you which drone model to buy, I will share with you some of the key features to look for when comparing products and prices:
1. Battery Life
As a smartphone owner, you probably know the struggle when you see the Low Battery message flashing across the screen. Drones run on batteries, too, and they still have reduced independence. Some of the most complex drone models can fly just a little over half an hour on one battery charge.
But DJI's latest Phantom 4 PRO Professional Drone, can fly as long as 210 minutes.
2. Headless Mode
This mode of flight is handy for beginners. Until you learn to coordinate your movements on the joystick, you should opt for a drone with the headless mode. This means that when you push the joystick button in a direction, the drone will move in that direction relative to your position, not to the direction the joystick points to.
3. Follow-Me Mode
This is a nice feature if you want to film yourself running or cycling. It requires integrated GPS (so we are speaking of a premium price model).
You can focus on what you are doing (parasailing, mountain climbing) and the drone will follow your movements and record your progress.
4. Range
The range means the distance (in length or height) the drone can travel before it loses contact with the controller (the joystick). Entry-level and cheap drones usually have a very low range. However, even if you invest in an advanced model, remember that you should always keep it in your line of vision if you want to avoid a collision.
5. Brushless Motor
A drone equipped with a brushless motor is more expensive than one with a brushed motor. Brushless motors are quieter and have a longer useful life – thus you will not have to replace them as frequently as brushed motors.
Are you ready to start flying your first drone? What will you be using it for – work or fun? Feel free to share your opinion below! You can also subscribe to our website and stay tuned with our newsletter.