Be it for career growth or to feel content in life, continuous lifelong learning is a key characteristic you must learn to embrace. In fact, reports reveal that 94% of employees would prefer to stay at a company if it provides career development or learning opportunities. Some people may associate learning with a school's formal education system. Whereas goal-oriented people understand the importance of lifelong learning and how it helps them achieve goals to grow in life. Schooling is just a teeny tiny part of learning and unfortunately, some schools fail to teach the skills you need for life. Real learning is a lifelong process, and the most prominent teacher is your own life experiences. Read on to find the examples of lifelong learning and how seeking it can help you reap ample benefits all through your life.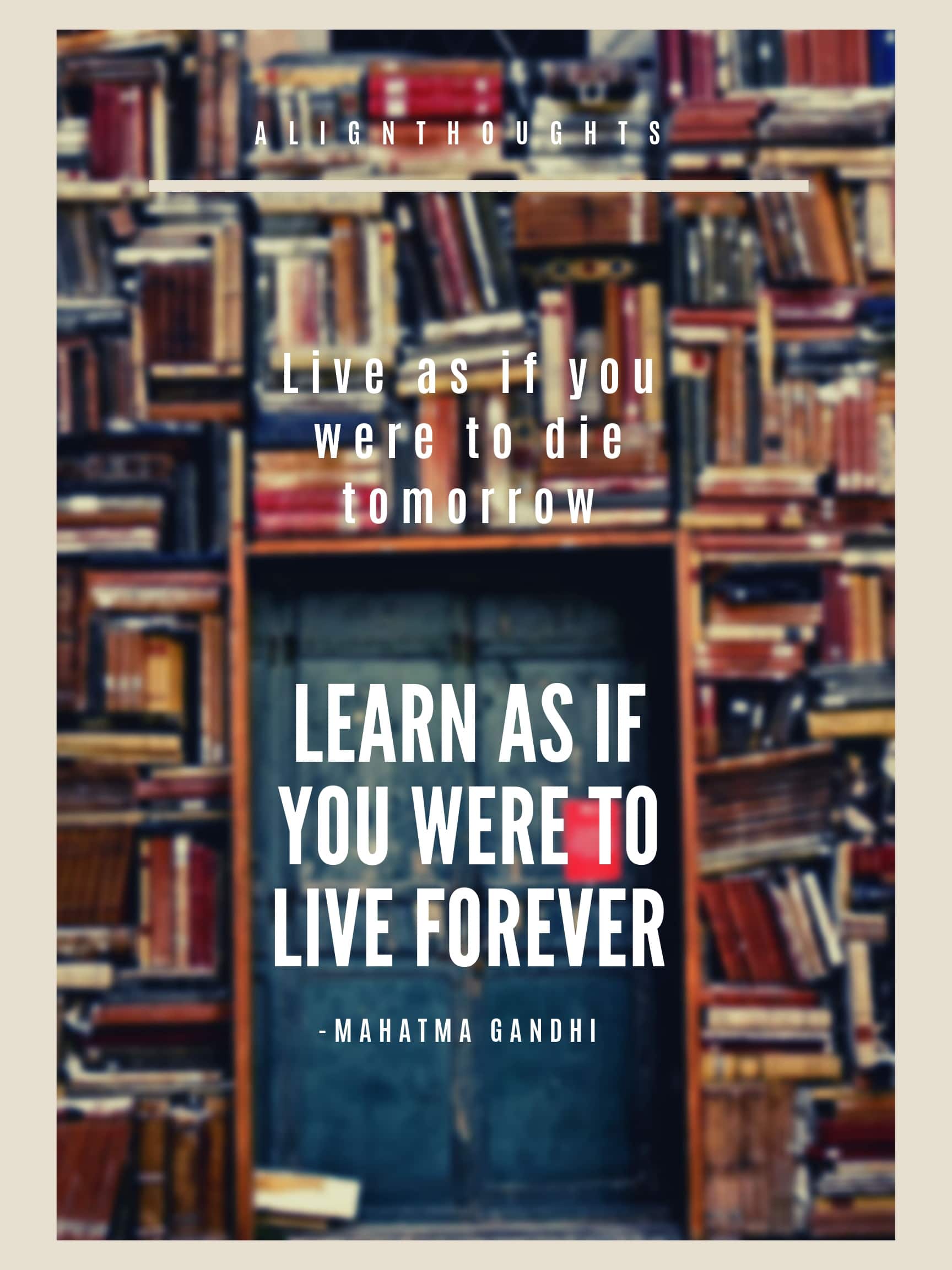 What is Lifelong Learning?
Wikipedia defines lifelong learning as the self/motivated, ongoing process for the pursuit of knowledge for both professional and personal reasons. Hence, it not only enhances social inclusion or personal growth but also promotes employability and self/sustainability.
In other words, you must never stop learning after school or college.
Lifelong Learning Examples
In a way, we are all born lifelong learners. Let's go back to your childhood to help you understand a good example of lifelong learning.
As babies, we easily understand, interpret, and even become fluent in languages. Then quickly you tend to learn how to ride a bike, or for example, learning to swim.
All these types of traits denote examples of lifelong learning and how we are all engrained with it. It is just that after certain years, we tend to leave this skill underused.
Some of the common examples of how you can engage in lifelong learning are:
Leaning a new language.
Teaching a new skill that you are naive at, for example learning pottery is a completely new skill that can help you engage in lifelong learning.
Observing your peers at work, and learning from them.
Being aware of your weaknesses, and learning to overcome them.
Playing a new sport.
Understanding different cultures.
Reading history, or the origins of different things in the world.
Upgrading your technical skills.
Taking new courses.
Learning a new programming language.
Volunteering for a cause.
Becoming a coach to help others.
Why Is Lifelong Learning Important For You?
The importance of lifelong learning must be stressed enough because it is this characteristic that can help you bridge the gap between formal school education and the skills you actually need to thrive in life.
The world we live in now is constantly evolving and growing rapidly making continuous lifelong learning, the need of the hour. It is important to build skills and knowledge throughout your lifetime to succeed in whatever field you are working in.
Educating yourself is an ongoing journey, and anyone who never stops learning can do wonders in life. There are humongous benefits of lifelong learning and that's why you must cultivate it in your life as early as possible and make it your trait.
Continuous learning or lifelong learning is a voluntary way of expanding your skills, knowledge, and expertise.
Nancy Merz Nordstrom, a renowned author, mentions in her book "In Learning Later, Living Greater: The Secret for Making the Most of Your After-50 Years," that continuous learning as a positive lifestyle for overall personal growth and the main factor for brain health!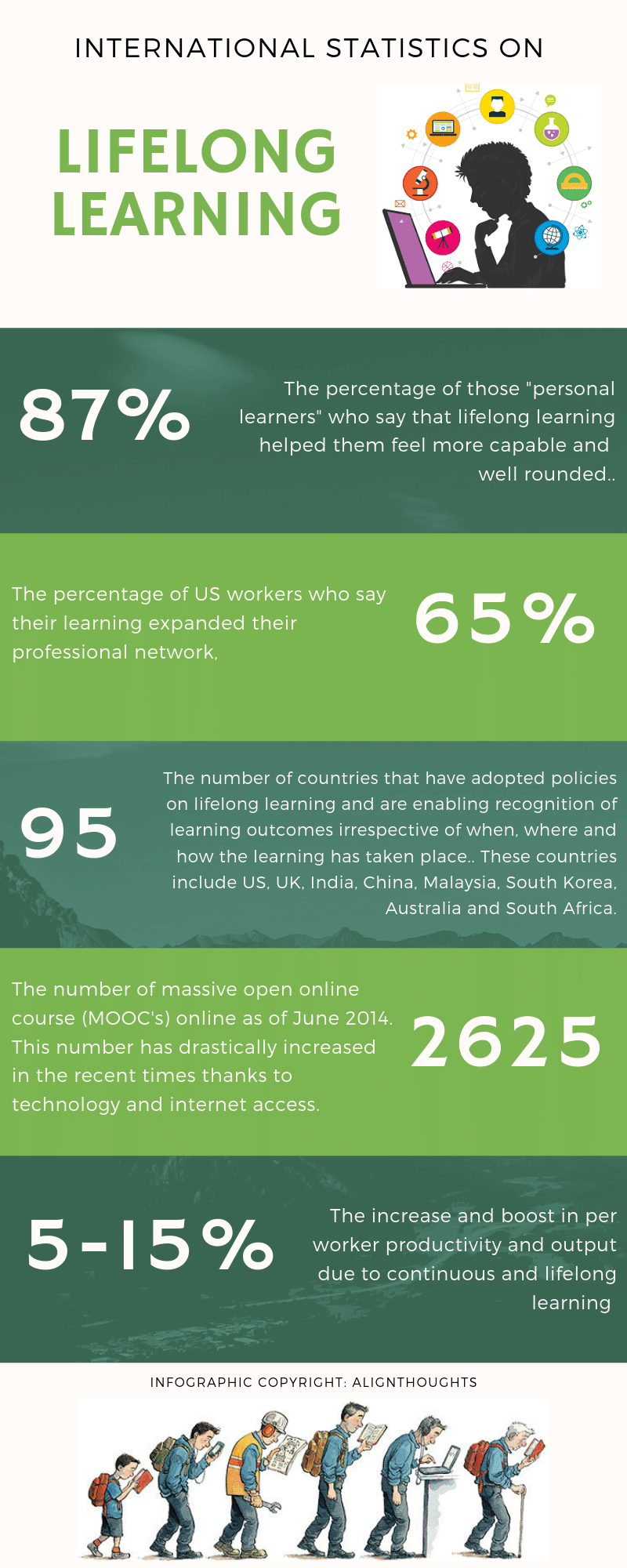 Benefits of Continuous Lifelong Learning
1. Keeps You Updated
Our world is continuously changing, and it is essential to keep up with it. But as you get older, you lose touch with the latest happenings in the world around you. The foremost benefit of lifelong learning is that it keeps you updated with all the essential things happening around you.
However, continuous learning helps you to stay updated and significant in the changing times.
According to research conducted in the US, adult learners are the fastest-growing segment of the country's population pursuing lifelong learning. Lifelong learning helps you to stay relevant and function effectively in the rapidly changing world.
An interesting fact to note is that there were 53,364 people 100 and older in the U.S., increased by 5.8% from the year 2000.
2. Opens Your Mind to New Things
You need to be open to learn, unlearn, and relearn.
The benefit of lifelong learning is that it expands your consciousness and provides you a fresh perception of the world around you. Continuous and lifelong learning opens your mind.
It helps you to change your attitude and outlook. It also enables you to see things in a new way and receive new information. Being open to new things empowers you to be empathetic and understand people around you better.
Lifelong learning also helps you be prepared for unexpected situations. You become more welcoming of the people around you and can understand others easily.
3. Continuous Learning Develops Your Curiosity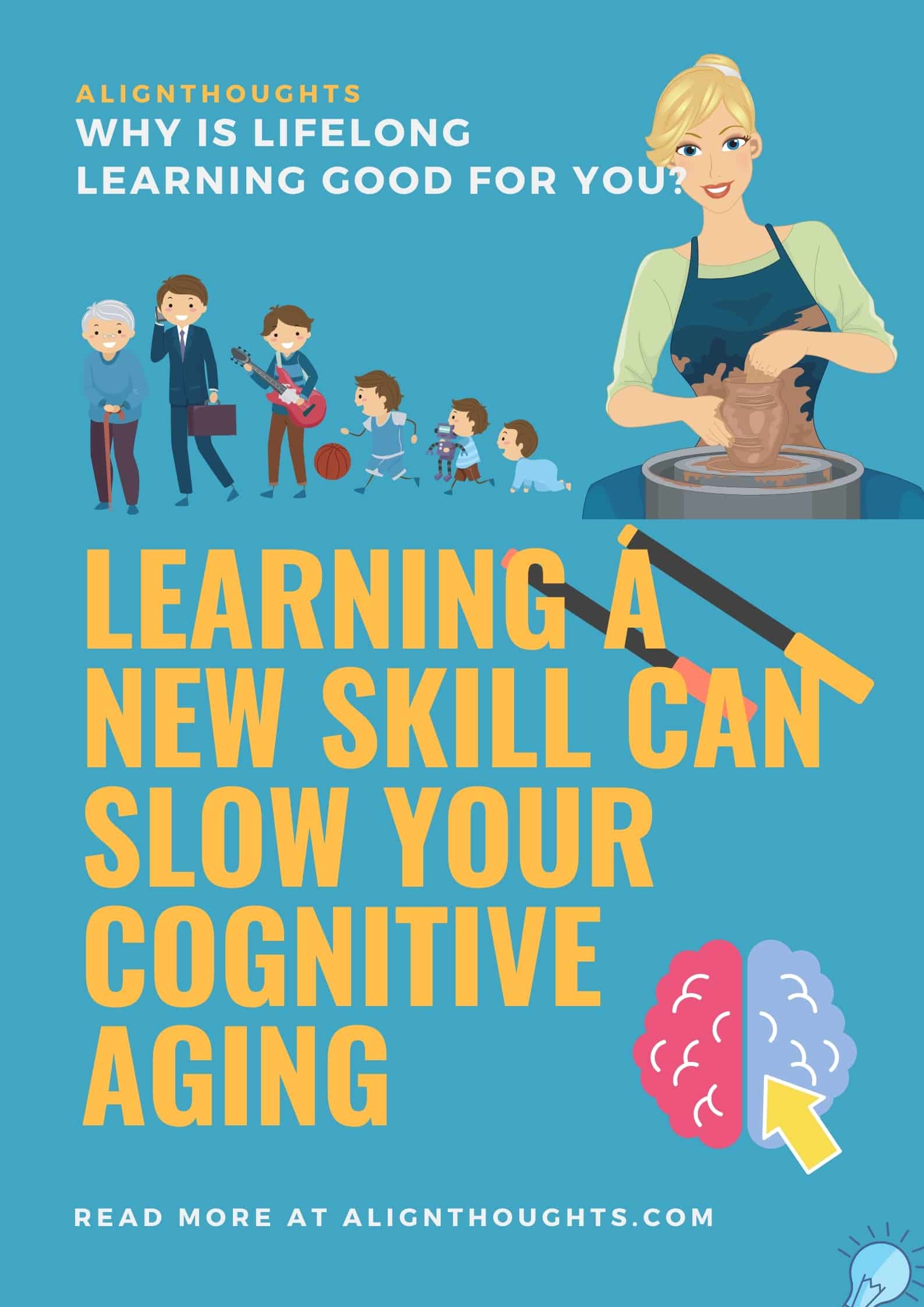 We have seen small children ask so many questions and learn so many things out of curiosity. A neurological study has presented that curiosity makes our brains more approachable for learning.
However, as we grow older, the curiosity within us dies, and our knowledge comes to a standstill. We all know that curiosity is the heart of lifelong learning. Don't let your curious spark die out.
Cultivating the never-stop-learning attitude by continuous education and feed your brain to satisfy its curiosity. The more learners discover about history, politics, current events, or the culture of other countries, the more they want to learn.
Lifelong learning will also motivate you to learn new things, question the way the world works, and fuel your mind.
4. Increase Knowledge and Makes You An Expert
One of the less spoken benefits of lifelong learning is that you eventually become an expert through the process. These days just being a graduate isn't enough. Companies are always looking for experts or people having excellent knowledge.
Learning can also be motivating as much as it should be enjoyable.
Continuous learning not only increases your knowledge but also helps you to use this knowledge in diverse and meaningful ways. Lifelong learning also enhances creativity and innovation.
5. Lifelong Learning Can Help You Ace Your Career
Companies are changing, and new technologies and methods of working are being introduced. One of the best ways to get a raise or a promotion is by getting additional degrees.
Lifelong learning is the best way to achieve this. It can help anyone at any point in their career. It will not only help you retain your job but also get a promotion.
Interest,
resourcefulness,
positive attitude,
and hunger for lifelong learning
will create a bright future for you in your workplace.
Continuous learning can also help you in advancing your valuable skills and knowledge which are essential for career advancement.
Also, it will increase your earning potential, increase your networking opportunities, and boost your sense of accomplishment.
6. Improves Your Brain Health
Have you thought about this?
The benefits of lifelong learning can impact your health too.
A Harvard Business Review points to research directly correlating lifelong education to longevity, wealth, and social life. Lifelong learning improves not only your brain health but also your lifespan.
Lifelong learning effect changes our neurology through active choices and experiences. This phenomenon is referred to as "brain plasticity."
If you don't challenge the brain with new learning, its abilities can slowly crumble over time, causing decreased memory and cognitive function.
A study named 'Rush Memory and Aging Project' was conducted over 1,200 senior citizens with an average age of 80 in Chicago.
What this study found can be fascinating to discover how important is lifelong learning.
Cognitively active seniors were 2.6 times less likely to develop cognitive impairments such as Alzheimer's disease or dementia than those engaged in less mental activity.
Hence, lifelong learning is essential for brain health and efficiency.
7. Puts You On The Map
The attitude to never stop learning in life can help you bring fame as well. Lifelong learning improves your standing in society and puts you on the map.
It also helps you to grow your network and as a results help you to gain many opportunities. People always look at a learned person with great respect.
Moreover, you can inspire many others to take up continuous education through your decisions. You also come across and network with different people as lifelong learning boosts communication with a broader range of people across the world.
8. Improves Your Self-Confidence
Educated people naturally feel more confident. Lifelong learning expands your knowledge and expertise and also enhances your self-esteem.
It also boosts productivity and also enhances the quality of life. It helps you find a sense of fulfillment and happiness.
Learning topics that you always liked can be fun and enjoyable. It will also help you to turn your weaknesses into strengths. One of the biggest secrets of high achievers is that they never give up learning. Lifelong learning also helps you to stay ahead of the competition.
18 Ways To Build Lifelong Learning Activities
Now that you have understood the benefits of lifelong learning, you must be wondering how to implement continuous learning in your life. There are many ways to engage and build continuous learning activities.
Here are a few lifelong learning examples:
Start a home project
Set new goals in life
Make it a habit to learn something new every day
Learn how to make money at a young age
Join a local community/group to learn, socialize and organize things
Play at least one sport as a hobby
Teach others and share your knowledge
Befriend smart and like-minded people
Try to solve real-time problems
Become a freelancer and pick up new tasks
Watch documentaries on different topics that interest you
Travel to countries with different cultures
Cultivate leadership skills at schools, colleges, or workforce
Ask questions to gain in-depth knowledge on the subject
Concluding Thoughts On Why You Must Never Stop Learning,
Many a time, people are afraid to take up learning at a later stage in life. Therefore, eliminating fear about education is one of the significant factors that is essential before taking up continuous learning.
Technology has made things extremely easy, and there are thousands of options to keep lifelong learning intact.
Additionally, many universities across the world also conduct distance education programs for people of all ages, and nationalities. It can be both fun and beneficial. So why wait? Make continuous learning a priority today!
What are your thoughts on lifelong or continuous learning? Do you agree that you must never stop learning in life? Share your thoughts in the comments below. Also, subscribe to us for more interesting and useful content that can help you daily.
Key Take-Aways on Continuous Learning
Lifelong learning directly correlates to longevity, wealth, and social life. Not only does continuous learning improve your brain health but also helps increase your lifespan.
Why Is Lifelong Learning Important For Me?
The importance of lifelong learning could not be stressed enough. Lifelong learning helps you thrive and succeed in life by limiting the gap between your formal school education and makes you skilled for real.
What Is Continuous Learning Culture?
A

learning culture

is driven by

continuous learning.

It can

be defined

as a set of policies or values of an organization that promotes their peers to practice and developed skills and knowledge in desired fields of interest

.
We at AlignThoughts, also embrace

learning culture

and encourage continuous

learning

to influence each other positively

.
One of the simple ways to embrace continuous lifelong learning is to set new personal goals and achieve them.
How can I embrace continuous learning?
Implement continuous learning in your life by engaging in activities that interest you and challenge you on a daily basis.
What are some lifelong learning examples?
For example, try to solve real-time problems, teach others, and share your knowledge, play at least one sport, learn new languages and cultures, etc.