Who doesn't love cartoons? Whether you are a 2-year-old child, a 16-year-old teenager, a 37-year-old adult or a 86 year old senior citizen, I am sure you all love cartoons. If you are someone born around in the '80s or '90s, you will be very familiar with the most famous channel hosting cartoons. Yes! I am talking about the channel "Cartoon Network."
Cartoon Network makes us all nostalgic. Unfortunately, Cartoons these days are nothing like how they were back then.
Cartoon network was a home to some of our favorite shows like Johnny Bravo, Dexter's Laboratory, Powerpuff Girls, Scooby Doo, Tom and Jerry, Courage the cowardly dog, etc.
Cartoon Network now is no longer the same. From its logo to its content, everything has changed. Many of us do miss the old cartoon network channel and all of its amazing shows as we have a lot of memories associated with it. I remember coming home running from school to watch my favorite shows.
But do you know who was behind this channel which played a major part in our childhood?
Who is Betty Cohen?
AlignThoughts would like to introduce you to the woman who made your childhood life awesome.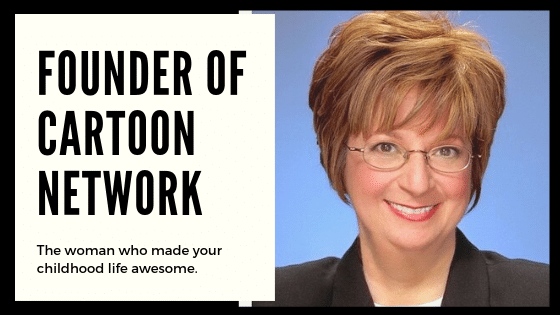 She is none other than, Betty Cohen, the founder and original president of the network from 1992 to 2001.
During her time, Cartoon Network became a phenomenon worth more than $3 billion. In 2001, she stepped down. Betty Cohen was responsible for crafting our fantasy world. Let us look at some of the facts, details, and stories of her life:
Inspiring Story About Betty Cohen – Founder Of Cartoon Network
School Life and Betty's interest in theater
Betty was born in 1950 although the exact date is unknown. She grew up in Wisconsin, in the small city of Racine. She was very much involved in theater in high school which turned out to be one of the passions that changed her life.
When in high school, she also wrote her senior paper on the Children's Television Workshop. During her teenage years, Betty was fascinated by the entertainment industry. She majored in communications at Stanford to fulfill her dreams.
Six Epic Cartoon Shows From The 90's That Surely Deserves A Comeback
The Birth Of Cartoon Network
After graduating, she started as a production manager for the Public Media Center in San Francisco. She later also worked as a manager of marketing in the Cable Health Network in 1982. After that, she worked for Nickelodeon from 1984 to 1988.
The knowledge and experience she gained with the various exposure at Public Media Center in San Francisco helped her in the development of the idea of Cartoon Network.
She joined TNT in 1988 from where she founded Cartoon Network. The Cartoon Network channel launched in 1992. Betty wanted to use the vintage cartoon with a twist of modern original programming on her channel. Dexter's Laboratory was the personal favorite of Cohen.
Cohen's Fight For Women Rights and Breaking Stereotypes
When she first became an executive, Cohen instantaneously started her fight for women's rights.
https://alignthoughts.com/why-even-grown-ups-must-watch-cartoons/
Back in the days, audiences of television were not beyond the median viewer age of 49. Cohen fought to break this stereotype and expand the viewer age to beyond 50. Many channels and companies used a special tagline called, "Television for Women" which was removed by Betty. She said,
"Women don't want to be told what to think; they don't want us telling them what television is for women. They want to decide for themselves and we want to be there for them" 
She never called Cartoon Network as "kid's network" or a "cable network". Rather she called it a "world's network" and a "brand".
Betty Cohen brought about a huge transformation in the cartoon and television industry. In 2001, she decided to step down from her position and was succeeded by Jim Samples.
In her retirement statement Betty said, "I was afraid I would die the queen of cartoons." 
Cohen served as the CEO of Lifetime Entertainment, a leader in women's television.
Concluding Thoughts,
Betty Cohen has become one of the most famous and influential persons on television.
Her legacy was also named in one of the 50 most powerful women in Business in 2000 by Fortune Magazine.
Betty turned her dreams and passions into reality. She also fought to bring about a change in the entertainment industry and society. Undoubtedly, Betty stands as a huge inspiration to millions of women around the globe. Let's end up this post with one of her most influential and powerful quotes, "You become as big or as small as you define your future."
Found this article interesting? Share your views with us in the comment section. Subscribe to our social media and website to be updated with the latest content.