Travel is the ultimate time of self-indulgence. With the idea of all-inclusive non-stop eating to the outlandish sugary treats around the globe it is not a lot of time before diets go down the drain. You can quickly sense that you are getting into the unhealthy options of lazing around or gorging on food, but you are not. It is possible to be healthier whilst traveling in both areas of diet and exercise, read on for my top tips on how to stay healthy while you leave home.
BASICS OF BEING HEALTHY:
When at home the general recommendation to stay healthy is to have five portions of fruit and vegetables a day, cut down your salt and saturated fat intake, regular exercise and not to skip breakfast. Pretty simple when at home in your routine.
And knowing where you are going to be plus where the local markets are is an added benefit. But keeping track of your health when traveling is quite tricky and needs extra effort.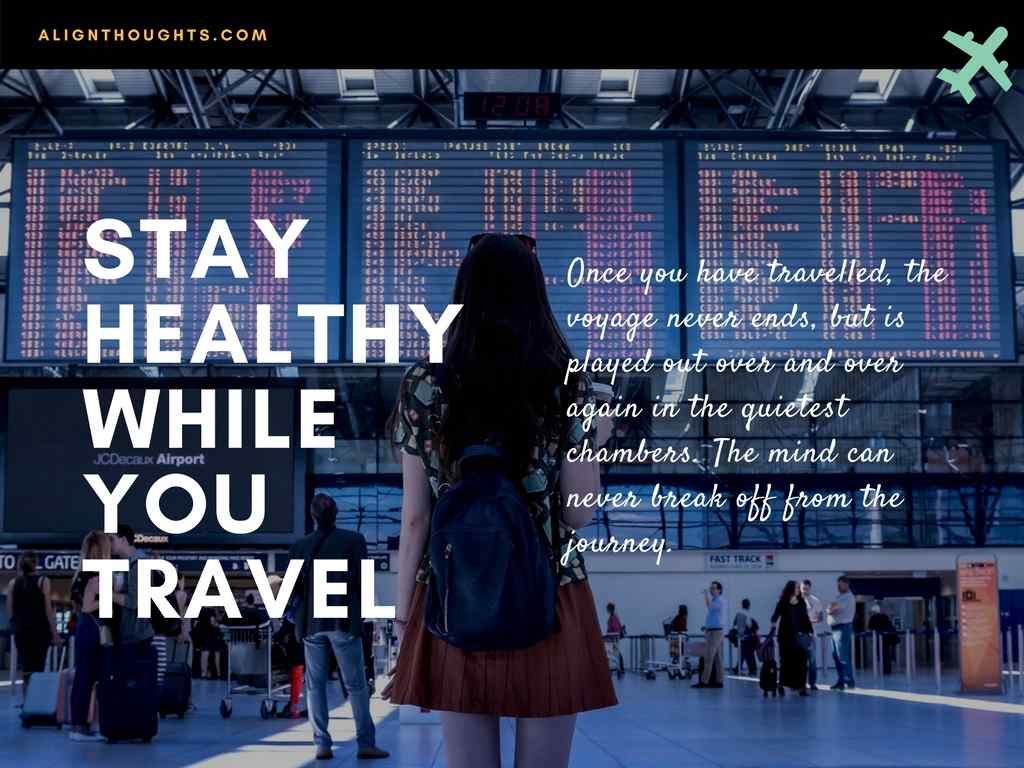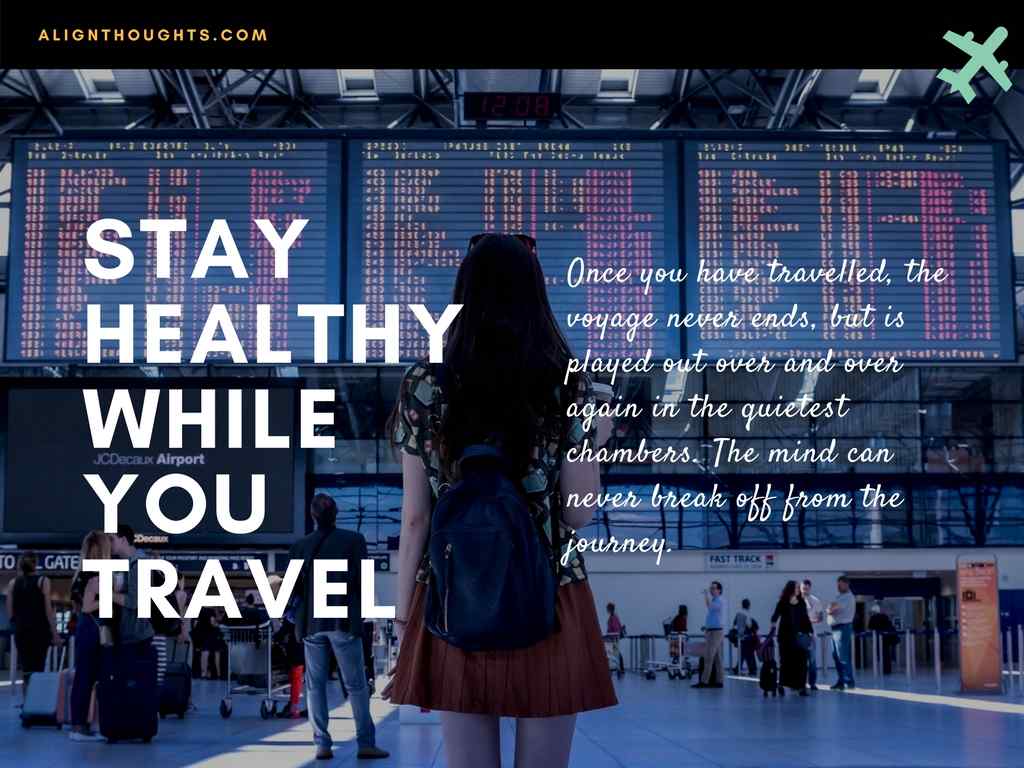 8 TIPS FOR STAYING HEALTHY WHEN TRAVELLING
1. STAY HYDRATED
Being hydrated is one of the most important things to do while traveling especially on long flights and in hot destinations. People feel most comfortable when humidity is at 50%, and in an airline cabin, it can be as low as 1%.
This lack of moisture can lead to dehydration resulting in headaches and fatigue which is also bad for your skin. Invest in the right size, BPA-free reusable water bottle to take with you while traveling that you can fill up the other side of airport security and in bars and cafes.
2. MAKE USE OF THE HOTEL GYM
Nowadays most chain hotels have a gym that is complimentary for guests to use. Isn't it the perfect time to make use of a gym? Especially if you do not have a gym membership back home, then you must take advantage of this situation.
Keep the exercise routine up even if it is just 30 mins in the morning before you go exploring.
3. BRING YOUR SNACKS
Whenever I go traveling, I always have a supply of healthy snacks from cereal bars to dried fruits and nuts. Put them into snack bags, and you are good to go. Perfect for flights or days out.
Likewise, prepare a meal for your flight such as sandwiches and portable fruit so you know how many calories you are consuming and you are getting a nutritious meal.
4. FREE WALKING TOURS
Many cities offer free walking tours. These are perfect to explore the city whilst staying healthy – get your daily dose of exercise and better than tour buses.
A bonus is that they're FREE, ideal for budget travelers!
5. MAKE GOOD RESTAURANT CHOICES
It is easy to go to the nearest restaurant and order something without thinking, especially if you are hungry, but this is what can break a diet.
Consider you were at home and how you would choose where to eat. Do your research, look at menus ahead of time, select steam vegetables, ask for dressings on the side, and lastly limit alcohol that could leave you bloated or get that 1 a.m. kebab stop.
6. TRY A HIKING/WALKING HOLIDAY
Another tip is to think about the holiday you are taking. If you want to be healthier, then consider a holiday where you hike instead of lazing on the beach cocktail in hand.
There are lots of options out there in beautiful places where you can still get that killer tan!
7. STOP AT LOCAL MARKETS FOR HEALTHY SNACKS
Often a guilty pleasure, snacking is the dark horse of the diet world with some saying it is ok while others saying it is the devil itself.
Most people get peckish between meals so do not feel guilty if you need a light bite to tide you over make sure you chose the right option. Like any towns off the beaten track, you can find fantastic local markets be it in a tent-like those in Fethiye in Turkey or San Miguel in Spain, or undercover like many in California.
These would offer a wide range of fruit, vegetables, and nuts for a tiny amount of the cost if you were to go to a café, etc. Pick up an apple or banana to keep you going and towards one of your five a day.
8. AIRPORT FOOD
Healthier eating options are becoming more and more popular in all walks of life and also means competition in the airport food provider world. Great for us travelers who want more choice when it comes to airport eating.
When arriving at the airport do not go to the nearest vendor, instead make a loop of the food hall, etc. (extra exercise!) and choose from there.
If your airport is not that great, try and avoid fried food, opt for vegetables on pizza or lighter salads. If you get stomach upsets when flying, have yogurt, vegetable sticks, or herbal tea beforehand to settle your stomach.
Staying healthy when traveling is not as difficult as you think. It is all about making the right choice which is a lot easier when you are informed about the subject. Follow these 8 tips to stay healthy, and you will be well on your way to not breaking that diet on the extensive buffet.
Do not hesitate to leave behind your thoughts. We love to hear from you.
Also, subscribe and stay tuned with us for our newsletter. You can also follow us on our social media channels for more updates.