Scroll through Instagram and you can see numerous good-looking people posing on a sandy beach or in front of the Eiffel tower. They always seem the be traveling, but how? When on holiday you'd be a liar if you had not had thought about just not going back home and instead may be staying at your destination for months or maybe getting a flight somewhere new.
The thing holding people back is the funds or stable income of being in your 9-5, consequently, if you are making money while traveling, then you can basically travel indefinitely.
No more having to worry about using up your annual leave or how far that small holiday fund will stretch because you are your boss, free to roam the planet at your will, not stick in an office.
There are many options out there to make money not just signing a teaching contract, becoming an au pair, or trying to find a job on a private yacht. These are everyday choices, but the primary way is to become a digital nomad.
Creative Ways To Make Extra Money While Traveling On The Road
Sell photos, videos, and graphics
Rent your car or van
Become a travel tour guide
Publish an Ebook (with your travel stories)
Become a yoga instructor
Become an online tutor
Share restaurant reviews and get paid
Get sponsored by hotel brands
Become the brand ambassador of a travel company
Learn foreign languages and teach others
Be a translator
How to Make Money Whilst Travelling the World
Below are just some ways you can make money while traveling: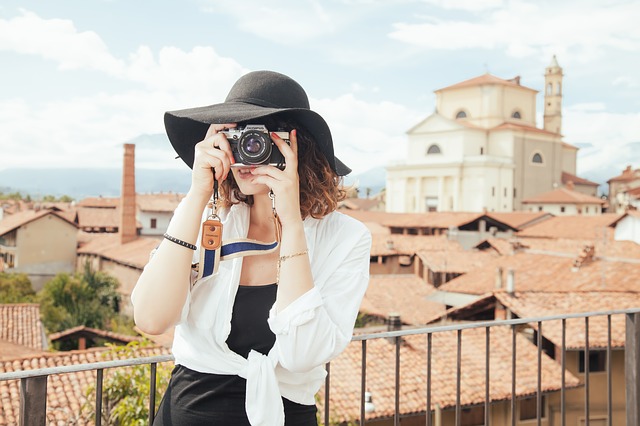 1. Become A Travel Influencer
Influencers are the new celebrities through Instagram, Twitter, Youtube, etc. they have more power to influence society than actual celebrities.
Brands are willing to pay influencers to promote their products to a mass following as the followers see their favorite person and want to be just like them. Hotels etc. are also willing to do this, so that means free stays around the world! Even if you do not have a small army following you on social media, never fear!
A lot of brands nowadays look at people with proper engagement on their posts rather than a following – as more engagement means higher sales.
Influencers can be found on numerous digital platforms including social media, blogging, and vlogging.
So get a media kit together, clean up your social profiles, and start emailing companies (the worst they can say is no!).
2. Social Media Management
Every business nowadays has social media, and it can play a big part in the picture presented to protentional customers.
Plus, it can take a lot of time so to have someone dedicating their time to it exclusively can mean they can dedicate their time to other subjects to develop their business even further.
Managing someone's social media can include, scheduling posts, running ads, replying to messages, engaging with other users, and extending the business' online reach.
See this: How to Stay Healthy While You Travel?
Social media platforms ranging from Facebook to Instagram, Twitter to Pinterest, or Snapchat so being familiar with these main ones is a bonus. Or having a social media strategy is brilliant to expand one platform really.
Again, all you need is a laptop, Wi-Fi connection, ways to communicate with the business, and imagination.
3. Coaching
Coaching is something that has taken off in the past couple of years. If you are good at something why not share it with people and pass on your knowledge.
This can be through group calls, one to one, or online courses. You can choose the subject such as business, social media, marketing, finance or life coaching the range of subjects is limitless.
Creating resources is easy with the number of tools on the internet and getting clients is about putting yourself out there or getting recommendations from others.
You may need even to get your own coach first, and that's not a problem, think of it as an investment. Make sure you have a good grounding first, and then you will be skyping clients from a beach in no time.
4. Copywriting
Copywriting is a very varied role in that you can write copy for some things from websites to advertisements. As long as you have a laptop, some office software such as Microsoft Office, and a knack for writing catchy content or flexible writing styles then this is a great job.
Websites such as Upwork and Fiverr often post freelance jobs, so you can choose when, how, and how much you work for, giving you the flexibility to travel and earn to suit you.
5. Teaching
Teaching English, Maths or Science is another great way to make money from your laptop while traveling. There are many companies out there who pay you per hour, providing you with lesson plans and all the tools you need to succeed. Hours can be decided to suit you, and you can work as little or as much as you like from anywhere in the world – you need a laptop and a good Wi-Fi connection.
As I mentioned before you are not just limited to these options above, there are numerous ways of earning money whilst traveling; most require a good laptop, some equipment, and access to the internet, plus a small fund to get you on your way like any other travel.
It is all about finding your niche and what you love doing otherwise you will regret your decision to get on that plane and may as well be back in your 9-5 office job.
A number of resources can be found on the internet to get your teeth into and learn more about what it takes to be a digital nomad. It is not made for everyone. Like with everything in life it has its ups and downs and will not happen overnight, but with hard work and dedication, you will be traveling the world with a steady income in no time.
Are you a digital nomad? Help us know more about the ways to make money while traveling in the comments section below. Subscribe to us for our free newsletter.