Do you ever find yourself questioning your current career path? Does the job you're pursuing really suits your needs? If you do, you're not alone! Be it a 9 to 5 office job or fieldwork jobs, many people around us keep grumbling, "I hate my job." There is no doubt that finding the right career which brings happiness and purpose can be challenging. However, with proper strategy and steps, you could also pursue a career that's right for you and meets your skills.
Ultimately we all deserve a life that gives the content. A job that is fulfilling, challenging, and above all, that makes us happy. Embark on a journey with me, and perhaps we can discover the work you love that brings joy and purpose.
This post will discuss the strategic steps you can implement to find the right career path for you.
Why Finding The Right Career Is Crucial?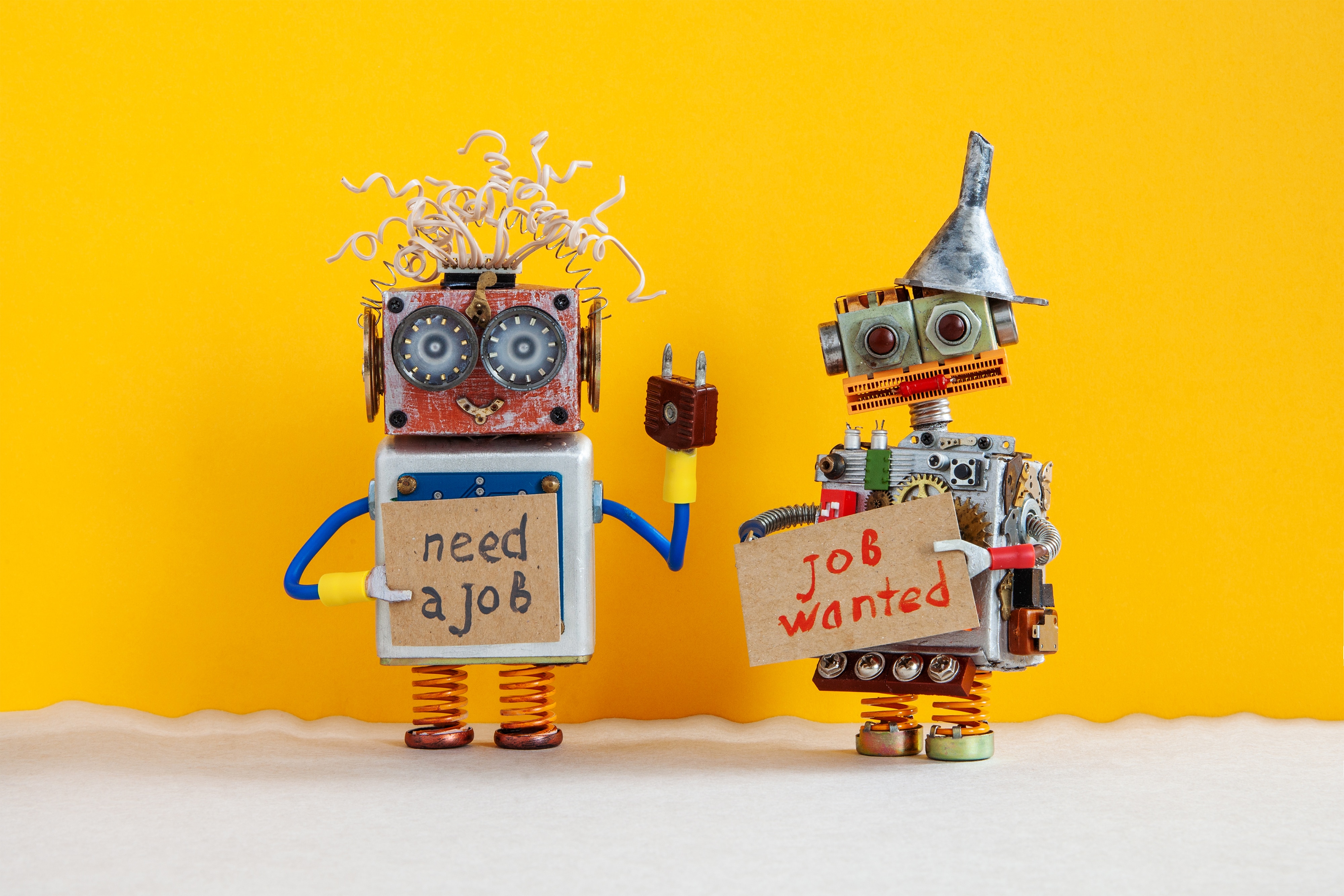 Before we discuss why you need a job that suits you, let's look at some statistics that also give us some insights on why finding the right career even matters in the first place.
Surprising Statistics On Work-Life
According to The National Institute for Occupational Safety and Health (NIOSH) report,

40% of the workers feel that their stress is work-related.

Global Studies

shows that

79% of the corporate world people feel that their work and efforts are not appreciated and would instead work elsewhere.
These stats clearly show that most people are stressed about their 'Work.' Our jobs support us with the means to meet our daily needs. This is one of the primary reasons people stay stuck in one place without loving what they do.
Here's how staying at a job that you don't like affects you.
The chances of growth become stagnant
The level of motivation diminishes
And eventually, you settle in monotony
We do not realize that life without passion and a job without love will suck all the do more harm than good!
At the same time, we want to be financially secure.
Significantly, we millennials do not want meaningless existence. We would rather have freedom, passion, and a purpose. A feeling of existential crisis creeps in when you doubt the purpose of your life.
What makes me happy?
What drives me?
Do I hate my job?
What am I passionate about?
What should I do with my life?
If you ever found yourself asking the above questions, then the chances are that it's time to look out for a job meant for you because we all deserve a life that makes us feel content and happy.
SICS Model To Find A Career That Fits You Well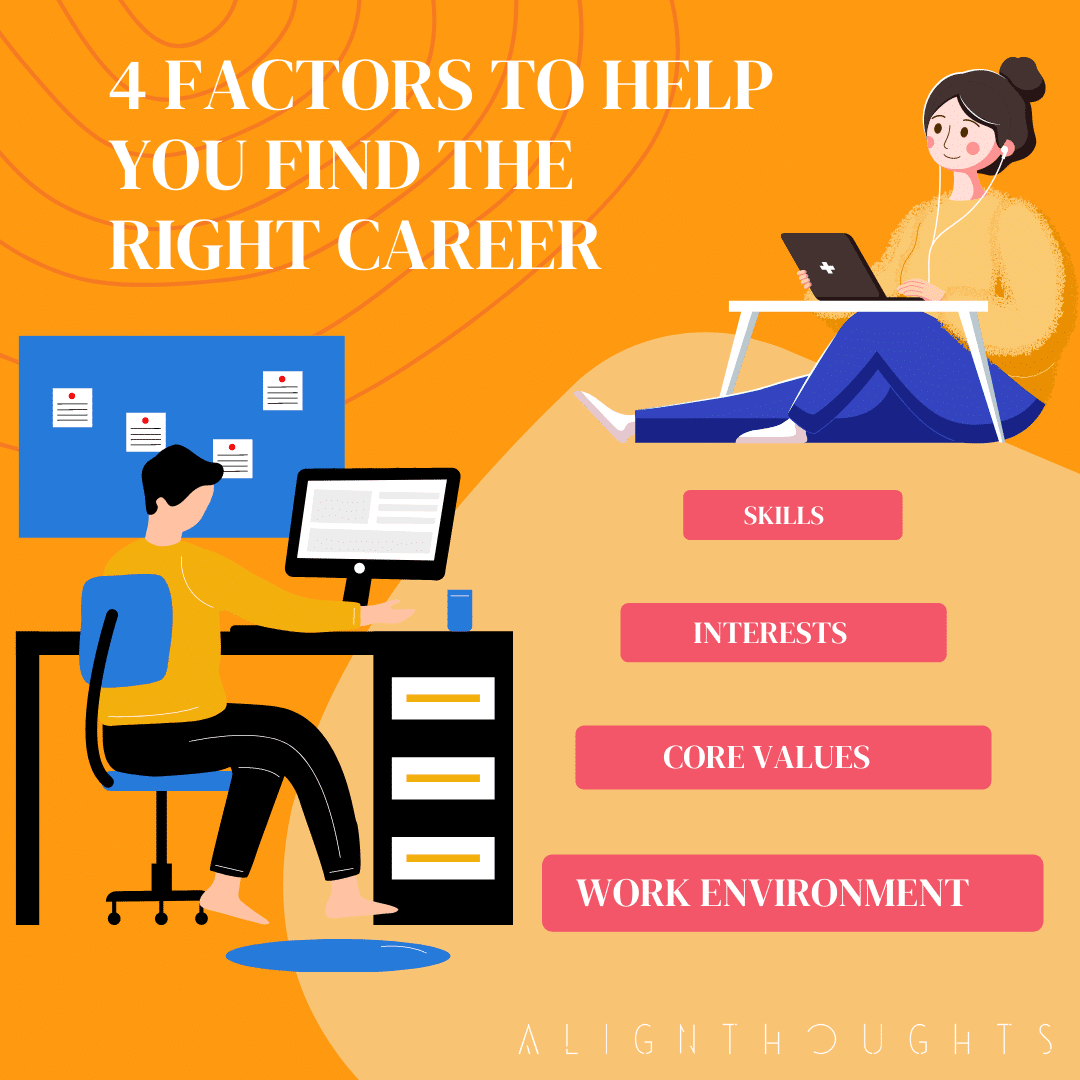 Here are 4 core things that will help you in finding the right career path.
1. SKILLS
What are your strengths and weakness? Using SWOT analysis, find your strengths, weaknesses, opportunities, and threats to discover the right career for you.
2. INTERESTS
What are your personal interests? What subjects and activities do you generally enjoy doing?
3. CORE VALUES
We all have things that we do/don't want to do. Identity what core values are important to you in your ideal career? Can you work in the betting industry, or do you want to work in a company that serves a social cause?
4. WORKING STYLE
What is your ideal style of work environment? Do you prefer a desk job, or you love to work outdoors?
How to Discover The Right Career/Work That Can Bring You Joy And Purpose?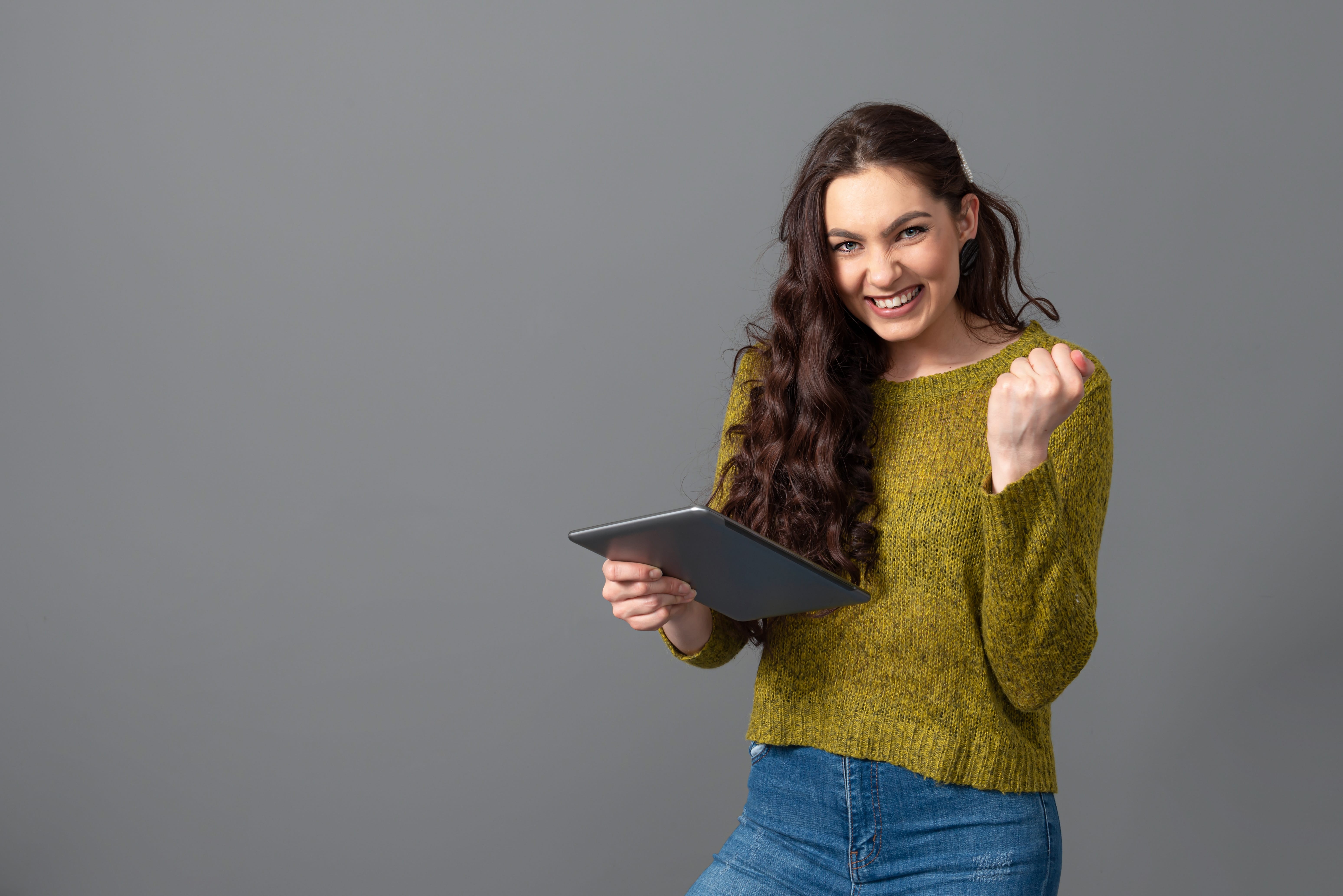 If you are someone who constantly mutters, "I hate my job" or "Am I in the right career," here is how to find the right job that can help you feel content.
1. Narrow Down Career Options Based On Our SICS Model
The first crucial step to apply for the right jobs would be to narrow down the career options based on the SICS model. Doing this will give you clarity about the job roles that align well with your skills.
Job hunting can also be a time-consuming task if you don't know what type of roles you want to apply for.
Here are some top tips to keep in mind while slimming your career options:
Check if there's a demand for the said skill in the market.
Research about the different job roles related to your skills.
Find out people who are already working a job with the same skillsets as yours.
Do proper company research to make sure their values align with yours.
2. Passion Alone Cannot Decide Your Career
Choosing a career only based on your gut or passion is not the right approach when you're on a job hunt. In fact, research confirms that it is hard to predict you'd do well in your job based on just "personal preferences or gut."
It won't be viable to capitalize your skillsets if there's no demand in the market for the same. Finding the right balance between passion and demand would be smart to go for that perfect career.
3. SWOT Analysis
Another way to find the right career that is suitable for you is to take a SWOT analysis.
S

trength: Strengths are good qualities or factors that help you achieve your goals and objectives.

W

eaknesses: Weaknesses stand for the areas others have an advantage over you and the qualities you might need to improve.

O

pportunities: Opportunities are favorable situations that you can leverage to reach your goals.

T

hreat: Threat stands for the hurdles that might hold you back from attaining your goals.
Similar to the SICS model, the SWOT analysis supports you:
in finding your strengths and weaknesses
to leverage those strengths into opportunities
and ways to improve on your weaknesses to avoid any possible threat
4. Ask People Who Are Already In The Industry
As we discussed in the first point, it's crucial to have conversations with people who are already in the same industry you wish to work in.
One way to do this would be to attend networking events at your current workplace or connect with people on professional platforms like LinkedIn.
For freshers, they can sign up on LinkedIn and have a genuine conversation with others. The power of networking is immense, and it may as well gift you with incredible opportunities.
5. Will This Job Exist In The Next 10 to 30 Years
Ask yourself this question because it's critical to analyze future job scenarios. The skills that are highly in demand today may go obsolete in the next decade.
For instance, automation and artificial intelligence is going to take over the world massively in the future.
And with the introduction of artificial intelligence will lead to a disruption in several jobs. Due to this, there will be an increased demand for jobs requiring higher preparation levels (i.e., more education and training programs) for imparting new skills.
Ensure that before switching to a career, you consider that if the skills are relevant for the next thirty years or not.
6. Growth Potential
Your job should provide you with opportunities that will help you grow professionally. Career growth ensures that every employee feels a sense of security in the long run.
It's vital to make sure that you get the chance to explore other interest areas in a job; otherwise, your work could lead to stagnancy.
This is how a company imparts employee growth, so research about the organization beforehand.
Human Development Programmes.
Regular training workshops.
Imparting innovative ideas by conducting fun activities at the workplace.
7. What's The Payscale – Does It Meet Your Lifestyle?
Consider your pay whenever you're finding a new job. There are a lot of things you'd need to consider while deciding on the pay scale.
The practical way to evaluate your salary is by following these steps:
Step 1: Analyze your monthly expenses (grocery, rent, electricity bills, internet recharge, miscellaneous, etc.).
Step 2: Double up the number of your monthly expenses for savings, investments, and emergency funds.
Step 3: After summing up the total amount from the first two steps, add 20%. This would be your ideal monthly salary.
8. Opt For A Career Opportunity That Retains Balance In Life
Work-life balance is a crucial aspect of any job because it guarantees better productivity levels at work without impacting your personal life and relationships.
According to the Time Management statistics, 66% of American employees lack a healthy work-life balance.
Not only will your personal life get affected but also working beyond your official work hours could lead to a feeling burnt out.
Here are some red flags of companies who don't value a healthy work-life balance:
They will ask you to work on the weekends.
They will present you with extra work after your official working hours.
They won't value your time.
They will underpay you.
9. Embrace Lifelong Learning
Embracing lifelong learning and improving/adding new skills to your resume gives you an edge over others while finding the job. It's imperative to keep upskilling to position yourself like an expert in front of the current job market.
Analyzing the future scenarios of job in the coming five years, there's a considerable emphasis on digital skills like:
Data analysis
Computer Science
Information Technology
A Word From AlignThoughts,
Finding the right career path may seem intimidating in the beginning. After all, the competition today is greater than it was a decade ago. However, with a shift in mindset, you'll also see there's a pool of unique opportunities you can leverage from.
So don't feel overwhelmed; start implementing the above steps diligently, and you'll soon find results. Before you realize it, you'll be back on your feet.
From resume preparation to networking, here are the micro-steps to take for a successful career change.
Key Takeaways On How to Find The Right Career
Finding the right career that brings happiness, purpose, and a good paycheck can be challenging.
40% of the workers

feel that their stress is work-related. So clearly, most of us are stressed about our 'Work.'

The first step to search for the right job is to narrow down your career options with the help of SICS (Skills, Interests, Core Values, Style) model.
Remember that passion alone can't guarantee a career, and they won't pay your bills unless you make an actionable plan.
You can also evaluate your career path by using the SWOT analysis method.
Asking people who are already in your desired job industry will support you in making the right decisions. Ensure that you're networking with people on LinkedIn and other professionals in networking events.
Question yourself if the job will exist in the next 20-30 years and research and analyze the future job market.
This will help you understand the job security of specific skills.
See that if there's growth potential in the said job. Growth potential is crucial for job satisfaction and career success.
Consider your monthly expenses, savings and then decide on a pay scale. This will prevent you from experiencing stress in money-related decisions.
Opt for a career that promotes work-life balance; otherwise, it could take a severe toll on your mental well-being.
Lastly, learn a new skill to equip yourself with the changing technologies. This also positions you as an expert in front of other candidates when in a job interview.
How to choose the right job?
While choosing the right job, there are few things one must always consider.
Narrowing down career options based on your current skills, experience, and qualifications.
Analyzing the market trends and future of jobs.
The growth potential of that field.
Deciding on the pay scale.
How to know if a career is right for you?
These are the sign that shows you're in love with your career:
You wake up every day with a sense of purpose.
You get excited when you talk about your work with others.
You feel content and happy with your job.
How can I find opportunities for a job?
Connect with people on LinkedIn.
Visit your office networking events.
Search for jobs on Indeed, Monster, Glassdoor, AngelList, LinkedIn, etc.
What skills are high in demand and will be in the future too?
Considering the future job scenarios, these three skills will be in high demand:
Data Analysis
Computer Science
Information Technology
We hope that you have now learned how to find the right job. Let us know your thoughts in the comments section below.
If you liked this article, do not forget to hit a thumbs up below and share it with your friends and help them find the right career path.