The world has witnessed innumerable restrictions due to the Covid-19 pandemic. As companies worldwide sent their employees home to ensure their safety, every organization's recruiting department conducts web video interviews as a virtual tool to hire new talents. The practice of video job interviews is a cost-effective method of hiring suitable candidates in the broader pool within a short period.
According to a recent survey by Willis Towers Watson, around 55% of companies are encouraging virtual meetings to meet the social distancing norms during the pandemic.
Before we dive into the video interview's specifics, let's shortly go through the benefits of this method.
Benefits Of Video Interviews During Pandemic
Video interviews are a time-saving method as both the parties can attend the interview according to their convenience.
Saves travel time and expenses.
In video interviews, the employer can better read the candidate's body language and expression during the pandemic.
The employer has the option to replay the pre-recorded video interviews of candidates.
Best Practices & Tips For Conducting Remote Video Interviews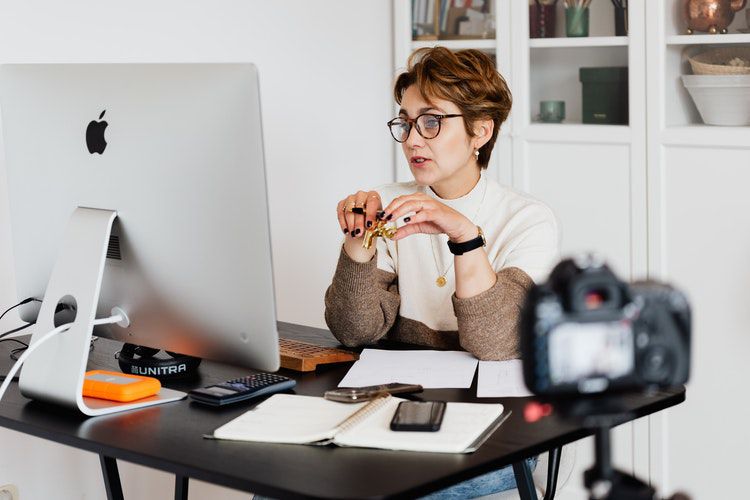 The following guidelines will assist in making the experience worthwhile for employers and their job candidates.
1. Do A Dry Run And Have A Backup Plan
As there's an increase in demand for video conferencing systems during the pandemic, often, it's nearly impossible to run away from technical glitches while on a video interview. Hence, it's advisable to do a dry run in advance to confirm everything is working finely.
Provide your phone number or let candidates know in case there's a need to reschedule the interview. Doing this will help you in avoiding wasting candidates' time or yours while dealing with technical glitches.
2. Choose A Widely Used Technology 
Recent statistics show that 86% of organizations conduct employee interviews over video calls, and 78% of corporate organizations use video calling software.
The following technology platforms are widely utilized around the world by many companies:
Google Hangouts
Zoom
Skype
Microsoft Teams
Among these, Zoom had witnessed over 300 million meeting participants per day in 2020.
Whereas Google Meet and Microsoft Teams had over 100 million and 75 million active users, respectively, daily in 2020
Always use a video conference platform, which many companies worldwide have tried as it helps in avoiding possible glitches and time waste.
Before the interview, let your candidates know beforehand about which application to install on their computer or smartphone.
3. Schedule An Appropriate Time To Conduct The Video Job Interview
Coordinate a time appropriate for both the interviewer and candidate if you want the interview to be successful without interruptions.
Always choose a location where it's possible to control the surroundings, like a private room in a library, co-working space, or your own home.
4. Set The Stage And Practice Video Interview Etiquettes
This might be the first time you're conducting a video interview, but it's a sensible idea to prepare the stage by decluttering the space and placing a suitable backdrop.
Here are a few etiquettes you can follow while conducting web interviews for employees.
Always ensure there is enough light in the room as it allows the interviewee to see the candidate correctly.  Use natural light that does not cause glare on your laptop screen.
Remember to position your webcam at eye level so that your head and shoulder are visible on the video screen.
Every time you attend a web interview, dress as you would in an in-person interview.
Turn off your phone's ringer, e-mail notifications, and other pop-up distractions.
Print or write your interview questions, and take notes on paper to avoid switching screens away from your candidates.
Lastly, don't forget to have a pen nearby for taking notes and a glass of water to quench your thirst.
5. Use A Head Set
Hearing and understanding each other play a crucial role in a video job interview. Whether you're using a phone or a laptop/computer, using the headset will significantly improve audio quality. Double-checking the audio quality is an excellent idea to certify that both parties can clearly listen to each other.
6. Acknowledge The Differences (Break The Ice)
One of the video interviews' most significant challenges is that candidates can get awkward in front of the camera if they deal with anxiety issues.
It's practical for the employer to ease in slowly during the video job interview as it can help the other person get comfortable, and they can open up better as the questions progress to more in-depth.
Start with introductions, outline the interview's plan, and finally ask the candidate if they have any questions before proceeding to the actual interview.
What to Wear to a Video Interview?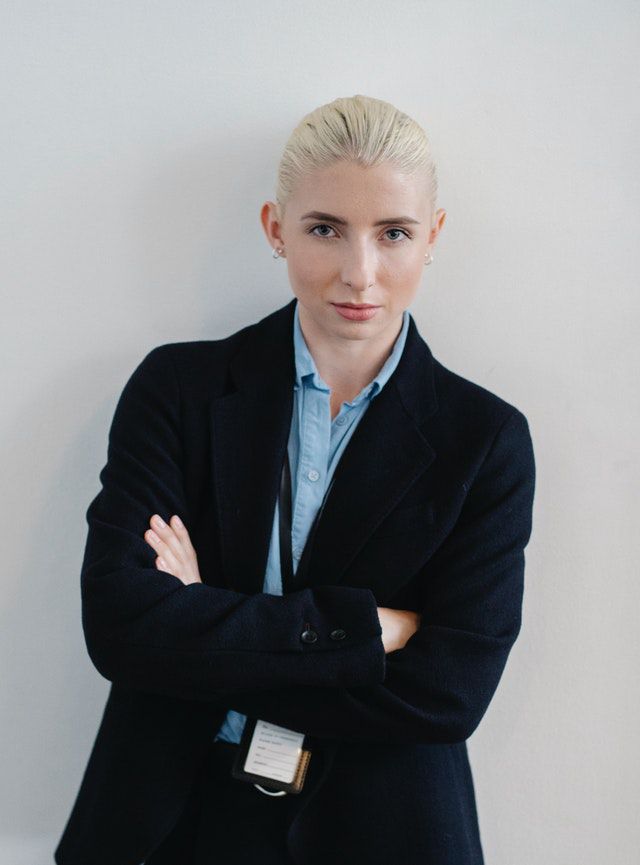 Dressing appropriately is a significant aspect of your video job interview. Your interview attire shouldn't be too different from the regular interview. However, there are some critical points you can consider while attending web interviews.
The Do's For Video Interview
1. Avoid White Clothing
White-colored clothes look overpowering on-screen and obstruct the view of your face. Go for dresses with neutral tones like camel, beige as they are less distracting.
2. Add A Hint Of Colour
Adding a dash of color will help you to stand out and enhance the skin tone. It wouldn't look good if you blend into the background by wearing a regular grey, black, or navy suit.
3. Wear Simple Minimal Jewellery
Go for minimal accessories and simple clothes as they amplify your overall look. Avoid wearing big jewelry and bright colors because they can be too distracting on camera.
4. Dress Up Your Bottom Half
Just because it's a web interview, it doesn't give you the free pass to dress up incompletely. Dressing up in the right way boosts your confidence and increase your chances of winning the job while the video interview is conducted.
5. Wear Makeup That Is Natural And Neutral
Natural makeup look accentuates the best features of your on-camera. Anything with heavy makeup looks washed out in front of the camera.
Wear a light foundation or CC cream and use concealer to brighten the areas underneath your eyes. It will instantly brighten up your face and get the desired facial effect on video.
6. Match The Occasion By Wearing What Is Appropriate
It's essential to dress in a video job interview like you would in a personal interview.
For example, if you're interviewing in a big corporate firm, and you know their staff wears suits to work, then it's best to stick to formals during the virtual interview as well.
7. Try Your Outfit Before The Big Day
You'd want to avoid any mishaps on the day of your interview. So why not try your outfit a day before your web interview to prevent any last-minute alterations?
A shirt or a blouse may look fine in the mirror, but when you're in front of the camera, they might look unflattering. We suggest you try your dresses a day before and check in front of the camera as well.
The Don'ts For Video Interview
1. Avoid Wearing Stripes And Loud Patterns
Stripes are unflattering and distracting to the interviewer. During the web interview, the focus should be on you (candidate) and not on what you're wearing, so stick to reliable and warm colors.
2. Avoid Ill-Fitted Clothing
Do not wear something that's either too loose or too tight. It's essential to find an outfit that fits you properly, as it can positively impact your confidence level.
3. Avoid Outfit That Shows Too Much Skin
You should be covered up during your virtual interview and ensure the cloth material you're wearing is breathable. Anything that gives you sweat marks is extremely embarrassing while on a video interview. Try to stay away from clothes that reveal too much skin.
4. Avoid Sparkles And Shimmers
Whether it's glittery eye shadow or a simple shimmer design top, steer clear of them as a small number of shiny glitters can shift the interviewer's attention from your face.
5. Avoid Wearing Clothing With Writing
Although clothes with writing on it look uber cool in a video interview, it's best to wear a dress without prints or writing on it.
Video Interview Backgrounds
The background plays one of the critical roles in determining whether the video is successful or not.
You can take a look at great interviews done in the past, whether it's on the news or Youtube videos, to see how creators use their backdrop.
One way to ensure that would be checking up on their background props, which in most cases include plants, bookcases, and other minimal home decor items. The aim is to guarantee that the background is neutral, comfortable, and doesn't take the attention away from you.
The best place to conduct a video job interview is at your own home, where you control your surroundings. Alternatively, you can use public areas like a library's private rooms or use a co-working space.
Whether it's your place or a public place, do not avoid the following things:
1. Avoid Distractions
If you live with your family, inform them beforehand not to disturb you when the video job interview is conducted.
There must be no distraction during the job interview because you want the interviewer (the hiring manager) to have their undivided attention.
2. Sound
Find a peaceful location for your web interview.  While conducting a video job interview from home, it is best practice to double-check your microphone's sound settings.
Ensure that the sound levels are appropriate because you want both sides of the parties to hear each other during the job video interview.
3. Lighting
Even though you are conducting the video job interview from home, giving importance to small details puts you in a good position in the interviewer's eyes.
Check if the lighting shows your face clearly to the interviewer or not. However, if you see shadows around your face, try to place lamps, so they indirectly light your face.
It's vital to ensure the interviewer can see the candidate, especially your facial expressions, to help the hiring manager get an accurate assessment and increase your chances of acing the interview.
A Word From Alignthoughts,
As days pass by, more companies conduct video job interviews for new employees to ensure safety and productivity.
The way to ace a job video job interview is to prepare, look polished, act professionally, and answer the questions with your examples.
With all these tips for conducting interviews, you can do it!
Key Takeaways On How To Conduct Video Interview
Many companies worldwide are conducting video job interviews for new employees to ensure their health and safety during the coronavirus pandemic.
According to a study, 55% of companies are encouraging virtual meetings to follow social distancing rules.
Also, web interviews are time saving and cost-effective method.
Before the interview day, do a dry test run and have a backup plan if there are technical faults during the video call.
Choose a video call software that is widely used by many companies around the world.
For instance, companies prefer using Google Meet, Zoom, and Microsoft Teams.
Schedule a time for the interview that is convenient for both the employer and the candidate.
Select a location where nobody will interrupt you while attending the meeting.
Verify that the audio settings are correctly set on your headset.
Strictly stick to formal clothes and go for solid colors with neutral tones as they are less distracting.
Do not wear clothes or accessories that are glittery when you are attending a video interview.
Instead, accessories your look with minimal jewelry.
Lastly, ensure that your background is clutter-free, there's enough light in your room, and it's a noise-free area.
What is a video interview like?
The video interview is a real-time in-person interview that is conducted by a video where the interviewer asks questions to their candidate on video.
Where to conduct a video interview?
The best practice to conduct a video interview for a job would be at the comfort of your home. You can even go for a private space at a library or a public coworker's place. Wherever it is, ensure there are no distractions nearby.
What are the best video interview apps?
There are several video interview apps, but the following are the best in categories:
Zoom
Google Meet
Skype
Microsoft Teams
How to start a video interview?
If you're a candidate, greet your interviewer the first instance you come on the call.
Start with a brief introduction of yourself.
Ask the other person how they have been doing.
How to record a remote video interview?
Plan your interview a day ahead.
Email your interviewee topics or questions beforehand.
Engage with each other while on the video.
Double-check on the recording gadgets and equipment.
How to nail a video interview?
Maintain direct eye contact with the interviewer.
Have confident body language.
Be punctual and respect each other's time.
Treat video interview as if it's a personal interview where both the parties are physically present in front of each other.
What to wear video interview?
Stick to professional attire.
Wear clothes that coordinate with the background.
Steer clear of sparkling or shiny accessories.
Plan out your clothes a day ahead of the interview day.
Can I do a video interview on my iPhone?
You can do a video interview on the phone but make sure the following things:
Fully charged battery.
Your phone has a front-facing camera.
Install video call software.
Check on your microphone and headset.
Can I do a video interview at night?
If you're attending a video interview during the night, ensure that the area is well lit and there's enough light in the room.
What are the video interview skills I need to crack the job?
Research about the company before the interview begins.
Be an active listener.
Have a clear understanding of the job role.
Look professional and speak professionally with the other person.
Respect other's time.
Speak confidently.
Prepare for the interview in advance.
Have you conducted or aced a video job interview? Do share your experiences and thoughts below in the comments section!
Here's another interesting article for you – How To Show Leadership At Work? Check it out!