California, the Golden State. The place where people go to live their dreams and become stars of the stage and screen. As America's most visited state with an average of 6 million visitors each year it is not hard to see why many want to cross the pond to see what the west coast has to offer, but at 800 miles long and 200 miles wide it is difficult to know where to start. If you're planning to visit California for the first time, then you're in the right hands.
Being such a big state and if time and budget are your constraints, you may not know the best places to go, eat or see. California is not just for the rich and famous; the general nobody can still visit and have a blast in this state, maybe even feeling like a movie star themselves. From students to the elderly this destination has something to offer for everyone. Read on for a whistle-stop guide of California on a shoestring including my tips, top stops, getting around, and foody wonders.
Top Tips For First-time Travelers to California
California is GMT-8 hours so be sure to set your watches as soon as you get on the plane.
Bring a raincoat. California can go from droughts to severe downpour, so it pays to be prepared, drenching can put a dampener on any travels.
Don't be afraid to hop on the metro or other local transport. You can easily purchase top-up cards at stations, so you can hop-on and hop-off at multiple destinations, it is often the easiest way to get around the city even if you have a car.
Look at investing in a GO Card which can get you discounted or free entry into some major attractions.
Hollywood Boulevard is a bit of a tourist trap and grimy. Worth going to say you have been but do not put aside more than a couple of hours.
To avoid queues at the top attractions, go outside the main summer months.
Weather varies from the North to South, colder to warmer, so be sure to pack layers of clothing.
 Top 5 Places To Visit In California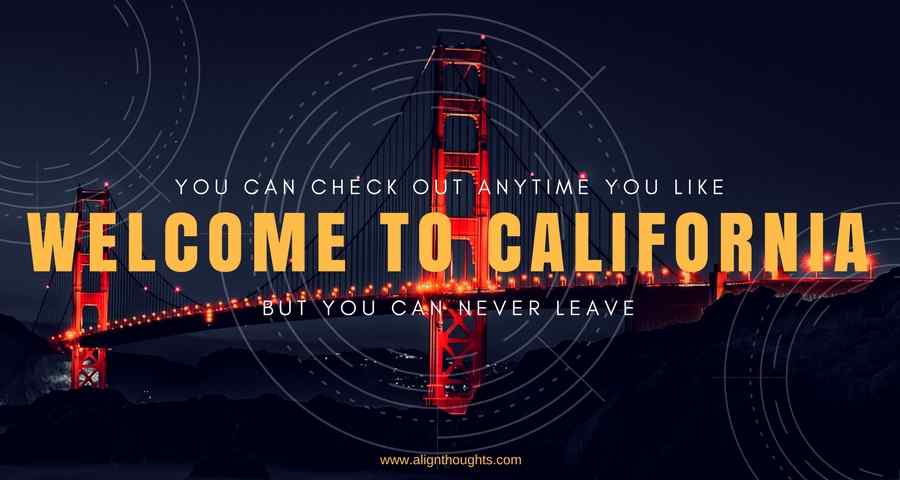 There are so many unusual places to choose from in California from tourist hot spots to finds off the beaten track. You could spend months in this one state and still not cover everything.
However, you are probably reading this article because you want to cross the Golden State off your bucket list so for the first timer to California here are my top 5 places to visit:
1. NAPA VALLEY
One of the quintessential destinations for California and it is quite literally a valley that you can drive, cycle or take the wine train the stretch of. Rolling hills full of row upon row of grape vines, this is a wine lovers dream.
Not a wine lover?
No problem there is something for everyone from traditional American dream architecture to unique food markets or hiking at Skyline Park.
With a choice of transport be sure to check out Napa, Sonoma, Calistoga and Devils Peak (home to a cult that is against alcohol consumption, but a majority of land sold to wineries?!). Those with access to cars most definitely should drive out to the famous Redwood forests outside Napa for a once in a lifetime experience to see these famous trees.
2. SAN FRANCISCO
Lose your heart in San Francisco; this is a place you cannot miss if you are heading to California. Some may consider it the heart of the state, and it is not hard to see why. With the changing neighborhoods, varied culture and history and hidden gems it won't be hard to fill your time. You could spend hours wandering the famous hills and hopping on and off the vintage cable cars that go along the waterfront.
There is enough here to fill months of your times, be sure to check out the different neighborhoods and pick up a GO San Francisco Card to get free or discounted entry into the likes of California Academy of Sciences and Ripleys! Believe it or Not! The Big Bus Hop-on Hop-off is perfect to get a whistle top tour or get around the city.
Of course, you need to check out the Golden Gate Bridge by boat, on foot or the bus as well as Alcatraz but be sure to book early to get tickets. Love chocolate? Check out Ghiradelli Square the home of chocolate shops and cafes. Wear comfy shoes as you will walk miles either exploring or shopping!
3. MONTEREY
A less well-known town on the west coast this is perfect if you want to get off the tourist path. The famous aquarium can be found on Cannery Row near an array of unique buildings and the Bubba Gump Square, costing about $50 for an adult admission it is one of the first aquariums to exhibit a live kelp forest and Great White Shark. Well worth a visit, if you have the budget!
Monterey is known for its stunning coast with unprecedented views of the Pacific, with 18 miles of coastal trail you can walk for hours on the lookout for otters, seals and maybe even a humpback whale.
Stumble upon Bubba Gump square and consume shrimps at the Bubba Gump Restaurant. The downtown main street often holds several festivals all year round for music lovers or raising money and usually free for the public to attend.
4. LOS ANGELES
LA. The home of Hollywood and the stars. You do not have to be famous to travel here, but it helps. However, there is way more to Los Angeles than the Walk of Fame/Hollywood Boulevard. I would recommend only putting aside a couple of hours to walk along Hollywood Boulevard as it can be crowded even outside of peak season and there's not much to do unless you want to go inside the Chinese Theatre.
Watch out for scammers that will try to sell you unofficial merchandise or those dressed in a costume that charges you to have a photo with them.
One of the key sites to visit is the Hollywood which is well worth the four hr round hike up Mt Lee. Avoid the midday heat and do not worry about the 'hikers will be fined' signs if you stick to the road. Then enjoy the breath-taking views of LA in the valley.
Other sights to see include Pasadena, the home of California Institute of Technology and the basis for the hit TV, The Big Bang Theory or
Downtown LA for a more city feel.
If you have a car or willing to spend a couple of hours on public transport, then try out the tour of Warner Brother Studios and see real-life film sets.
You can also seek thrills at Universal Studios in North Hollywood including Harry Potter World. Admission is about $80 for a day ticket, and parking cost $20, or you can get the metro from anywhere in LA straight to the entrance. For a more relaxed feel head over to Venice Beach to work out in front of the ocean, sunbathe or watch the epic sunsets.
Why India Is Worth Visiting At least Once? Tips To Prepare Your First Trip To India
5. SAN DIEGO
Known for its warm climate, like LA, San Diego has a lot to offer from the famous San Diego Zoo located in the Balboa Park to Disneyland 95 miles North in Anaheim. Smaller than that found in on the opposite coast in Florida but no less of the magic. Balboa Park is also home to 17 museums, gardens and a host of culture.
This Pacific city hosts many breweries; boat launches for whale watching cruises, shopping malls and a number of neighborhoods making it one of 'America's best cities for foodies.' San Diego is incredibly close to the Mexican border if you want to add it to your travels.
Getting Around California 
Getting around California even if you do not have a car is easier than you think. It is probably one of the most accessible states to get around either walking or using the surprisingly efficient public transport. I would highly recommend downloading the Uber app to phone you will use while in America, Uber is a trendy and safe way to get from A to B in the states and quite often if you are not using it you are the strange one. Another app is the CityMapper app which helps you navigate a variety of local cities including public transport.
Public Transport
Transport can vary from city to city through California, but most have buses and link airports (which can be the cheapest/quickest option) or trains such as Amtrak. Each town also has its networks such as the metro in LA, BART and Cable Cars in San Francisco, Wine Trains in Napa Valley, etc.
For further information in specific cities follow the links below:
Food in California
California, unlike most of the rest of America, has varied options when it comes to eating in and out. From different types of restaurants, cafes and street food to markets full of fresh fruit and veg, spices and artisan products (plus of course wine, lots and lots of wine).
Got a dietary requirement? California has whole restaurants dedicated to specific diets such as a Mexican restaurant serving only vegan and organic food to ice cream parlors to lactose-free ice cream.
Whatever you want to eat you can find a nearby place that meets your cravings.
What are your recommendations for visiting California? Have you visited California? Comment below your views! We love to hear from you!
Subscribe to our newsletter and stay tuned with us. You can also follow us on our social media channels for more updates.