Are you looking for healthy soup recipes for weight loss? When you are thinking of healthy soup recipes, you are probably picturing the dreaded cabbage soup. You know, the colorless, tasteless mess that you force yourself to eat hoping to shed a few pounds.
As you force every spoonful down your throat, you convince yourself that it is for a good cause – a great beach body and a longer, healthier life. But did you know that healthy soup recipes don't have to be boring and unappealing to the palate?
Even the basic chicken soup recipe that your mother prepared for you when you had a cold is a great alternative to cabbage soup.
In fact, there are lots and lots of soups you can try, that are healthy, help you lose weight and are absolutely delicious.
There Is More to Soups than Just Basic Legumes and Vegetables
We live in a global village and we share lots of things with each other. We embrace new styles of getting dressed, enjoy new types of music, and even adopt new philosophies and religions. And we also discover new cuisines and new ingredients to add to our traditional recipes.
A good example in this respect is the avocado. The avocado toast is now the rage of healthy and fashionable breakfasts among millennials. But just ten years ago, this fruit was virtually unknown in the mainstream North American and European cuisines.
Now, then, why should you stay with the boring cabbage soup when you can try so many delicious healthy soup recipes from all over the world?
Then let us get started. Here are just a few recipes of healthy foods with a low-calorie count per serve.
Four Healthy Soup Recipes For Your Low-Calorie Diet
1. Slow Cooker Moroccan Soup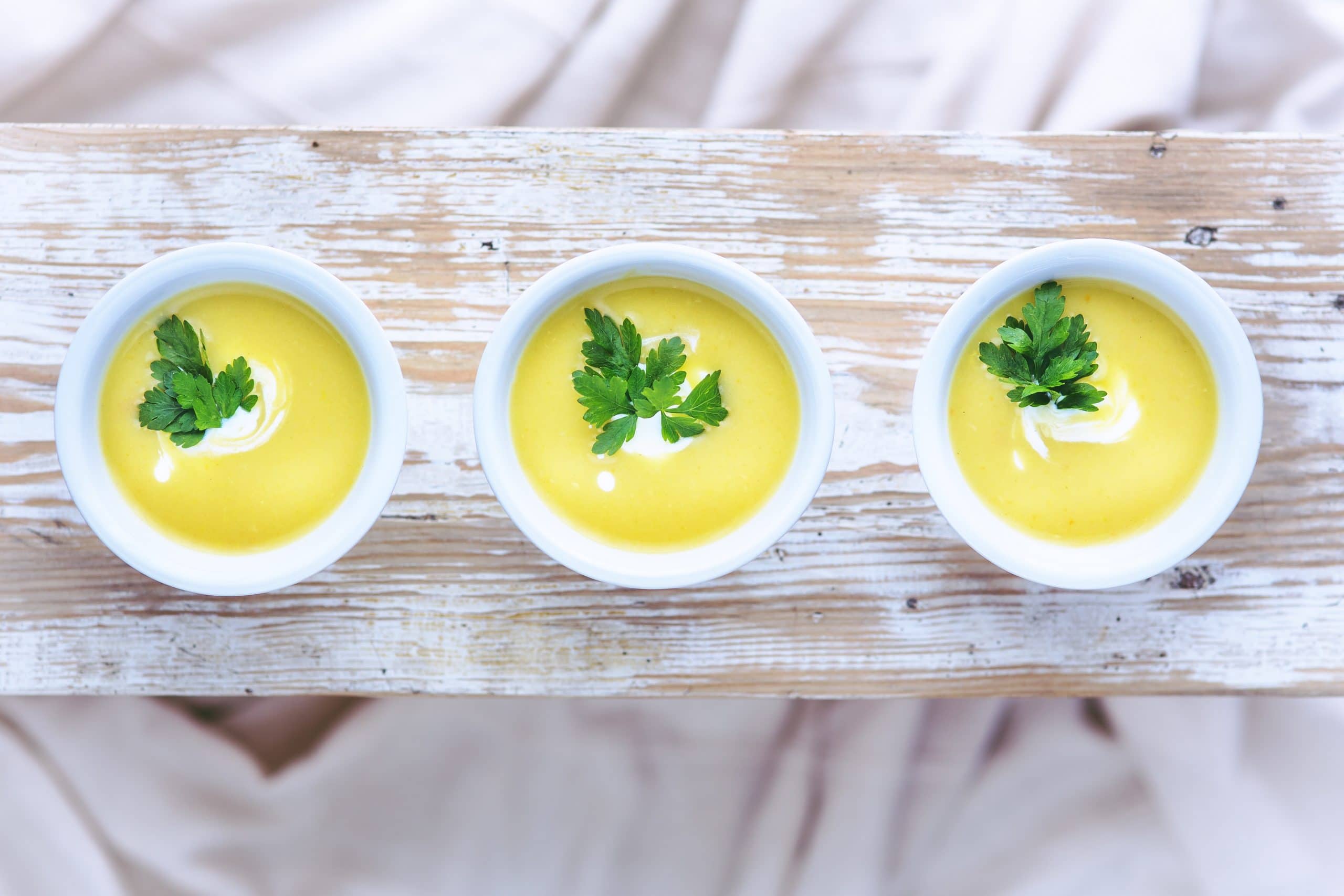 At less than 250 calories per serving, this fragrant sweet potatoes and lentil soup will definitely bring everyone to the table. You will need a slow cooker to prepare this recipe and very little effort to put it together.
Ingredients for Slow Cooker Moroccan Soup
Here are the ingredients you will need:
1 lb. sweet potatoes, peeled and cubed into small pieces;
1.5 cups green or brown lentils, rinsed and picked over;
1 cup carrots, chopped;
6 cloves garlic, minced or pressed;
1 cup onions, chopped;
6-7 cups low sodium broth (vegetable or chicken);
1 cup celery, chopped;
1 red bell pepper, diced;
1.5 teaspoon each coriander and cumin powder;
1 teaspoon curry powder (or more to taste);
½ teaspoon each smoked paprika, ground cinnamon, and turmeric;
⅛ teaspoon ground nutmeg;
2.5 cups baby spinach, roughly chopped;
¼ cup of lemon juice.
How to prepare Slow Cooker Moroccan Soup?
Place all the ingredients minus the baby spinach into the slow cooker and let them boil together for around 7 hours on the low setting or 5 hours on the high setting. Try the lentils to see if they are properly done. Freshly bought lentils will cook faster than those kept in the pantry.
After the initial phase, remove half of the contents of the slow cooker and put it in a blender with the rest of the broth (around 1 cup). Blend the mix until it reaches the consistency of a smoothie and put it back in the slow cooker.
Add the baby spinach and lemon juice and cover the slow cooker. Unplug the cooker and let the soup simmer for around 30 minutes.
Season this delicious healthy soup recipe with salt, pepper and curry powder and serve warm with lots of fresh herbs (parsley or cilantro) sprinkled on top.
See this: 10 Healthy Dinner Recipes That Are Easy And Delicious
2. Chicken Ginger Soup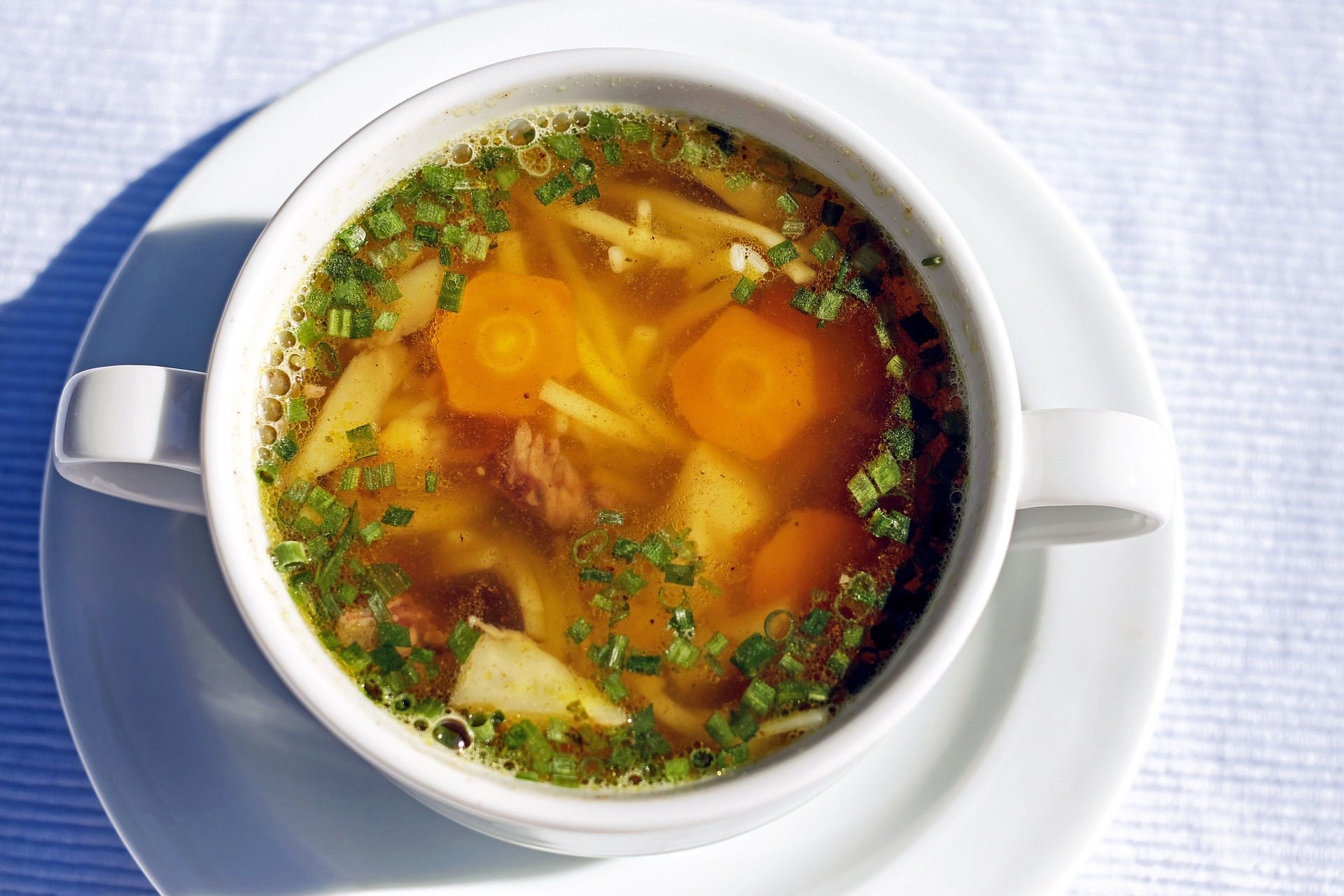 I told you that you can improve on your mother's healthy chicken soup recipe, didn't you? The recipe I recommend has only 91 calories per serving and is absolutely delicious. The fewer calories per serving make this soup one of the best healthy soup recipes for weight loss.
Ingredients for Chicken Ginger Soup
You will need the following ingredients:
1.5 pounds chicken breast, without bones and skin;
2 quarts chicken broth;
1 large chopped onion;
3 cups broccoli florets;
2.5 cups sliced carrots;
2 cups chopped celery;
1.5 cups frozen peas;
¼ cup chopped parsley;
3 tablespoons fresh grated ginger;
4 minced garlic cloves;
2 tablespoons olive oil;
1 tablespoon apple cider vinegar;
½ teaspoon crushed red pepper;
¼ teaspoon ground turmeric;
Salt and pepper to taste.
How to prepare Chicken Ginger Soup?
Put a large pot on the cooking stove turned at medium heat and add the chopped onion, celery, ginger and garlic with the olive oil. Wait until they are sautéed (5-6 minutes) and become soft.
Add the chicken breast (the whole piece), broth, carrots apple cider vinegar, red pepper, turmeric and 1 teaspoon of salt with an adequate quantity of water.
Let the soup boil for around 20-30 minutes, until the chicken meat is properly cooked. Remove the chicken breast with a pair of tongs and shred it to pieces after it cools. In the meantime, add the broccoli, peas, and parsley to the pot of soup.
Wait until the broccoli becomes soft and add the shredded chicken. Add salt and pepper to taste and serve warm.
3. Mushroom and Kidney Beans Soup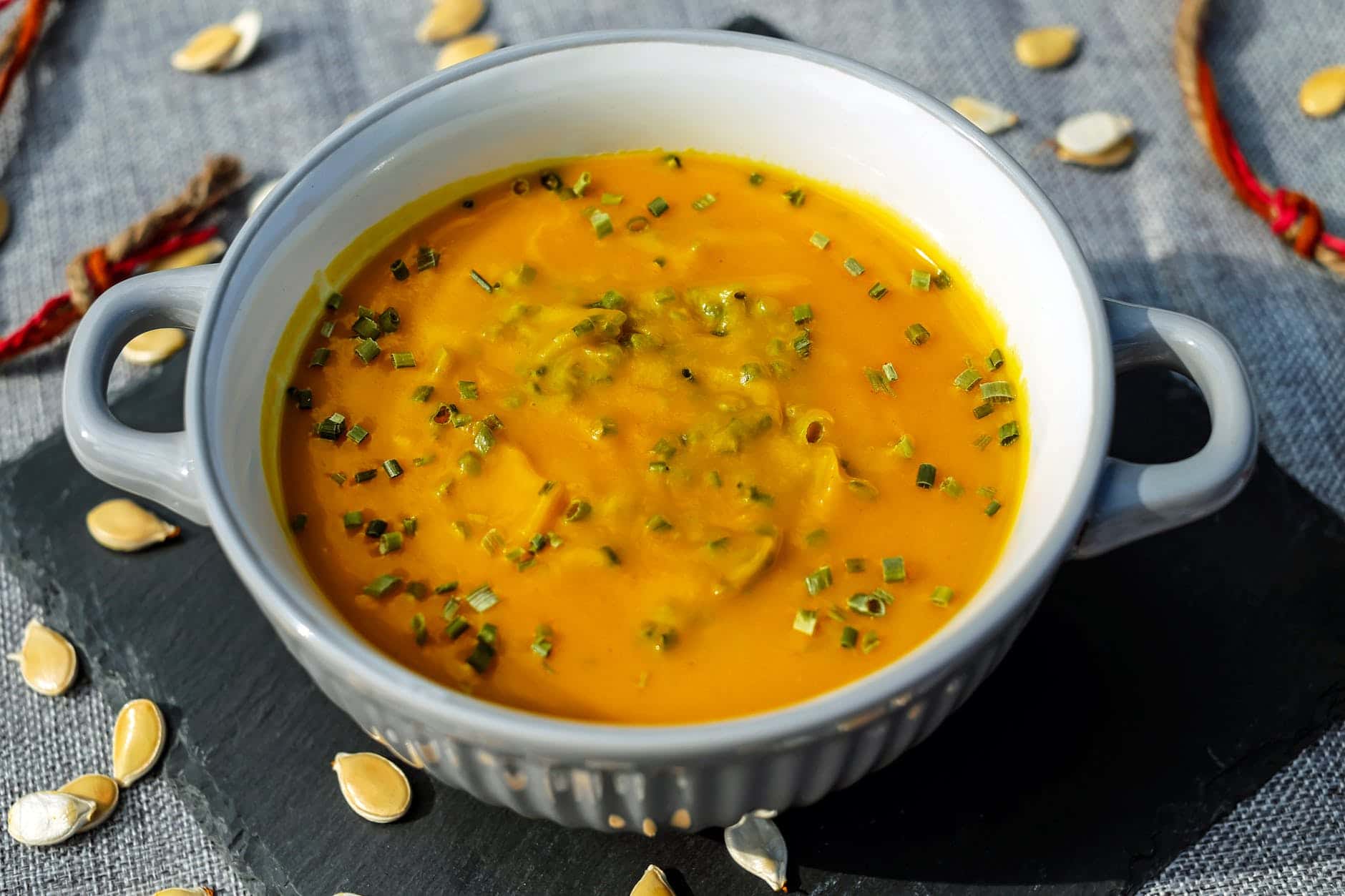 This healthy soup recipe is rich in fibers and low in calories. Plus, it is very tasty and definitely different from everything you've tried before.
Ingredients for Mushroom and Kidney Beans Soup
You will need the following ingredients:
32 ounces low sodium chicken broth;
28 ounces Italian diced tomatoes;
1 small onion;
8 ounces sliced mushrooms;
3 peeled and sliced carrots;
1 diced zucchini;
1 diced yellow squash;
2 cups green beans
14 ounces kidney beans;
3-4 cups shredded cabbage;
1 teaspoon mixed dried Italian herbs (basil, rosemary, oregano);
Salt and pepper to taste.
How to prepare Mushroom and Kidney Beans Soup?
Spray a little cooking oil in a frying pan and place the garlic, onions, carrots, and mushrooms. Wait for 5 minutes and stir, until they are properly sautéed.
Transfer the sautéed vegetables in a large crock-pot, add the other ingredients, and some water. Let the soup boil for about 2-3 hours, until all the vegetables are tender (try them with a fork).
4. Vegetables and Tomato Diet Soup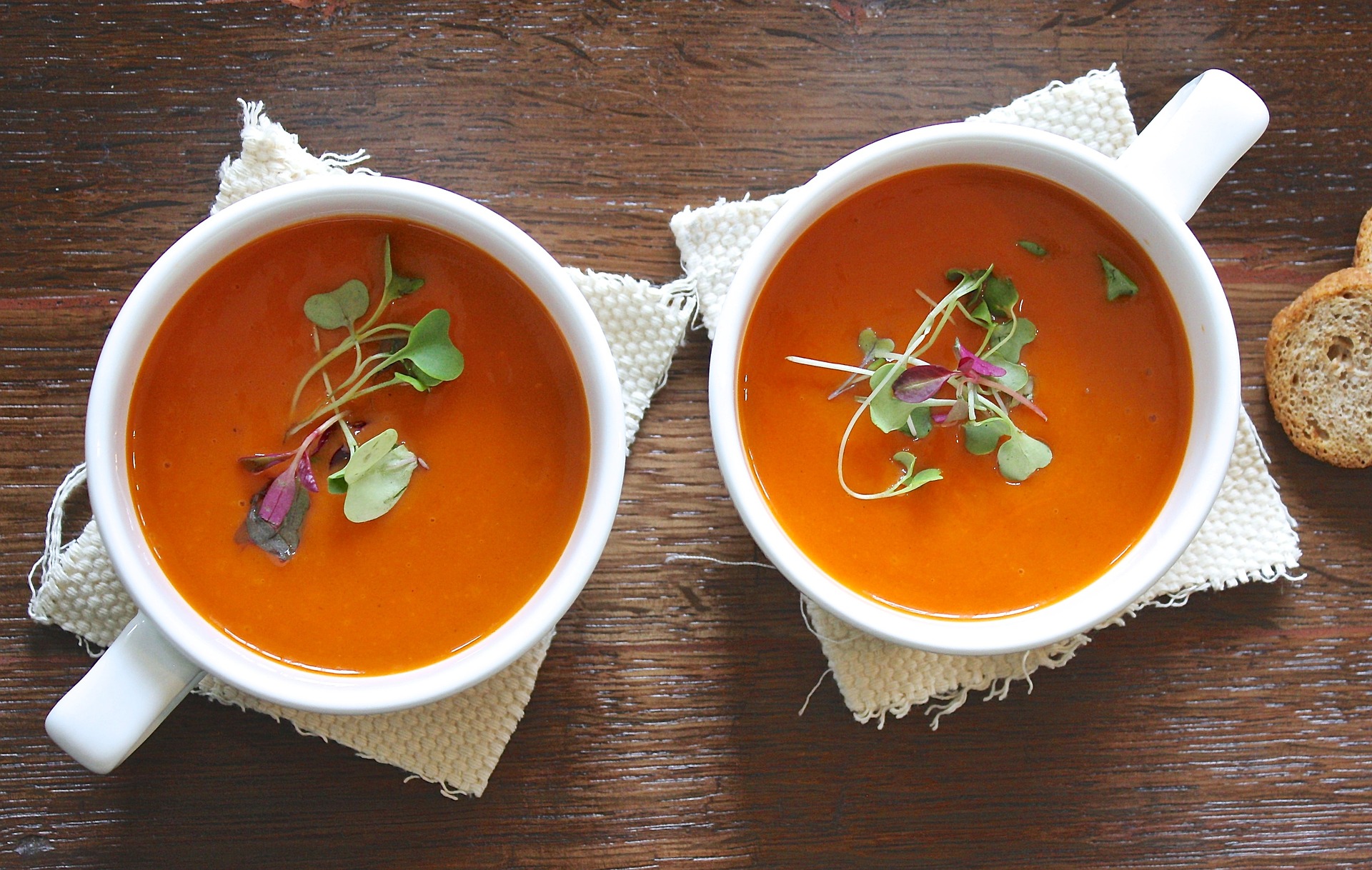 I will finish my list of healthy soup recipes with these delicious and low calories veggies and tomato soup.
Ingredients for Vegetables and Tomato Diet Soup
These are the ingredients you will need:
1 can be diced or whole Italian tomatoes;
2 tablespoons tomato paste;
1 small diced onion;
2 diced garlic cloves;
1 cup diced carrots;
¼ chopped cabbage head;
1 cup green beans;
2 chopped bell peppers;
6 cups low sodium beef broth;
2 bay leaves;
½ teaspoon each thyme and basil;
2 cups broccoli florets;
2 cups sliced zucchini.
How to prepare Vegetables and Tomato Diet Soup?
Firstly, place the onion and garlic in a large pot and sauté them until they become very soft. Add the carrots, cabbage and green beans and continue cooking for 5 minutes more. Next, add the bell peppers, tomatoes, tomato paste, broth, bay leaves, and spices. Let the soup simmer for around 7 minutes.
Add the zucchini and broccoli and continue simmering until they are soft (about 5-6 minutes). The soup is ready. Remember to remove the bay leaves before serving, as they are not edible. One serving of this soup has only 41 calories making it one of the best healthy soup recipes for weight loss.
Which one of these healthy soup recipes will you try first? Do you know any more low-calorie soup recipes for weight loss? If you have your own favorite recipe, feel free to share it in the comments section.
Below, you can find more interesting recipes:
Share your thoughts on this article in the comment section. Also follow us on: