Are you running out of ideas to prepare lunch box recipes for kids? You've landed in the right place. Read on to find some of the tasty, healthy yet easy to make lunch box recipes that will save you time and energy.
Packing lunch box recipes for kids is the most difficult thing a parent has to do in the morning. If your kids are moody and demanding like mine, it becomes quite a struggle with various requests and a constant need for change.
According to Guila M. Dotti Sani (European University Institute) along with Judith Treas (University of California) have said that mothers from wealthy families spend an hour more in 2012 than they use to in 1965 on their kids.
No amount of discussion with your kids the day before is going to ease your worries of what to pack for the lunchbox. Kids need variety, a new lunch box idea for school every day. Hence, what to pack in your kid's lunchbox is a question in every household.
The question is not about finding new lunch box recipes, but how to pack nutrients in there too. How to make it interesting and tasty so that children do not get bored!
Mothers especially working ones do not have a lot of time in the morning to make an elaborate lunch, it needs to be hassle-free too!
Thus, here are some easy lunch box ideas Indian style for school lunch boxes that you can incorporate along with the current lunch that they are taking.
As a mother of two boys who have choices poles apart and are very fussy about what they take in their tiffin; I try to incorporate vegetables in most of their meals in such a way that they enjoy the taste. Here are some of my lunch box ideas that my kids love.
Best Healthy Lunch Box Recipe Ideas That Kids Love
Alignthoughts.com brings you the best and healthy lunch box ideas recipes that the kids are sure to love.
1. Vegetable Poha/Oats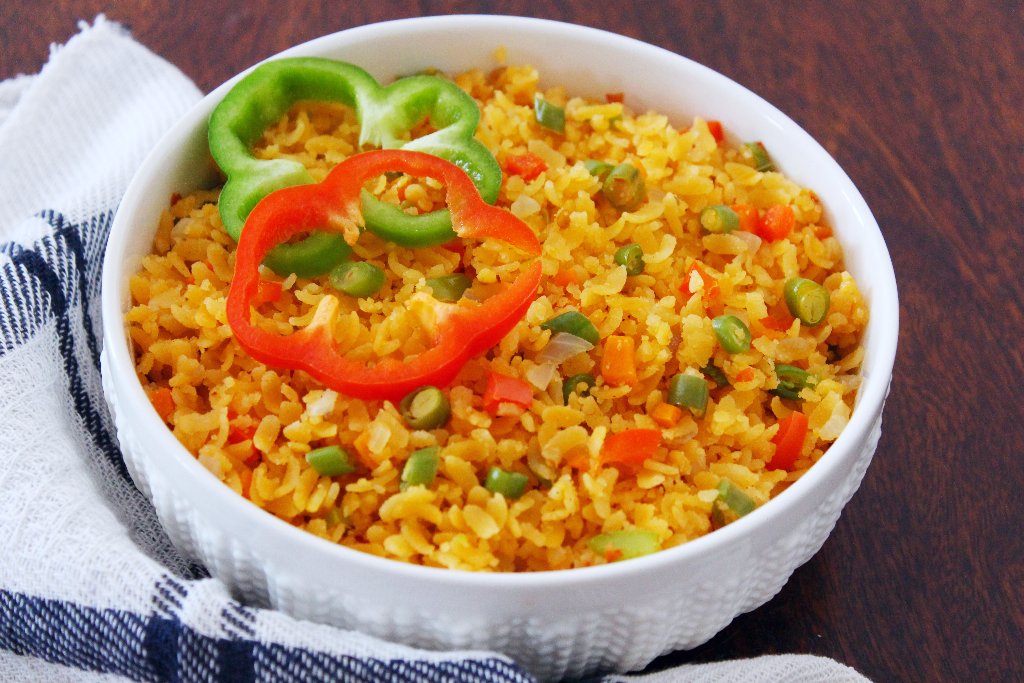 A colorful tiffin of oats or Poha to kick start the week. This recipe is one of the easiest lunch box recipes for kids that any parent can prepare in minutes.  The meal is not only packed with nutrients, but you can also play with the ingredients. It is also light, easy to cook, and healthy recipe that can save you time in the morning.
Ingredients needed
Poha(flattened rice)/Rolled Oats (Go ahead and mix the two if you want)
Sliced onion
Diced garlic
Peas
Chopped potatoes
Chopped Carrots
Salt
Chili powder
Turmeric powder
Coriander Powder
Lemon juice
Method to prepare Vegetable Poha:
Firstly, in a broad pan dry roast the Poha and Oats and remove. Next, in the same pan sauté the onion and garlic and add the vegetables. Now, add salt and other spices and let it cook. Also, add the before roasted Poha and oats.
Next, mix it well. Cover it and stir occasionally. Once soft, turn off the flames and squeeze half a lemon over it. Let it cool down a bit to pack in the lunch box.
2. Gram flour Pancake/Chila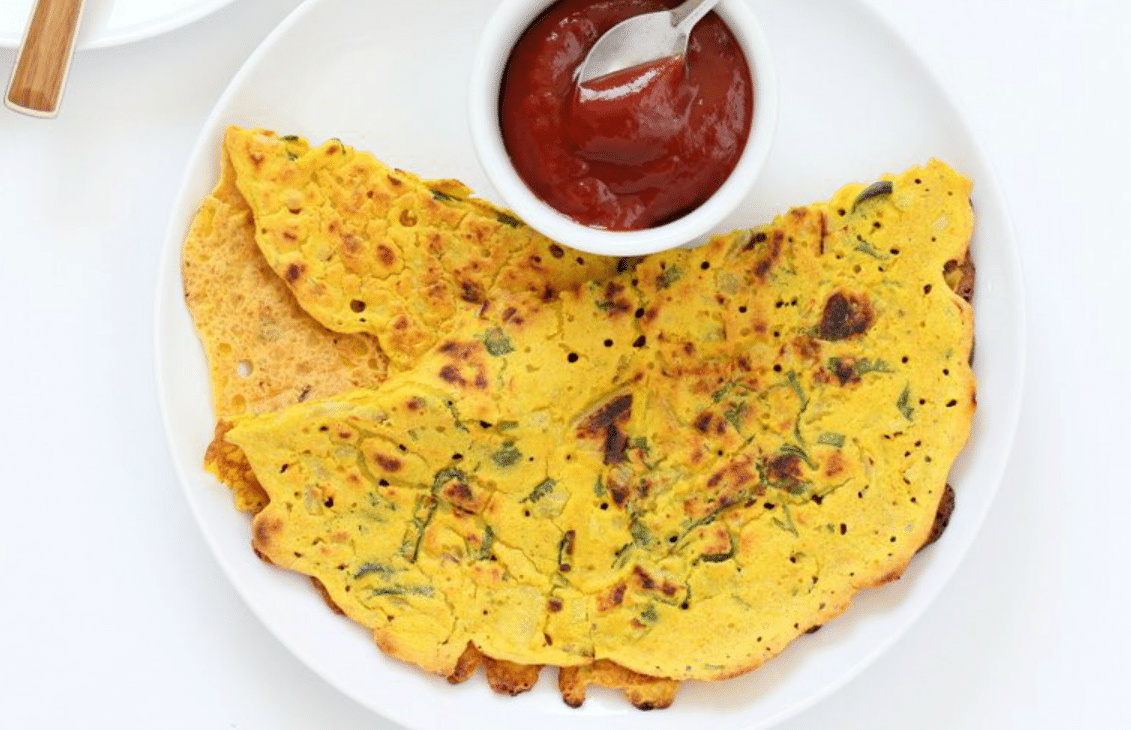 This recipe is similar to pancakes and my kids love them.  Gram flour is rich in protein and since I use very little oil these gram flour pancakes are light on the stomach.
According to Dr. Rupali Datta (SmartCooky's Chief clinical nutritionist), Gram flour Chila is filling and yet easy to digest. It is, in fact, great for those who are trying to lose weight.
In addition to an ideal lunch box recipes for kids, this recipe can also serve as evening snacks when your kids return home from school.
Ingredients needed:
Gram Flour
Salt
Chili Powder
Oil
Cottage Cheese (optional)
Grated Vegetables (Optional)
Chopped Onion, Green Chilies, and Coriander
Water
Method:
Firstly, sieve the gram flour and add water to make a smooth batter. Let it sit for 5 to 10 mins. To this batter add the onion, green chilies, coriander, and the vegetables if you want to. Now, mix well! Also, add salt to taste and chili powder.
Once the batter is ready, on a flat pan pour some batter and spread it. Make sure the batter is evenly spread and a very thin layer is formed. Put some oil around the corners and then flip it like a pancake.
TIP: This pancake would break if it is not cooked from the bottom. You can also mix a beaten egg to the batter to make sure it doesn't break, whilst adding more proteins and making this dish a healthy lunch box recipe.
Remove from the flat pan once both sides are cooked and serve it with mint or tomato sauce.
3. Vegetable Rolls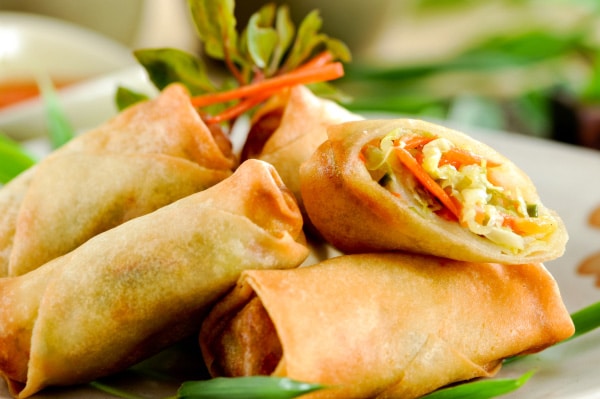 A fun twist to the boring everyday meal! The kids love it and moms are happy as it is packed with the goodness of vegetables. You can also prepare it in advance and save this lunchbox recipe in the refrigerator.
Ingredients needed:
Dry sauté vegetables of your choice (carrots, cabbage, spring onions, peas, etc)
Tomato sauce
Chili sauce and Vinegar
Chopped Onion
Cheese Slices
Wraps/Tortillas
Salt
Black pepper
Method to prepare vegetable rolls:
Firstly dry saute some vegetables of your choice. In a mixing bowl add and mix the sautéed vegetables. Add salt and black pepper if not added before. Mix it with sauces according to your taste like soya sauce or chili sauce. Add some drops of vinegar.
Make sure the consistency doesn't change and it's still medium dry. Heat the wraps or tortillas and put a cheese slice and chopped onion and stack up a spoonful of vegetables. Roll it and wrap it in a tissue. It is ready to be served.
Alternative method:
A twist in the recipe is that you can also use fresh dough instead of wraps or tortillas. Roll the dough and fold it to make pockets of the rectangle shape. Add the vegetable mixture and seal the dough. Now you can make these dough pockets and save it for the future. If you wanna serve them immediately, deep fry using oil and serve them.
All those meat lovers, you can also go ahead and add some chunks of chicken to raise the flavors and make it even more delicious and healthy.
4. Veggie Vermicelli/Noodles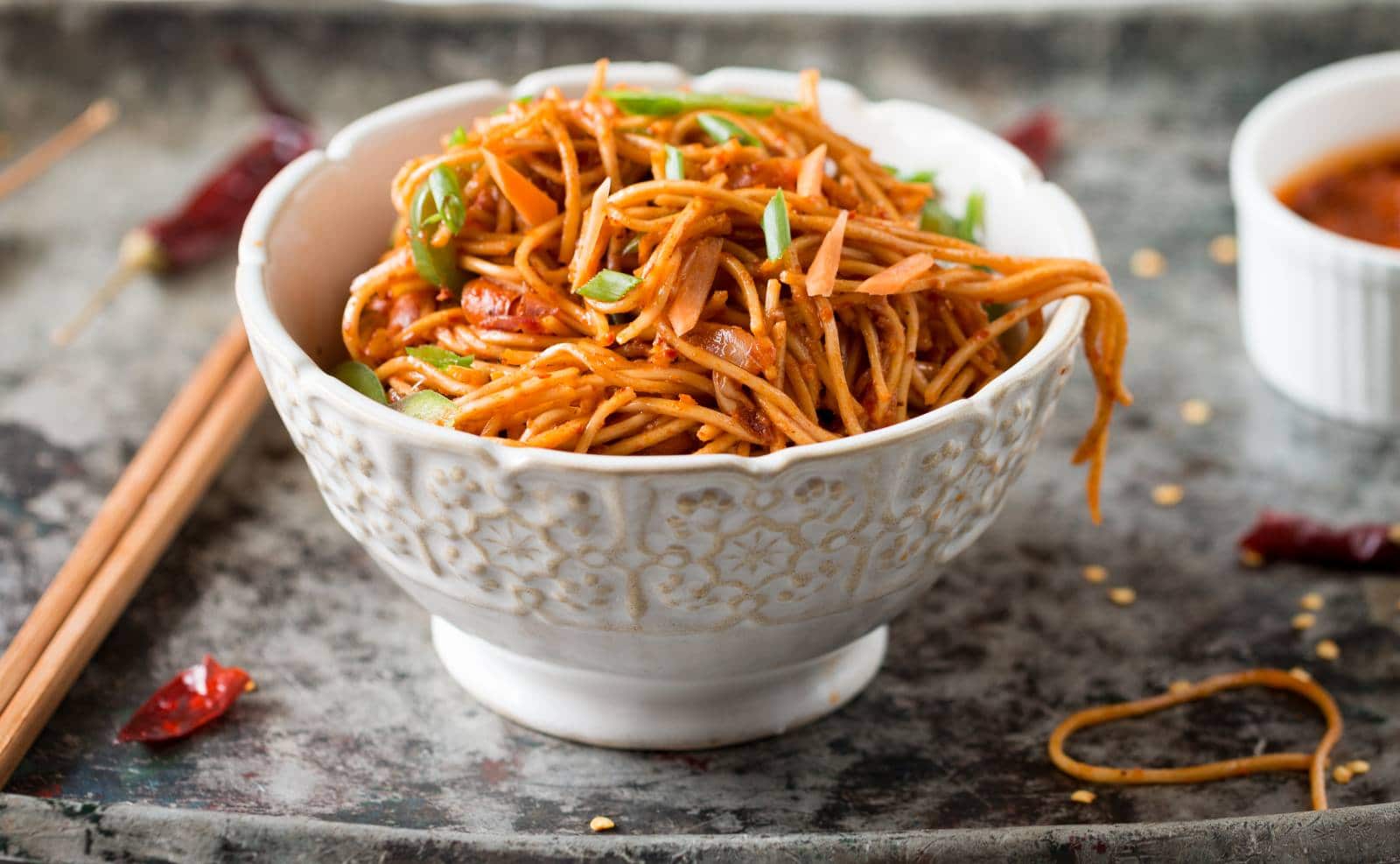 Kids and adults, we all like noodles. The slippery strands are easy and super fun to eat. Noodles are quite harmful to our digestive system. Semolina vermicelli is great.
It is tasty, visually appealing with those slippery strands. And it stays fresh for long hours which is ideal for lunch box recipes for kids.
Ingredients
Oil
Chopped Onions
Cumin Seed
Chopped Veggies of your choice
Salt, turmeric powder, coriander powder
Method:
Boil Vermicelli and add a pinch of salt and a teaspoon of oil to the boiling water. Make sure it is not boiled too much. Drain the water and sieve it.
In a wok or a deep pan, sauté the onion and add spices according to your taste. Add the vegetables and let it cook.
Run the boiled Vermicelli under cold water and drain. Add it to the cooked vegetables and mix well. Let it sit for a few mins and serve.
5. Mixed Sauce Pasta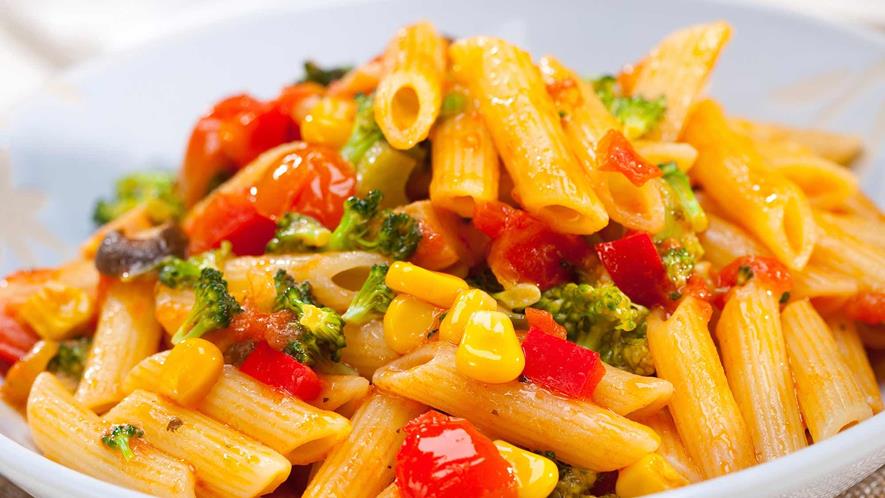 One of the great lunch recipes ideas is pasta. Pasta is funky and delicious and one of the most loved lunchbox recipes. It is also playful and can be packed with a lot of veggies to make it healthy and yummilicious!
Ingredients
Oil
Chopped onion, garlic and capsicum
Chopped red and yellow pepper
½ cup milk
Tomato puree
Pasta sauce
Chopped and boiled veggies like- Baby corn, mushroom, and broccoli
Salt
Black pepper
Green chili sauce and tomato sauce
Pasta
Method:
First, boil the pasta, drain it and keep it aside. In a deep dish pan, heat some oil and sauté the onion, garlic, capsicum, and the pepper. Now, add salt and black pepper. Next, add the rest of the vegetables. To this mix add 2 tablespoons of pasta sauce and tomato puree, once it starts to simmer, add the milk.
Once the mixture has started to boil add the drained pasta and the sauces. Cover and cook for few mins on low heat. Once the pasta is set, serve hot!
Final Thoughts
We hope you enjoyed these amazing lunch ideas recipes. Kids are happy all day when they eat the lunch of their choice.
All the effort seems to be worth it all to see their happy faces and knowing they are not eating too much junk! Incorporate these in their regular lunchbox recipe ideas for your kids!
A happy kid makes a happy parent! Do you agree? Let me know in the comments section below. Do not hesitate to request your favorite recipe ideas. We'd love to share it with you.