The world is becoming way more complex day by day. Craving for happiness, it isn't uncommon to find people sense a feeling of emptiness amidst having all the luxury, money and fame. The most important and difficult thing to attain in one's life is self-satisfaction, the state of content. No matter if the entire world applauds you for your victory, if you are not happy or content with it, you will still go through sleepless nights.
Inspiration is what the world needs. People tend to say that, sometimes a few words of inspiration can even make the dead, alive. Perhaps not practically plausible, but that's the power of positive words and inspiration. Here are the best movies that really hold some good inspiration. These inspirational dialogues from the epic Hollywood movies will rekindle your passion to do something in life and make you go for it. Erase the past, live the present and build the future. 
Our lives are defined by opportunities, even the ones we miss. – The Curious Case of Benjamin Button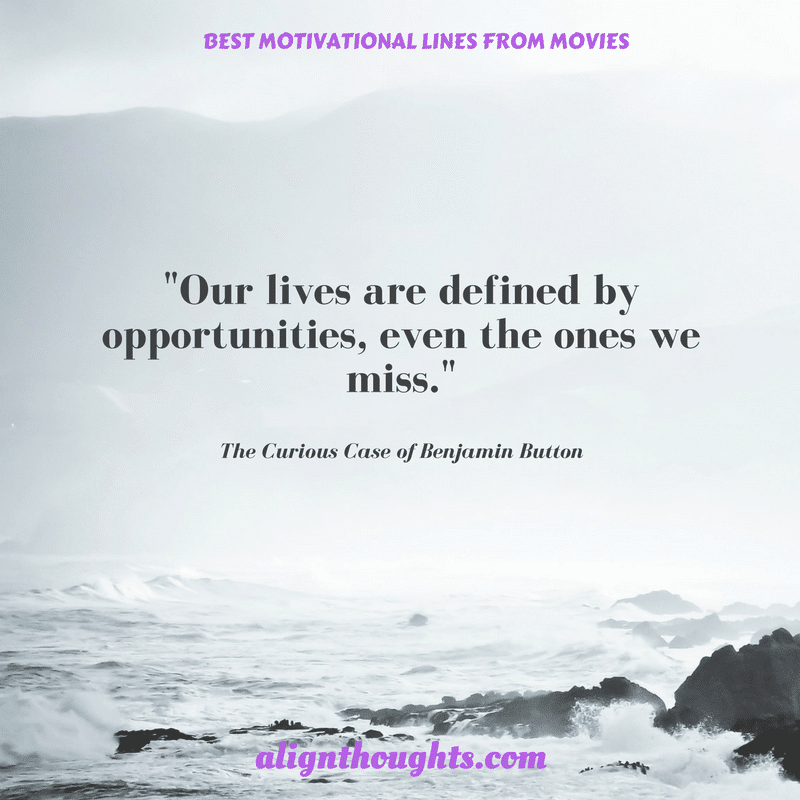 "Happiness can be found in the darkest of times, if one only remembers to turn on the light." From: Harry Potter and the Prisoner of Azkaban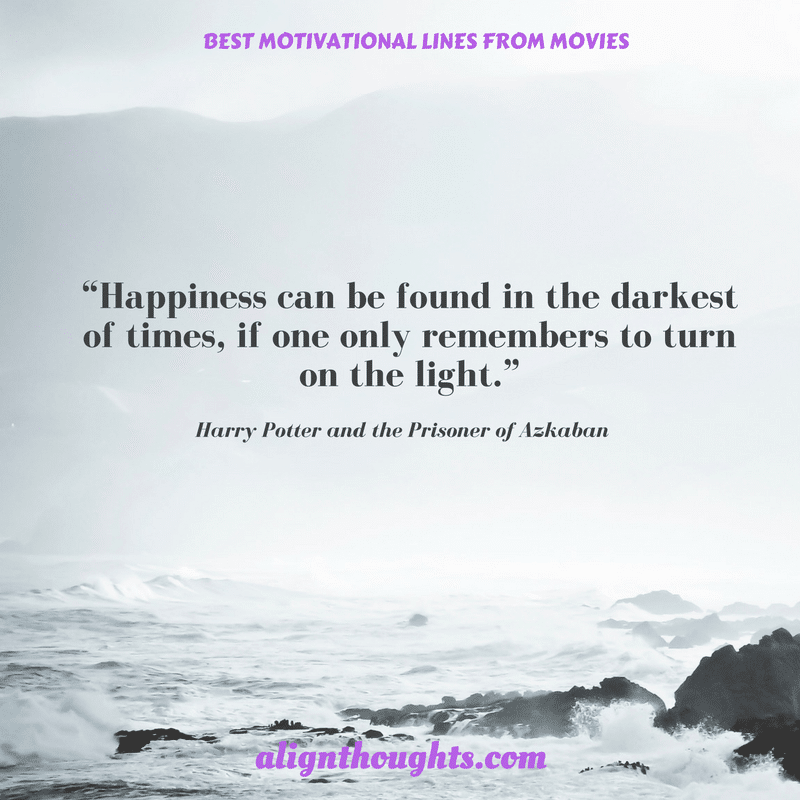 "Sometimes it is the people who no one imagines anything of who do the things that no one can imagine." From: The Imitation Game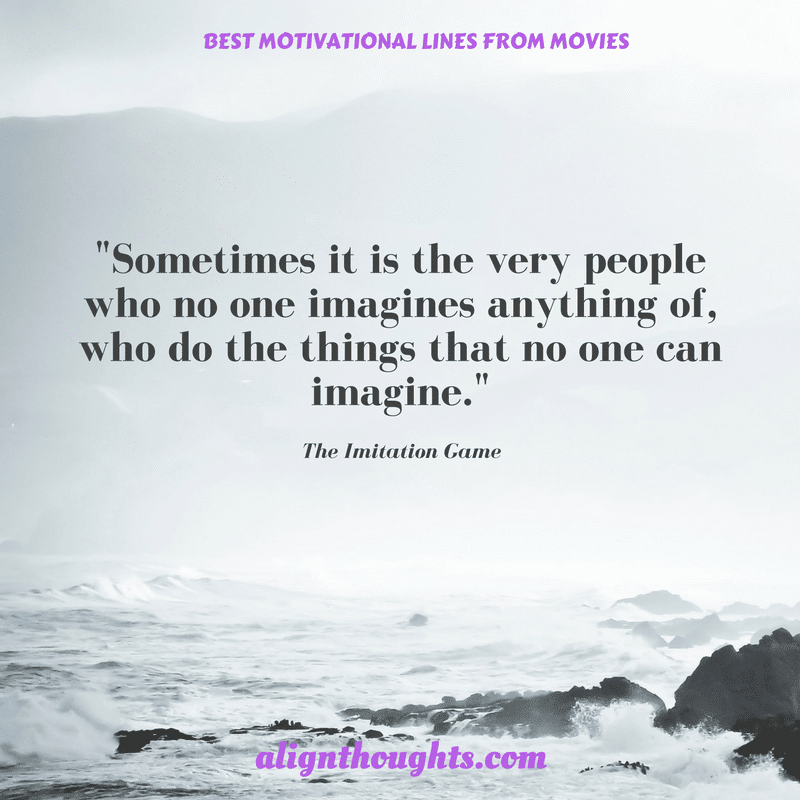 "Life is like a box of chocolates, you never know what you're gonna get." From: Forrest Gump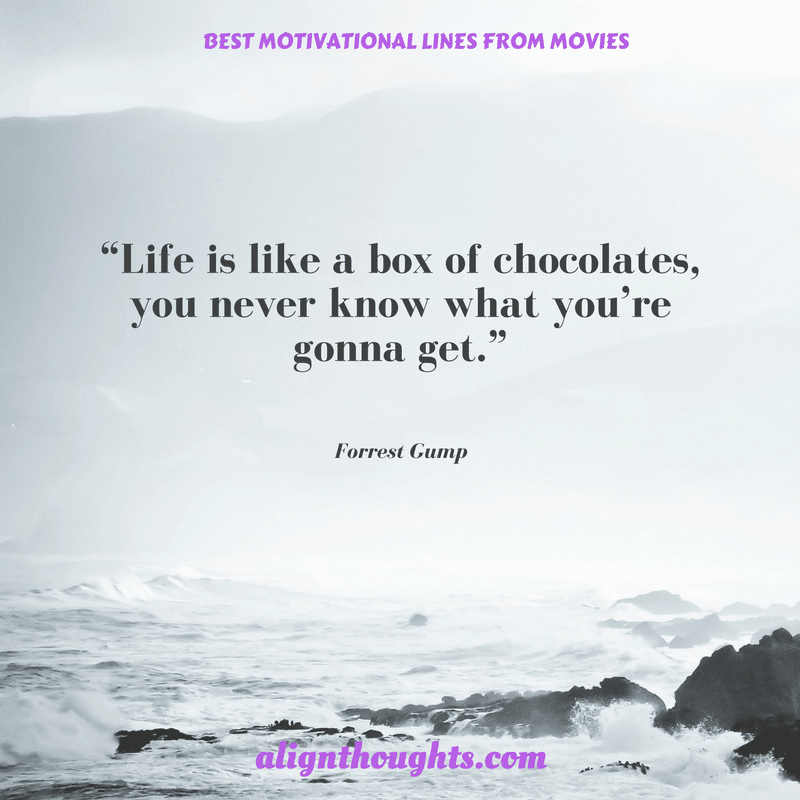 You cannot live your life to please others. The choice must be yours. –From Alice in Wonderland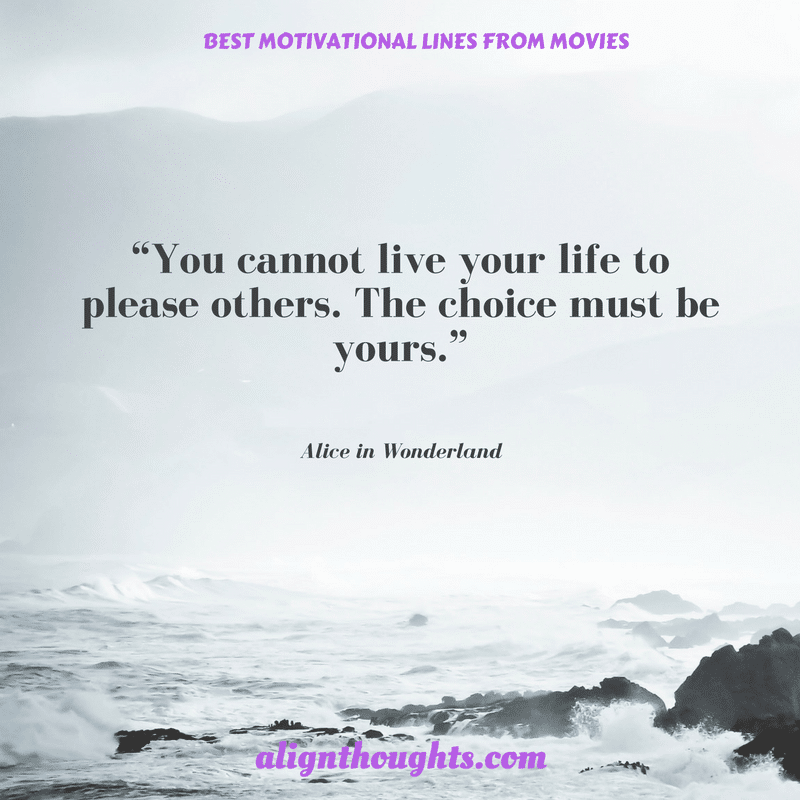 If you're going to try, go all the way. Otherwise don't even start. This could mean losing girlfriends, wives, relatives, jobs. And maybe your mind. It could mean not eating for three or four days. It could mean freezing on a park bench. It could mean jail. It could mean derision. It could mean mockery, isolation. Isolation is the gift. All the others are a test of your endurance. Of how much you really want to do it. And you'll do it, despite rejection in the worst odds. And it will be better than anything else you can imagine. – From: Factotum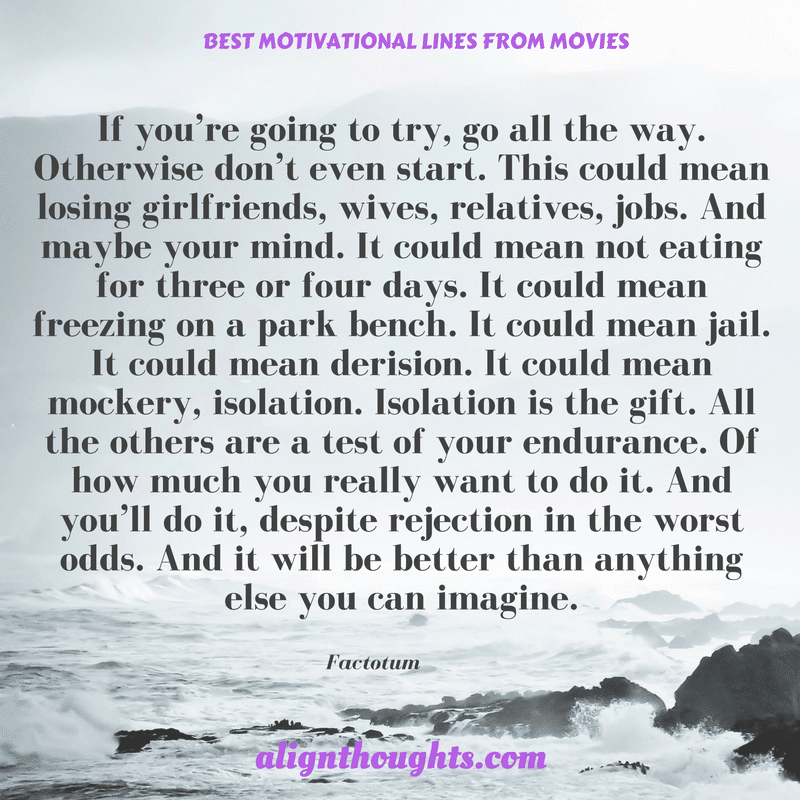 Why are you trying so hard to fit in when you were born to stand out? – From: What a Girl Wants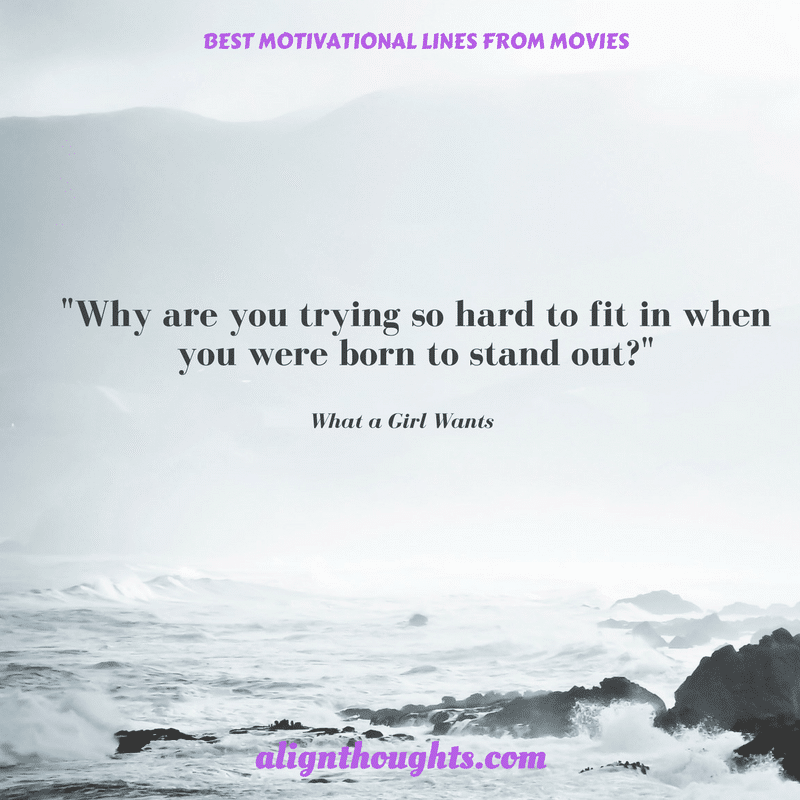 You can't live your life for other people. You've got to do what's right for you, even if it hurts some people you love. – From: The Notebook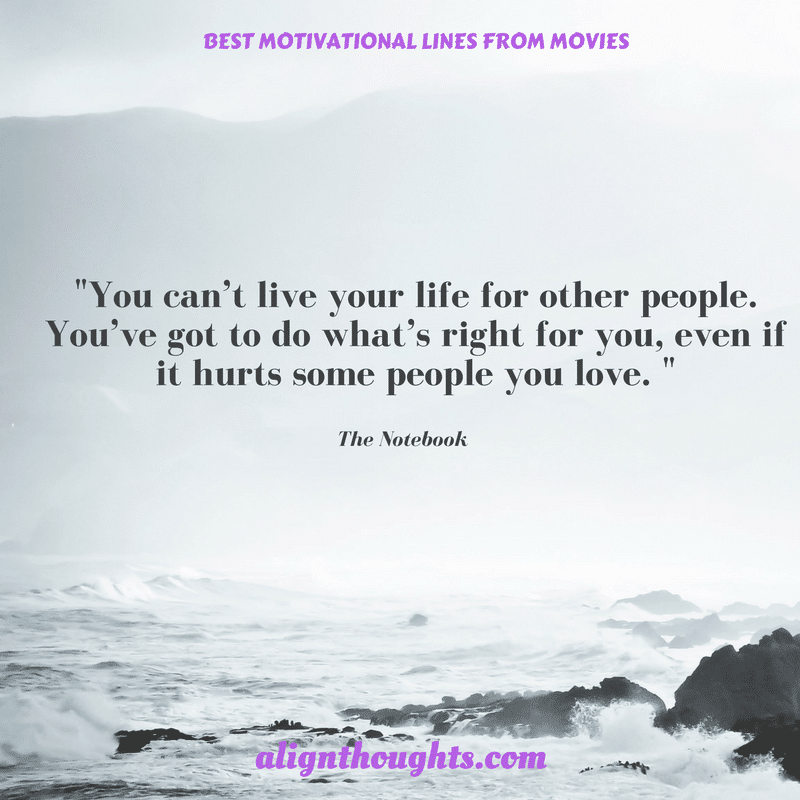 I don't regret the things I've done, but those I did not do. – From: Empire Records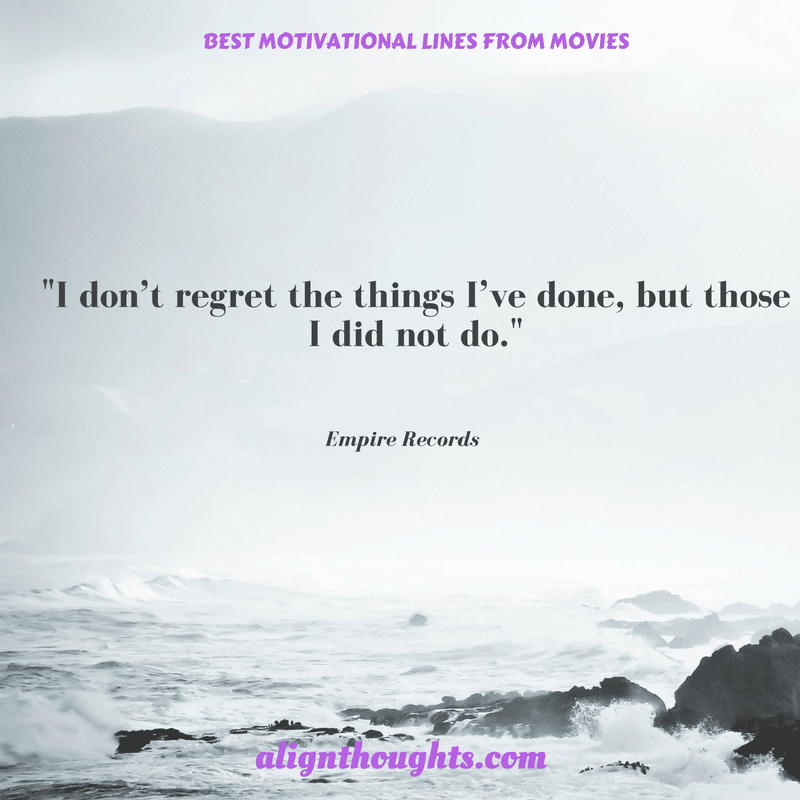 All we have to decide is what to do with the time that is given to us. – From: Lord of the Rings: The Fellowship of the Ring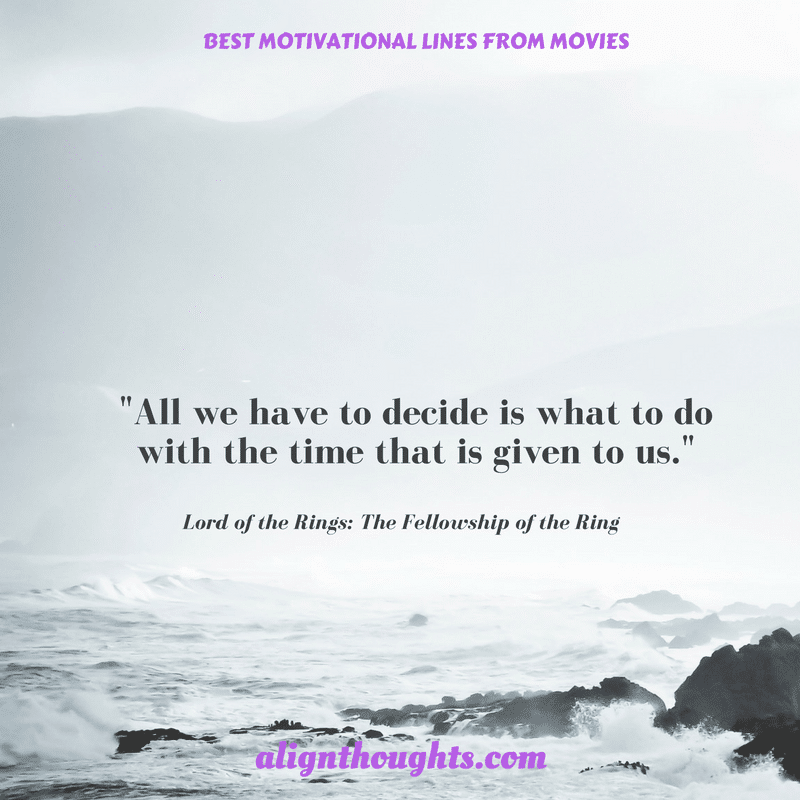 Oh yes, the past can hurt. But you can either run from it, or learn from it. – from The Lion King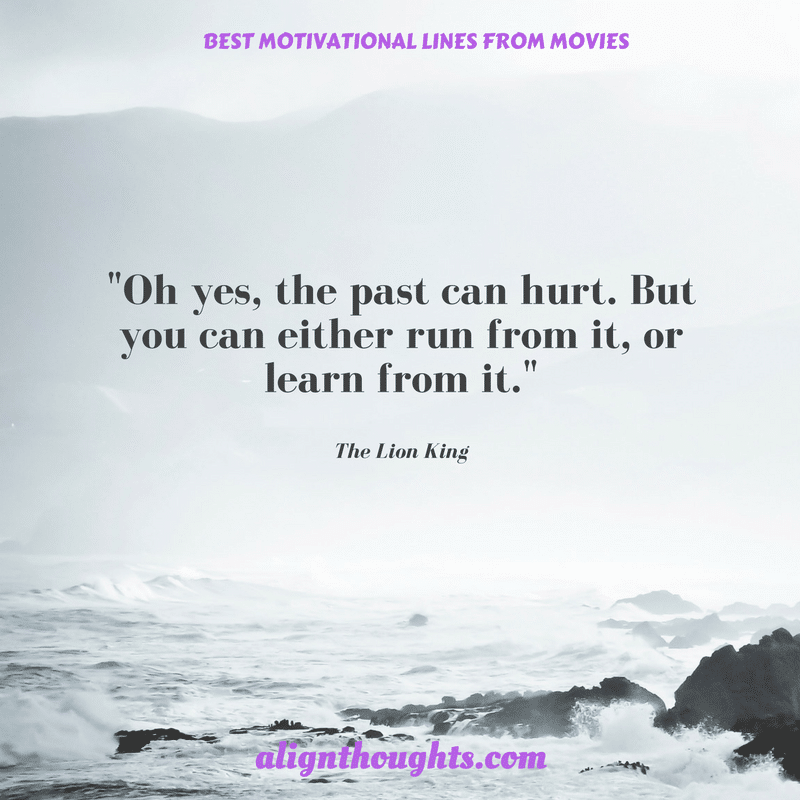 "You don't have to be the bad guy. You are the most talented, most interesting, and most extraordinary person in the universe. And you are capable of amazing things. Because you are the Special. And so am I. And so is everyone. The prophecy is made up, but it's also true. It's about all of us. Right now, it's about you. And you… still… can change everything." From: The Lego Movie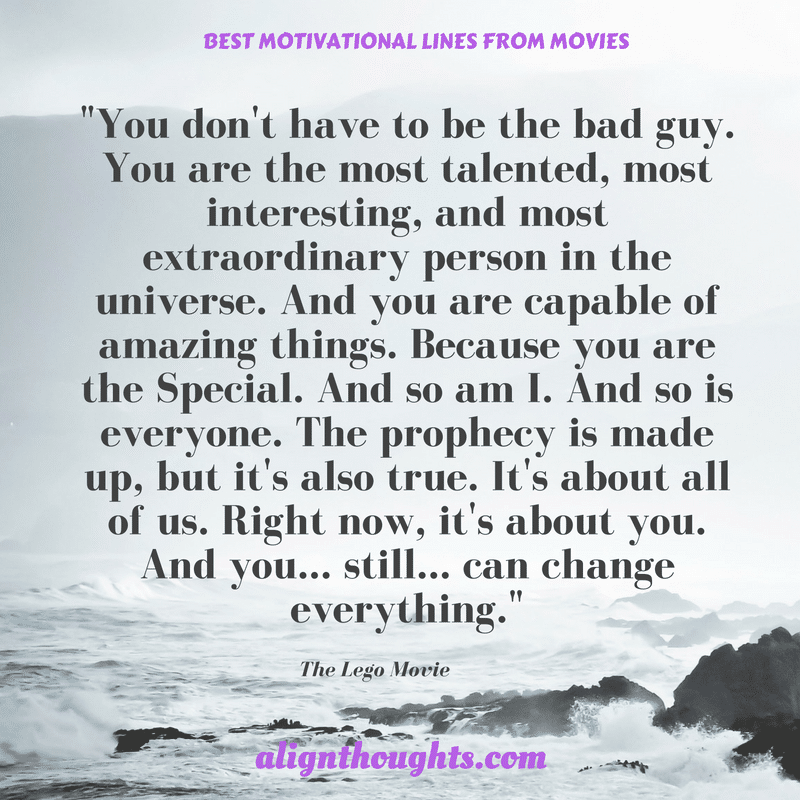 "Find a truly original idea. It is the only way I will ever distinguish myself. It is the only way I will ever matter." From: A Beautiful Mind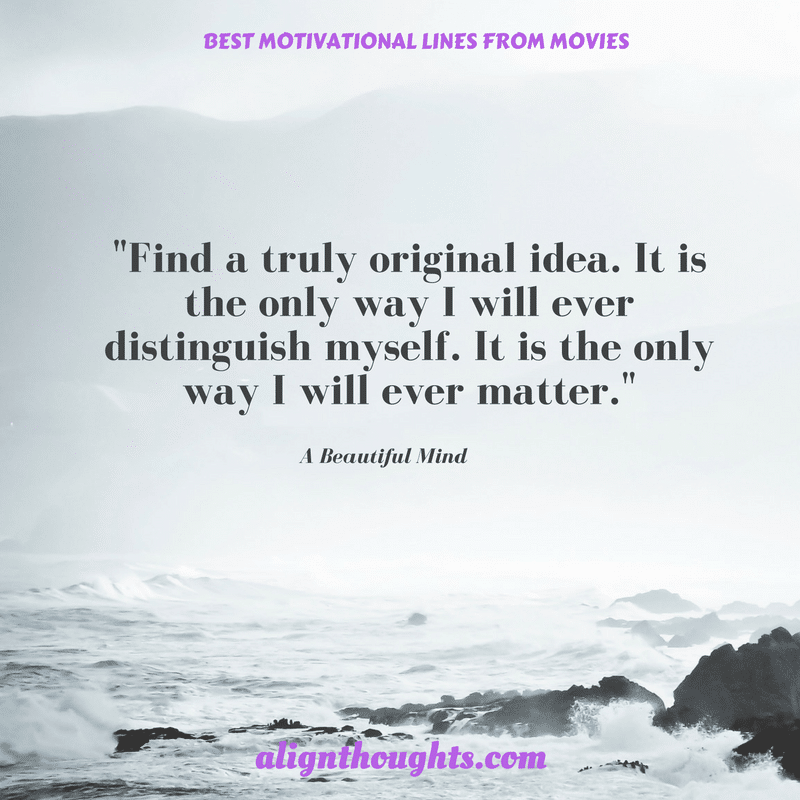 "There are many points in life when we cannot see what awaits us around the corner, and it is precisely at such times, when our path forward is unclear, that we must bravely keep our nerve, resolutely putting one foot before the other as we march blindly into the dark." From: The Hundred–Foot Journey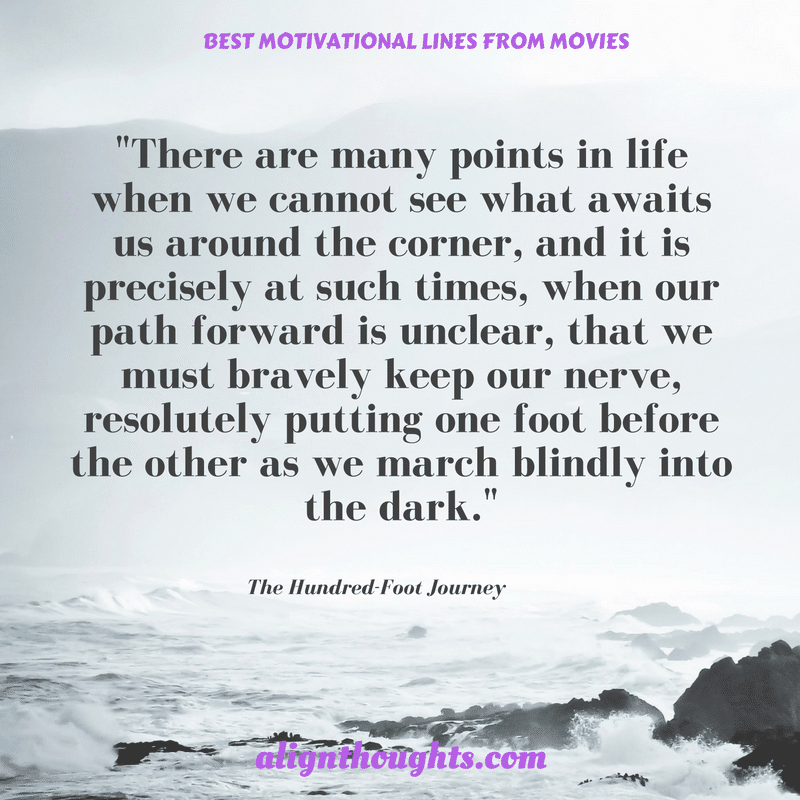 Every champion was once a contender that refused to give up – From Rocky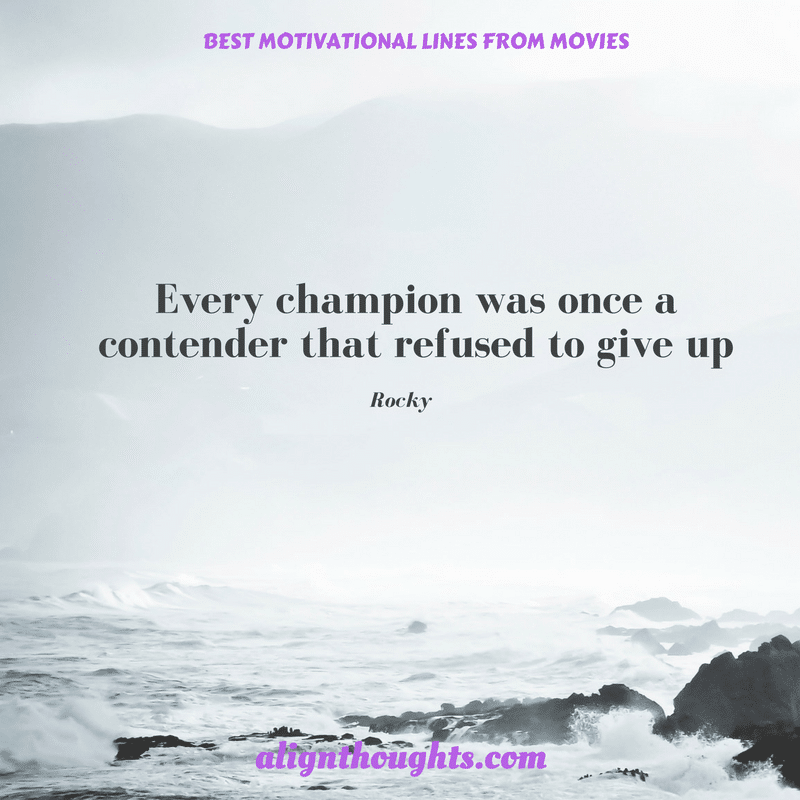 Great men are not born great, they grow great. – From: The Godfather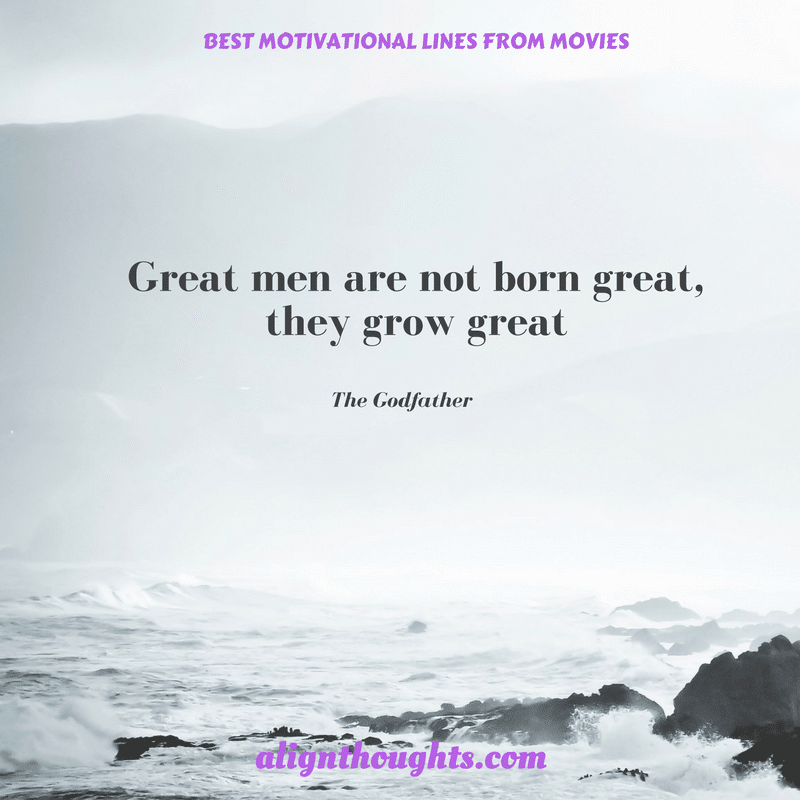 "Your dignity's inside you. Nobody can take something away from you you don't give them." From: Glory Road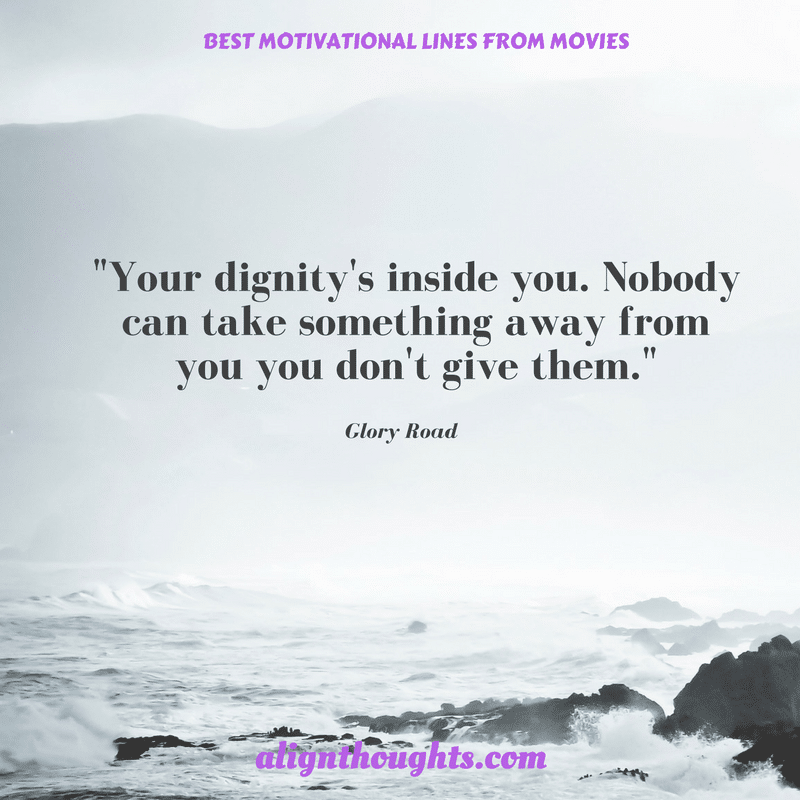 Don't tell me I can't do it; don't tell me it can't be done! – From: The Aviator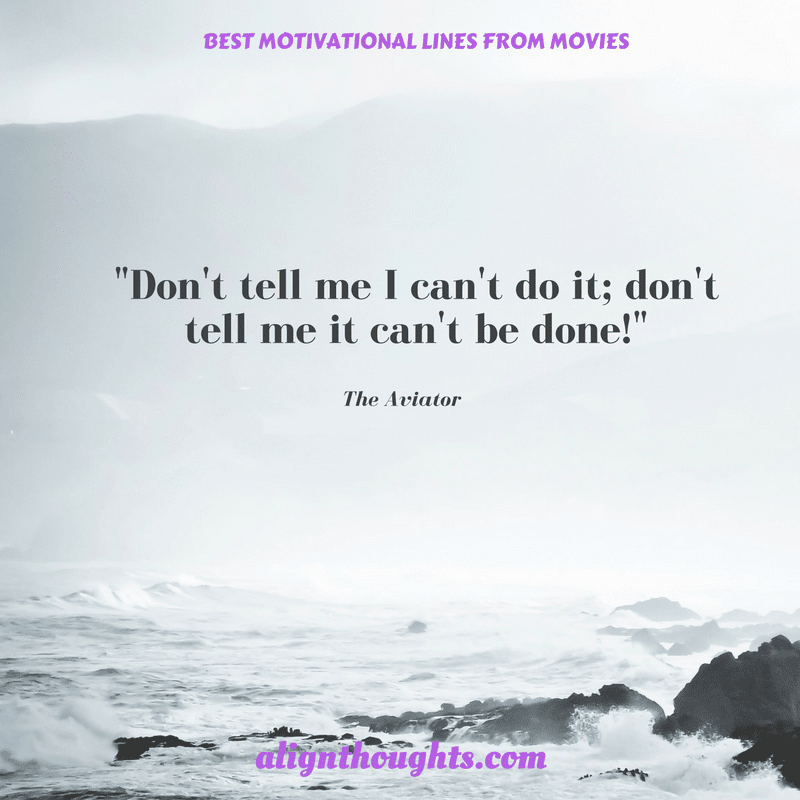 Do or Do not,there is no try. – Star wars Episode V: The Empire Strikes Back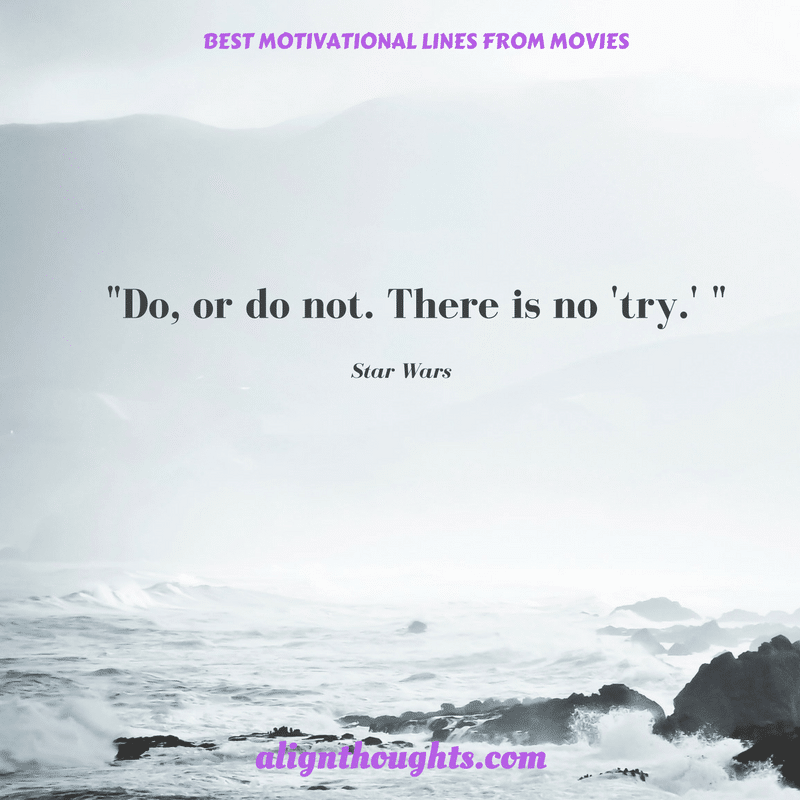 "The main thing is: Pay attention, pay attention to everything, everything you see. Notice what no one else notices, and you'll see what no one else knows. What you get is what you get, what you do with what you get, that's more the point." From: City of Ember
"My mind rebels at stagnation. Give me problems, give me work. The sooner the better." From: Sherlock Holmes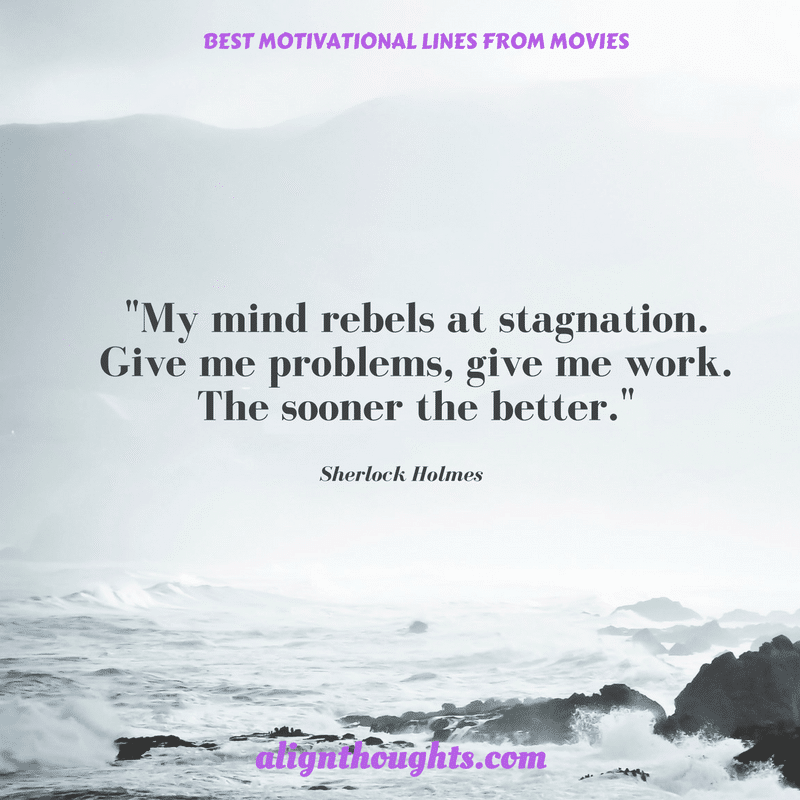 "This is what I believe to be true. This is what I learned in the hospital. You have to do everything you can, you have to work your hardest, and if you do, if you stay positive, you have a shot at a silver lining." From: Silver Linings Playbook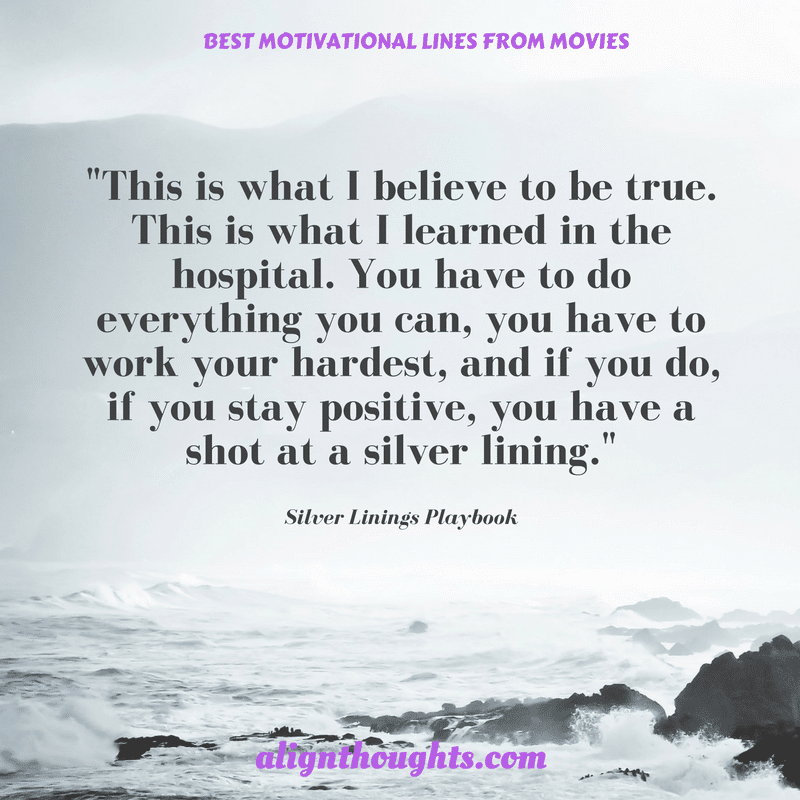 "Don't ever let someone tell you; you can't do something. Not even me. You got a dream, you got to protect it. People can't do something themselves, they want to tell you; you can't do it. You want something, go get it. Period. All right?" From: The Pursuit of Happiness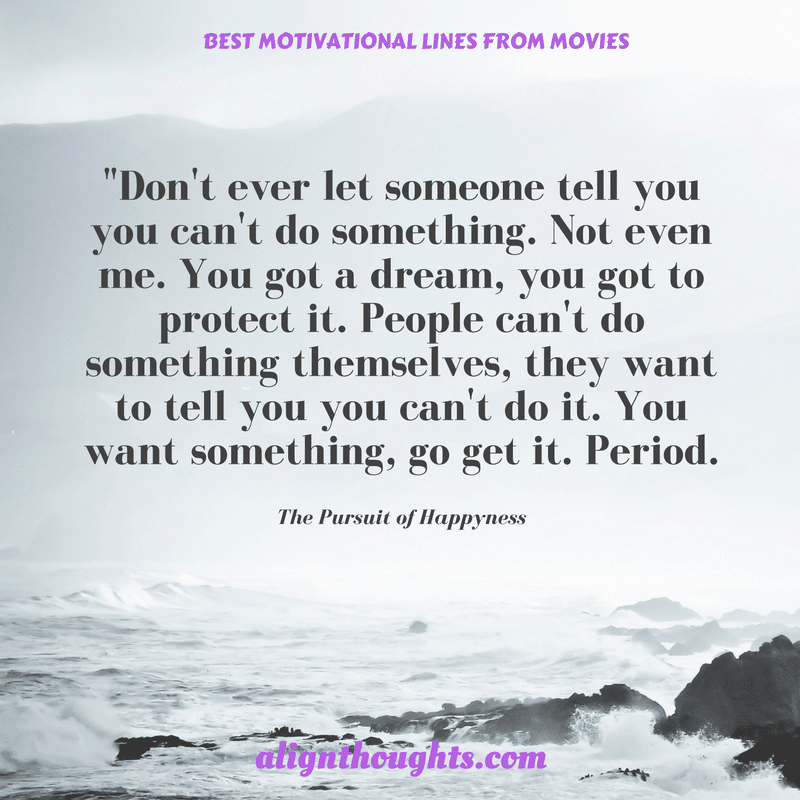 "There should be no boundaries to human endeavor. We are all different. However bad life may seem, there is always something you can do, and succeed at. While there's life, there is hope." From: The Theory of Everything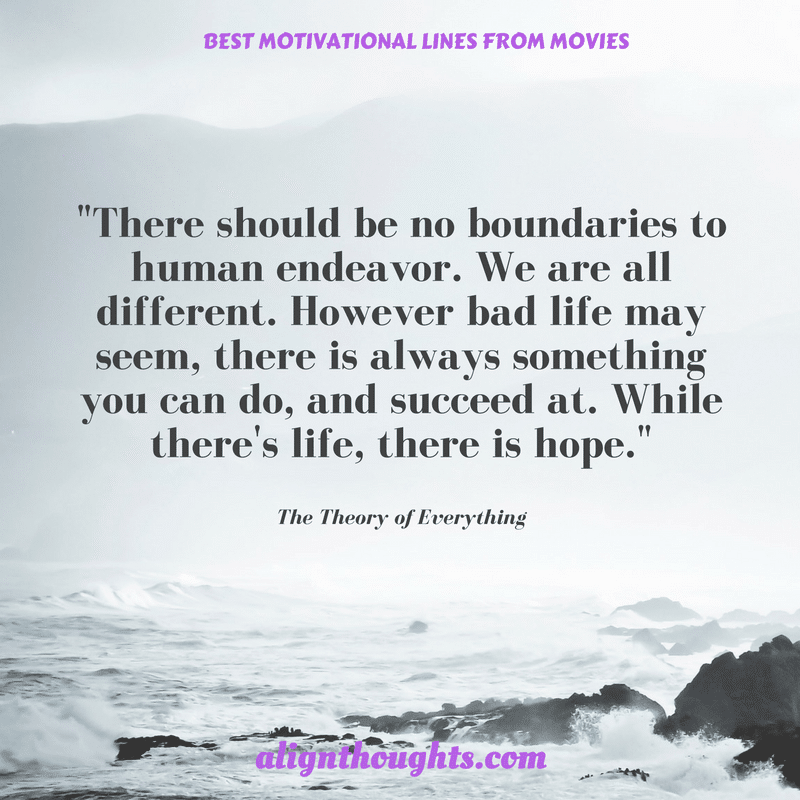 "Most people live life on the path we set for them. Too afraid to explore any other. But once in a while people like you come along and knock down all the obstacles we put in your way. People who realise free will is a gift that you'll never know how to use until you fight for it." From: The Adjustment Bureau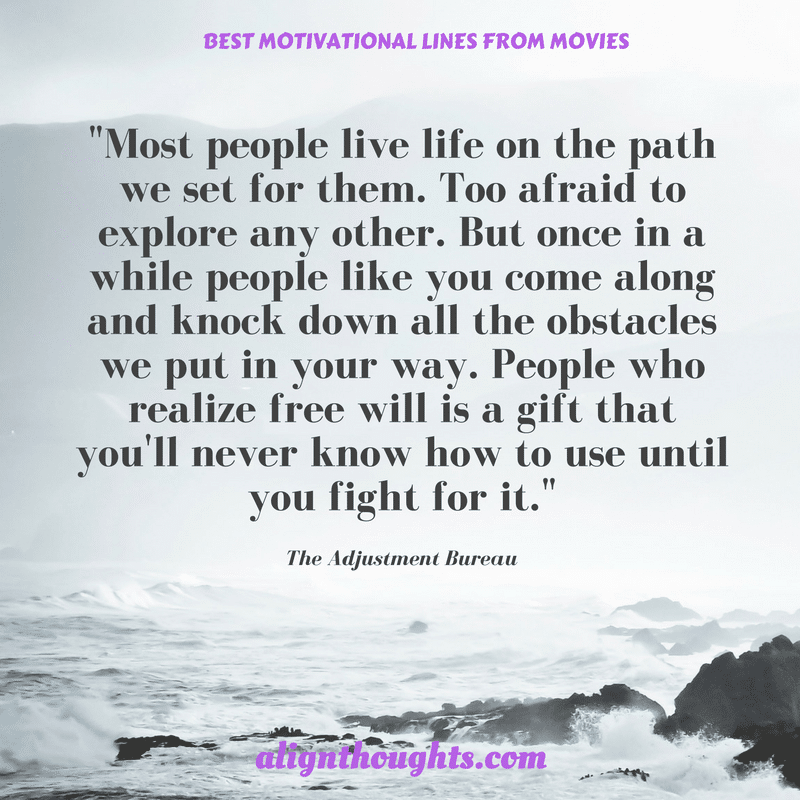 "Just because someone stumbles and loses their path, doesn't mean they're lost forever." From: X-Men Days of Future Past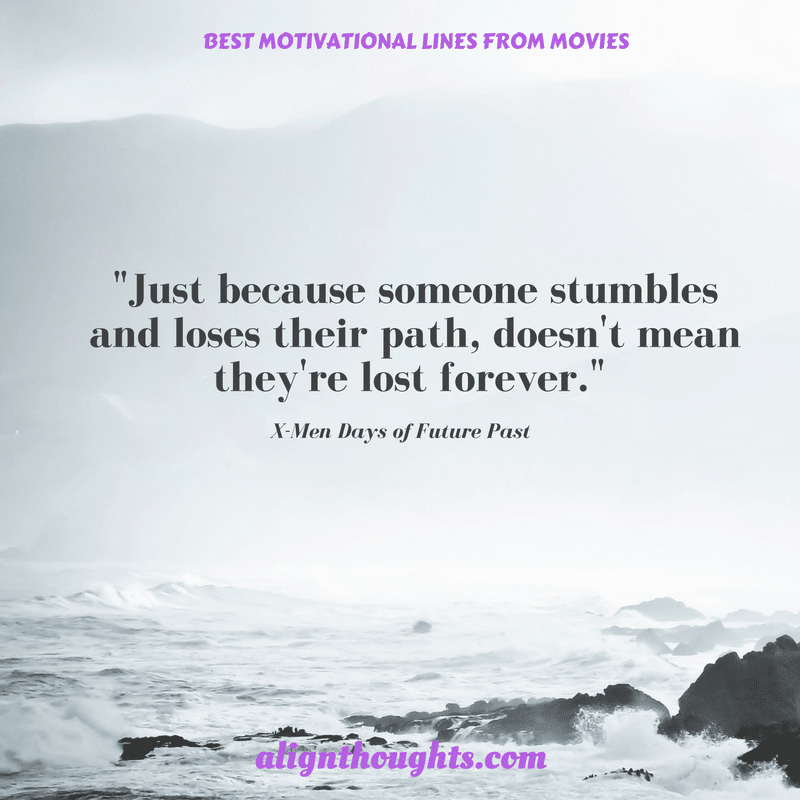 The only thing standing between you and your goal is the bullshit story you keep telling yourself as to why you can't achieve it" – From: The Wolf of Wall Street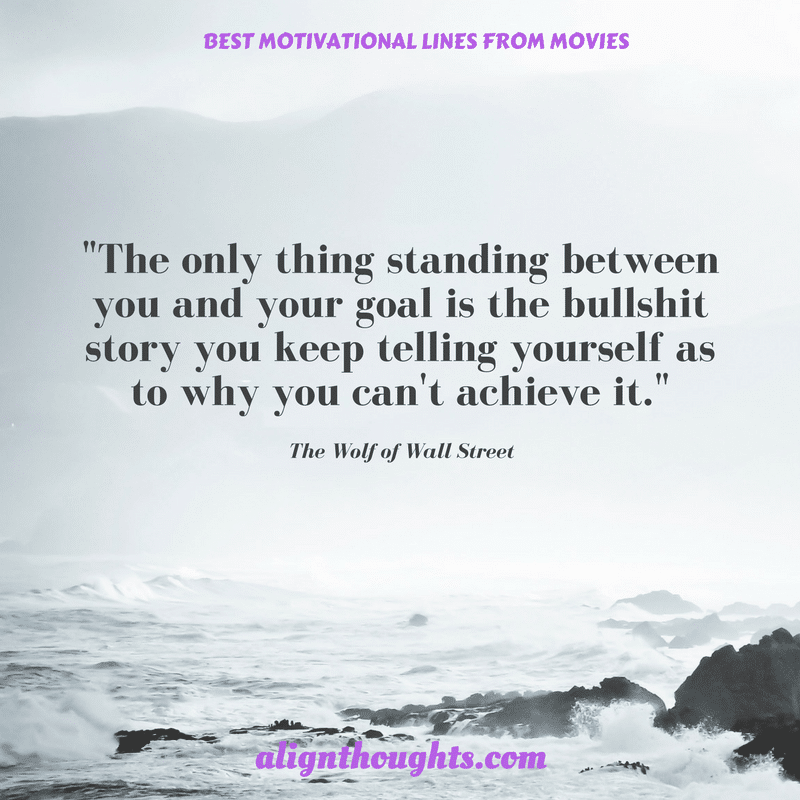 Life is not the things that happen to you, it is after all how you respond to each and every situation. You never fail until you quit. Keep moving forward no matter how tough the journey is. The more the struggles you face, the triumphant your victory is. 
Take pride in what you are and never compare yourself with anyone. Everyone takes part in different chapters of life, with a different purpose and a different destination.
Be inspired! Do share this cup of inspiration with your friends and family.
If you liked this article, kindly subscribe to us by keying in your email address. Amazing content is what your inbox will receive. Also, comment on your favorite movie dialogues.