Asia is a region that offers many fantastic and, above all, diverse destinations for a great holiday. Be it the Philippines, Nepal, Thailand, India, Singapore, Sri Lanka, China, or Japan; every country has a unique culture and landscape and proudly represents the most beautiful places in Asia.
Like Europe, Asia is yet another cultural retreat for all the westerners to spend a good holiday far away from home. Asia is not only one of the largest continents in the world but also one of the densely populated. Read on, as we'll introduce you to the most beautiful destinations in Asia.
Beautiful Destinations in Asia You Must Visit At Least Once
Alignthoughts.com brings you the perfect list of the most beautiful and amazing destinations in Asia.
1. Thailand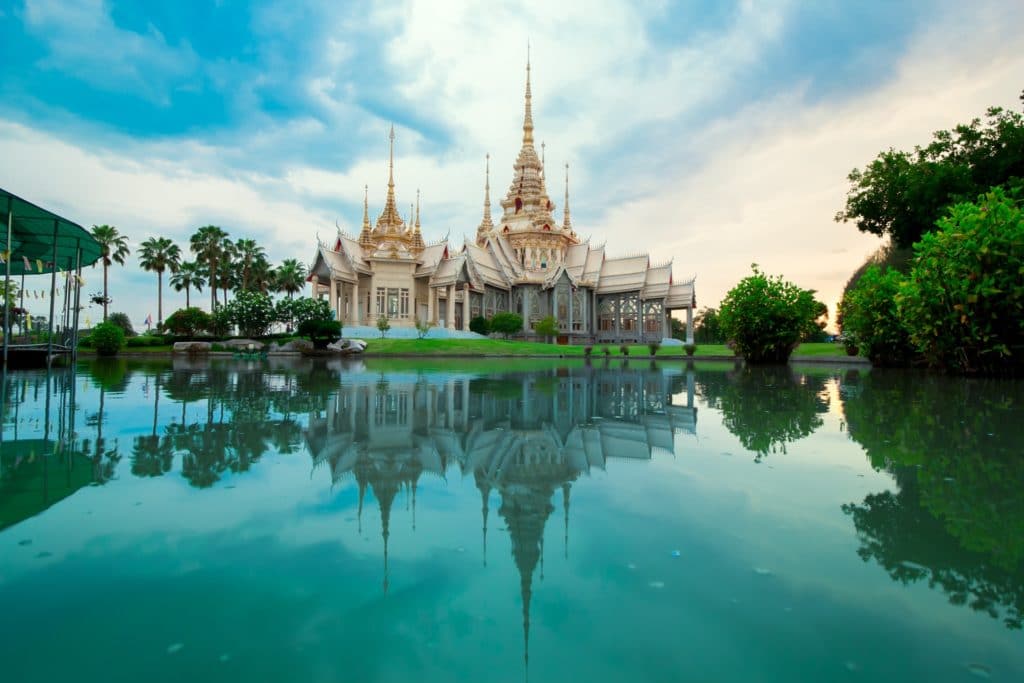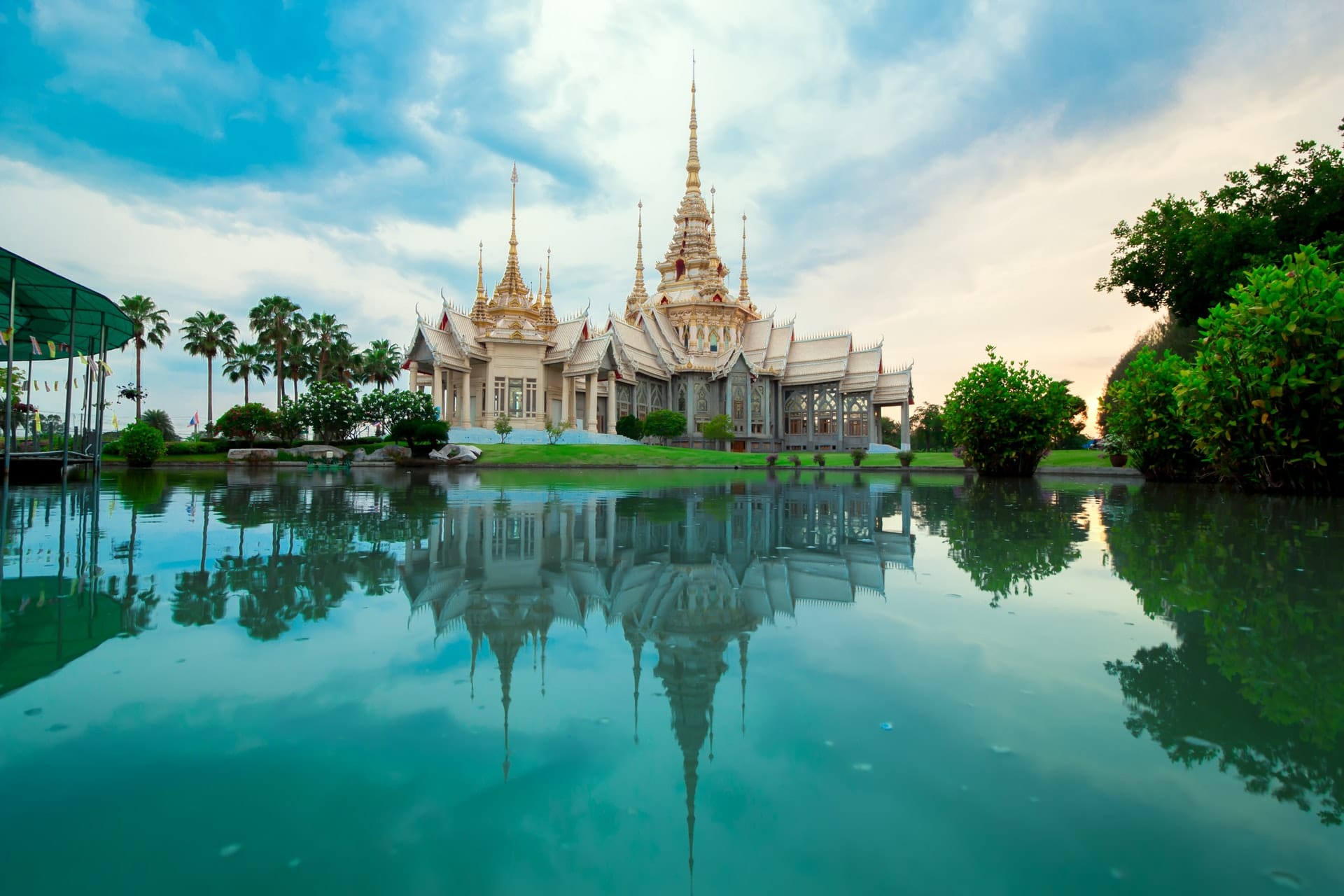 One of the most popular destinations in Asia is Thailand. It is not only the ultimate backpacker country but also ideal if you want to enjoy two weeks of sun, beach, and sea.
The landscape is characterized by overgrown limestone cliffs that rise out of the clear blue water and wide beaches and palm forests as far as the eye can see. According to the World Economic Forum, Thailand is the 13th friendliest country in the world.
The islands are particularly popular in this cheap holiday destination. Here, it usually costs $66.51 per day minimum to vacation. On the other hand, backpacking around Thailand usually costs $30–35 USD per day.
Thailand has bigger and smaller islands – almost predestined for island shopping, where you can relax wonderfully, whereby it helps to know the perfect travel time for Thailand.
Koh Lipe
A paradise for your Thailand holiday in the Andaman Sea is the island of Koh Lipe. This island is not very big, but the underwater world is a dream. Koh Phangan is Thailand's party island – it is famous for its Full Moon Parties and hosts Half Moon and Black Moon versions.
Directly at the beach, you can snorkel at high tide and see much colorful fish, such as clownfish, without swimming far out.
On Walking Street, you can buy everything you need and plunge right back into the tides. In calm seas, you can even snorkel or kayak to the small offshore islands.
Bangkok
Should you end up in Bangkok, you must not miss the center of Thai Buddhism – the Grand Palace with the temple Wat Phra Kaew. Inside this temple is the famous Emerald Buddha statue.
The Grand Palace is a large building complex with magnificent buildings – you should plan a little more time for that. Since King Bhumibol died on 13 October 2016, Thailand is still in mourning, and many official buildings are still covered with mourning pile.
Furthermore, the grave is located in the Grand Palace complex, so don't be surprised about the many visitors dressed in black because every day, many Thais come here to pray for their deceased king.
Thai Food
Thai cuisine somehow made it to Europe, including Germany, Sweden, and the UK.
But the original local Thai cuisine is something completely different. So it would help if you weren't afraid to try a lot – especially the excellent curries, fresh fruits, Phad Thai and soups.
2. Bali
Bali is the epitome of spirituality and relaxation. It is one of Asia's most popular destinations, attracting several tourists from the US and Europe, and Australia. One week's Bali vacation can cost you $1,845 (includes travel, food, and accommodation).
The Indonesian island lies east of Java and is Buddhist. Mangrove forests, lava landscapes, and tropical forests await you here. But not only that – there is also a lot going on culturally.
Environmentally Friendly Countries In The World
You can visit old, impressive royal tombs or visit the Gajah Cave in the area around Ubud. A Bali trip should also include climbing Mount Gunung Batur. From the inactive volcano crater, you have a phenomenal view over the surrounding area, and with a guide, it is also safe matter to walk around the crater.
Especially in the north of the island, you will find other natural highlights: hot springs, waterfalls, and national parks.
But the island also offers great snorkeling and diving spots.
Macaques, monitor lizards, and geckos shouldn't scare you because you may meet one of these animal contemporaries at the roadside.
Did you know that the Indonesian waters are home to around 3,000 species of fish? That's double the number of species found in the Great Barrier Reef!
3. Sri Lanka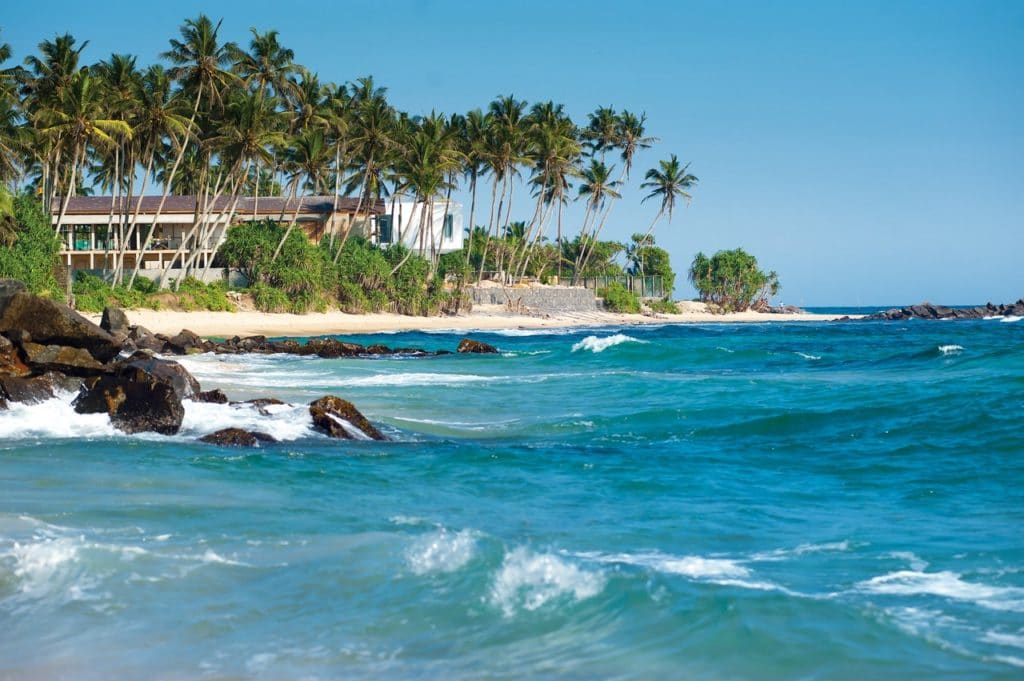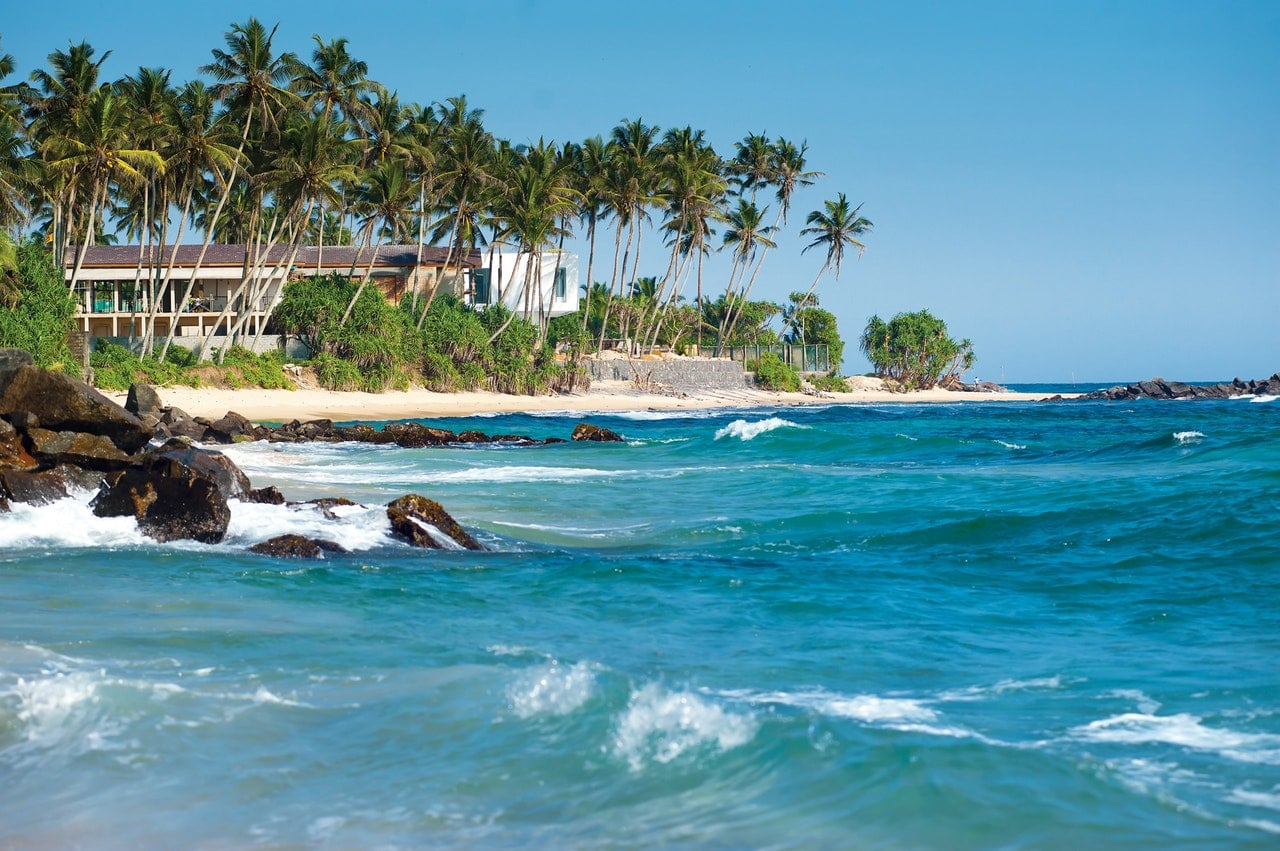 Hands down! One of the most beautiful destinations in Asia is Sri Lanka.
Especially with the optimal travel package. It would be best if you planned to spend around $37 per day on your vacation in Sri Lanka.
The land in the Indian Ocean is not touristy and overcrowded yet. So please take advantage of it before it becomes touristy.
Sri Lanka is indeed a holiday country with three landscape zones:
the central highlands with its tea plantations and over 2000 meters high mountains,
the lowland plains, which have been made fertile by irrigation,
The coastal area, where fishing is done, and holidaymakers find hotels very close to fine sandy beaches.
There you can watch the fishermen go out in the morning and arrive with their catch in the evening. Highlands and nature
A hotspot in the highlands is the mountain Pidurutalagala – 2524 meters high. And also, train rides are an incredible experience in this area. After all, you can admire the landscape from close up.
Beyond the tourist paths lies the small town of Haputale in the middle of tea plantations, a beautiful little town rich in tradition.
You can also experience nature in the Yala National Park, where you can see crocodiles, leopards, lip bears, and elephants.
In Sinharaja Forest, you can combine hiking and safari and do a real jungle trek. 
Enough of landscape and nature? Then it's time for culture.
Culture in Sri Lanka
the Buddha statue in Aluthgama, which towers 50 meters above the rest of the temple complex, is a must to visit. In the cities, you'll see more and more saris, orange monk's costumes, fresh fruit juices, and spicy curries and visit historical sites to learn more about one of the most popular destinations in Asia and its history.
4. The Maldives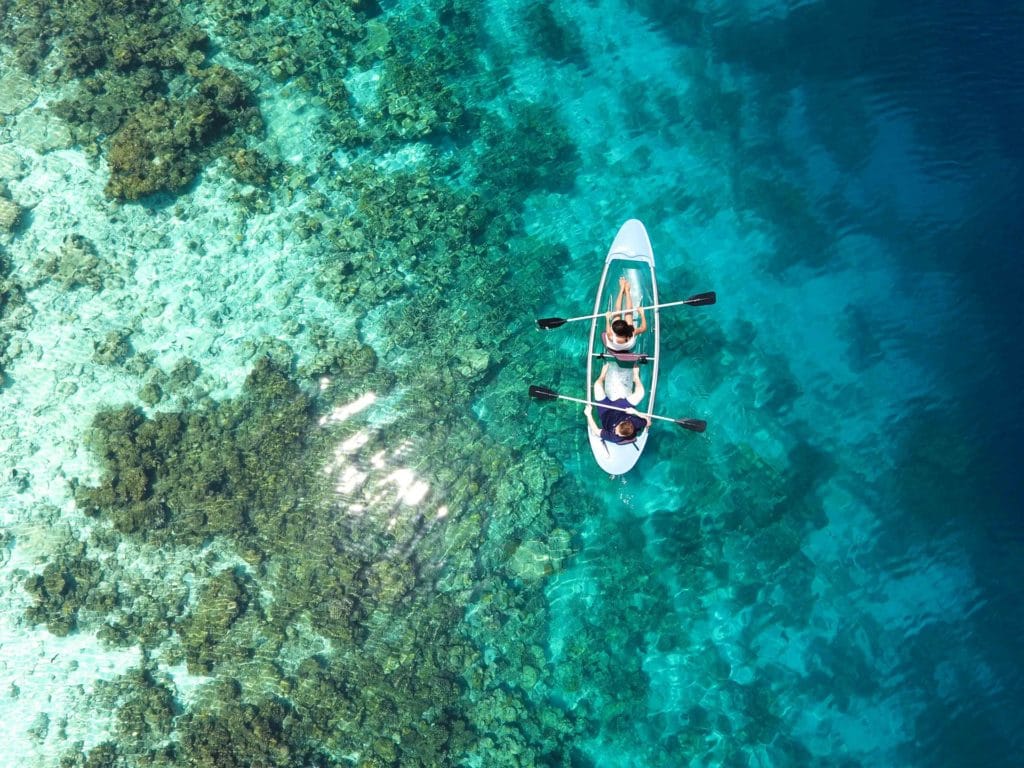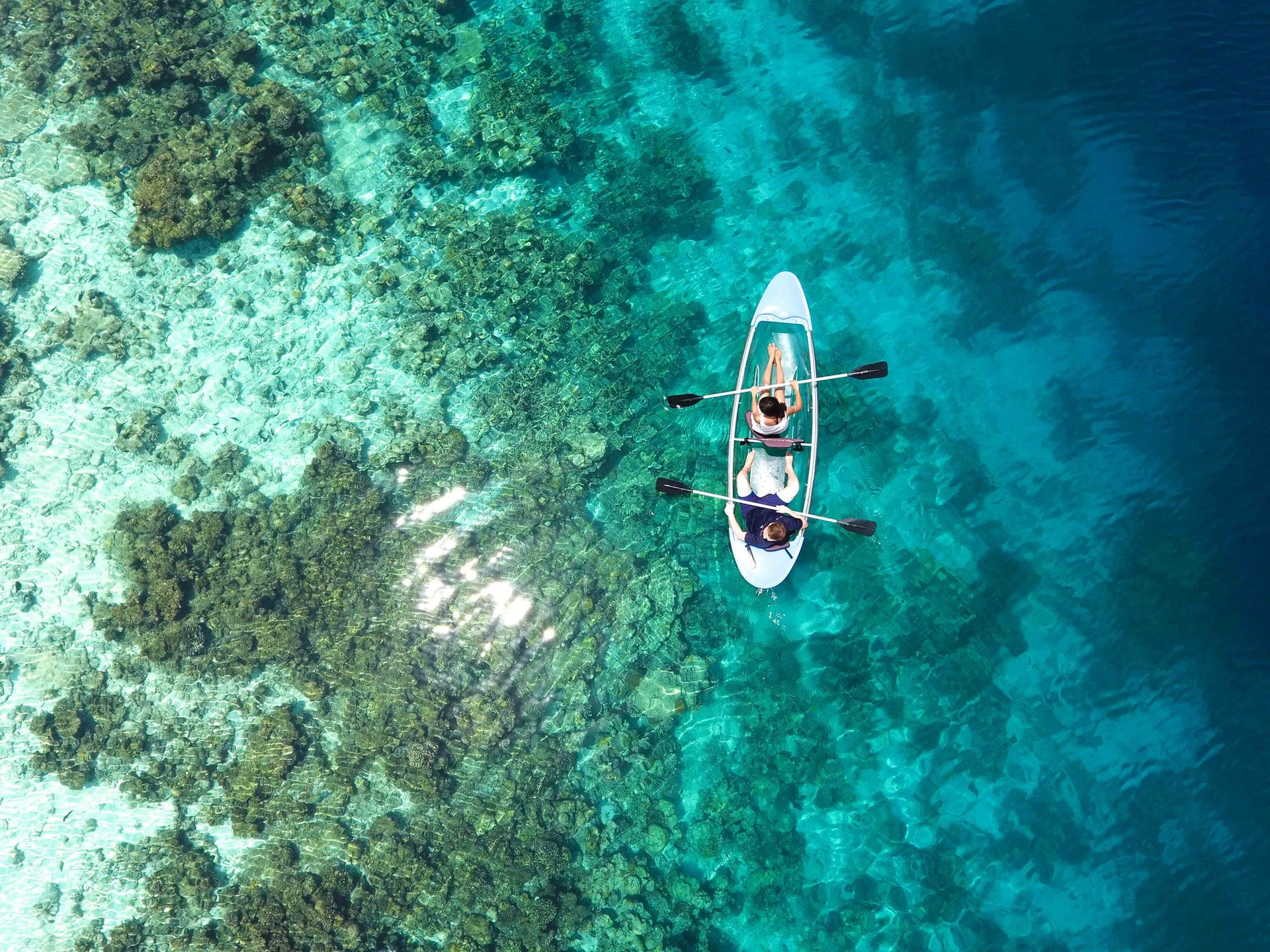 The first thing one probably associates with the Maldives is long dream beaches and a clear blue sea, perhaps also bungalows on stilts in the middle of the water. And what more could you want than a nice room in a top resort and the sea on your doorstep? Does it sound like the most beautiful holiday you've ever imagined?
A trip to the Maldives may cost you around $50-$100 USD per day.
This depends on what activities you chose to do. The underwater world in the Maldives leaves nothing to be desired.
Blue surgeonfish, parrotfish, hawksbill turtles, and manta rays cross your paths while snorkeling or diving.
With the help of marine biologists, you can even do something good and plant corals. If you want to see the underwater world, but don't want to get wet – or simply because it's romantic – you should go to Itaah.
In this underwater restaurant, you dine five meters below sea level.
And depending on the connection, you can take advantage of the hour and reach your destinations in this Asian destination by seaplane.
The Resort Islands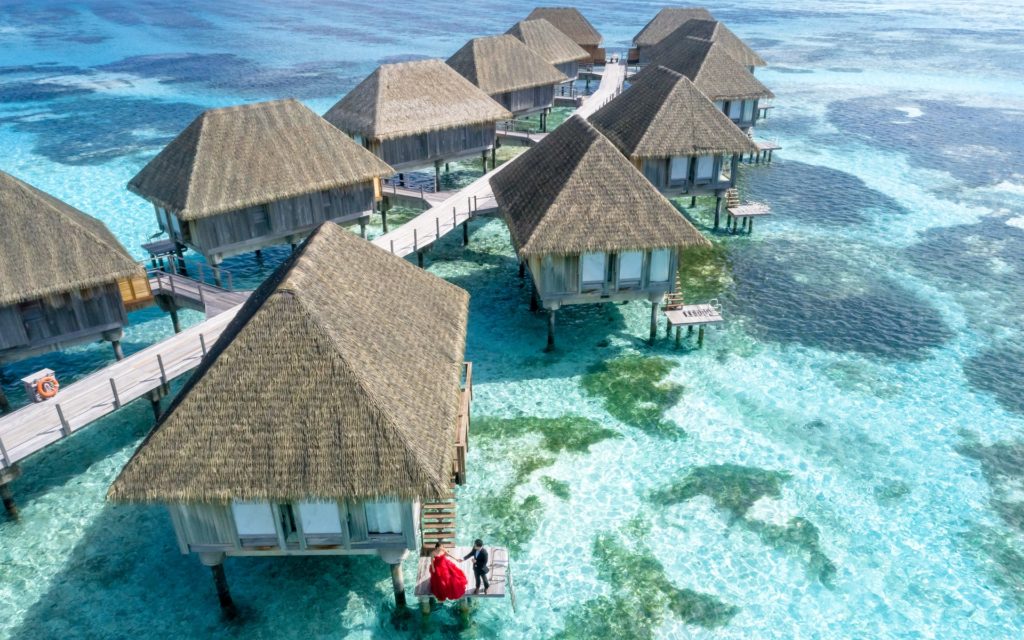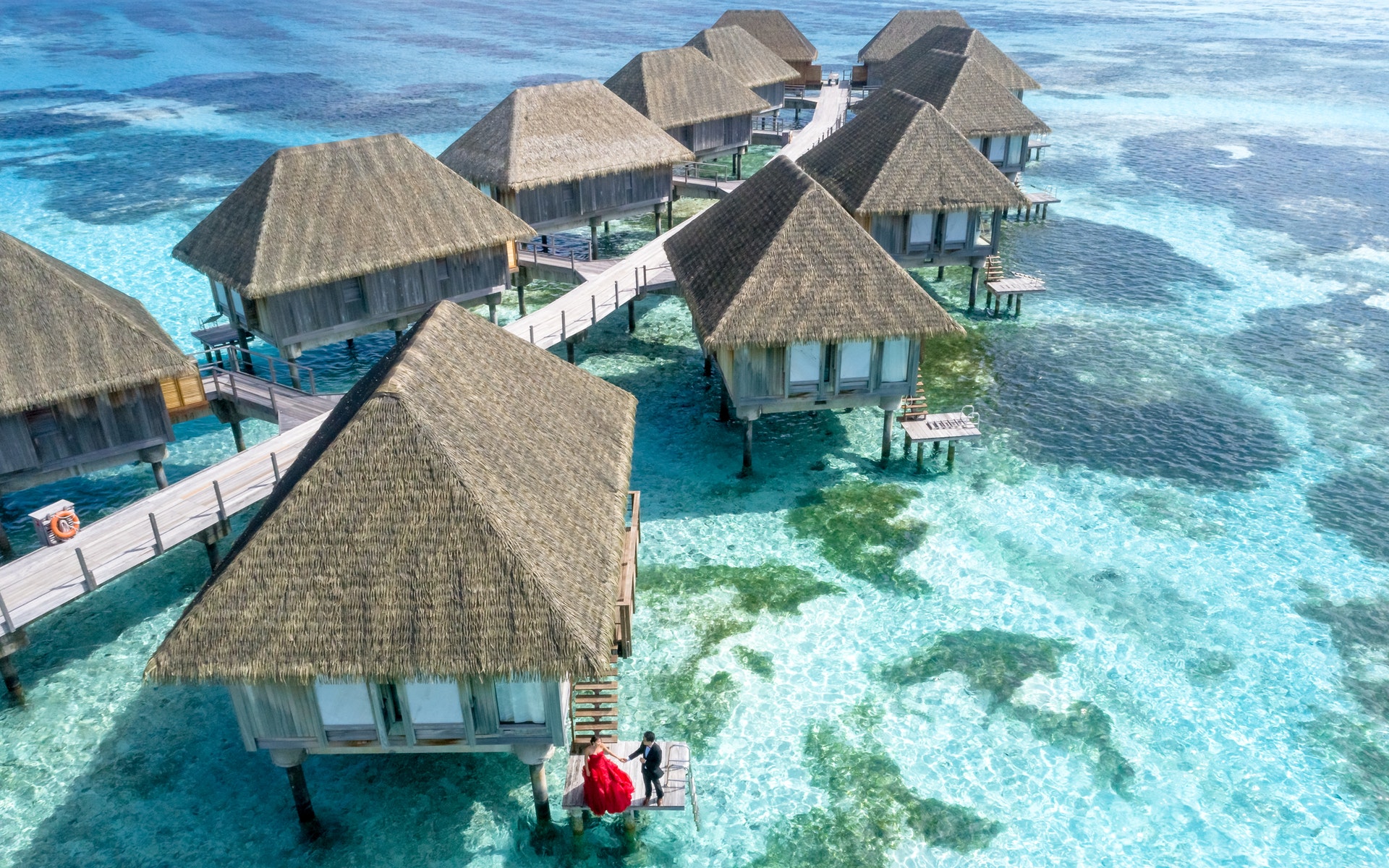 The Maldives consists of 1192 islands in the Indian Ocean, of which over 100 are pure resort islands. And they have their advantages, because, what is not so well known, the Maldives Islands are a strictly Islamic country, and on the islands of the locals, there is a strict dress code and a ban on alcohol.
We recommend the resort islands and not the Maldives' main islands for a holiday in a bikini.
You can spend your vacation or package tour on the Maldives barefoot – or in FlipFlops, at least in the perfect travel time for the Maldives, this should not be a problem. Then you can plunge into the crystal clear water at any time and enjoy the relaxation.
5. Indonesia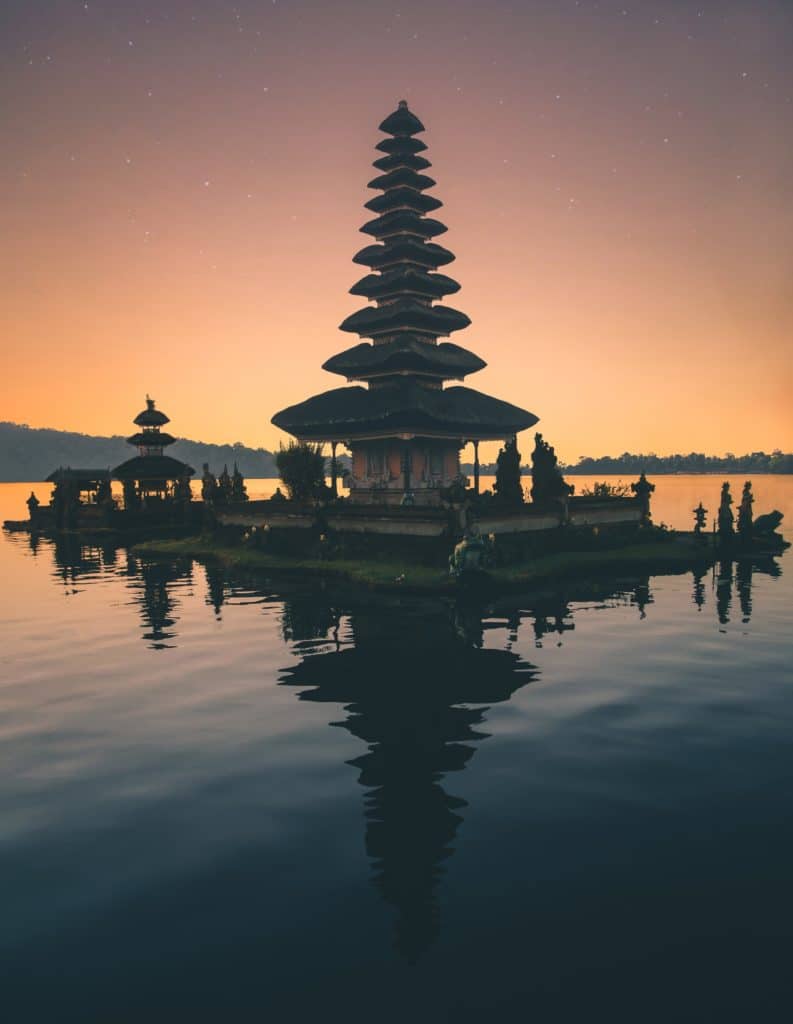 Indonesia is not only Bali! For a trip to Indonesia, the expense can come up to $20-25 a day.
As per analyses by gobackpacking.com, a 2-week trip through Indonesia will cost you between $95 and $331, depending on your travel style (cheap vs. on a budget vs. flashpacker).
Monkey forests and magnificent temples, lonely beaches, and an enormous cordiality cover the 17,508 islands that belong to the country.
The most famous islands of Indonesia are:
Bali,
Lombok,
Sumatra
and Flores.
Volcanoes and Orangutans
While in Lombok, you can climb the volcano Rinjani, get closer to the exciting Sasak culture and make a detour to the famous Gili Islands.
While in Sumatra, you will find a beautiful capital – Medan – as well as nature experiences. In Medan, you can visit the Sultan's palace and the mosque from 1906, and then head into the jungle.
Volcano trekking and encounters with wild orangutans are just a few of the activities you can do there. Rafting and swimming are also included.
Of course, more animals live here than "just" orang-utans. And which one of you has ever tried a durian fruit? Now comes your chance.
While at Flores, a visit to the Komodo National Park is worthwhile, but also for snorkelers and divers, this is one of the most excellent destinations in Asia.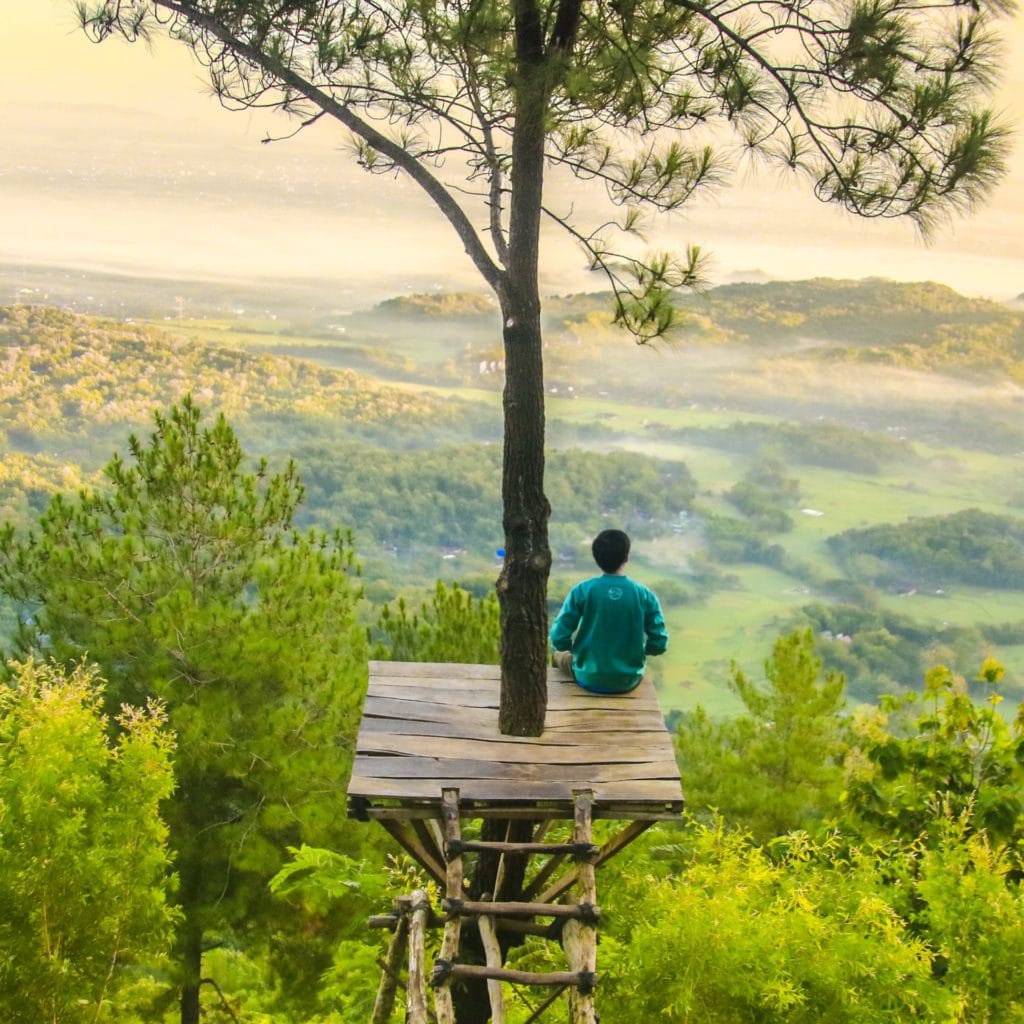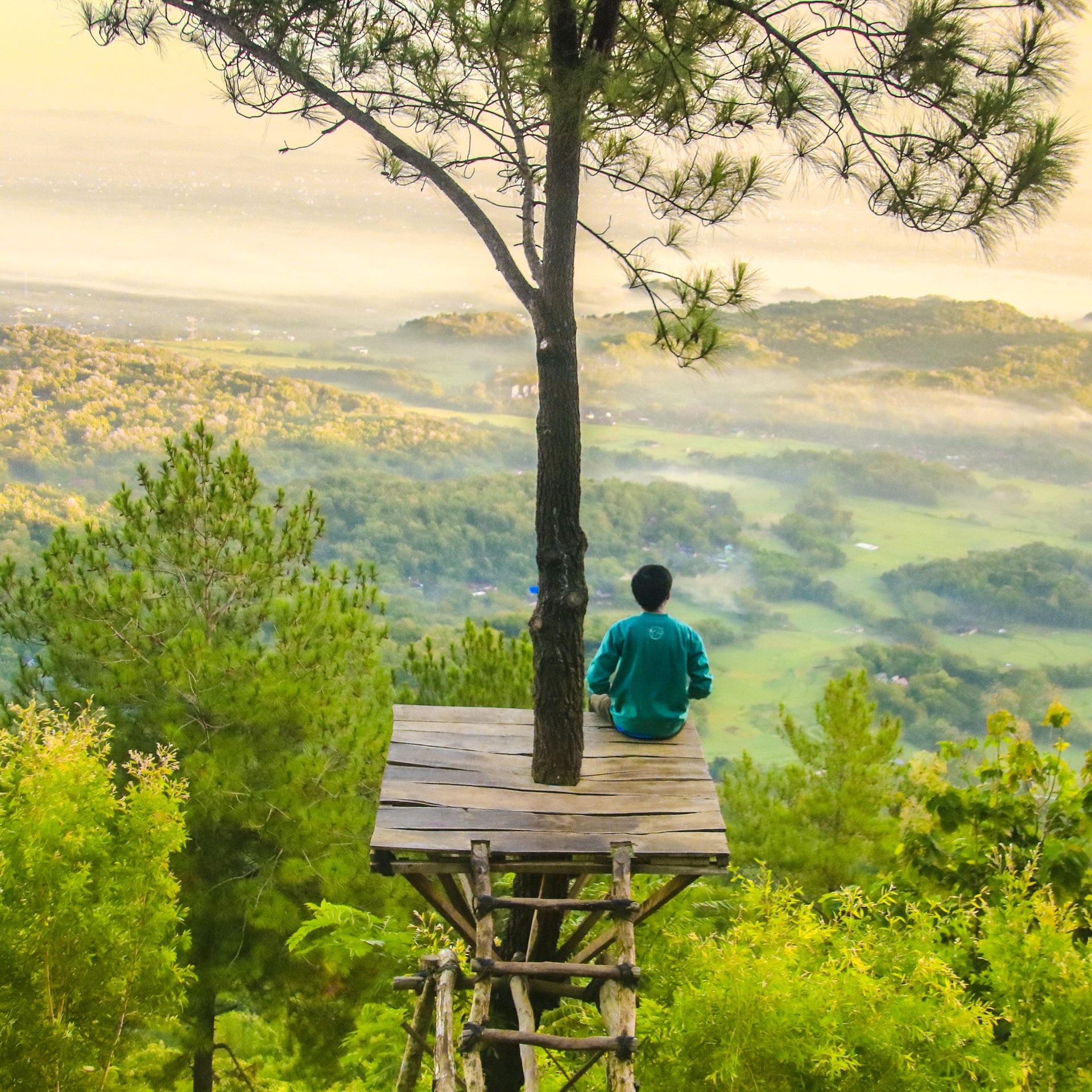 In Maumere, you can get to know the locals' culture better, for example, at the Local Market or by salt extraction and boat building in Nantahala.
And in Kuta, the party goes on! With rice wine and guitar sounds.
But you shouldn't ignore the kitchen either: Nasi Goreng and Nasi Campur as well as Mie Goreng, fresh papayas, mangos, and bananas will always catch your eye – and you should – just like at any other destination in Asia – definitely try some of them.
Either way, Indonesia is exciting and also offers places to relax. A perfect holiday destination for soul trees and action fans alike.
6. The Philippines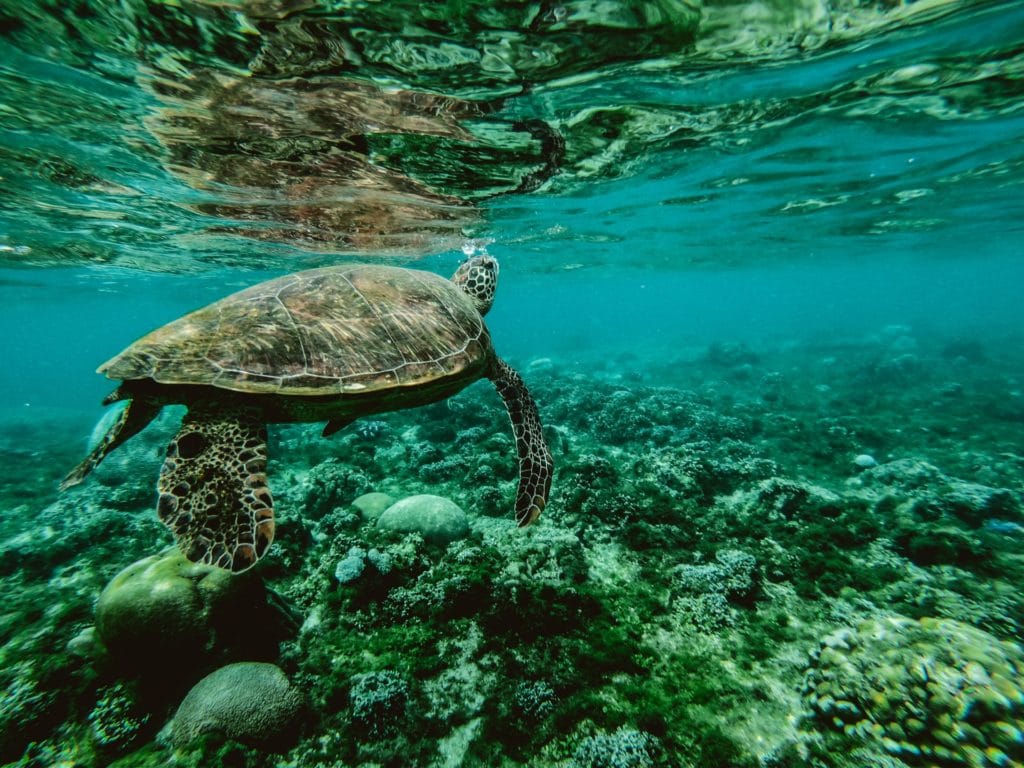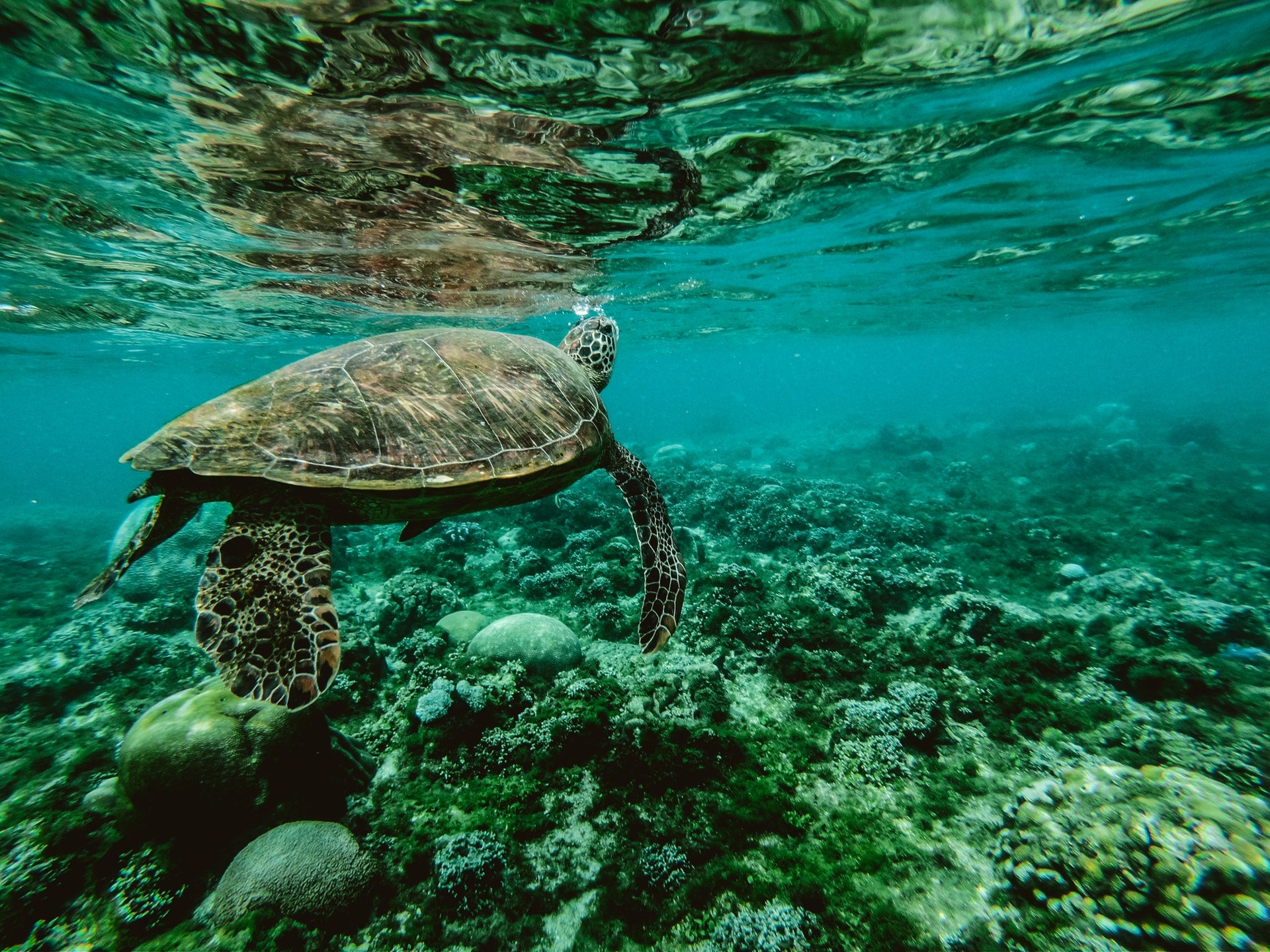 The Philippines is by far the best and cheap holiday destination in Asia. Legendary 7107 islands cover the Philippines, 3144 of them carry names, 880 are inhabited – you immediately want to do island hopping, right?
The 880 islands are inhabited by humans and an exciting fauna: flying squirrels, crocodiles, snakes, turtles, and lizards.
And the scenery is breathtaking: in the province of Laguna, not far from Manila, rivers plunge into the wide Pag Sanjan waterfalls; on Apo Island, you can gain an extraordinary experience by swimming with sea turtles and exploring the otherwise great underwater world, and spotting shark species, dolphins and barracudas.
On the island of Bohol, you can experience a special natural spectacle at least during the drought period: then the so-called Chocolate Hills turn brown and remind you of small chocolate cakes.
You'll also find the cute little Tasier monkeys on the island – in pocket size. Nevertheless, it is not allowed to take them with you. You can spend $25-30 per day in the Philippines, sleeping, eating and transportation included.
What else do the Philippines have to offer?
Street food, fantastic beaches, warm winds blowing around you on a moped ride, trekking and cycling trails, as well as the World Heritage Site – the rice terraces of Batad in the Ifuego region, from where you can look into a lush green valley. You are sure to enjoy.  There's guaranteed variety and fun.
Conclusion On Destinations In Asia
When you think about going on holiday, Asia may not be the first place you think of. Asia is filled with many more beautiful places. We recommend you visit them before they're overcrowded to taste the true spirit of these beautiful places.
Give Asia a chance to blow your mind away. Whether it is planning a wedding, honeymoon, or just a family trip, we are sure you won't be disappointed. However, before choosing your destination, make sure you check and compare different websites to get the best deal.
Key Takeaways On Destinations In Asia
Asia is not only one of the largest continents in the world but also one of the densely populated.
Thailand islands are perfect for shopping, where you can relax wonderfully.
Bali is the epitome of spirituality and relaxation.
With Sri Lanka, you can experience culture and nature at its best.
The underwater world in the Maldives leaves nothing to be desired.
Indonesia is exciting and also offers a perfect holiday destination for soul trees and action fans alike.
Enjoy street food, fantastic beaches, warm winds blowing around you on a moped ride, trekking, and cycling trails, as well as the World Heritage Site, all in the Philippines.
Your Thoughts On Destinations In Asia,
All these are on our list of the most beautiful destinations in Asia. Which was your favorite? Have you visited any other beautiful destination in Asia? Did we miss out on any other destination?
Do share your thoughts in our comments section. Stay tuned with us for more interesting content by subscribing to our website. Also, follow us on our social media channels for more updates.