It's been almost a decade after graduating from college, yet I clearly remember the first day of college. It is indeed one of the memorable experiences of my life. Even though school days are going to be one of your best phases of life, there are many problems students face in university as a freshman. The time you spend at college is going to shape your outlook on life and prepare you for real-world problems. But before that, you need to learn what are the most common problems of students and their solutions. These challenges college students face might seem overwhelming and stressful. But don't worry, you just need some help to overcome them. I wish I knew these things while in college. But here I am to help you out with the solutions for handling students' problems in school.
So if you're a young school or college student, prepare yourself, mentally and emotionally, for any new challenges or problems.
You're not alone, pal!
Read on to learn some of the most common challenges college students face.
Problems Of College Students & How to Overcome Them
Below are some of the problems of students and solutions to overcome these problems during college.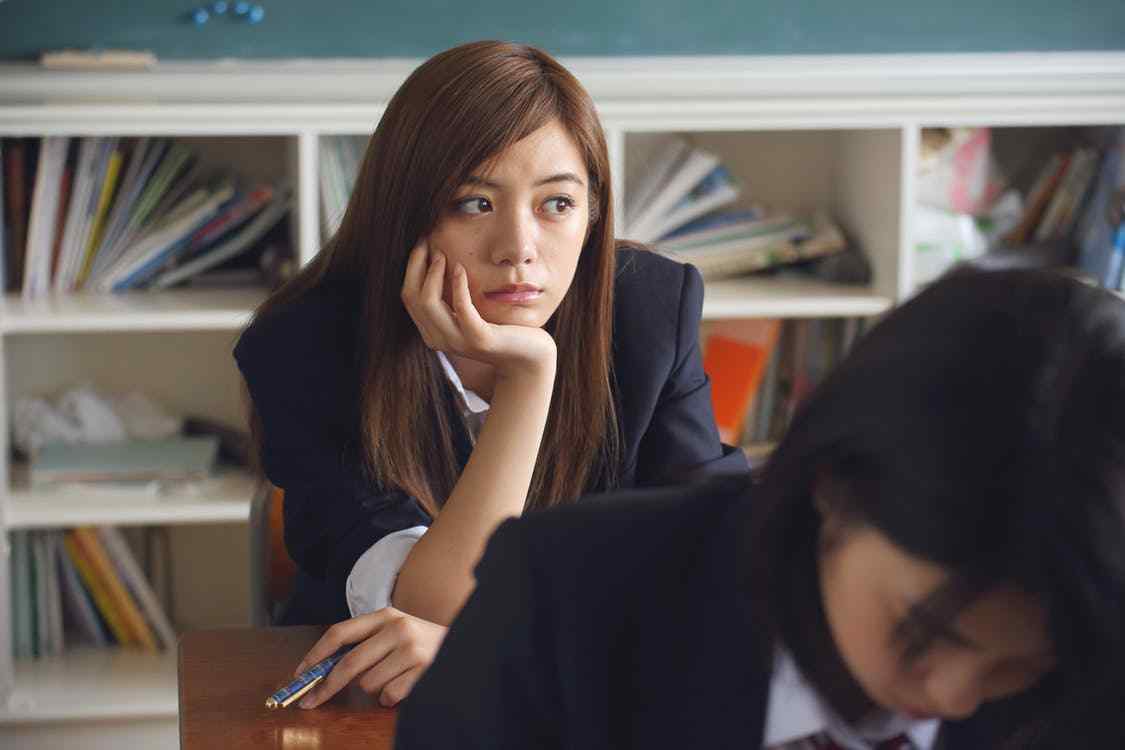 1. Student Problem: Homesickness
The first and foremost problem of a student entering college is homesickness. The fact that you are staying away from home and family can easily get you homesick. Homesickness is the most common problem you can think of.
Around 60% of new students feel the separation from their family and miss their life back at home.
But the good news is that only 1 in 10 students find it difficult to handle homesickness as a problem.
And even those 1% of students can beat homesickness if they try to do so. Here's how you can overcome homesickness and enjoy your college or school life.
How to deal with homesickness as a student in college?
Don't stay alone all the time and try to make friends.
Don't stay indoors. Get out of your room and explore your surroundings.
Stay in touch with your family but not too much. For instance, you can video call them every weekend to share your experiences of college life.
Cultivate a new hobby or learn a new skill.
Create your own new space by bringing your favorite things from home. This will give you a feeling of ownership and make you less homesick.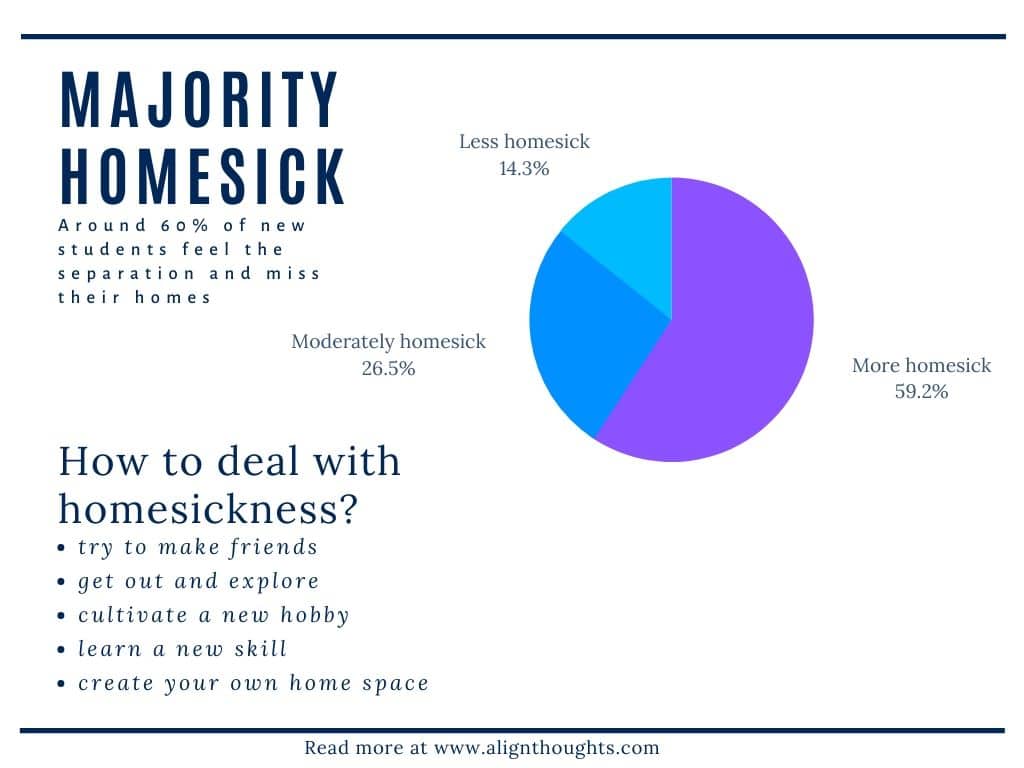 2. Peer Pressure
One of the critical problems students face in university especially as a freshman is peer pressure.
In fact, peer pressure can have a negative impact on students. So it's important that you address it.
Wikipedia defines peer pressure as follows:
"Peer pressure is the direct influence on people by peers, or the effect on an individual who gets encouraged to follow their peers by changing their attitudes, values, or behaviors to conform to those of the influencing group or individual."
In simple terms, you are under peer pressure, when you choose to do something you wouldn't otherwise do because you want to feel accepted and valued by your friends.
Below are the things you might end up doing when under peer pressure:
Use of foul language
Execcisve alcohol use
Intake of drugs
Spending money unnecessarily
Late-night outings or getting wasted often
Partying with strangers
Dressing provocatively, etc.
Students feel bullied because of peer pressure and it affects their well-being. Most of the time, your close friends are the ones who pressure you.
How to Deal With Negative Peer Pressure?
If you feel pressured into doing something that you don't feel like, step back and stay away from such a company.
Walk away, they are not going to be your friends.
Choose your friends wisely.
Stay away from toxic people. There are different types of toxic people. Don't accompany those who influence you negatively.
Approach trustworthy friends or well-wishers if you are being bullied.
Talk to your parents, professor, or school counselor if the situation gets worse.
Read more on how to handle peer pressure like A pro.
3. Money or Financial Stability – Common Issue College Students Face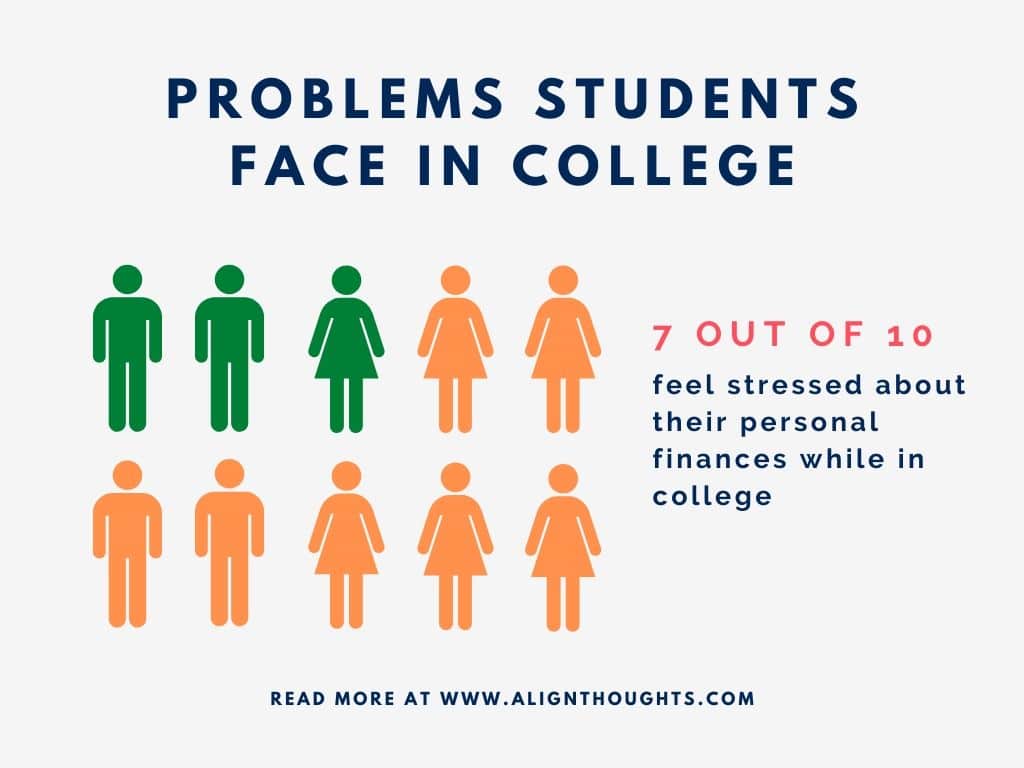 Student loans and financial crisis are some of the critical issues college students face.
7 out of 10 college students feel stressed about their personal finances, according to a survey. The cost of education itself can be a big burden and bring problems for students.
Nearly 60 percent said they worry about not having enough money to pay for school, while half are concerned about paying their bills.
Some newbies don't have control over their savings. Moreover, with the increase in expenses, you can end up constantly borrowing or spending money.
But having a good social life doesn't mean you must be broke or end up in debt. So here's how you can deal with money and finances as a student.
How to Deal With Money As a Student?
If not handled properly, the financial crisis can become one of the most difficult problems students face while in university.
Don't spend more than you have.
Avoid using credit cards. Improper use of credit cards can put your finances in trouble. So its good to stay away from them!
Avoid borrowing money.
The best way to tackle the financial crisis during college is to save for an emergency.
Here you can learn how to save money while in college.
Another thing that can help is learning how to make passive income while you are a student.
4. Pressure of Academics – Major Issue College Students Face
Yet another challenge college students face the pressure of academics. You may be a good student in high school, but the demanding academics of college can put you under pressure.
The change of pattern in college academics can stress a lot of freshmen during their examinations.
On top of it the demands for good scores, parent's expectations, strict university admissions, etc. only increase the challenges for students.
Some students might as well have learning disabilities like dyslexia, dysgraphia, dyscalculia, ADHD, etc. The issue with the education system is every student is judged equally irrespective of their intelligent and emotional quotients.
These difficulties affect the academics of the students and act as a huge challenge in their progress. Learn how to deal with challenging academics, and become a pro!
How to Deal With Academics As a Student/Parent?
Manage your time effectively.
Eat healthily, and take care of yourselves especially during exams.
Study hard subjects or chapters in groups.
Ask help from your professor for a better understanding.
Focus on learning over getting a good GPA.
Surround yourself with like-minded and supportive people.
5. Increasing Competition
Yet another problem of students in schools and colleges is the increasing level of competition.
The biggest challenge you face as a student concerning competition is clearing examinations with good grades.
Although healthy competition is good for you, be careful and avoid getting into competition due to jealousy or bias from other students.
Also, to overcome issues in the education system, colleges need to conduct seminars on personality development. They should teach the students how they can build their personalities.
Help them understand how you can groom personality beyond your physical attributes.
Here's how you can cope up with the competition in a school or college.
How to Handle Competition at School/University?
Stop comparing yourself with others, especially with the one who keeps flaunting his luxuries.

Develop good study habits.
Score good grades and outstand others.
Participate in internship programs.
Decide the right major which interests you and not the one everyone is behind.
Find an industry mentor to guide you.
6. Health-Related Issues Faced By College Students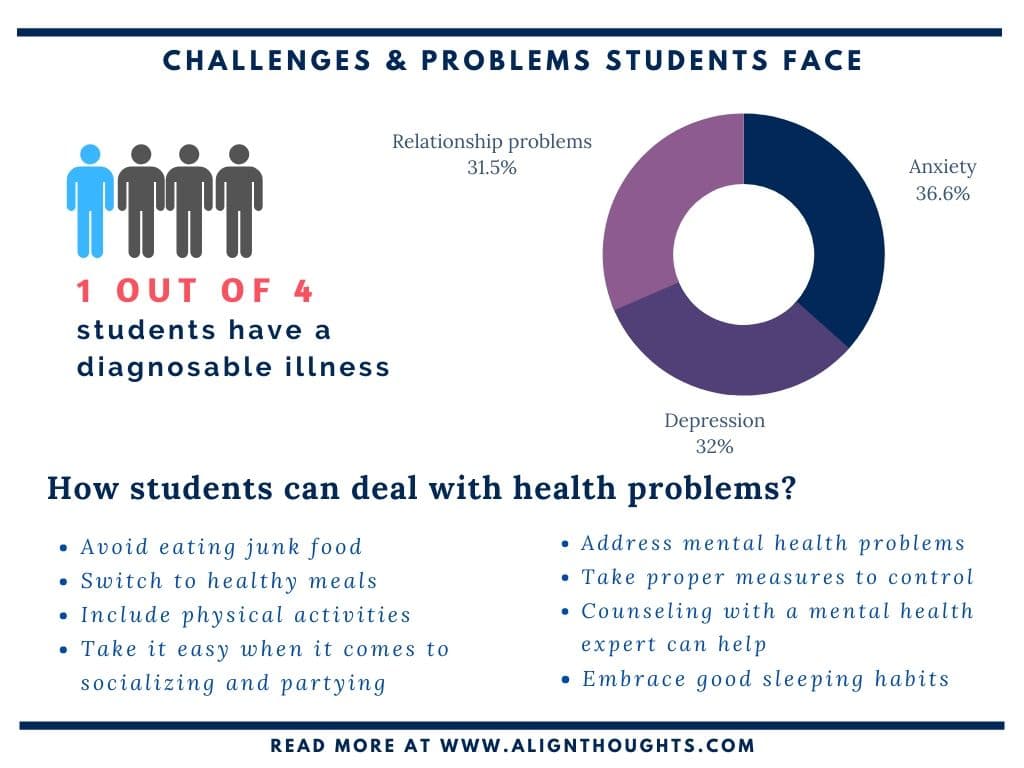 Health issues are one of the primary issues college students face especially when they stay away from family.
Young college students are prone to fall sick especially with infectious diseases like chickenpox or measles. Due to this, they may end up missing school or lectures.
Mental health problems in school students
Due to a lack of experience, in dealing with challenges, students can face stress, anxiety, and depression.
Parents, teachers, mentors, or college seniors must help young college students facing different types of challenges. This will enhance the student's confidence and act as a support system.
Female teenagers can also face other student problems in college including menstruation. Parents and seniors must help young girls by sharing knowledge about menstrual hygiene and how it can impact one's health and wellbeing. 
Many students also suffer from poor sleeping habits and underestimate the importance of following a good sleep routine.
Grab on these tips to take care of your health and be healthy as a horse.
How To Take Care Of My Health As a Student?
Avoid eating a lot of junk food.

The solution here is to cut down on junk

and switch to healthy meals.
Follow good sleeping habits for adults.
Include physical activities.
Take it easy when it comes to boozing and partying.
Learn how to get rid of a hangover.
Play a sport.
Sign up to run a marathon.
Meditate or do some physical activities like running, cycling or trekking.
Address mental issues like depression and anxiety.
Take proper measures like counseling with a mental health expert.

Check out the

7-Day Healthy Student Meal Plan.
7. Personal Relationships
Are you missing your old pal from school? Or do you find it difficult to make new friends in college? You're not alone buddy, 35% of problems for students are concerning relationship issues.
Love relationships or friendships if gone out of control or if not handled properly can add to the existing student's problems. These relationships can be a great source of love, pleasure, support, and excitement.
However, relationships can also be a source of pain and suffering when things go wrong. This is a sensitive and important topic.
With several new people from different parts of the world in your college, it is easy to get attracted or develop feelings towards someone. Most of the time it is pure infatuation or in simple terms "crush." Being over-friendly with someone from the opposite sex can easily lead to sexual relationships. So it is good to maintain distance if you aren't ready for it.
Being in a relationship can be very challenging as a student. Take help from a mentor to help you, when needed.
When youngsters or school students face rejection in friendship or a relationship:
They may go through mental or emotional stress.
Hurt themselves or someone else.
Most of the suicide cases occurring among youngsters are due to relationship challenges.
How To Handle Relationships As a Student?
The solution to tackle this problem is to bring change in your attitude.
Acceptance of differences in opinions can go a long way.
Respect individual choices and move on.
Have a good dialogue about your expectations and what you both could do to fix the situation.
Talk to your school counselor or family members when things go out of control.
Most importantly, don't make any rash decisions if you feel depressed.
Immediately seek help.
As a parent, be a friend to your child so that they feel comfortable talking to you and you can guide them.
As a teacher, you can conduct various sessions in your school concerning the relationship problems for students.
8. Addiction Is A Common Problem Faced By

College Students
Addictions in any form can harm a child's future majorly.
Recently, a viral video/meme was making rounds on the internet about a fifteen-year-old teen boy, who was suffering from drug addiction. He would choose drugs over food and even his mother. Sadly, this is the reality of today's world.
Students as young as 10-12 yrs are affected by substance abuse. An NGO survey revealed that 63.6 % of patients coming in for treatment were introduced to drugs at a young age below 15 years.
How Can You Help Someone to Get Rid of Drug Addiction?
Keep track of the drug usage including, when and how much you use.
Seek help from your loved ones.
Students must be aware of the harmful effects of drugs.
Sensitization programs about substance abuse can be conducted in schools and colleges to help students.
Authorities must also enforce strict rules especially when it comes to selling alcohol or any other substances that contain addictive materials.
Other Students Problems In College or University
Apart from these basic and most common challenges, there are also some other challenges college students face. Some students even get treated differently because of their looks, background, or financial conditions.
Some other problems of students in school and college are:
Gender identity
Low self-esteem
Identity crisis
Housing or accommodation problems
The challenges college students face help to define who they become in the future. If we assist or teach them to positively deal with various challenges from a very young age, they can become self-motivated individuals in the future who aren't afraid to take risks.
What are your challenges in life as a student? According to you, what are the issues in our education system? Feel free to drop your comments below and share your thoughts with us. Also, do not forget to subscribe to us for more interesting articles.
Key Takeaways on Problems Students Face In University
Is college life stressful?
In recent times, college or university life has become more stressful due to increased demands from the students in college as compared to their high schools.
What challenges do students face at university?
Some of the most common challenges or problems students face in the university are:
Homesickness
Time management
Financial crisis
Lack of self-esteem
Personal relationship problems
Drug addiction
Mental health issues
Poor sleeping habits
Eating a lot of junk food
Peer pressure
Bullying
What is the biggest problem college students face?
The biggest or the most common problem faced by students in university or school is the ability to get adequate sleep every night.
Many young students are prone to staying up late every night and hardly manage to complete the standard 8-hour sleep cycle.
Is it normal to struggle in college?
It is quite normal for everyone to struggle during the initial days of college life.
By the time you find the right set of friends and get accustomed to staying away from family, life at the university can be rough for new college students.
What challenges do first-generation college students face?
The main challenge that first-generation college students face is homesickness and the lack of meaningful relationships.
What are the social issues faced by students in college or school?
The social issues college students face are social anxiety, loneliness, homesickness, and lack of self-esteem.
How can students overcome challenges?
Below are some of the key things to overcome problems students face in university:
Choose your friends wisely.
Stick to your principles, and don't be a victim of peer pressure.
Learn the art of time management and stop procrastinating.
Take care of your health and body
Prioritize tasks effectively.
Get adequate sleep every night, i.e, at least 7 to 8 hours.