Do you realize the importance of trust in relationships? Are you trustworthy? Do people confide in you? Trust is supposed to be the fundamental of all relationships and the most integral part of any communication. There are specific ways a person behaves that makes people trust them instantly. Most people find it difficult to trust the other person completely.
In the present age of social media and the internet, we meet and interact with people every day; one cannot decide whom to trust. It goes the same way for the other person – 'Is it safe to trust you?'.
Levels of Trust In Relationships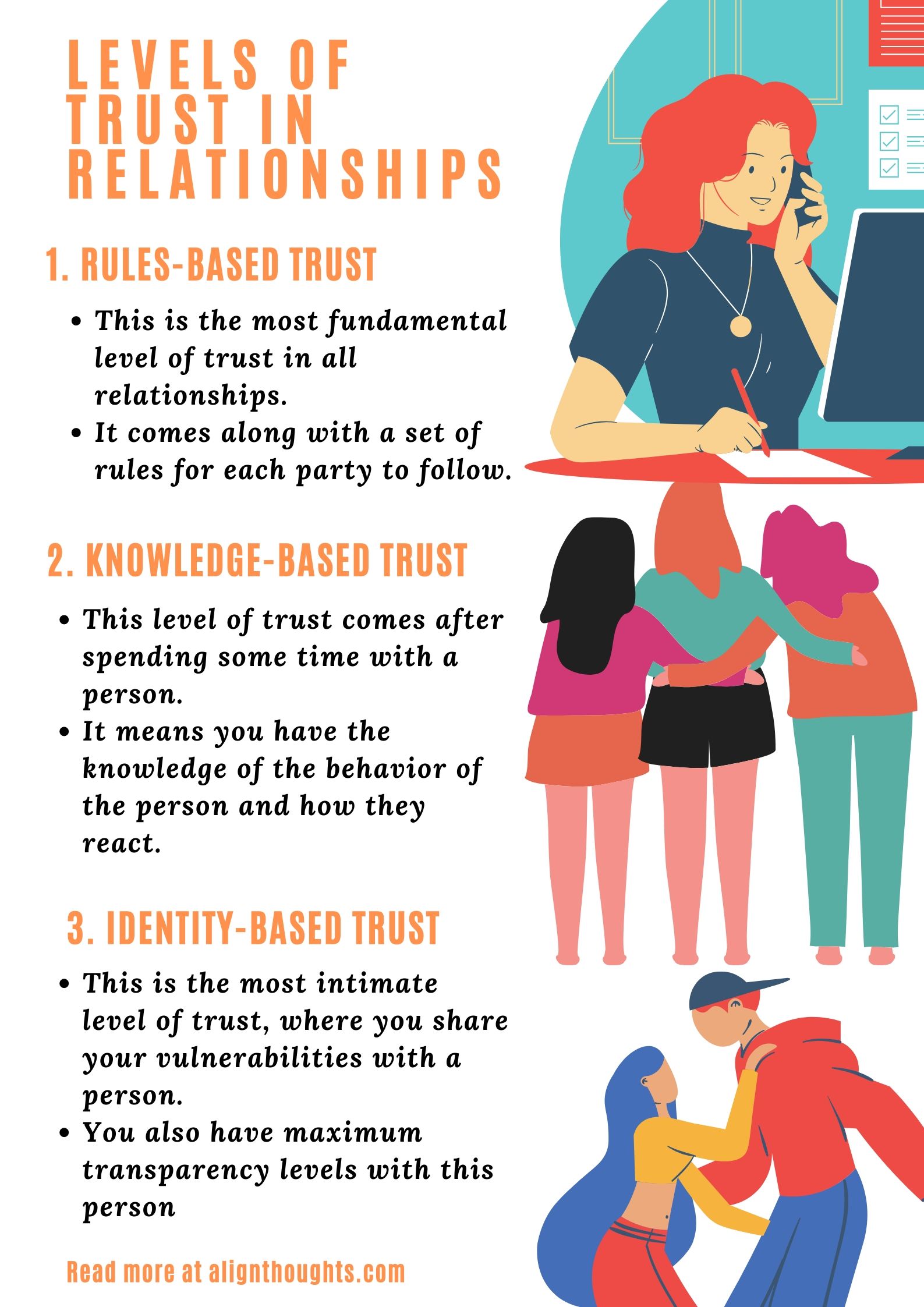 Based on the context of the relationship, be it social, personal, relationship, or even family, there are three levels of trust.
This is the most fundamental level of trust in all relationships. It comes along with a set of rules for each party to follow.
The best examples of this type of trust are:
The policies of a company or employer bring trust to the employee and vice-versa.
The rules set by a school brings trust in parents who send their kids to study.
Or for instance, one of the rules at my home is, the one who wakes up last does the dishes.
This kind of rule also brings trust in relationships but does not lead to intimate relationships.
This level of trust comes from experience and knowledge after spending some time with a person.  It means you have the knowledge of the behavior of the person and also have a clear idea of how the person reacts in the relationship.
This is the most intimate level of trust, where you can share all your vulnerabilities with the other person. At this level of trust, you both can share your strengths, weaknesses, or fear, but the other person doesn't take advantage of it.
This is the type of relationship that has maximum transparency levels and makes you feel safe.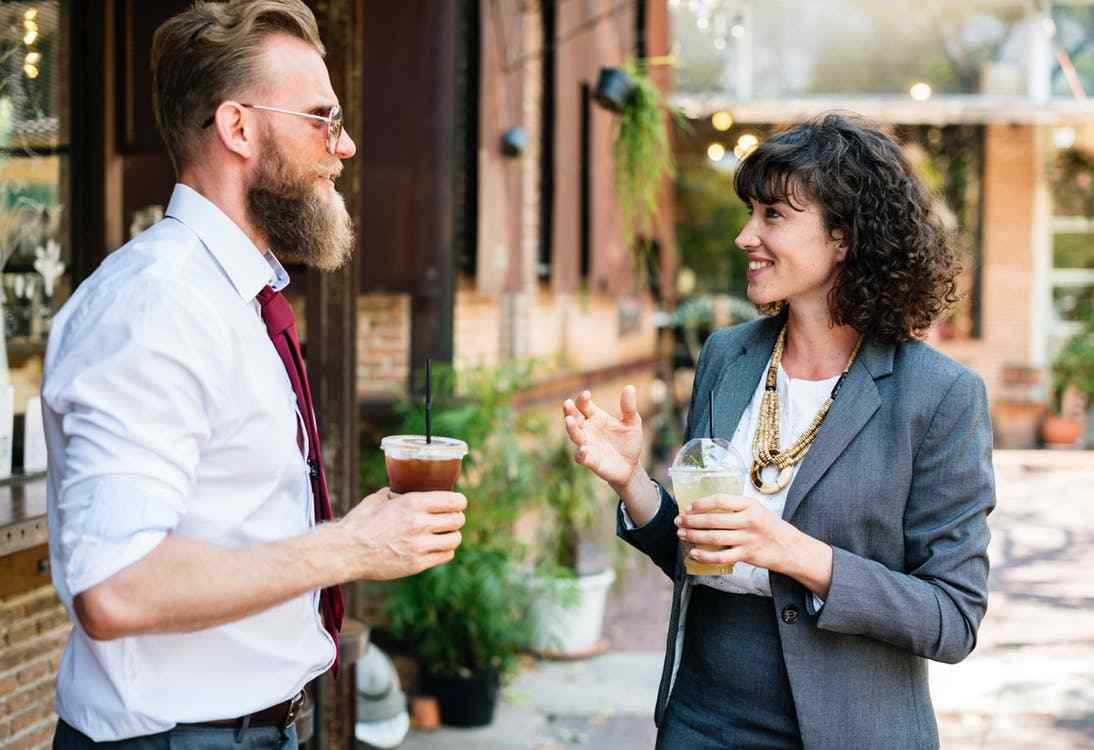 What does trusting someone mean?
Trusting someone means you can rely on them, you would do as they suggest and act accordingly hand over some part of yourself. And vice-versa!
While you behave in a certain way, people believe you; they would bond with you.
Integrity
honesty
kindness
and compassion
These are some of the traits of a person whom you can trust easily. These traits are admirable, and thus people like to be associated.
Building a rapport with the other person is quite difficult, making the other person trust you depends upon the image that is projected.  Some people are natural at it, and others have to work towards it. It is not that difficult to be a trustworthy person. What is important to learn here is that one should not break faith. These subtle behavioral traits would help you just so far.
8 Subtle Behaviours That Make People Trust You
1. Being Empathetic
When you show that you genuinely care, you are kind and unselfish; it makes you trustworthy. Even if you can't help, just by showing that you care for others, make them start trusting you.
Compassion and empathy go hand in hand.
Never be caught up in your life, everyone has some insecurities and it takes a lot to understand what the other person is going through.
2. Mirroring the other person's body language
Knowingly or unknowingly, sometimes, we reflect the other person's actions. It evidently shows the level of comfort and trust a person has built on you. It is also said that mirroring is a symbol that a person likes you.
It is the subtle mirroring that is important, a nod or tilting your neck. These moves make it sound like you are copying the other person. It may appear that you are making some special effort.
Being natural is what is essential. This trait comes in handy when establishing a new relationship or if you are handling negotiations. Mirroring body language simply shows that you are engaged and involved in the matter.
By cultivating this behavior, you can easily grow trust.
https://alignthoughts.com/10-types-of-people-you-should-avoid-in-life/
3. Genuine Smile and being apologetic
There is a very fine line between being apologetic and overly apologetic. When a person apologizes, he seems to be caring even if the situation is not in his hands. It shows your compassionate side.
Even if the situation is not in your hands, saying sorry will build that rapport.
It is the same case with smiling. It makes you more humane. So smile genuinely to make people trust you.
4. Accepting your mistakes
When a person recognizes his mistake with grace, it is a trait that says he has high morals and is not afraid to accept his shortcomings.
Though it may sound silly, being embarrassed makes you more social. Everyone makes mistakes because of which you don't come across as an automated machine. Your emotions seem more genuine.
5. The way you smell
Like the smell of delicious food attracts, so does the fragrance of a person. If you smell good, people will trust as they feel drawn and welcomed.
While with the heavy scents, you tend to fend off people. Fragrances like rose, lavender, and sandalwood are inviting aromas, it adds to charisma.
6. Your own body language
Certain people appear more open. Their body language invites in. It says – "you can trust me," I would not harm you."
A smile, open arms, and even a simple gesture or a nod with gentle eyes are all signs that make you more trustworthy.
7. Having mutual friends
Having a friend in common makes people trust you more. It tends to bring you closer. Would you accept a friend request of a person who already has another friend in common? It is believed that it is a natural tendency; we look for something mutual.
https://alignthoughts.com/how-learning-to-let-go-will-simplify-your-life/
8. Being consistent
If you are consistent in your behavior, people tend to trust you more. A regular behavior invites trust rather than the person with erratic behavior. Consistency indeed helps to manage expectations.
In the end, either you are trustworthy, or you are not.
It takes a lot of effort and the willingness of the other person to open up and trust. The relationship that is built on trust is one that is strong and long-lasting. The innate behavior is hard to change. You must also be keen to know it is very easy to break someone's trust, it is very delicate: winning trust is quite difficult. Trust, indeed, is a two-way street!
We hope these tips on how to make people trust you better. Do not hesitate to drop your comments below. Also, stay tuned with us by subscribing.
You can also follow us on our social media channels below:
Enjoy more exciting articles below!