Many couples face the problem of lack of sex in a relationship causing terrible sex lives. If you think you are having a sexless marriage with your partner and wondering how to fix bad sex in a relationship, you have come to the right place.
But first, we need to understand the importance of sex in a marriage or relationship.
Importance of Sex In A Marriage Or Relationship
Having sex is a way to express intimacy in a marriage. Ans intimacy is the foundation of any couple.
This type of intimacy, which does not occur in any other relationships, such as friendship or work, establishes a framework in which security and identity bring them. However, this may seem paradoxical, greater individual freedom.
To show affection, to converse without obstacles, to trust without limits, to feel complicit in life; all this will enhance the sensuality, delivery, and orgasmic experience.
Factors Contributing To A Bad Sex Life In A Marriage
A

survey

showed that sexless marriages were seen in nearly 30% of couples after their first child's birth.
However, numerous factors can hinder this dynamic. For example, the conditions that creep from childhood and that predispose to distrust, selfishness, and the inability to maintain direct communication.
Also, the routine and the repetition of actions performed as automatons and the dedication required by work obligations and family tasks, go stultifying the senses and effects, which ends up leading to the estrangement of the two.
Having been out of a sexual desire for a long time, you ended up telling yourself that you may not be just a sex fan. Sex without doubts is an important part of a good marriage or relationship. But sadly, a lack of sex in a relationship is prevalent these days.
What if the bottom line was that you were not satisfied with the relationship with your partner? The proof by six sings that indicates your sex life is bad and read on to learn how to fix your bad sex life.
6 Reasons For Lack of Sex In A Relationship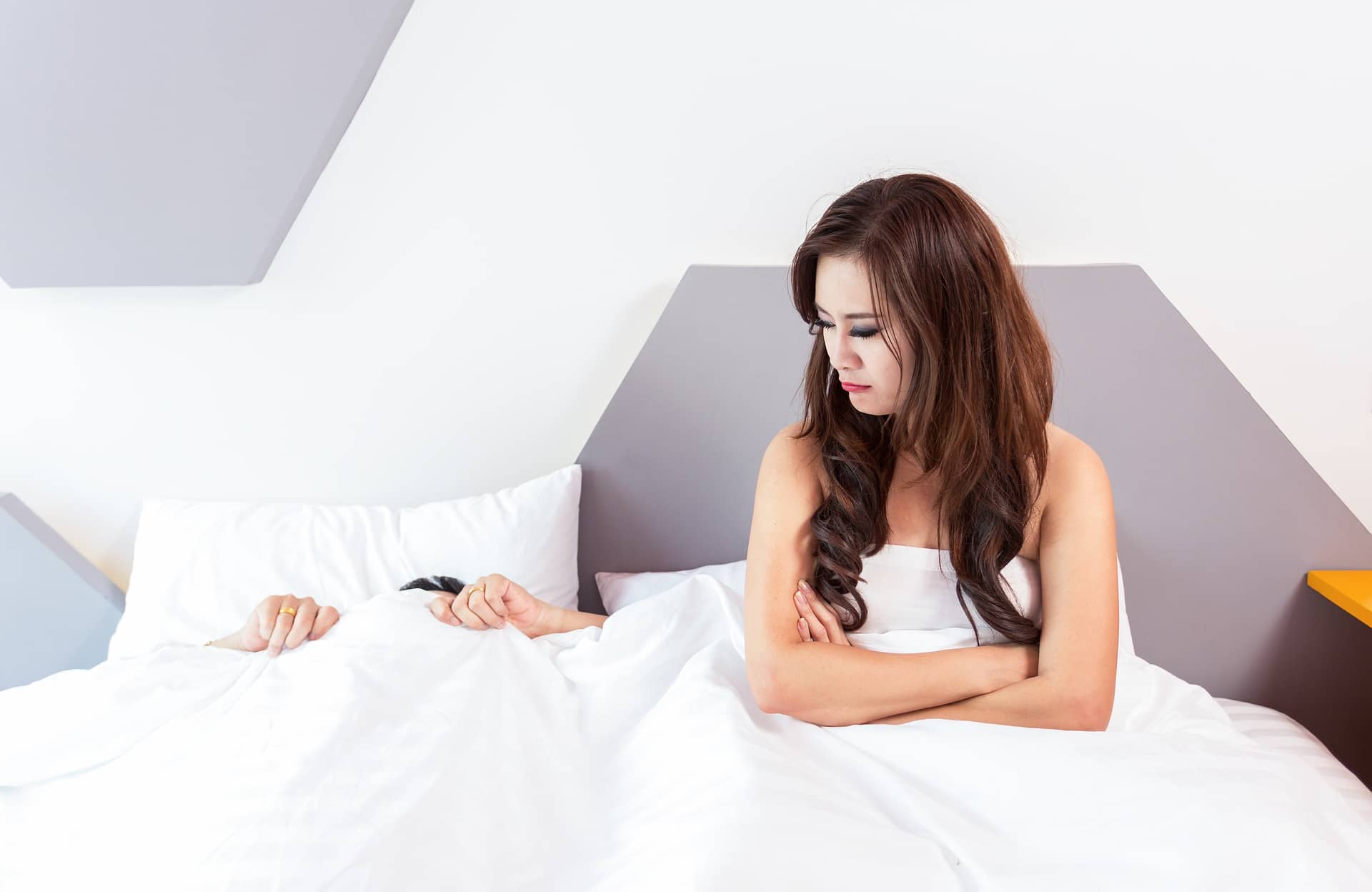 1. Masturbating Often Causes Lack of Sex in a Relationship
Masturbating too often is one of the common signs your sex life isn't good. It is one of the main reasons why there is a lack of sex in a relationship.
Whether you are alone or in a relationship, it is perfectly reasonable to masturbate regularly. It is a healthy practice that allows you to reconnect with yourself and boosts the pleasure you feel during sex. The problem is when one no longer feels any desire for his partner but continues to masturbate.
More than 50 percent of women between 18 and 49 reported masturbating during the previous 90 days. 
"Sometimes, the lack of desire comes from a gradual removal of many areas of life together. It is not only the desire to make love that has faded. To have cultural activities that both enjoy, share moments of sharing, not lose the pleasure of laughing together, etc.
We have the impression that the other does not understand us anymore, and it is reciprocal. The discussions end up serving only to express frustrations that the other lives as reproaches and dissensions worsen.", remarks the sexologist.
2. Bad Mood Leads To Bad Sex
Another reason for the lack of sex in a relationship is a bad mood. Irritability, stress, nervousness can lead you to have a bad sex life. When they are recurrent, these negative emotions can testify to a lack of sex and, thus, of sexual frustration.
And for a good reason, sex is a physiological need that stimulates the production of endorphin and dopamine, hormones of well-being.
In fact, studies show that having sex once in a week can slower your aging process and make you live longer.
However, when a requirement is not satisfied, it inevitably generates a malaise.
3. You Think of Something Else During The Act
If everyone is concerned and not having the head to make love, there is still cause for concern when we adopt this behavior with each sex.
Not having full attention while having sex is a sign that something does not satisfy the couple having sex and is not really present at what you're doing.
However, the sexologist wants reassurance: "If we think of something else during a sexual relationship, it is often: either we did not want, but we did not want to hurt his companion or that we say that after all, the appetite comes with eating!
This is often true because if in a couple installed in the long term, we waited for everyone to be excited at the same time, from the beginning of the sexual act, to make love, sexual intercourse would probably be infrequent".
4. Poor Communication Causes Bad Sex In a Marriage or Relationship
Communication is the key to happy marriages and relationships, and sex can't be any different. It can not be repeated enough: communication is the foundation of the couple. Poor communication can cause a lack of sex in a relationship.
In other words, it is essential to be able to talk about everything without taboos, including sex.
If you can not talk about it with your partner, it's because something is wrong. As a result, frustration continues to accumulate, and we move away.
So what can be done to improve communication for good sex?
"First, accept that we are not gods, it's hard to be as beautiful and intelligent as we think we should be to please our Prince Charming or our Snow White.
Then, if you do not know or can not say what annoys you or, on the contrary, you would like, take his hand and show it to him. And little by little, you will see, you can also put words on your gestures", explains the specialist.
5. Over-Compensation Leads To Bad Sex In A Relationship
To fill the gap of sexless relationships or even sexless marriage, you throw on food, alcohol, cigarettes, and other sweets. If this phenomenon is often unconscious, your body speaks for itself.
Attacking your body because it does not give you the pleasure you would like to have is indeed not the best way to fix your frustration. Your body expresses anger and sadness that you will have to calm down.
Instead of trying to get rid of it by hurting you, and doing good things for you, things that you love and that you know will do you good and give you back, trust yourself.
6. You Fantasize About Someone Else
Another sign of frustration about bad sex life in a marriage is that you fantasize about someone else and not your partner.
However, remember that fantasizing about someone else, whether masturbating or having sex with their partner, does not necessarily mean that we no longer love our partner.
How To Increase Intimacy And Have More Sex In Marriage?
Cultivating a more in-depth and authentic bond, through recognition, complicity, sincere communication, and trust in the other is the best antidote to overcome the difficulties that contribute to undermine coexistence and dilute love between members of a couple.
1. Own space and Time
The family relationship and the couple relationship are not the same; we must take this difference into account and establish time and space for both.
Sometimes, we miss out on our partner's special moments due to a busy work schedule or even due to long-distance relationships. In that case, couples must spend quality time with each other and grow the intimate bond to have a good sex life.
2. No Static Roles
It is convenient to share daily tasks and responsibilities and do it with joy. This includes the home's less pleasant occupations so that static roles are not established, and equality is maintained.
Thus, it promotes a daily coexistence based on trust, sincerity, respect, solidarity, and mutual support. Together these things end up stimulating sexual desire and the desire to be intimate.
Helping each other in the kitchen can also improve your sex life.
Yes, it's all connected!
3. Overcome Tensions
We must be very aware that social, work, and family pressures will sometimes produce irritation or depressive states in either of them. This gives rise to stressful stages.
These moments should also be shared with tolerance and understanding, talking, and confronting them together.
4. With Generosity
Experience the pleasure that comes from satisfying the one we love. Cultivate tenderness and devotion. Recognize and thank what your better half gives and facilitates.
Admitting mistakes, with the consequent apologies, will allow your sex life and build a healthy relationship together with your partner.
Your thoughts,
Have you been in a sexless marriage or relationship? How did you fix your bad sex life with your partner?
Share your thoughts about these signs that your sex life is bad in the comments section below. Subscribe to our newsletter for more interesting updates and stay tuned.
Key Takeaways On Sex In Relationships
Why do men lose interest in sex?
There can be several reasons due to decreased sex drive in men. But most of the time, it is due to underlying physical or mental problems.
Fitness problems leading to less sex drive in men are fatigued, overweight, smoking, drugs, alcohol, etc.
Mental illness may also cause a decrease in sex drive, including depression, stress, anxiety, etc.
Why is my wife not interested in me sexually?
Women are more likely to become victims of depression than men. So one of the leading causes of lack of sexual intimacy in adult women can be mental issues like depression.
Other hormonal changes and childbirth can also affect women in a way to not show interest sexually.