Being in a relationship could be the most beautiful phase of one's life. But once you decide to drift apart, the whole divorce process can be a cumbersome and uncomfortable experience. Read on to know some of the top reasons for divorce.
Some of the recent studies show us that millennials are choosing to wait longer to get married. Thereby the marriage and divorce rates have also decreased in the United States.
According to experts, one of the top reasons for divorce in couples is the lack of commitment which stands high at 73%. The other common reasons for divorce are below.
Most Common Reasons For Divorce
Lack of commitment – 73%
Too much of disagreement  – 56%
Extramarital relations – 55%
Early marriage – 46%
Unrealistic expectations – 45%
Lack of equality among the couples – 44%
Unprepared for married life – 41%
Domestic abuse or violence – 25%
A healthy and happy marriage life seems to be so difficult these days. If you feel your marriage is also falling apart, here are 4 ways to bring back the love in your marriage.
Countries With Top Divorce Rates In The World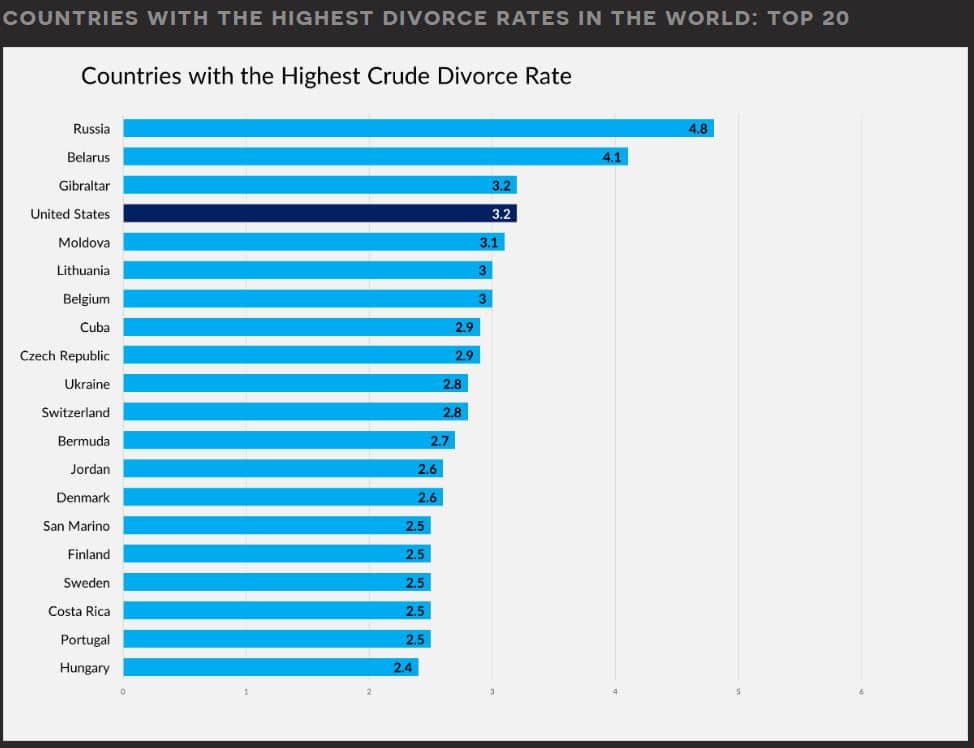 Quick Facts About Divorce
For every 13 seconds, there is a divorce in America.
15% of adult women in the US are divorced or separated today, in comparison with less than 1 percent in 1920.
Among couples, 66 percent of wives file for divorce. The figure has soared to nearly 75% in recent years.
Asian women reported the least rates of divorce with 1.3% women from age 25-29 yrs and 7.8% 30-34 years filed for divorce.
How Previous Marriages Affect Your Divorce?
If both you and your partner have had previous marriages, you are 90% more likely to get divorced. But if its the first marriage for both the people in marriage, the divorce rates are comparatively less.
Most Expensive Celebrity Divorces
Robyn Gibson and Mel  – $425 million
Maria Shriver and Arnold Schwarzenegger – $250-$300 million
Juanita Jordan and Michael  – $168 million
On Wednesday morning I woke up to the news of Brangelina's legal separation. For someone who adored them for years, this was quite a big shocker. The world was in grief and social media began to shed tears. After a two-year marriage, six kids, and a 12-year relationship, Angelina Jolie has filed for divorce from Brad Pitt.
"I am sad because of all this, but what matters most now is the well-being of our kids," Pitt told People magazine.
Jolie has sought full physical custody of their six children ages 8 to 15 with visitation rights for Pitt but did not seek spousal support. Jolie cited their legal separation date as Sept. 15.
The reason for their divorce is yet unknown but many tags are being attached to this story. Some reports say it was because Pitt a bad parent, whereas, some others say it was because he was having an affair. Whatever the reason may have been, this news is likely to keep its place in the headlines for days to come.
While we try to recover from this devastating blow, let's have a look at some other celebrity divorces that shattered our faith in true love.
Celebrity Divorces And Their Reasons For Divorce Will Shatter Your Faith In Love
1. Katie Holmes and Tom Cruise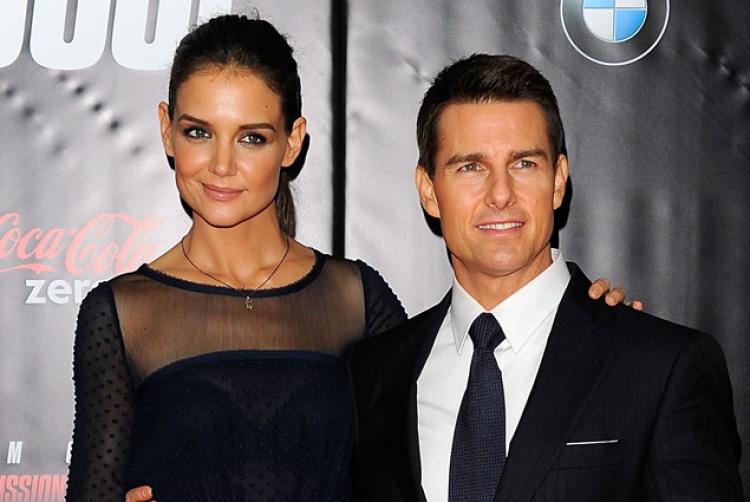 Katie and Tom's divorce wasn't much of a shocker. Their relationship was kind of falling apart. There are reports that Tom Cruise was controlling Katie's life and she was feeling the pressure.
As part of the legal settlement, Holmes received total control over Suri's education.
2. Ryan Phillippe and Reese Witherspoon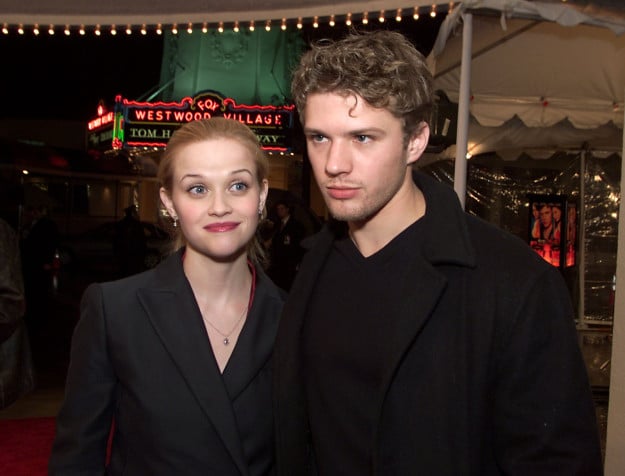 Phillippe and Witherspoon, 38, went their separate ways after eight years of marriage amid rumors that the actor had cheated with Australian actress Abby Cornish.
After the release of Cruel Intentions, this was the dream couple and their legal separation was indeed heartbreaking. During their marriage, they had two kids, daughter Ava, 12, and son Deacon, 8.
Hope, they get back together but the chances are equal to zero.
3. Kaley Cuoco and Ryan Sweeting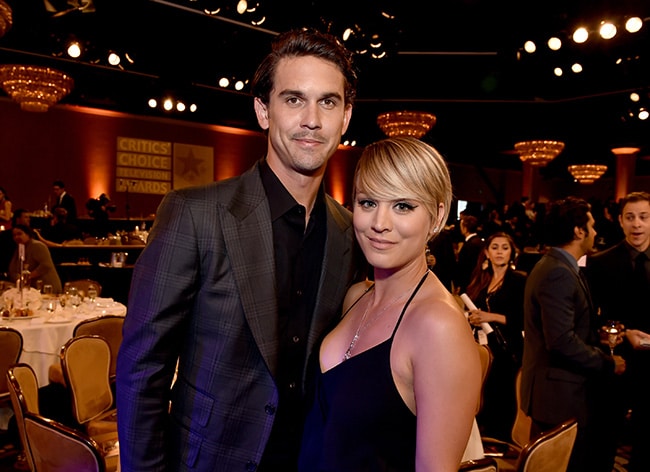 The last couple on the list is Kaley and Ryan. They were the current generation, Brad and Jen. With a lavish wedding and a fairytale love story, this couple seemed to be very much in love until things started to fall apart. They split in the fall after 21 months of marriage. 'It's been rough' Kaley said.
Their reason for divorce seems to be Ryan, who was addicted to painkillers. The athlete – who once ranked number 64 in the world – had a history of trouble with pills. The addiction would cause Ryan to lash out on the Big Bang Theory Star causing fights.
4. Courtney Cox and David Arquette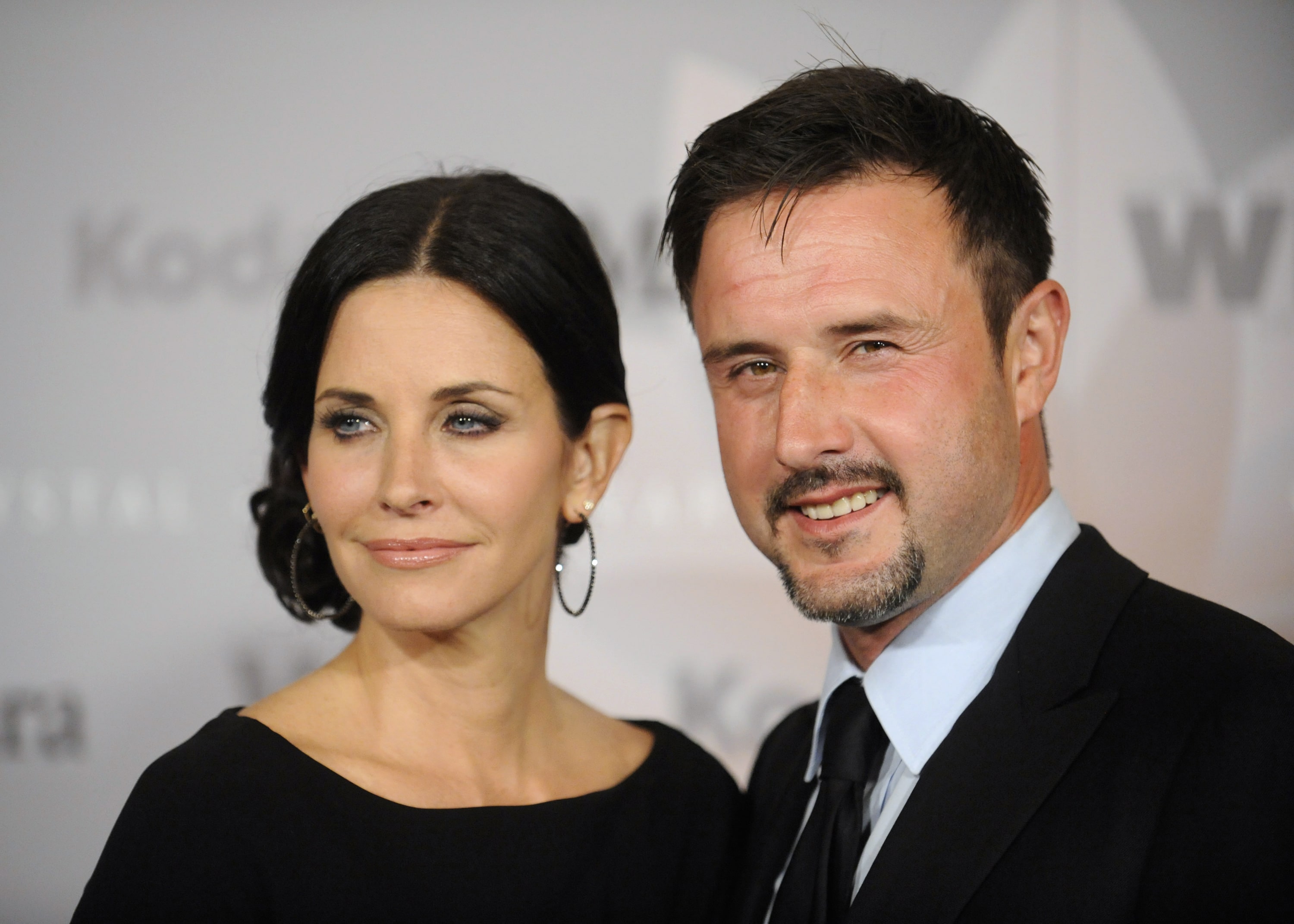 Monica Geller divorced her lobster breaking million hearts. Courtney and David know when they met on the Scream set in 1995 and started dating soon after.
Soon they were married and became parents to a girl Coco, 9.
They drifted ways in October 2010 and finalized their legal separation in May 2012. But, they remain close friends.
5. Brad Pitt and Jennifer Aniston
Before Angelina, it was Brad and Jennifer who were very much in love. They were America's hottest celebrity couple for 5 years and would have celebrated their 15th anniversary today if things worked out for them!
But they split after Brad got little too close with Angelina during the 2005 flick "Mr. and Mrs. Smith". This was one of the saddest separations in the history of divorces.
6. Hrithik Roshan and Sussanne Khan
Divorce in India is a big taboo in itself. The heartthrob of Indian cinema chose to separate from his wife a few months back. Previously there were rumors that the reason for their divorce was Hrithik's closeness with the Bollywood actress, Kangana.
But soon, Sussanne spoke to the media saying, "We have reached a stage in our lives where we decide that it's better we if we are not together. It was important to be aware of and not be in a false relationship. We are close (friends). We do chat a lot even though we don't hang out together anymore.
But above all, we show good commitment to our children. We are respectful of each other. When we involve children, it's important to put our differences aside and protect them," No matter what was the exact reason for their divorce, this separation did have a drastic effect on their fans.
7. Arbaaz Khan and Malaika Arora Khan
Yet another news about divorce in India. Well, this was the Brangelina of Bollywood. But this one too eventually separated. This couple parted ways after 18 years of marriage.
The news came as a big blow to the fans and the film industry. The couple was last seen hosting the TV Power Couple and seemed very happy.
But things were not as happy as they looked. Malaika felt like an outsider in Arbaaz's family. Reports say that Arbaaz's not-so-successful career and the overshadowing of the superstar brother on their lives led to Malaika pulling the plug.
8. Jennifer Lopez and Marc Anthony
They were the talk of the town. But J.Lo and Marc split in July 2011. The couple had been married for almost seven years and had twins Emme and Max. They separated in 2011 and finalized their divorce in 2014.
"I knew very quickly that it wasn't the right thing, I hung in there for seven years," J.Lo shared. The couple had many songs together and it was very sad to see them split.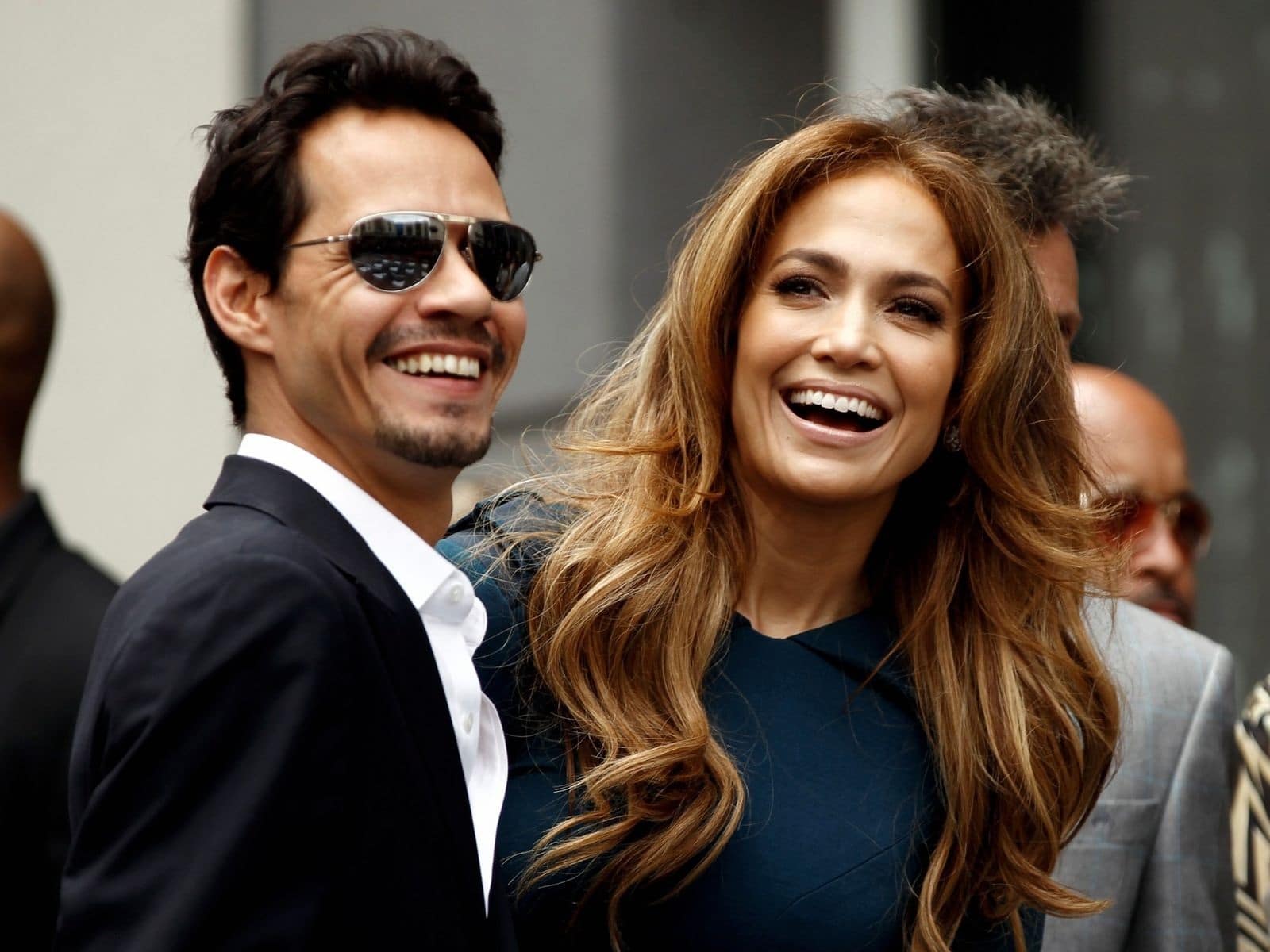 ImgSrc – celebmix.com
9. Shraddha Nigam and Karan Singh Grover
The poster boy of Indian TV Serials, Karan tied-the-knot with Shraddha on December 2, 2008, in Goa, in a very private ceremony, with very few close relatives from both sides.
But within 10 months they went their separate ways. Known for his playboy behavior, this was Karan's first wedding. Later, Karan marries Jennifer Winget and yet again divorces her He is currently in a relationship with Bipasha Basu.
Shraddha was very patient and loving to Karan but Karan still kept on flirting and having flings with other women. It was entirely Shraddha's decision to part ways with Karan after she couldn't take it anymore. Their marriage ended on very messy and ugly terms for both them and their fans.
10. Delnaaz Irani and Rajiv Paul
They were one of the most loved married couples and their split was quite a shocker. After being married for 14 long years, Rajeev and Delnaaz Paul separated in 2010.
Rajeev's extramarital affair is something that is rumored to be blamed for.
Rajeev said, "The truth is, we both wanted children. God did not bless us," and added, "It was her call to call off this marriage. I didn't want to end this relationship."
https://alignthoughts.com/top-5-ways-how-divorce-impacts-on-your-children/
11. Konkona Sen Sharma and Ranvir Shorey
Konkona broke many stereotypes when she conceived before marriage. She and Ranvir, 43, started dating in 2007 and got married in 2010 in a private ceremony. But in 2015, the couple took to Twitter to announce their separation.
12. Jennifer Garner and Ben Affleck
The batman's break up was equally worse as Brangelina. The most adorable couple, Jennifer and Ben recently announced they were divorcing in late June and the reason for divorce seemed to be infidelity.
Their former nanny, Christine Ouzounian, claimed that she was intimate with Affleck.
But recently they have been spending a lot of time together and there are rumors of them getting back together. Fingers crossed.
13. Farhan Akhtar and Adhuna Bhabnani
Farhan Akhtar shocked the B-Town and his fans when he announced his divorce with his wife of 15 years. The reasons seem to be Farhan's closeness with a co-actor.
They issued a statement saying, "This is to announce that we, Adhuna and Farhan, have mutually and amicably decided to separate.
Our children remain our priority and it is immensely important to us, as responsible parents, that we protect them from unwarranted speculation and public glare.
We sincerely request that you give us the privacy that we require at this time to move forward in a dignified manner."
14. Anurag Kashyap and Kalki Koechlin
The filmmaker and the actor got married on April 30, 2011. They were so in love but their relationship eventually fell apart. In 2013 they parted ways and in 2015 they officially filed for a divorce.
Their love story was heart-warming but their relationships didn't work out for many reasons. No matter what, they are currently happy in all their endeavors.
15. Mariah Carey and Nick Cannon
Another heartbreaking divorce was that of Mariah and Nick. These love birds split ways. Mariah Carey "never thought" she would divorce Nick Cannon.
The couple had separated in 2014 after six years of marriage and two children. The couple was very sad by the separation but sometimes things just don't work out in marriages.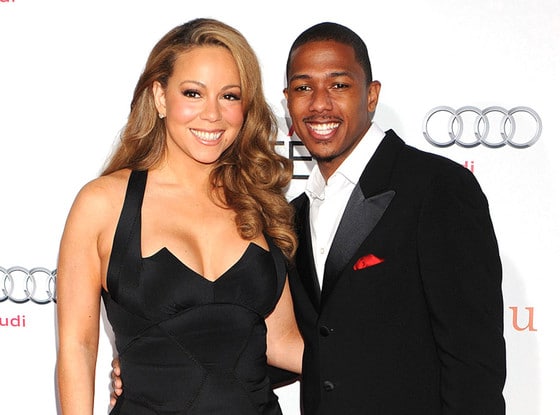 ImgSrc – eonline.com
Your thoughts,
Is life quite simple, yet are we complicating things and relationships? How can you lead a happy yet simple life?
What do you think are the reasons for divorce among couples? Which of these divorces was the most shocking one to you? Share your thoughts in the comments section.
Stay tuned to us by subscribing to our website. Do take good care of yourselves, happy reading!