Diwali, the festival of lights and happiness, where families come together to celebrate light over darkness. Not to mention, gifts, sweets, new clothes, and playing cards are a few things that make this festival beyond charming and fun. However, people living away from families may feel homesick if even if they live or work outside their hometown, let alone a different country! Hence, for expats living outside India, Diwali might indeed bring feelings of missing out from all the fun at their home. Explore these Diwali celebration ideas and activities you can do to make this festivity season more special, even if you are away from your home sweet home.
When it comes to Diwali, the most common activities you can do are catching up with friends, bursting some firecrackers, and eating delicious food. If you're wondering how to celebrate Diwali at home while living outside India, read on to know about things to do and celebration ideas. After all, Diwali comes only once every year, which is why exactly you should go a little out of your way to make it memorable.
15 Most Interesting Things To Do This Diwali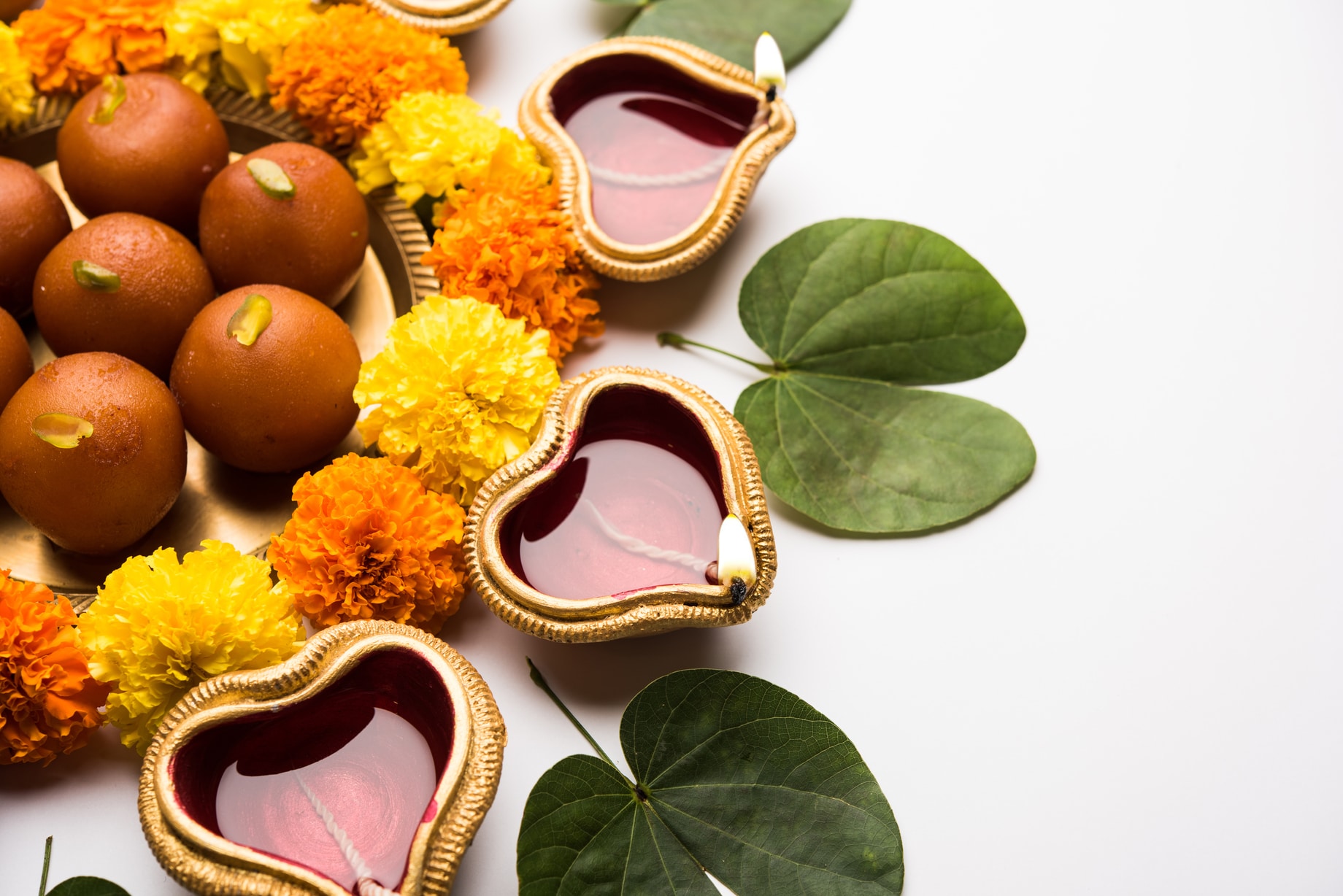 1. Take Off From Work And Travel To Your Hometown
While this may not always be feasible for people living abroad, you might look for domestic options and travel to a neighboring country, take short city breaks or weekend getaways, meet and greet your friends living in a different city.
Diwali is a festival where you get to strengthen the priceless bond with your close ones, so taking a few days off from work shouldn't hurt.
You can always plan from the month ahead, preferably three months, if you stay abroad, to find and book cheap flights, structure the plan the travels beforehand. This will also help your colleagues and manager at work be aware of the time frame you won't be working, making it easier to plan work without your presence.
If you can't make it to your family, book your tickets and get yourself amongst the people who matter the most to you. The love and pampering that you're going to get from your folks is only an added advantage.
2.

Spend Like A Millionaire – Well, At Least Act Like One!
The very essence of this festival also lies in shopping and gifting each other. It is the only time of the year where people go all out and spend their money on buying gifts for their parents, lovers, siblings, and friends.
Also, during this time of the year, sales and offers are all across the world. So, it's more tempting to buy gifts for everyone. If you live abroad, you can always send gifts to your family back at home by placing online orders. Exchanging gifts on Diwali symbolizes companionship and can be a smart way to keep your long-distance friendships intact.
Make use of this festive season and use the perfect excuse to lose your restraints and splurge your money, provided you are in a state to pay back your bills, of course!
3. Decorate Your House
Ask any Indian kid, and they might complain about their mom turning into 'Monica' from Friends during Diwali. After all the cleaning work is done, lightened up candles in the home and Rangoli, can bring a priceless feeling we all sense. So, whether you're living abroad or not, Diwali decoration should be a non-negotiable.
It's the time of the year to roll up the sleeves and go for a major house cleaning mission. Sometimes, doing it all by yourself can be super fun. If you are one of those guys who keep your home spick and span, you can change the décor of your house.
Go crazy with DIY, try giving your walls a new color, have a new curtain, organize things on your shelf, fill the house with flowers and lamps to create a festive aura around you.
4. Socialize With Your Neighbors
Diwali is incomplete without social interaction. During Diwali, almost everyone is in the mood and, more importantly, free to celebrate. So, it is the best time to catch up with your buddies in your vicinity without work stress.
Paying a visit to their houses or organizing a party, and conducting various Diwali activities at your place may also make you feel at home.
If you don't have friendly neighbors, you can still wear vibrant clothes, make sweets and connect with your loved ones virtually. Many websites and social media groups conduct Diwali celebrations virtually. You can join such groups on WhatsApp, Facebook, Telegram and celebrate the festival together with them.
5. Bring Out The Artist In You
Another fantastic way to celebrate Diwali at home is through channeling your inner creativity.  For once, you can try your hands at Rangoli to bring out the best colors and designs to add more colors to this delightful festival.
People believe that making Rangoli can bring good luck and prosperity to your home. And what's the best time than this auspicious occasion to invite the good fortune in your life?
6. Ditch Your Diet And Embrace The Good Old Traditional Food
If you're a diet enthusiast, you won't ever get to enjoy Diwali at its fullest. The specialty of Diwali lies in distributing sweets, snacks, and dry fruits and consuming delicious food and delicacies.
All those sweating out in the gym take a dip with the onset of the festival as it is almost impossible to say no every time you're offered the delicious yet high-calorie delicacies.
Ditch your diet during the festive week and pamper yourself with all the food you love to eat. We still have a tip for you to save yourself from calories. Instead of high-calorie sweets, you could opt for dry fruits and roasted food instead of the traditional fried ones.
7. Bring A Smile On Someone's Face
Try to bring a smile to people who need it, and light someone's life! Many underprivileged people out there equally love the enthusiasm surrounding the festivities but do not have the means to celebrate them. Cultivate a gesture to make them smile and feel included in this celebration.
You can either distribute sweets/clothes to needy kids or contact any charity organization if you want to go the extra mile to help the needy.
Help others celebrate the festival. For some, eating food three times a day can be a celebration. So, go ahead and do what you feel like to help others in any possible means you can.
8. Surprise Your Special One
Diwali – a symbol to love, to celebrate togetherness and share joy & happiness. No doubt that this festive occasion is always the favorite and unique period of the whole year.
So, why not surprise your dear one with a special gift? This is one of the best Diwali celebration ideas.
Show them your love with a surprise and enjoy the happiness they embrace. Celebrate Diwali at home with your lover or spouse and make them feel cherished.
9. Dance Like Nobody's Watching
After all the rituals and get-together with family is over, it's time to rock with your friends and dance to the beats at your favorite artist's show. End the festive with good deeds and thoughts and spread the joy to all around you.
10. Light Lanterns And Diyas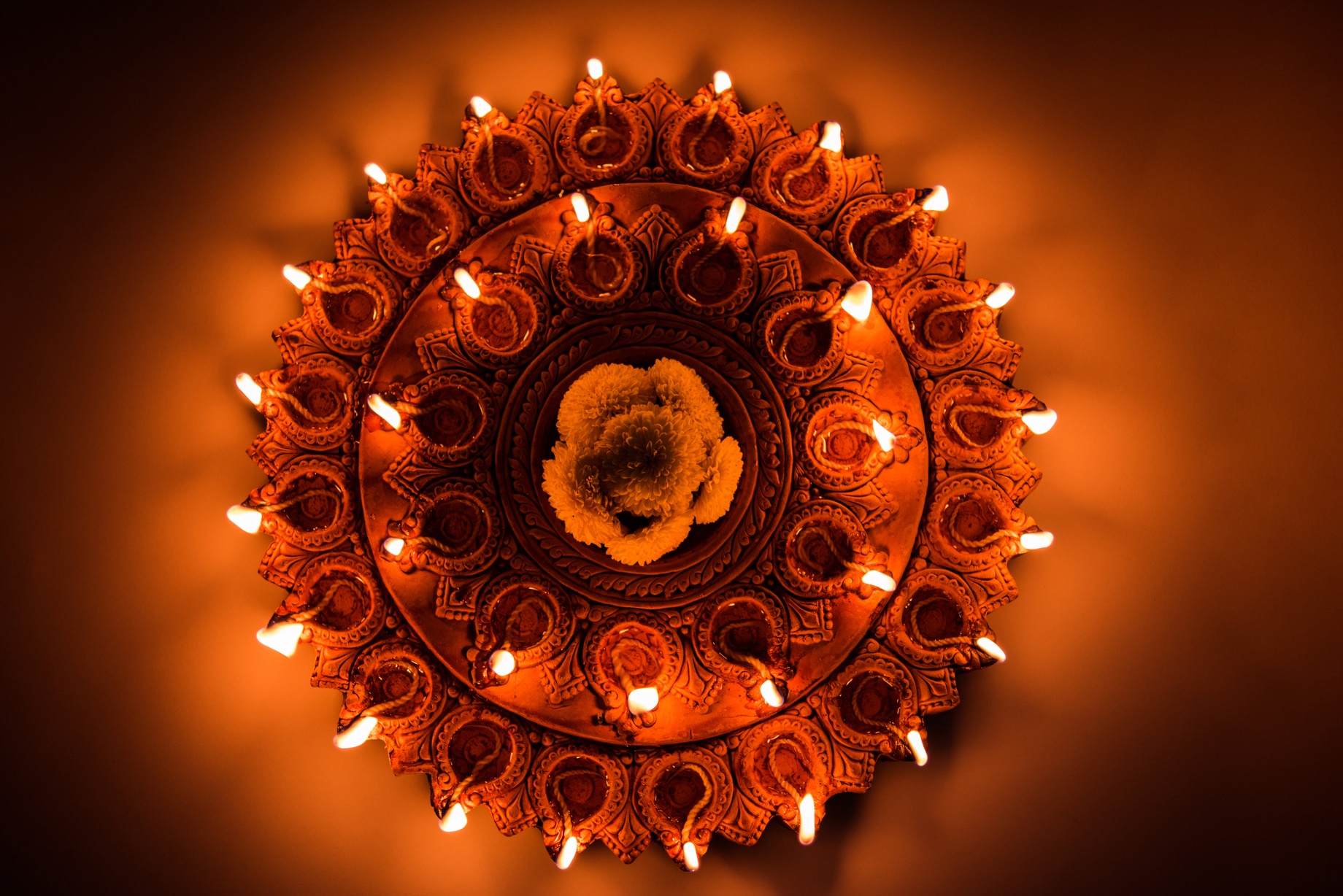 This one goes without saying. Hanging lanterns can be purchased and hung inside homes and on balconies. You might also use sky lamps to create a beautiful scene in the sky.
Using traditional diyas can also light up homes and bring in a feeling of the festival. It might not be the same as being in India, but it certainly feels more like the festival has arrived.
11. Distribute Sweets At Your Workplace
Purchase some of the authentic sweets and share them with your colleagues at work. This is an interesting way to inform your coworkers about the diverse culture and traditions.  It's a gesture of letting others know that they're important and loved. The simple idea of celebration is the sole purpose for sharing love.
12. Embrace A Smoke-Free Diwali And Help Pets 
Let's pledge a "Free-Smoke Diwali"! Yes, that's more than essential. We are all aware of firecrackers' adverse effects on our environment but continue to turn a blind eye to it.
According to research published in Lung India, the Official publication of Chest Society, burning firecrackers releases intense levels of personal exposure to PM2.5 that have adverse effects on physical health in the long term.
Apart from leading to hazardous air and noise pollution and adding to the cause of global warming, it also has a traumatizing effect on our pets. There are various other Diwali celebration ideas and activities you can follow.
We need to remember that Diwali is a festival of 'lights' and not 'noise' and 'smoke,' therefore, try and avoid bursting firecrackers as much as possible. If not helping to reduce pollution, at least try not to increase it.
13. Dine Out At Your Favorite Restaurant
Food wins over hearts and is one thing in the whole world that can take you back home. Eating authentic food on the occasion of Diwali can be nostalgic and can bring a smile to your face. Take a few friends or colleagues to an Indian restaurant in the city and share your fun and crazy stories of Diwali while eating.
14. Attend A Puja In An Indian Temple
During the festival of Diwali, most Indian temples around the world conduct puja. Some people believe that the goddess Lakshmi is worshipped for her blessings of prosperity, serenity, and wealth. Look for the nearest places of worship or gather at your friends' place and enjoy the festival prayers together.
15. Visit Old Age Homes Or Orphanages
This also goes in tandem with giving back to society. Visiting an old-age home can seem like returning home. The only thing that the seniors there require is affection and someone to talk to.
Celebrate the festival of lights with those who are not so fortunate. By visiting orphanages and sharing stories about the festival can bring a smile to everyone's face. It can certainly light up their world and bring them happiness and a feeling of home. When visiting, take a box or two of sweets and lanterns and celebrate Diwali with them.
Concluding Thoughts
Diwali marks new beginnings and a renewal of commitment to family values. It traditionally symbolizes joy, love, reflection, resolution, forgiveness, light, and knowledge. It will be great if a person embraces all the above values throughout the year.
How do you celebrate Diwali being away from home? What are your favorite Diwali activities?
Key Takeaways On Diwali Celebration Ideas & Things To Do
Diwali is an Indian festival of light and is one of the most auspicious occasions for the people living in India.
If you live in a different city away from your family, you can always take a short break to visit your folks.
However, it's always suggested to plan the travel at least three months before the festival for people living abroad.
The essence of Diwali is the gifting ritual. So, maybe go and splurge your money into buying gifts for your family, friends, and yourself.
Decorating your home with vibrant lights and candles is a beautiful way to amp up your mood when you're residing in a different country.
Furthermore, you can always go ahead and invite friends and neighbors from your vicinity to celebrate the occasion.
In addition, don't forget to get your hands colored with Rangoli. You can design rangoli with friends even.
Diwali is the festival to relish delicious food and delicacies. Therefore, give a break to your diet and go all in diving to tasty food.
Some so many people are less fortunate to be a part of this festive celebration. You can always donate things to put a smile on their face.
Most importantly, say no to firecrackers as the smoke released from burning these crackers have significant health consequences in the long run.
Connect with local communities holding Diwali celebrations.
Join The Celebrations Virtually
There are many groups and pages on social networking sites such as Facebook, Instagram, Telegram, and WhatsApp where you can find groups of people hosting Diwali parties.
You can also join the Diwali celebrations virtually with your loved ones as well.
Dance like nobody's watching you and do something to make your special one feel valued and cherished.
Treat Yourself And Others With Food
Buy some Indian sweets and distribute them in your neighborhood and office and share with them the meaning behind it.

Treat yourself to Indian food and reminisce the time you spent there during Diwali.
Prayers And Decorations During Diwali
Attending a puja at an Indian temple can also make you feel at home. Seeing the high priest perform the rituals and the 'aarti' can be quite peaceful and pleasant.

Since Diwali is known as the festival of light, hanging lanterns and diyas can brighten up your home and your life as well.

Being alone during a festival can be overwhelming, but using this opportunity to celebrate it with those who are not so fortunate can make one feel less lonely.

Visit an old age home or an orphanage and celebrate the festival with them.

Just because you can't be there in person doesn't mean you cannot send them gifts or money.
How To Celebrate Diwali If I Live Abroad?
Expats can always celebrate Diwali by:
Decorating their home with lights and candles.
Hold a prayer ritual at home while face timing with their friends and families.
Distribute sweets and snacks in their neighborhood.
Invite co-worker friends and neighbors to enjoy the celebration with them at home.
Donate to an NGO or community.
What Are Diwali Activities For adults?
Adults can engage in fun activities in Diwali like:
Musical Chair
Dumb Charade
Cards
Tambola
What Are Some Diwali Celebration Ideas To Try Out This Year?
Candle making
Edible diya craft
Lantern Makings
Green Diwali. Plant a small tree or plant of your choice.
You can celebrate Diwali with flowers instead of firecrackers this year.
How Do You Celebrate Diwali At Home?
You can celebrate Diwali at home by doing the following:
Cleaning the whole house.
Make homemade sweets.
Decorate the house.
You can make hand-made cards and gifts to send to your friends.
Connect with your local community.
There are various WhatsApp, Facebook, Telegram groups you can join and celebrate with them virtually.
Play indoor games such as card games, musical chairs, etc.