Being an entrepreneur requires a unique DNA, it needs you to innovate, work hard, know what's happening around you and above all, take risks.
Women are not meant to survive but thrive. This spirit is what Rekha Menon reminds me. Around 5.30 in the morning, you can find her running across the streets of Bangalore. A person intrigued by fitness, she is the present Chairman and Senior Managing Director at Accenture in India. Rekha is a real leader in business making the best contributions to the world around her. Right from her initial days into the IT industry, Rekha has taken up roles that were perceived not to be taken by women. She is the woman known for breaking stereotypes. She proved that gender has no role to play in the occupation you do. Her contributions to Accenture have been by far the best; owing to her humongous years of experience in business and management which is undoubtedly compelling.
It is worth a mention that Rekha stepped into the sectors of IT industry where there was hardly even a single female role. Yes, those days roles were boxed as 'male' and 'female.' She was, in fact, denied position from one of a top consumer goods firms, for the fact that they had no female jobs. But she questioned all odds and kept moving forward.
India is today Accenture's largest geography contributing to more than 150,000 employees. Rekha has consistently helped Accenture, India grow and be on the same page with Accenture globally across genres like innovation, security, and cloud, etc. At the same time, Rekha has also opened doors for innovation, by collaborating over 50 start-ups across the country. In 2017, she was also ranked among the top 20 powerful women in business in India, by Fortune.
Here are some incredible facts about Rekha Menon, the women inspiration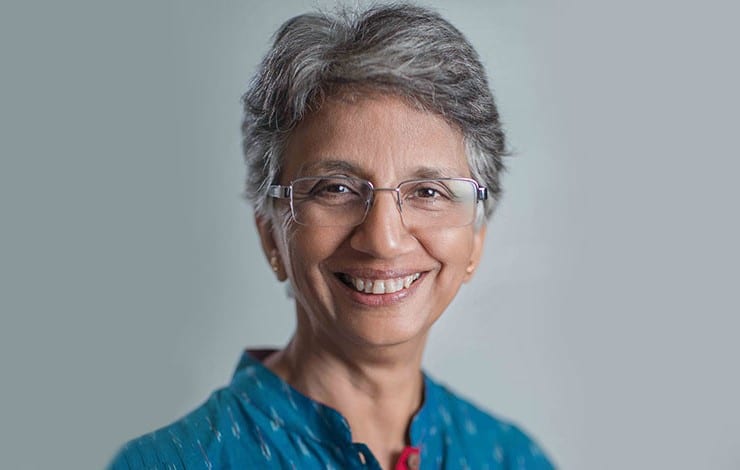 ImgCredits – womenatwork.in
1) Rekha Menon was an MBA graduate of XLRI in Jamshedpur. Her first choice of job was in a 'shop floor' for the automotive firm Eicher. She believes that a job role that involves 'shop floor' can feed you with large amounts of learning business.
2) In the university, she was a gold medallist and topper of the batch. Nonetheless, for the mere fact that she was a woman, Rekha was rejected at one of the top business firms Hindustan Lever. "We do not have a programme for women," the recruiters told Menon.
3) When she moved to the automobile manufacturing company, Ashok Leyland, she was the only woman in the crowd of three thousand men. Rekha took this situation to her positive side and tried to blend in and not stand out the crowd. She left gender behind and gave justice to her role by taking up her responsibility. "It doesn't matter if you are a woman if you are good at your job and you are open to learning," says Rekha.
4) Family comes first for Rekha. She took a long seven years of break in her career to spend time with her kids and nurture them with care. During these days, she was parallel learning more about start-ups by consulting a few.
5) Before Accenture, Rekha Menon was part of the executive management team of brands including Levis Strauss, Akzo Nobel, Cargill, etc. And it was in 2004, that she joined Accenture as the Chairman and Senior M.D.
6) Accenture was only a consultancy practice in India, until 2004. It was when Rekha Menon was hired that Accenture wanted to set up corporate functions in the country. In fact, it was the sole purpose of bringing in Rekha into Accenture. She set up the delivery center and also started the outsourcing business in Asian markets including China and Philippines. She was later also the Head of Asia-pacific delivery centers in Accenture.
7) She has the thirst to innovate, and thus loves being a part of start-ups as much as possible. For her business involves building a lot of new things, rather than scaling the existing stuff.
Inspiring Story About Betty Cohen – Founder Of Cartoon Network
8) A fitness enthusiast, Rekha has also been a long-distance cyclist and runner for several years. Recently she took a five-day cycling tour to the Nilgiris. Her new fitness ingredient is swimming. She is a self-taught swimmer who recently seeks to a coach to make herself better at the sport.
9) Accenture launched its first innovation center in India, Bangalore. She was also the main reason behind this movement.
10) Last but not the least; Rekha is the face of diversity at Accenture, bringing in at least 40% women workforce to retain diversity across genders.
Rekha sets an example for all young women out there, to be yourself and to excel at what you love. No matter what are the hardships you face. Leave behind your comments and feedback.
Also, do subscribe to us for the bimonthly newsletter and stay tuned. You can also follow us on the below social media channels: