Do you sometimes feel the need to escape your asphalt and concrete jungle you live in? Or to get behind the wheel or on your motor, and drive to wherever the road takes you? You are not the only one. However, if you take this step, you shouldn't waste your time and fuel on just any road. You should explore the best road trip destinations. Explore these and find out your best 2-week road trip route in the USA.
Take your breath away with their scenery
Have been traveled by famous people
Have witnessed stories you never get bored listening to
Will help you create memories to last you a lifetime.
We came up with a few suggestions. Their order on the list is random, so feel free to start with the road trip you find more attractive. The details below should help you make a decision, and, when you do, or after you have taken your road trip, we would love to find out the details.
10 Breathtaking Road Trips for Unforgettable, Lifetime Adventures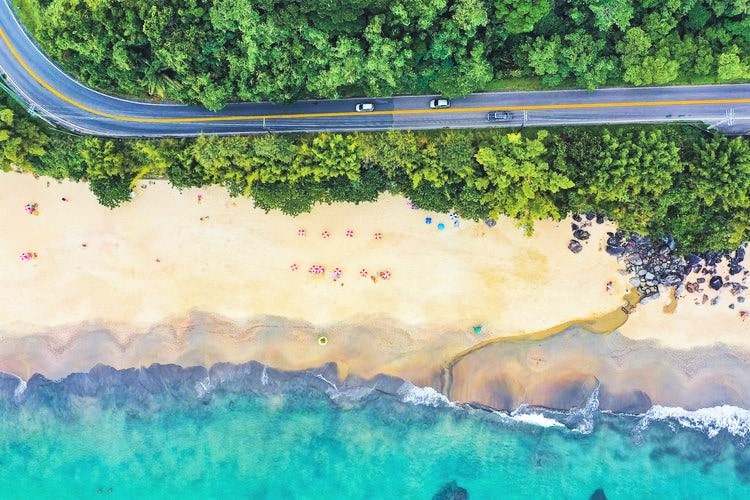 1. Highway 1, Florida Keys
If you're looking for driving excitement, this road may disappoint you a bit. However, if your goal is to relax, forget all your troubles, and enjoy a hypnotizing summer vacation in America, then there is no better alternative.
Must-try experiences on this road trip are:
swimming in the water of the Keys
visiting Ernest Hemingway's house
tasting the Key Lime pie
visiting the John Pennekamp Coral Reef State Park
admiring the view from the Seven Mile Bridge
and visiting the Dolphin Research Center
Also, one of the best road trips for couples, who can spend a good 2-weeks enjoying this road trip route in the USA.
2. The Pacific Coast Highway, California
You've seen this ocean-front highway in more movies and commercials than you can remember, and you've surely fallen in love with the landscape.
It is even more beautiful in reality, and you can enjoy its entire splendor all the way from Leggett Town to Orange County.
Besides cities like San Francisco or Los Angeles, you will also want to visit the San Simeon (Hearst) Castle.
3. The Great River Road, Minnesota – Louisiana
If you like the thought of following the Mississippi River, this path is perfect for you.
Grand Rapids is a great starting point, and as you cross Minneapolis, Southern Minnesota, Wisconsin, Iowa, Illinois, Missouri, and Louisiana on your way towards the Gulf, you'll want to try different dishes from the local cuisine.
4. Blue Ridge Parkway, Virginia – North Carolina
This relaxing road trip will take you from Richmond, VA, down the central Appalachians' spine, to Asheville, NC.
You can visit the Great Smoky Mountains National Park and the Shenandoah National Park on your way and admire the stunning views of the rolling hills, tunnels, mills, and picturesque bridges.
5. The Dinosaur Diamond Highway, Colorado – Utah
This road trip will help you relive the Jurassic Park. You can start from the Dinosaur National Monument and follow Colorado 64 and Colorado 139 to Dinosaur Hill and the Fruita Dinosaur Journey Museum in the town of Fruita.
Don't neglect to visit Moab, the Mill Canyon Dinosaur Trail, the Cleveland-Lloyd Dinosaur Quarry, and the Field House of Natural History State Park Museum in Utah.
This is one of the best road trips for couples along with kids who love Jurassic Park.
Here are important safety tips for your family's road trip.
6. Route 66, New Mexico
Known as the Mother Road, or the Main Street of America, this highway has a wild history that starts back in the 19th century.
This is one of your best road trip route destinations where you can visit Springfield, IL, the Amarillo Cadillac Ranch in Texas, or the Meteor Crater in Arizona.
You'll love the sight of the Southwest's red rocks, the Oklahoma grasslands, and the muddy Mississippi.
This is an ideal 2-week road trip in the USA to enjoy with your family.
7. Finger Lakes Area, New York
Escaping the metropolitan area is easy with such beautiful nearby areas. The wineries in the Rochester, Syracuse, and Ithaca area are the perfect getaway.
From Ithaca, you can follow:
Interstate 81
the highway 13
route 89
highway 96
and route 414
On your way, don't forget to stop in Cortland, the Cornell University campus, the Taughannock Falls State Park, Seneca Falls, Seneca Lake, and Watkins Glen.
This can be one of the best 2-week road trip routes in the USA that can suit couples as well as friends traveling together.
8. The Blues Highway, Mississippi-Tennessee
If you like listening to blues, you have to do it on Highway 61, from between Vicksburg, MI, to Memphis, TN, following in the footsteps of Muddy Waters, John Lee Hooker, B.B. King, and even Bob Dylan.
You'll want to stop in Clarksdale, at the crossroads where Robert Johnson sold his soul and at the Delta Blues Museum.
In Memphis, Graceland is a must-see, and so is Sun Studio, on Beale Street.
9. Texas Hill Country
This road trip's the ideal starting point is Austin, TX, and its numerous live music events. From here, head to President Lyndon B. Johnson home in Johnson City, Pedernales Falls State Park, Hunt, Rocksprings, and Devil's Sinkhole.
Follow route 55 to Uvalde and the Texas Hill Country, the hometown of Matthew McConaughey, and then state road 173 to Hondo and Bandera, home of the Frontier Times Museum.
10. I-90
Although not as famous as the above road trips, I-90 doesn't lack breathtaking sceneries.
You can follow it from Boston towards Seattle, to admire the Northeast forests, the three Great Lakes in the area, the northern plains, the Indian reservations, the Rocky Mountains, or the Cascades.
If you want some urban fun, you'll find it in Buffalo, Cleveland, or Chicago. Finally, a detour to Mount Rushmore could be a great way to end the trip.
Have You Planned Your Next Road Trip?
Most of these road route destinations are worth taking at least once for an amazing traveling experience.
If you have enjoyed them, please share your thoughts in the comments section below. If you have not taken them already, you should definitely consider doing it as soon as possible.
As you plan the best road trips for couples, do not forget that your experience depends not so much on the car you drive and how much money you have in your pocket. It is also relevant to the person sitting next to you in the car.
When you get behind the wheel, open your eyes and your heart to the things you are about to see and experience! Stop analyzing and start living!
When your road trip is over and you get back home, take the time to drop a comment and let us know how it went and which part you enjoyed the most. Life is short, so live it to the full, but do take the time to tell everyone about it and help others enjoy it too!
Subscribe to us for more articles and stay tuned. You can also follow us on the below social media channels to stay connected.